Reconstruction Exploration Footpath (Katsurao Village)
Reconstruction Exploration Footpath (Katsurao Village)
Ochiai Course - The Path Where Rivers and People Meet
Highlight
Course distance: 4 km
Course terrain: Undulating
Includes a portion of the Abukuma Romantic Road.
Recommended stop: Kinsen Knit Fukushima Factory and Katsurao Phalaenopsis LLC.
Description
This course is centered on the Ochiai district, the central hub of Katsurao Village. Walking through the rugged terrain, you will be rewarded with scenic views and beautiful terraced rice paddies. The sound of the streams and the water scenery make this walk particularly relaxing.
You can choose to start and finish at either the Katsurao Village Reconstruction Exchange Center Azalea or the Japanese-style inn Seseragi-so, depending on your preference.
Although this course can be followed any time of the year, the recommended seasons are:
Late spring to early summer, when fresh greenery is beautiful.
Late August to September, when soba (buckwheat) flowers can be seen.
Autumn, when the leaves change color.
Read our post to learn more about this course!
Click here to open a map in Japanese (map translation into English is in progress).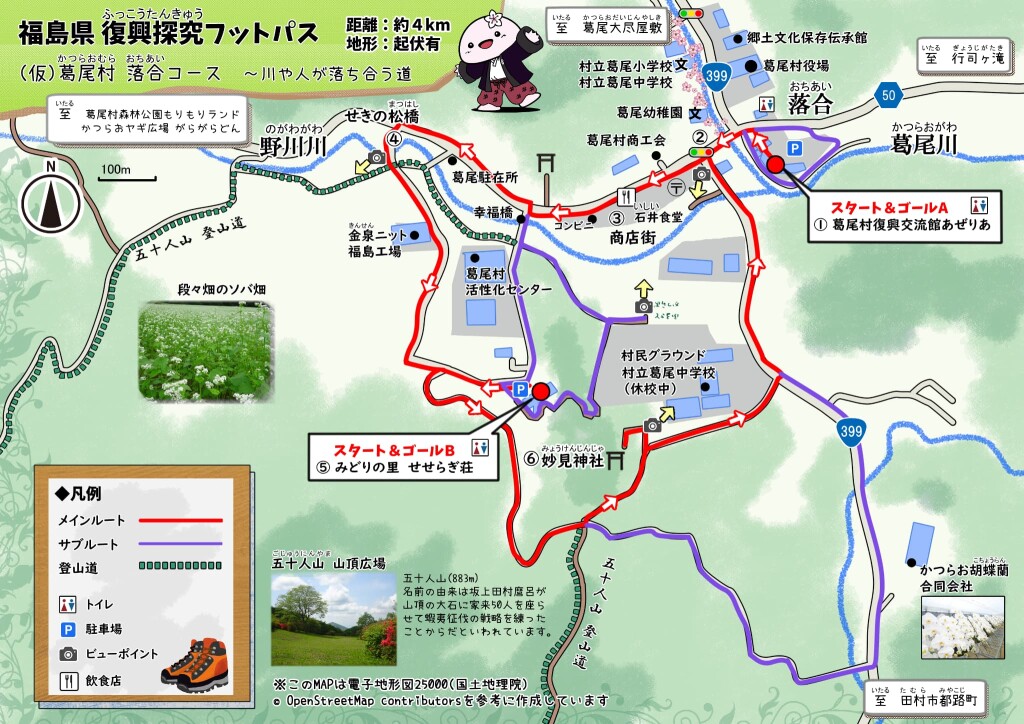 Detail
Tour itinerary
Japanese-style Inn Midori-no-Seseragiso
Mt. Gojunin trail entrance
Myoken Shrine
Route 399
Intersection (you'll see a pop-up of the village's mascot, Shimi-chan)
Katsurao Village Reconstruction Exchange Center Azalea
Shopping Street (Ishii Shokudo, Yamazaki Y Shop)
Sekinomatsu Bridge
Kinsen Knit Fukushima Factory
Japanese-style Inn Midori-no-Seseragiso
Start Point
Access
Katsurao Village Lodging Exchange Center Midori-no-Seseragiso
979-1602 6-5 Ochiai Aza Suganomata, Katsurao Village, Futaba-gun, Fukushima Prefecture
Getting there
By car: Approx. 37 minutes from Funehiki Miharu IC on Ban-Etsu Expressway
32 minutes by car from the Namie IC of Joban Expressway
38 minutes by car from the Okuma IC of Joban Expressway

By public transportation:
Take a local bus bound for Katsurao via Kamiyoshigoe from Funehiki Station on the JR Ban-Etsu Higashi Line.
Take a bus bound for Katsurao via Kamiuyo, which takes about 48 minutes (810 yen), and get off at Sekishita bus stop. It's approx. a 5 minute walk from the bus stop.