Getting around Fukushima
Trains
Fukushima Prefecture is well covered by its network of train lines, both JR and private, making getting around simple and efficient.
Main train lines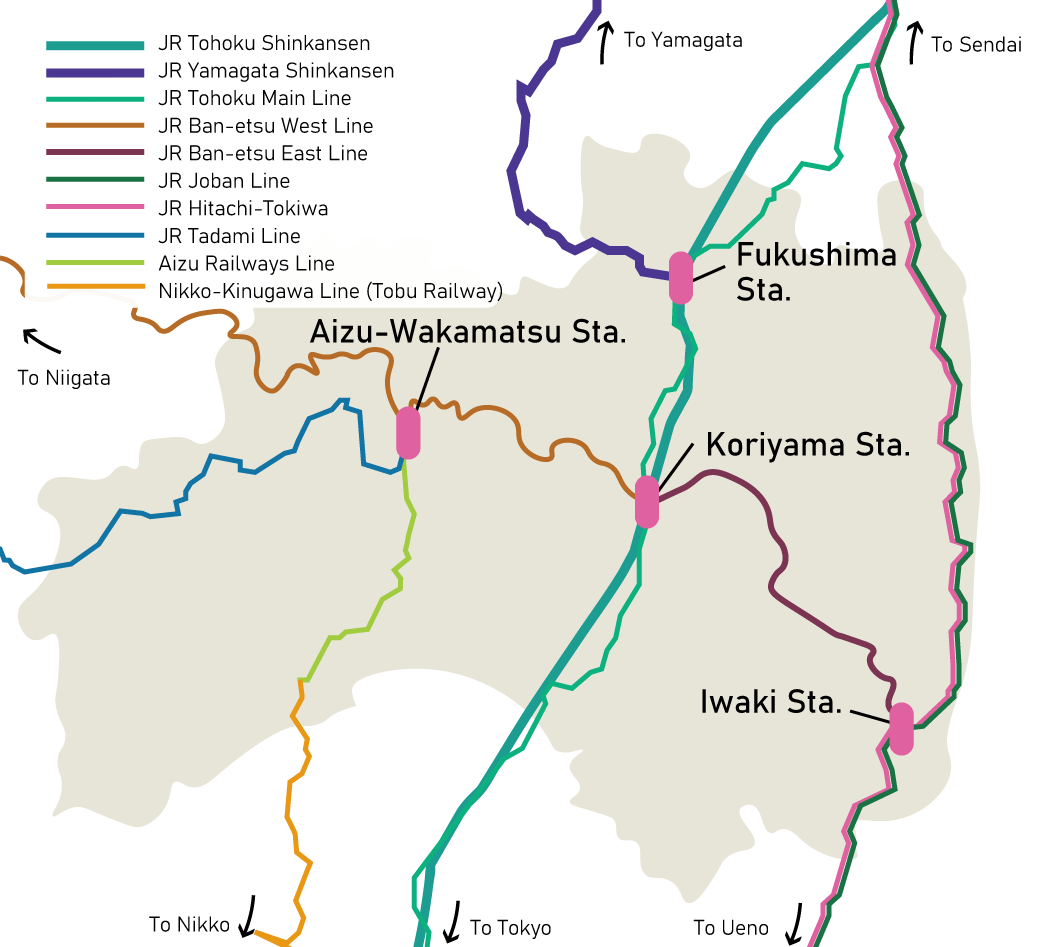 The JR Ban-etsu Line splits into the East Line and West Line from Koriyama Station. This line helps cover most of Fukushima Prefecture and joins to meet many other stations and lines.
JR Ban-etsu West Line (Kitakata to Koriyama)
JR Ban-etsu East Line (Koriyama to Iwaki)
JR Tohoku Shinkansen Line (From Tokyo to Shin-Aomori; with stops in Koriyama and Fukushima)
JR Yamagata Shinkansen Line (From Fukushima to Shinjo)
JR Tohoku Main Line (Many stops in Fukushima Prefecture)
JR Joban Line (From Shinagawa; with stops in Iwaki and Soma)
JR Hitachi-Tokiwa (From Shinagawa to Iwaki, to Sendai)
JR Tadami Line (From Aizu-Wakamatsu to Tadami)
Aizu Railways Line (From Aizu-Wakamatsu to Aizu-Tajima)
Nikko Kinugawa/ Aizu Revaty (Tobu Line) (From Asakusa; stopping at Aizu-Tajima)
Fukushima Transportation Iizaka Line (From Fukushima to Iizaka Onsen)
Notable train types
Tohoku Shinkansen

The JR Tohoku Shinkansen, in service since 1982, connects key places and numerous sightseeing areas to Fukushima Prefecture with ease. A quick and easy option for traveling to Fukushima Prefecture - perfect for JR Rail Pass holders.

Oza-Toro-Tembo Train

Enjoy beautiful views of Aizu on the Oza-Toro-Tembo Train, operated by Aizu Railway. Gaze out at passing scenery from tatami-mat train cars, while perched in kotatsu-style seating. Feel closer to nature as the breeze blows through your hair in the open-window cars.

Tobu Railway Limited Express Revaty

Ride the Revaty, an elegant train that uses the styled white of Tokyo Skytree to bring out the natural beauty of the interior wood grain. Ride in comfort on seats that are an Edo-purple and decorated with inden, an Edo craft.

FruiTea Fukushima

All aboard FruiTea Fukushima, a traveling cafe created around the concept of enjoying the Fukushima's fresh fruits. Enjoy finely crafted desserts and beverages, all made from local Fukushima fruit, including apples, nashi pears, peaches, and grapes.

Tadami Line Scenic Train

This JR line takes you from the hustle and bustle of Aizu-Wakamatsu City deep into the countryside of Oku-Aizu and beyond. The beautiful scenery to be enjoyed from the windows of this local line more than make up for the extra itinerary planning needed to navigate the limited number of trains operating per day.
Buses
Fukushima is well-connected by bus, with most regions accessible by daily bus services. See below for an idea of the distance and cost when traveling in Fukushima by bus.
Fukushima ↔ Aizu-Wakamatsu; 1 hr 40 min (~1,800 yen+)
Koriyama ↔ Aizu-Wakamatsu; 1 hr 25 min (~1,200 yen+)
Iwaki ↔ Aizu-Wakamatsu; 3 hr 15 min (~2,600 yen+)
Fukushima Airport ↔ Koriyama / Iwaki / Aizu-Wakamatsu; times & prices vary
Nihonmatsu ↔ Dake Onsen; 25 min (~500 yen+)

(Japanese)
External links
Pass types
If you're planning to travel to and fro across Fukushima Prefecture, consider using one of the many travel passes. These will not only make travel easier, but will also save you time at the ticket gate.
Aizu Area
Aizu Gurutto Card
This card, available for adults at 2,720 yen and children at 1,360 yen, gives you unlimited 2-day access within the Aizu region on most of the transportation, including buses. In addition, you can even get a discount at participating sightseeing spots, lodgings, and restaurants.
Machinaka Aizu Sightseeing Loop Bus
(Japanese with English route map)
Easily identifiable, these red and blue city loop buses are an affordable way to travel around Aizu-Wakamatsu. A one-day pass costs 600 yen for adults and 300 yen for children. Ride either the blue bus (clockwise), Haikara-san; or the red bus (counter-clockwise), Akabee, for easy transportation around the city. Watch this video guide on riding the Aizu sightseeing loop buses.
Aizu Free Ticket
(Automated Translation Available)
For those traveling between Aizu and Nikko, consider the affordable Aizu Free Ticket which covers either the Wakamatsu area from Nishiwakamatsu Station, or the Minamiaizu area from Yunokami Onsen Station--both terminating at Tobu Nikko Station. Prices for this unlimited 2-day ticket start at 4,190 yen.
Aizu Tobu Free Pass
(Japanese)
With three free-ride zones to choose from, the 4-day Aizu Tobu Free Pass is great value. The three zones include fares from Shimo-Imaichi to Tobu Nikko / Kitakata Station; from Shimo-Imaichi to Tobu-Nikko / Ashinomaki-Onsen Station; or Shimo-Imaichi to Tobu-Nikko / Aizu-Tajima Station.
Kitakata Area
Urabandai Area
Bandai Toto Bus & Community Bus
The Bandai Toto bus takes you from Inawashiro Statio or Kitakata Station to Goshiki-numa Ponds, and Morohashi Museum of Modern Art. The Kitashiobara Village Community Bus is a free-of-charge bus that takes you to a number of spots around the lakes, including to Lake Sohara and Lake Hibara.
Urabandai Retro Sightseeing Bus "Mori no Kumasan"
Drive past some great sights in the Urabandai area, including the Goshiki-numa Ponds. The "Mori-no-Kumasan" Free Ticket offers two routes, each valid for 1 day.
Aizu Gurutto Card
This card, available for adults at 2,720 yen and children at 1,360 yen, gives you unlimited 2-day access within the Aizu region on most of the transportation, including buses. In addition, you can even get a discount at participating tourism, lodging, and restaurants.
Ouchi-juku Area
Aizu Railway & Retro Bus Combo Discount Ticket
(Automated Translation Available)
Make some great savings when you get the Aizu Railway and Retro Bus Discount Ticket. This ticket combines service for both the railway and the bus, which makes travel to Ouchi-juku from Aizu-Wakamatsu cheaper than by paying for the train and bus separately. The ticket is valid for two days and offers some great sights along the way. The ticket costs 2,200 yen for adults and 1,100 yen for children.
Tsuchiyu Onsen Area
Fukushima Station to Tsuchiyu Onsen Kotsu Bus Free Ticket
(Japanese)
For those staying the night at a ryokan or hotel in Tsuchiyu Onsen, consider this great free ticket. Receive your ticket by providing information about your stay at the bus terminal ticket off outside Fukushima Station's east exit, and choose between a 2-day or 3-day ticket. Board at any station between Fukushima Station and Tsuchiyu Onsen (as long as it's on the Tsuchiyu Bus Line). You can even receive special discounts at various facilities.
Rental Cars
Rent a car easily in Japan and head to your destination without worry. The Tohoku Expressway Pass is a special service that allows for unlimited use of Tohoku expressways at a flat rate via the ETC system! Be sure to rent a designated ETC card with a vehicle.
Taxis
There are many amazing spots in Fukushima Prefecture that are difficult to visit by public transportation alone. Using a taxi makes visiting some of the prefecture's more out-of-the-way destinations much easier. Some quick pointers to remember:
Carry enough cash in case the taxi doesn't accept credit cards or ask before entering.
Tipping isn't necessary as the exemplary service is included in the fare.
Ask staff at a hotel, station, or sightseeing spot to call a taxi for you if you can't find one.
Put your hand out for an empty taxi, displaying the lit up 空車 sign, to get them to stop for you.
Ask for the destination by name or Japanese address--one great tip is to look the place up on Wikipedia and then change the language setting to Japanese.
If you're stopping for a short time, ask the taxi to come back after a certain amount of time.
See our video guide on getting a taxi in Fukushima.