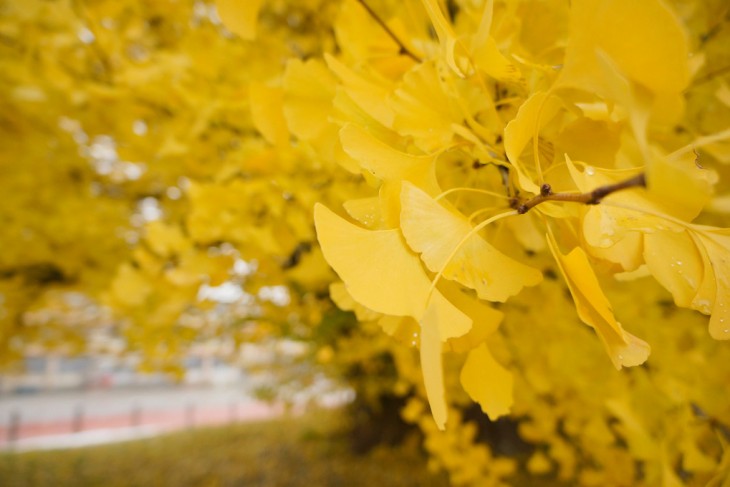 When it comes to the Japanese traditional of autumn leaf viewing, Fukushima Prefecture has so many fantastic spots to choose from. Whether the leaves of dark red maples, or bright yellow ginkgos, there are countless places worth visiting. In this post, I'll introduce some of the famous and lesser-known ginkgo tree spots to visit this autumn.
1. AZUMA SPORTS PARK, FUKUSHIMA CITY

116 ginkgo trees line the pathway for over 500m at the centre of Azuma Sports Park. This park is easy to get to, has a huge car park, and looks spectacular in the day or in the evening, when the trees are lit up from below. It's also quite a good date spot!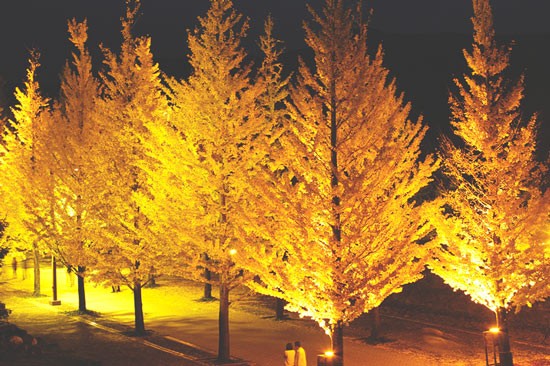 AUTUMN LEAF SEASON: Late October to Early November
---
2. SHIRAHATA SHRINE, SHINCHI TOWN
This 240 year old ginkgo tree stands like a protector right at the back of Shirahata Shrine. As the yellow leaves start to drop, they create a beautiful yellow carpet in front of the shrine. Looking up from the ground at the tree makes a really beautiful photo.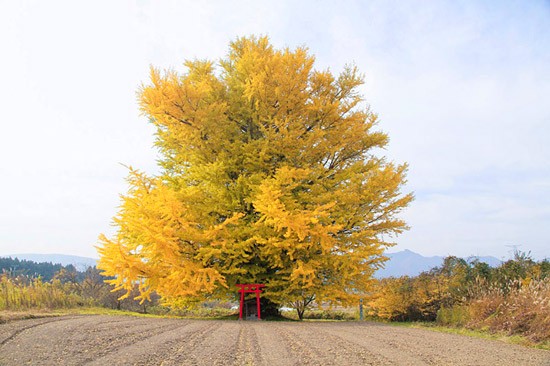 AUTUMN LEAF SEASON:

GETTING TO SHIRAHATA SHRINE BY CAR:

5 min drive from the Shinchi I.C. exit off the Joban Expressway.

GETTING TO SHIRAHATA SHRINE BY PUBLIC TRANSPORT:

10 min taxi ride from Komagamine Station (JR Joban Line)
---
3. SHINGU KUMANO SHRINE NAGATOKO, KITAKATA CITY
This beautiful 800 year old ginkgo tree stands just in front of Nagatoko – a space for worship which is central to Shingu Kumano Shrine in Kitakata City. Nagatoko's unique architecture (thatched roof and open-air plan) makes for a great photograph, and it's even more picturesque during autumn leaf season.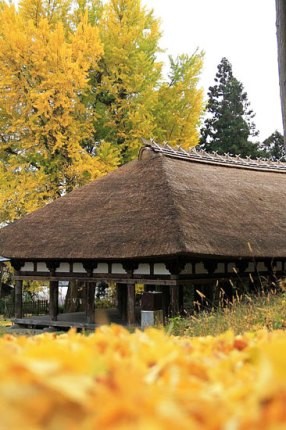 AUTUMN LEAF SEASON: Mid Nov – Late Nov
---
4. FURUMACHI, MINAMIAIZU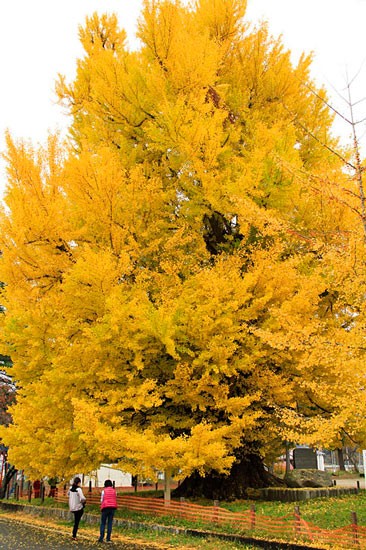 The amazing ginkgo tree at Furumachi is estimated to be 800 years old. It stands 30 metres tall and 11 metres wide.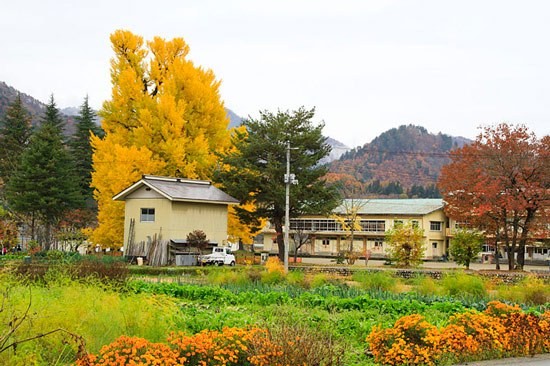 AUTUMN LEAF SEASON:

GETTING TO FURUMACHI BY CAR:

15 min drive from Shirakawa I.C. exit off the Tohoku Expressway.

GETTING TO FURUMACHI BY PUBLIC TRANSPORT:

40 min taxi ride from Aizu-Tajima Station (Aizu Railway Line)
---
5. HOYOJI TEMPLE, AIZU MISATO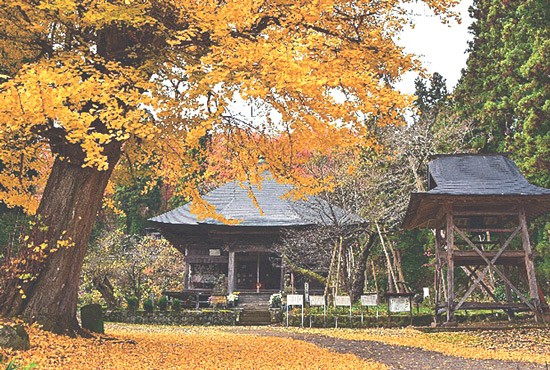 The yellow leaves of Hoyoji Temple's ginkgo tree line the sides of a path, welcoming visitors to pray at the temple. Not only is this a very scenic spot, it is also a very historic one. The temple was established in the year 702, and the Kongorikishi Buddhist statue carefully preserved on the temple grounds dates back to the Heian era (794 – 1185). Visitors to the shrine are welcome to wander around as they like, but those wanting to visit the Kongorikishi statue should reserve a timeslot to see it in advance by contacting Misato Town Tourism Association by phone.
AUTUMN LEAF SEASON:

GETTING TO HOYOJI TEMPLE BY CAR:

15 min from Niitsuru Smart I.C. exit off the Ban-etsu Expressway

GETTING TO HOYOJI TEMPLE BY PUBLIC TRANSPORT:

10 min taxi from Aizu-Takada Station (JR Tadami Line)