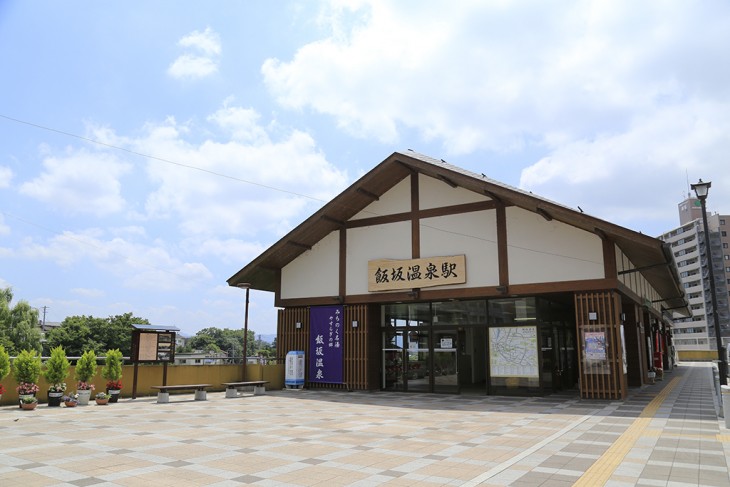 Getting to Iizaka Onsen from Fukushima Station via public transport can seem a little confusing the first time. This is because the train line that goes to Iizaka Onsen (the Fukushima Transportation Line) is located in a different building from the main Tohoku line and Shinkansen Line trains.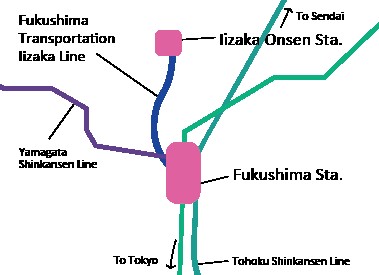 Follow these steps to get to Iizaka Onsen Station.
After arriving at Fukushima Station, follow signs for the East Exit (東口).
Exit the station building via the East Exit.
Turn left and walking adjacent to the station building.
The entrance to the Fukushima Transportation Iizaka Line (福島交通飯坂線) will be on your left.
Buy a ticket at the ticket machine (you can't use Suica, Passmo etc)
Show the station guard your ticket and wait on the platform.
Make sure to get the train from the right-hand (most East) platform. The left-hand platform is a different train line.
Iizaka Onsen Station is the final stop.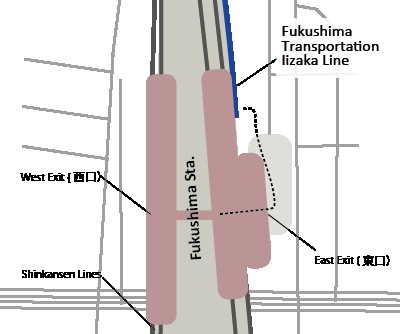 Here is a full list of stops on the Iizaka Line. Main stations are highlighted in bold.
| | |
| --- | --- |
| Fukushima Station | 福島駅 |
| Soneda Station | 曾根田駅 |
| Bijutsu-Toshokan-mae Station | 美術館図書館前駅 |
| Iwashiro Shimizu Station | 岩代清水駅 |
| Izumi Station | 泉駅 |
| Kami-Matsukawa Station | 上松川駅 |
| Sasaya Station | 笹谷駅 |
| Sakuramizu Station | 桜水駅 |
| Hirano Station | 平野駅 |
| Ioji-mae Station | 医王寺前駅 |
| Hanamizu-zaka Station | 花水坂駅 |
| Iizaka Onsen Station | 飯坂温泉駅 |