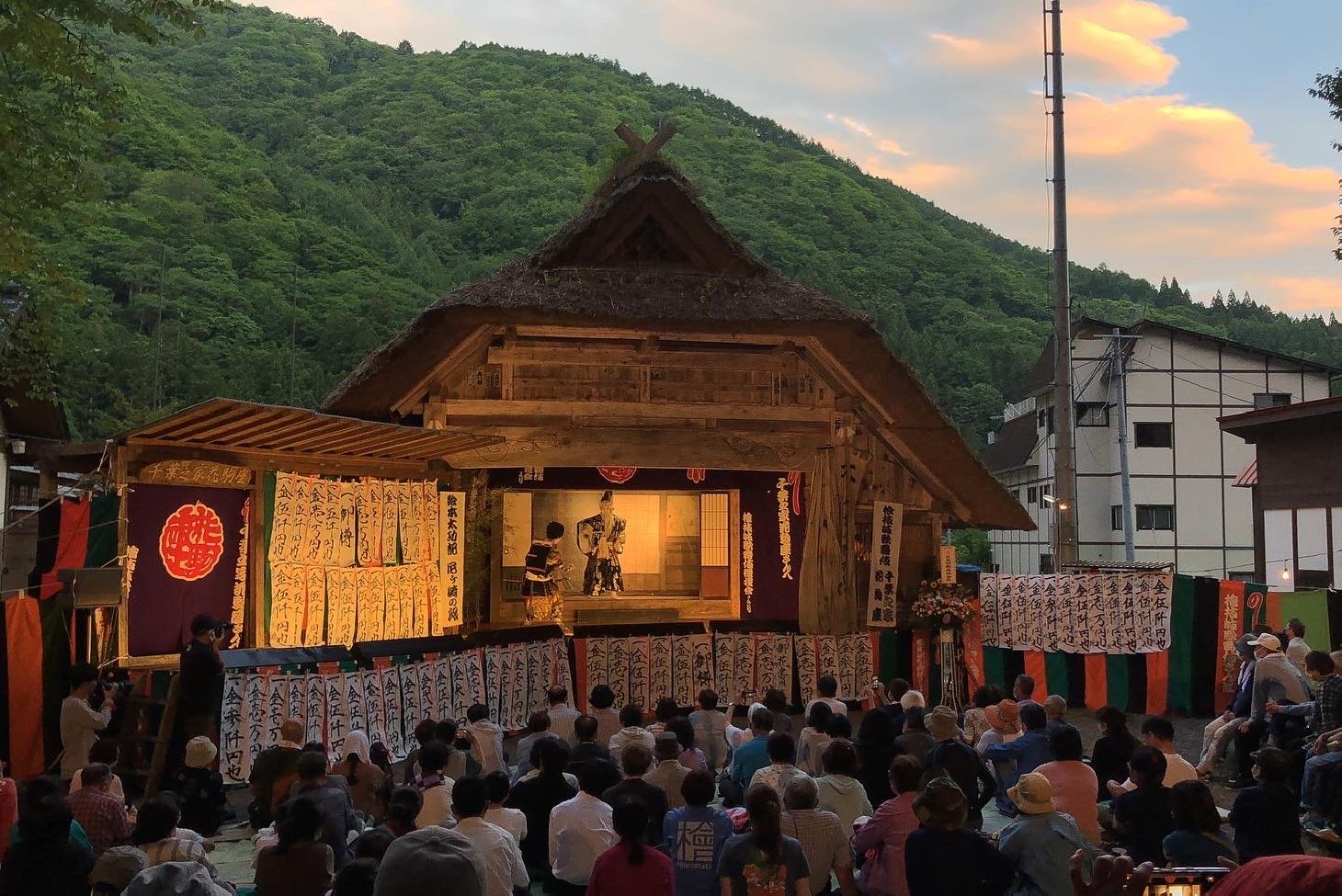 The Hinoemata Kabuki theatre is a slice of living history,
carrying on a tradition that began in the 1600s.
Charming thatched-roof buildings, rice fields, and country forest roads add an extra layer of charm. Rural Fukushima really feels like a storybook destination, a place where Japanese folk culture still feels alive and strong.
A remote village surrounded by nature
Surrounded by gorgeous nature, the village is incredibly picturesque. Before modern roads and forms of transportation were developed, Hinoemata village was cut off from civilization each year for a number of months due to heavy snowfall in the area that made travel impossible or extremely dangerous. People in the village developed unique ways to survive and live amongst nature.
The spectacular Byoubu Boulders are a quick stop on the drive into the village.
The village has a population of just over 500 today that is mostly made up of the descendants of three groups of people who settled here. The first to arrive were those with the surname "Hoshi", who arrived in 794. Next were those with the surname "Hirano" whose exact arrival period is unknown, however, what is known is that they were fleeing from some conflict. Leading to the village being known as a place where people ran away to. Finally, those with the surname "Tachibana" arrived in 1569.
The village has a strong sense of community which makes sense, as the population has survived and endured for hundreds of years together!
The Origins of Hinoemata Kabuki
Let me transport you back in time to the 1600s, before modern technology, way before smartphones and computers. Before electricity!! The villagers in Hinoemata lived a life surrounded by gorgeous nature on the outskirts of a vast wilderness, modern-day Oze National Park.
Nearby Oze National Park is a wonderland of hiking trails…
Although they were surrounded by beautiful nature, they had few creative outlets. Villagers needed to focus on farming, fishing, and hunting to keep the village strong and survive the cold winter months. The already remote village became a fortress in winter when paths were covered in heaps of snow, locking everyone either in or out of the village for several months each year.
Some villagers travelled south for work or trade,
and they discovered something magical:
Kabuki theatre shows!
Mesmerized by the costumes and storytelling, those villagers brought home tales of what they had seen. Local villagers soon began putting on their own shows. Practicing in the fields and in their homes, and hand painting or crafting the elaborate costumes and sets to put on several spectacular shows to put on in the warmer months.
Soon, the rich tradition of Hinoemata Kabuki was born!
Theatre for all
Kabuki theatre is thought to have originated in Japan early on in the Edo period that lasted from 1603 to 1867. Originally female and male actors graced the stages, however, in 1629 women were officially banned from the stage. This was only ten years before the start of Sakoku (1639-1853) when Japan isolated itself by closing the borders.
Since 1629, all characters male or female had to be played by men. I was surprised to hear that even today, women are forbidden from performing in official Kabuki performances. Despite this, Hinoemata Kabuki includes female Kabuki actresses!
The cast of both male and female kabuki performers
taking their final bow of the evening.
Hinoemata Kabuki is not official Kabuki theatre, despite being heavily inspired by Kabuki shows. This allows them to bypass strict rules that other Kabuki theatres have to observe, allowing for a unique take on this staple of Japanese culture.
A community dedicated to carrying on tradition
We learned that the female actor who was meant to portray the grandmother character in last week's performance suffered an injury that left her unable to perform! Everyone was worried now, with one character short.
So, one senior actor from the village, a 72-year-old man, recognized the dilemma and decided to step up to help. He had actually retired some time previously due to joint pain in his knee. So, to perform to the best of his ability, this 72-year-old man did daily stretches and strengthening exercises to prepare for the performance. In the end, he managed to beautifully portray the sweet grandmother.
Through the dedication of this remote community,
their traditions have been preserved for hundreds of years,
and hopefully, for hundreds more to come.
Hinoemata Kabuki Today
Thanks to the creation of new roads and tunnels access to this remote village has improved, but the village still retains its own unique culture. People in Hinoemata village take a lot of pride in their traditions and history, passing on this tradition to each new generation, they have been able to preserve something truly special.
Some time ago, the stage was designated as a National Important Tangible Folk Cultural Property, and the shows have been designated as an important intangible folk cultural asset.
Although the original purpose of Hinoemata Kabuki was entertainment by locals for locals, today anyone is welcome to attend. Despite the small population, the town has an active and cheerful atmosphere that is very welcoming.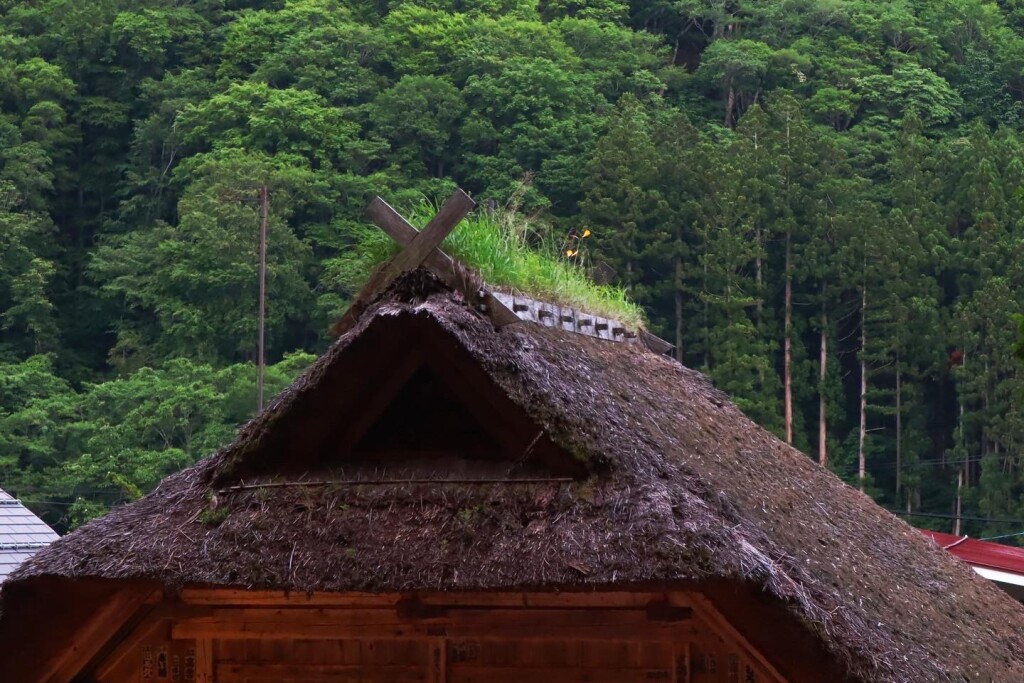 The over 100-year-old thatched roof of the stage had
flowers growing out of the top

The curtain used during the show we saw was hand sewn
and painted over 100 years ago by women in the village
Visiting Hinoemata village was absolutely incredible, and I can't wait to visit again someday.
For a village of just over 500, I didn't expect to find such a warm and lively environment. This is a community that supports each other, and they really seem to love their home and what they do.
For information on how to visit click here, or contact us via email or social media and we'll get back to you as soon as possible.