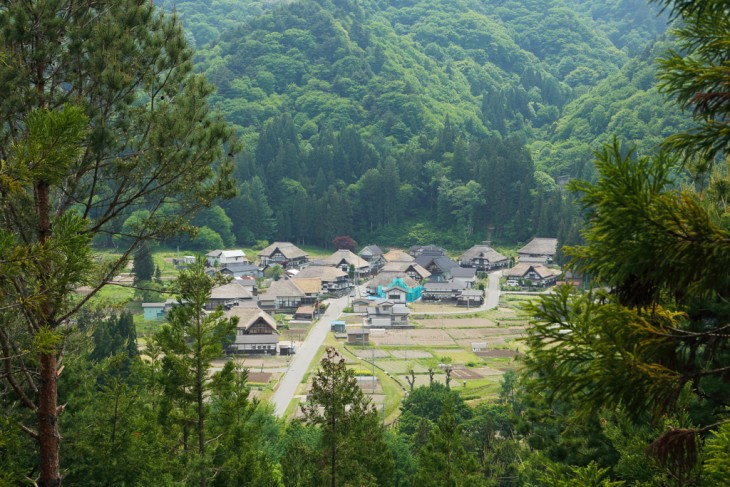 Constructed at the end of the 16th century, the thatched roof farmhouses of Tateiwa Village are a hidden gem, buried deep in the heart of Minamiaizu, Fukushima Prefecture.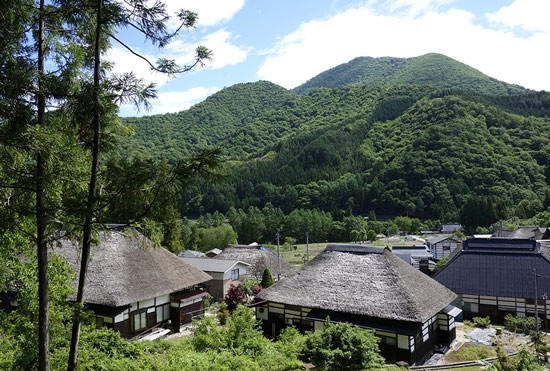 L-SHAPED FARMHOUSES
One of the first things I noticed upon arriving at Maezawa Village was the huge size and odd shape of its buildings. 13 of the farmhouses still standing are L-Shaped – a shape known as 'magariya' in Japanese.
The farmhouses also have distinctively long corridors and tall ceilings. During my tour of the village, I was told that having long corridors to connect the entrance way to living quarters was necessary in centuries gone by.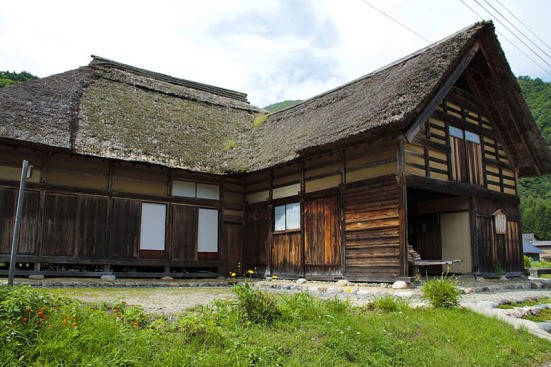 First and foremost, this was because people lived with their horses. Minamiaizu winters are so cold that keeping horses in outdoor stables would be cruel! As a result, the people of Tateiwa (known as 'Maezawa') have a long history of sharing their homes with their horses – a tradition that continued up to the 1960s.
Additionally, long corridors helped villagers reach the main road. Overnight in winter, 1 m of snow often falls in Maezawa, so having the front of the house far from the main road would mean a lot of manual work shifting snow would be necessary everyday just to leave the house. Having the corridor connect directly to the main road solved this problem.
HISTORY
Isolated from surrounding towns for months every year due to heavy snowfall, the people of Maezawa have had to adapt their lifestyles to the harsh conditions of the region. Producing much of their own daily necessities, Maezawa was largely a self-sustaining community of agricultural workers. Winter months, when farming was impossible to conduct, offered time for farming silkworms and making linen.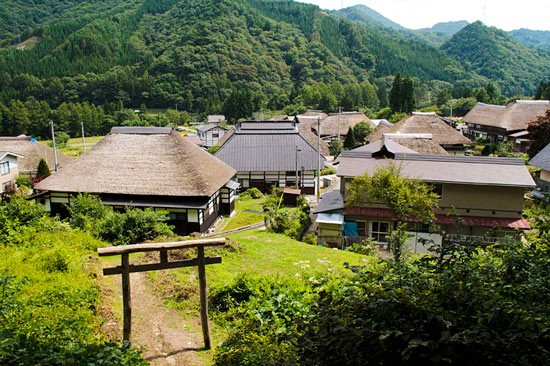 The shape and style of the architecture of town has changed gradually over the centuries due to damage from heavy winters, and fire-related incidents, the biggest of which occurred in 1907, which badly damaged all but 4 farmhouses.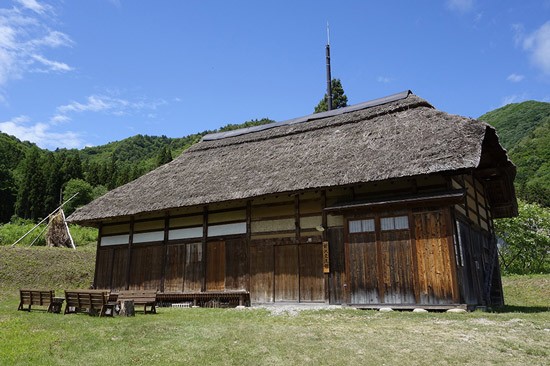 Local efforts to actively preserve the area have been taking place since 1985. Much of this work involves maintaining and replacing thatching on rooves; an activity carried out using traditional techniques, as far as it is possible.
Those involved in preserving Maezawa's L-Shaped Farmhouses – many of whom are volunteers – do so to demonstrate the relevance of local traditions in modern life, and to pass on their community's local history to future generations.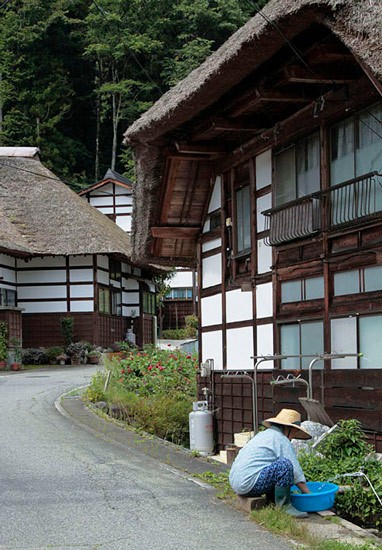 THINGS TO DO
1. VISIT THE MUSEUM
Maezawa Shuraku Museum (資料館) was definitely the highlight of my visit.
The museum has been converted from one of Maezawa's old farmhouses to showcase folk traditions and local lifestyles, and its layout has been preserved and put on display for visitors to see.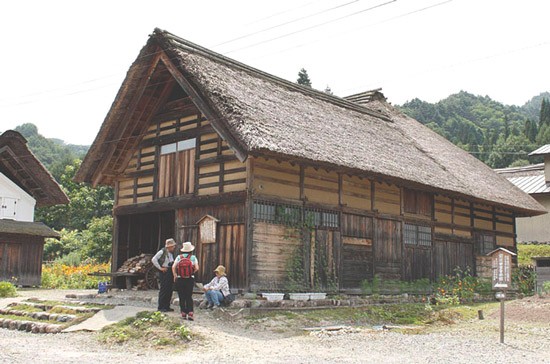 Visitors can explore the whole house – including a loft area only accessible by a slightly wobbly staircase!
Whether sitting at a traditional irori fireplace, standing on a bearskin throw, exploring intriguing Buddhist altars, or gazing at the gorgeous houses lining the streets outside, I found myself captivated by the feeling of being somewhere incredibly historic.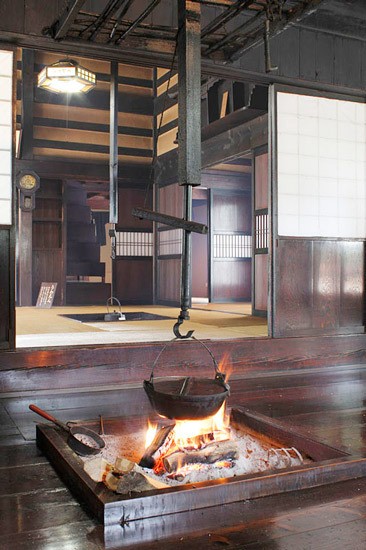 2. CHECK OUT THE VIEW POINT
Across the road from the entrance to the hamlet is a footpath which leads to an amazing view point. The scenery is especially spectacular in early November, when the autumn leaves are in full glory. The footpath up to the view point was a rather steep 10 minute walk, so please bear this in mind when visiting!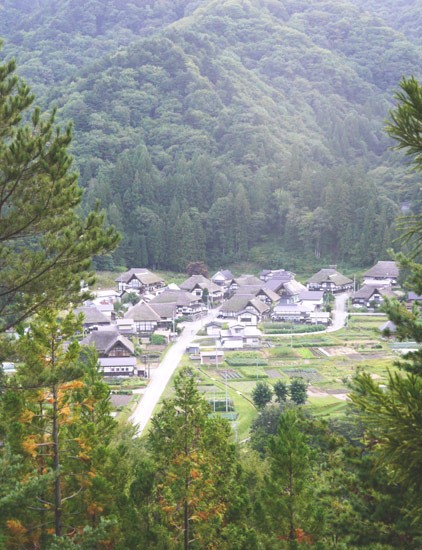 3. SEE SEASONAL FLOWERS
Seasonal flowers including hydrangea, iris, rhododendron and Chinese peony can be enjoyed at Furasato Park if you plan your visit carefully!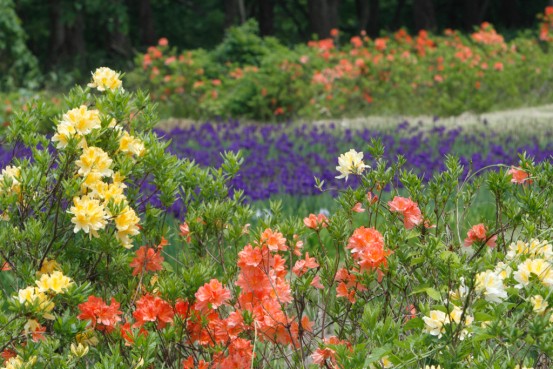 4. EXPLORE THE AREA
There are many interesting places dotted around this beautiful village, including spots where fresh water from the mountains can be collected. Visitors can also buy hand-made crafts from a local shop, and try locally-harvested soba.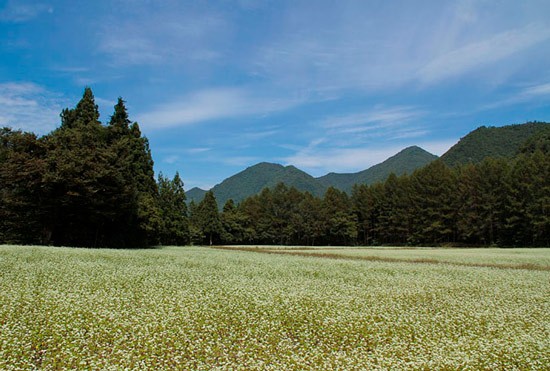 Landmarks to search for include an ancient pine tree, a watermill, and a Buddhist statue thought to be the god of horses. As horses were so important for the town, it was vital for the people of Tateiwa to pray for the strength and well-being of these animals.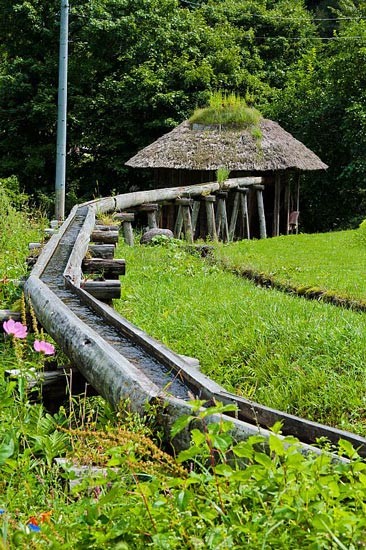 ---
For information on opening hours, entrance fees, and how to reach Maezawa, see here!