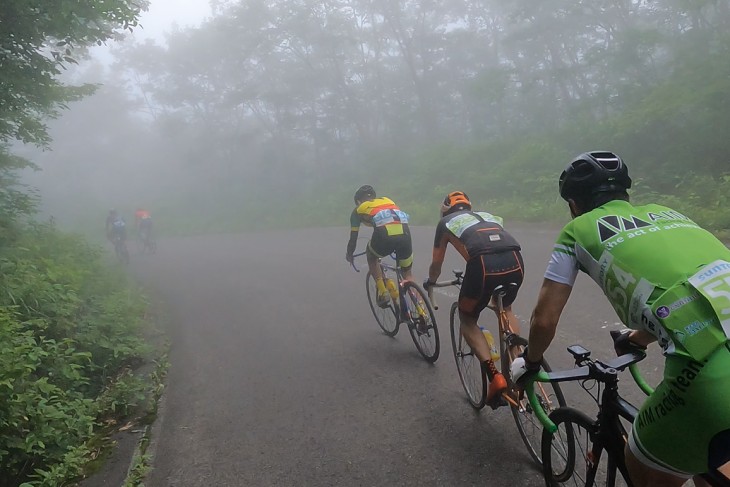 I joined a cycling event/road race in Fukushima, Japan and cycled the popular hill climb course up the Bandai-Azuma Skyline to the Jododaira Visitors Center.
I was super nervous; I have been cycling for several years but this was my first road race ever. The other cyclists were all so friendly and encouraging! Some cyclists were dressed very unique as there is a completion category specifically for "cosplayers" so I met cyclists dressed as a squid, a minion, and even a skinny sumo wrestler!
Into the Clouds...
From the start of the course, we were already in the clouds. Thick fog made it difficult to see far ahead, fortunately the course is straight forward and the other cyclists helped to show me the way. The dense forest looks unreal in the mist, and it was very exciting to be traveling through the mist with a whole herd of cyclists! As challenging as the course was, whenever I felt like giving up, I would hear an encouraging voice from another cyclist that pushed me to keep going!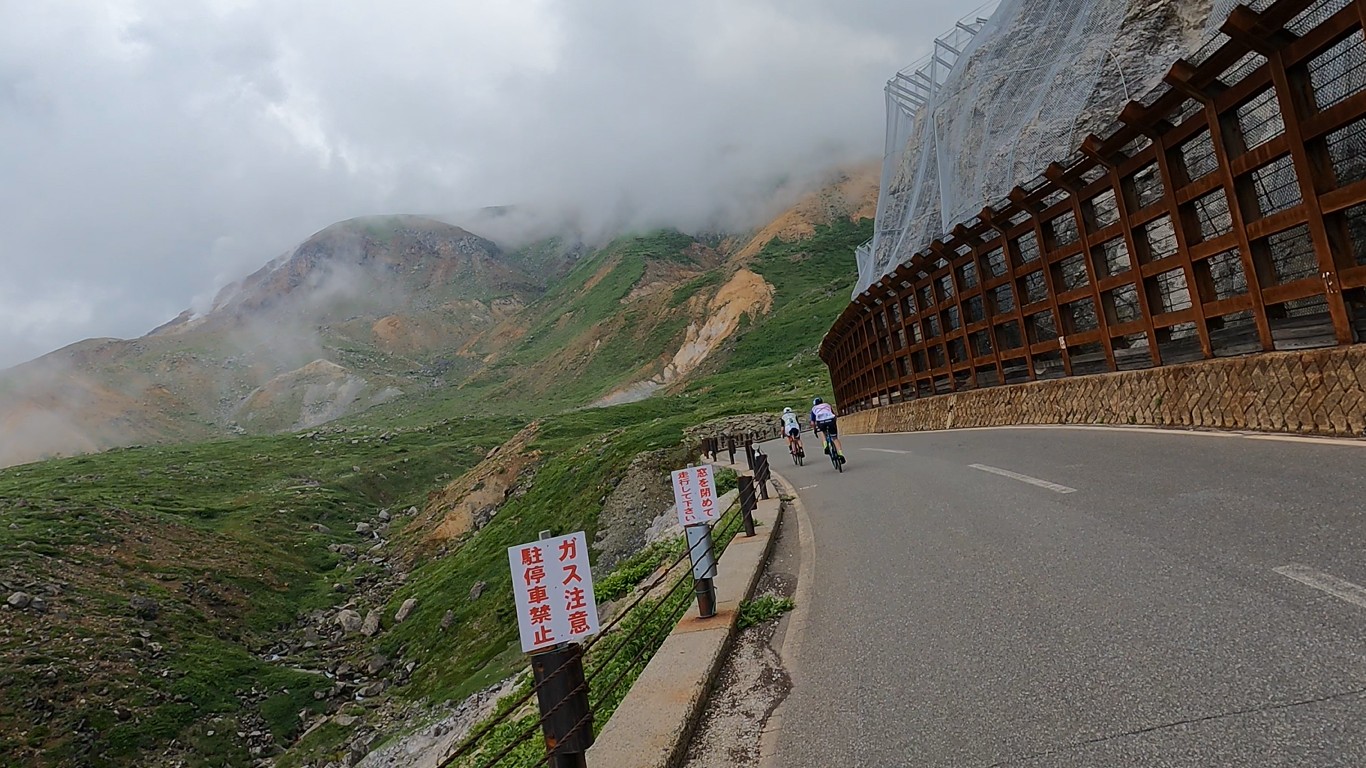 Entering the Volcano-Zone!
Suddenly the dense trees disappeared and through the mist I could see that the surrounding terrain changed to volcanic rocks that look pale orange and red. Turning a corner, the mist had cleared and I could see the volcano, blue sky and felt a surge of energy! Volcanic lakes and ponds scatter the are actually small crater that were formed from the impact of boulders that were blown into the sky during an eruption that took place many years ago. Although the scenery is unique and it is tempting to stop and explore, it's best not to linger for too long! Volcanic gasses can collect here and prolonged exposure could lead to fainting. Views of Fukushima city below are beautiful, and there is a better place to stop for photos at the top of the hill, at the Jododaira Visitors Center!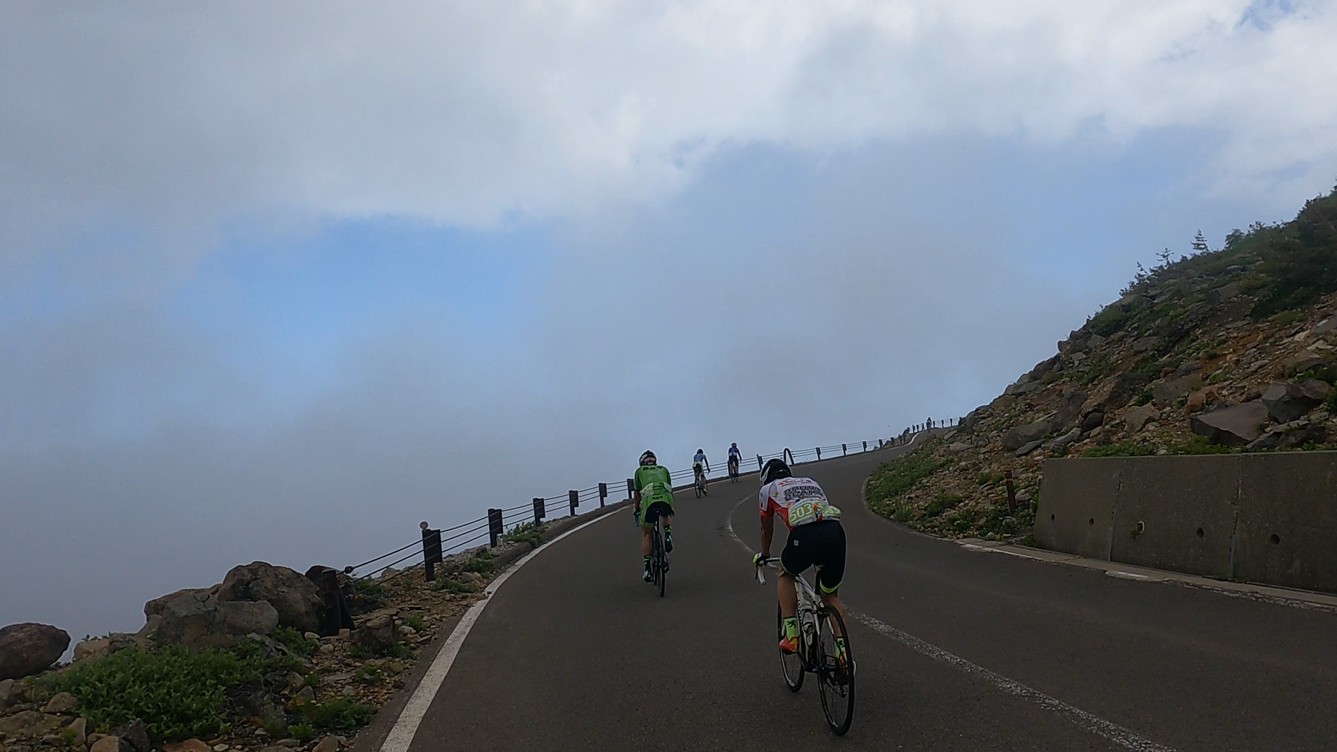 Reaching the Finish Line!
Finally, we reached the Jododaira Visitors Center! There were trays or healthy snacks and food to recharge after the long climb! It was a lot of fun chatting with the other cyclists after sharing this experience together. I hope that I can join another cycling event in Fukushima soon, and I hope that hearing about my experience encourages you to try a cycling event when you visit Fukushima.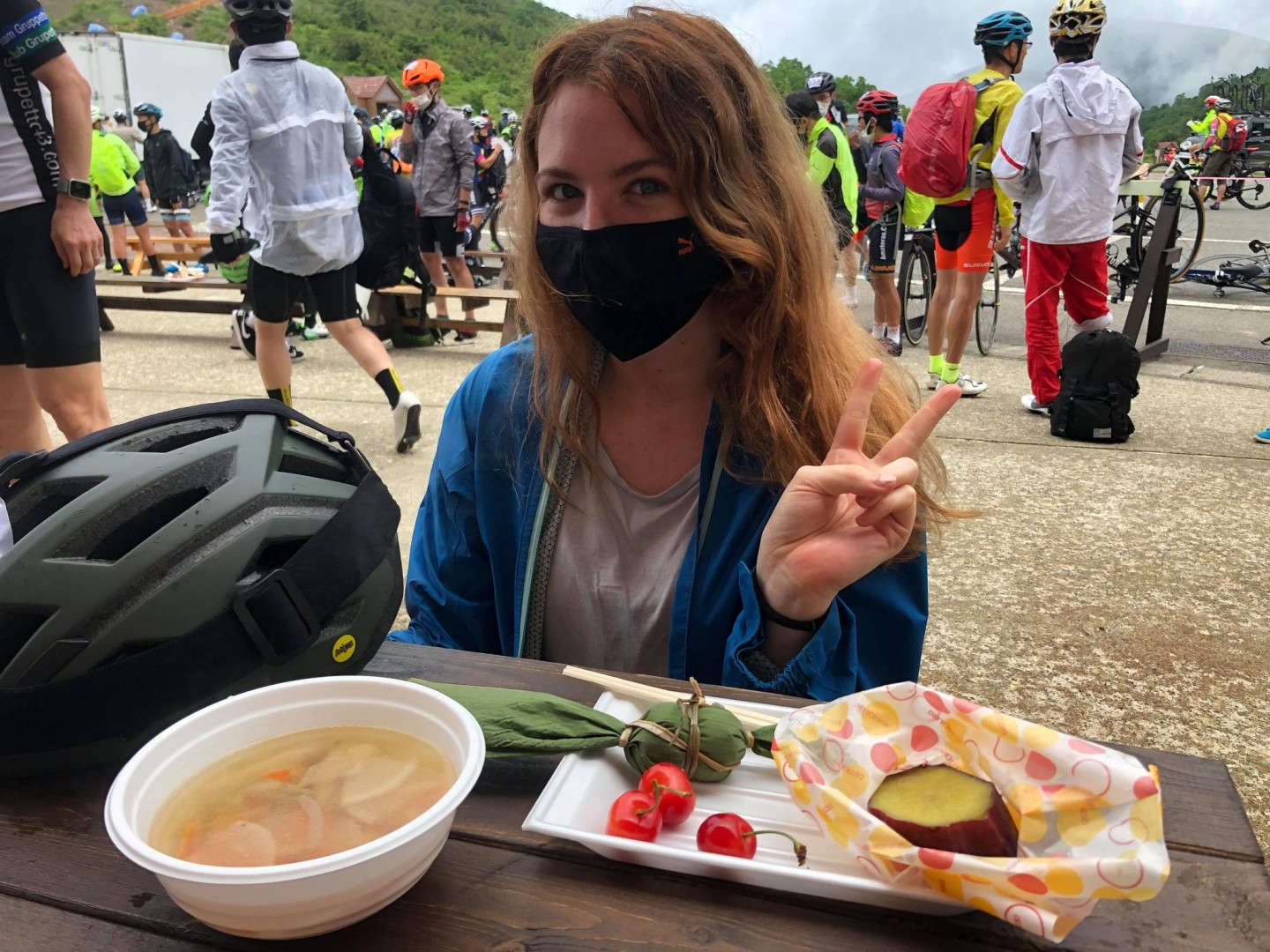 I raced in the 17km Hill Climb cycling event on the Bandai-Azuma Skyline.. However, if that is a bit intimidating, worry not! Fukushima has routes for cyclists of all levels!