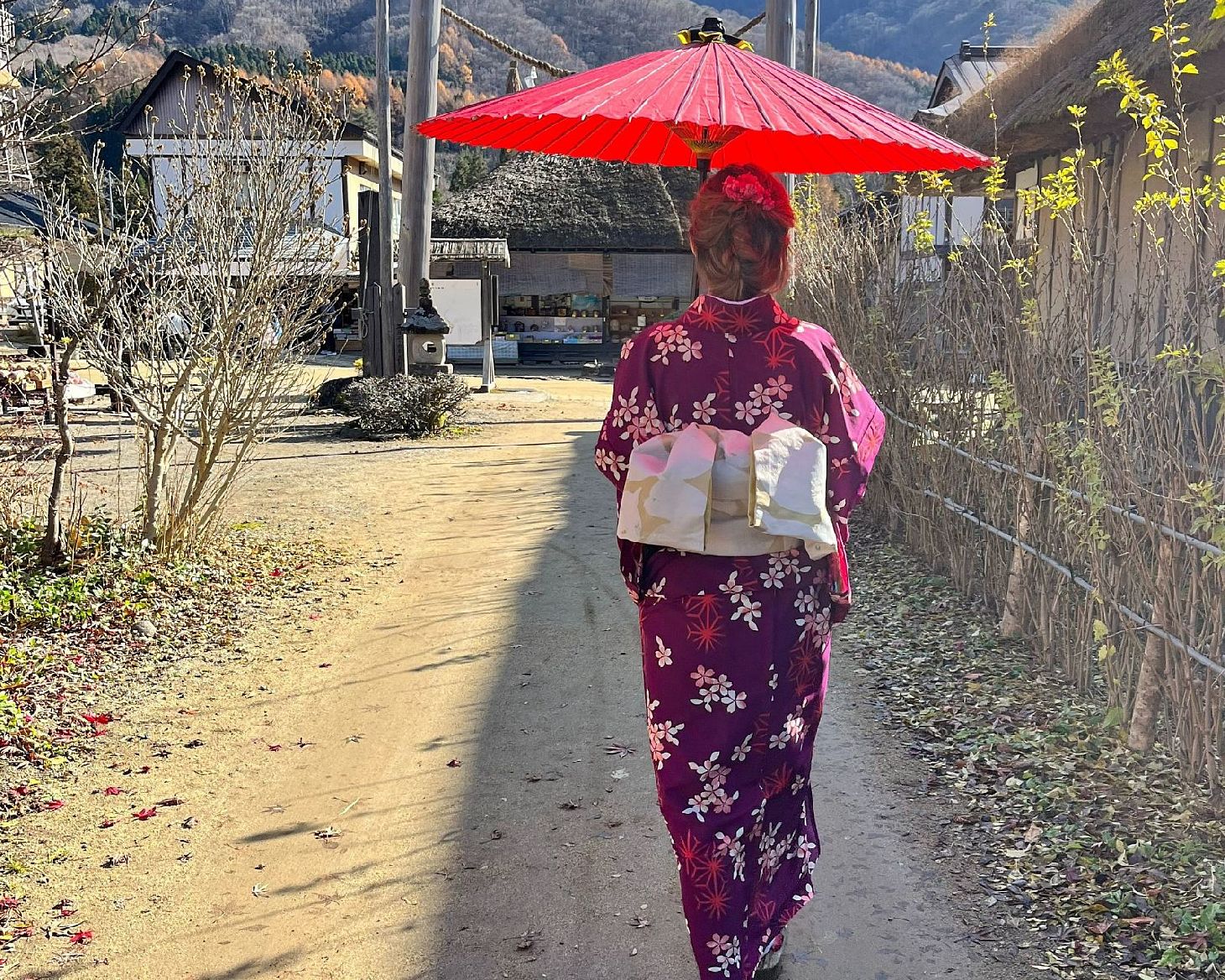 On a clear autumn morning, I stepped out in a bright purple kimono, tabi socks and wooden sandals, my hair up in a pink flower kanzashi hair pin and a cloth purse in hand. The sky looked sparkling blue in the quiet town of Ouchi-juku, located between the mountains of the Japanese countryside.
What happened next was unforgettable.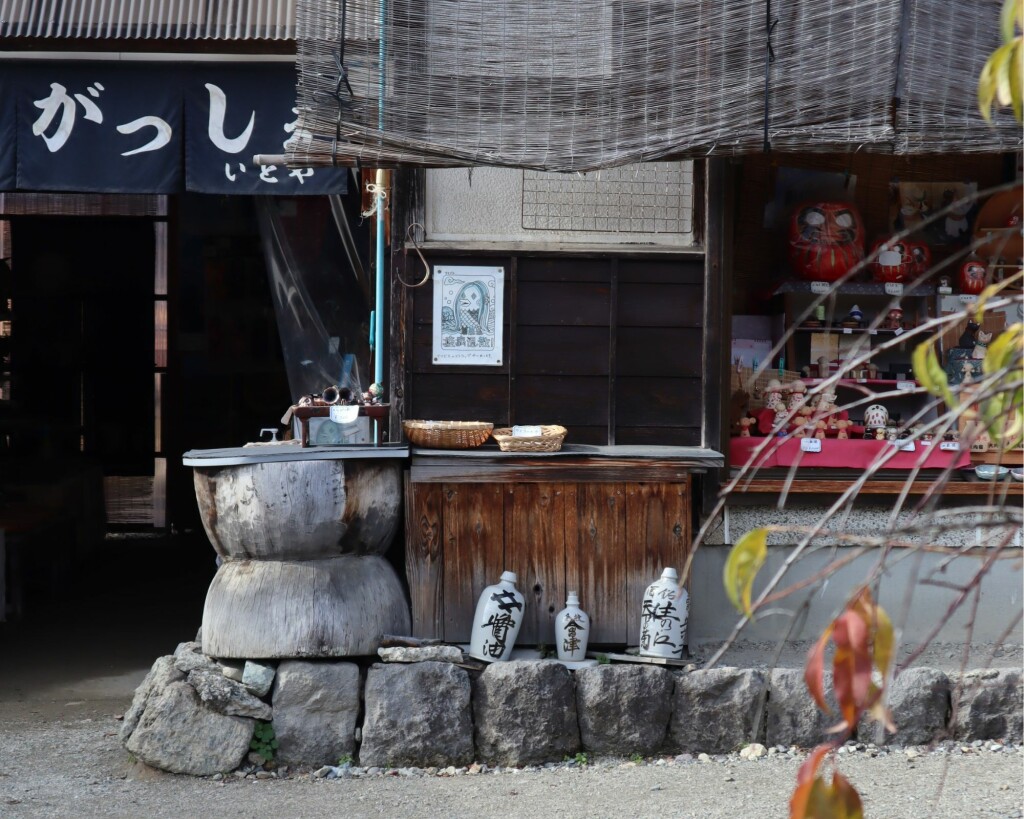 The Start of my Ouchi-juku Kimono Experience
"Kimono is for everyone", the kimono specialist assured me. Few garments are as universal and inclusive.
Sunlight was timidly spilling into the room through the translucent paper windows when my kimono experience began.
We were in a wide room parched with tatami floors, warming up close to a heater. First, using a kanzashi hair pin, she quickly and effortlessly arranged my hair. Next, it was time for me to pick my kimono.
Kimono means 'a thing to wear' in Japanese, and is a timeless item of clothing adaptable to different body types and designed to last for generations.
I opted for a bright purple one that matched the fuchsia flowers on my hair. I put on white tabi socks and a black cloth bag with embroidered cherry blossoms. As a cat lover, I was delighted when the staff suggested I wear a white obi with pictures of cats.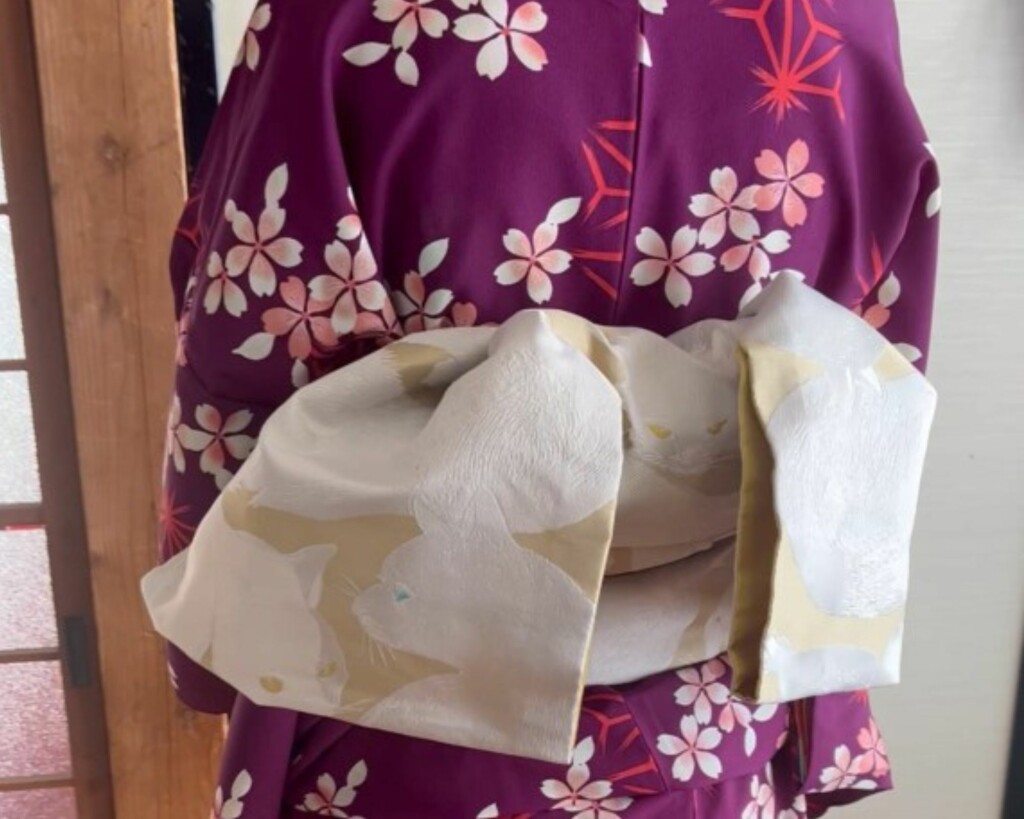 That kimono must have been worn by many before me. Kimono has no sizes and is a timeless piece. In the face of ultra-fast fashion (and its subsequent toll in the environment), this sustainable and inclusive garment has stood the test of time and remains as relevant as ever.
Welcoming as it is, kimono does have its intricacies—for one, you need someone to fit you into it. The kimono specialist will answer all the questions you may have, as well as teach you a few local secrets to make your visit even more memorable.
Booking a kimono experience brings you closer to Japanese culture in more ways than one.
Stepping into the Past: Picture-perfect Ouchi-juku
Ouchi-juku is an old town preserved to look exactly the way it did 300 years ago. Rows of thatched roof handcraft shops and restaurants, no cars nor electricity poles on the streets and little streams shushing along the road, it is a postcard-like gem hidden between the mountains of the Aizu region.
Either people in Ouchi-juku are extremely welcoming or the kimono was truly special, because people would go out of their way to compliment me or even ask to take my picture. Elderly ladies tending for the shops would greet me with a broad smile and a friendly "kawaii, desune!" ('You look very cute!').
It was a lovely way to connect with everyone—the flowery kimono helped start many warm conversations.
A Taste of Aizu Samurai's Soul Foods
It finally was time to sit down for a meal.
If you visit Ouchi-juku, make sure to build up some hunger and indulge in local specialties.
This is what I ordered and would recommend you try!
Takatosoba (高遠そば) is Ouchi-juku's signature dish: buckwheat noodles served with grated radish soup and eaten with a green onion. The radish used in this dish is called azagi daikon and grows naturally in the Aizu mountains. It smells as tangy as it tastes. What makes this dish unique is that you eat it with a green onion instead of chopsticks or a spoon.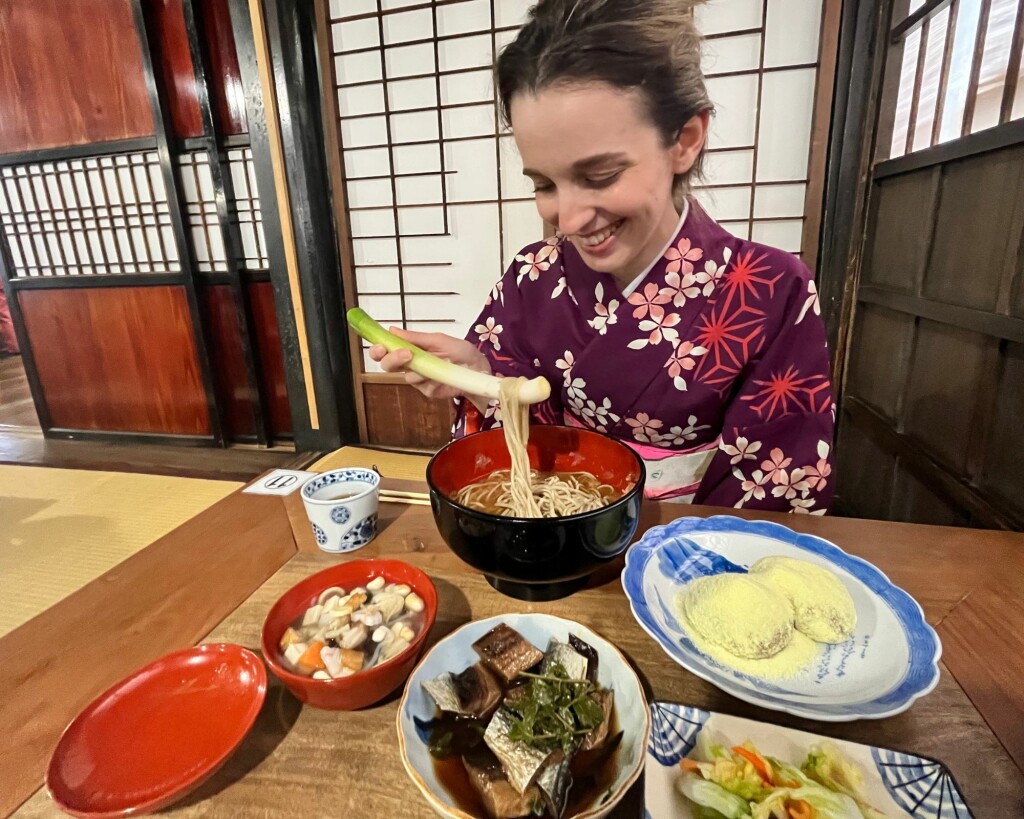 Nishin no sanshosuke (にしんの山椒漬)is pickled herring with sansho (Japanese pepper). The herring was buttery soft and marinated in soy sauce. The Japanese pepper leaves on top had a strong but refreshing taste.
Kozuyu (こづゆ) is a staple dish of the region, said to have been a favorite of the Aizu samurai. It is made up of a hearty scallop broth, fish cakes, carrots, konjac noodles and gluten croutons. This delicately presented dish is wonderful to warm-up during cold days.
Sweet soybean flour-flavored tochimochi (栃もち・きな粉) was my personal favorite. These two chewy, warm and powdery mochi were perhaps the best I have had in over four years that I have been living in Japan. Each bite had just the right amount of sweet, with the sweet soy flour kinako powder sprinkled on top leaving behind an almond-like aftertaste.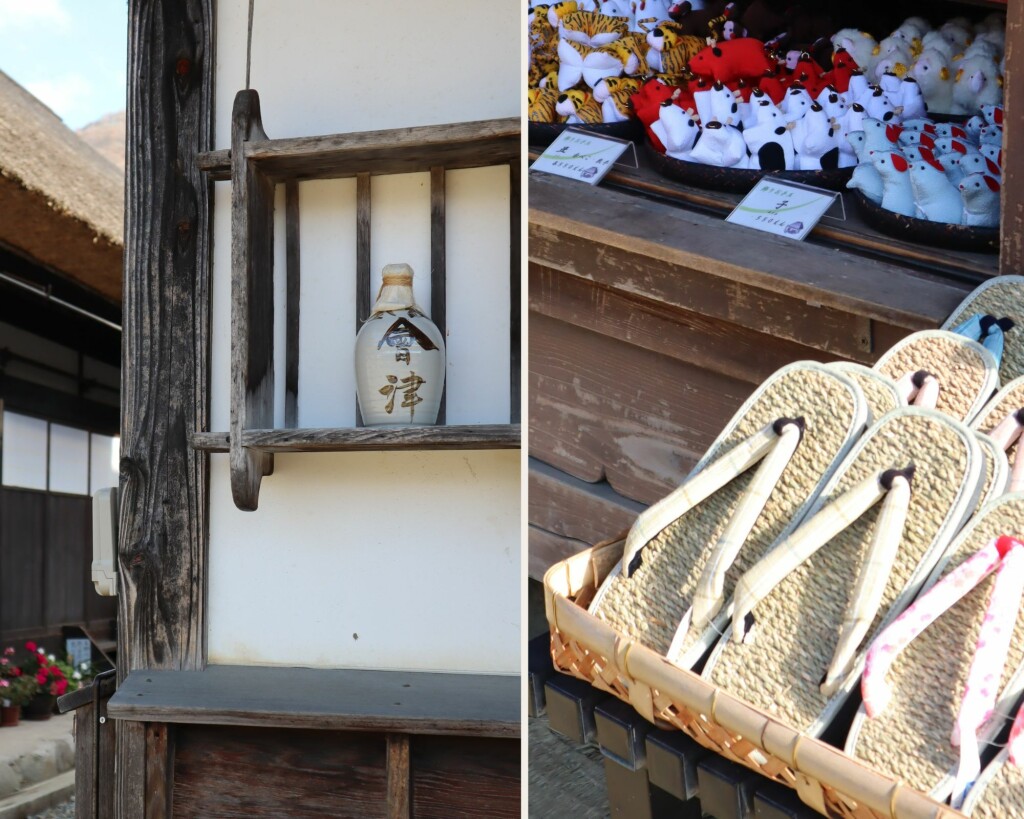 An Iconic View of Ouchi-juku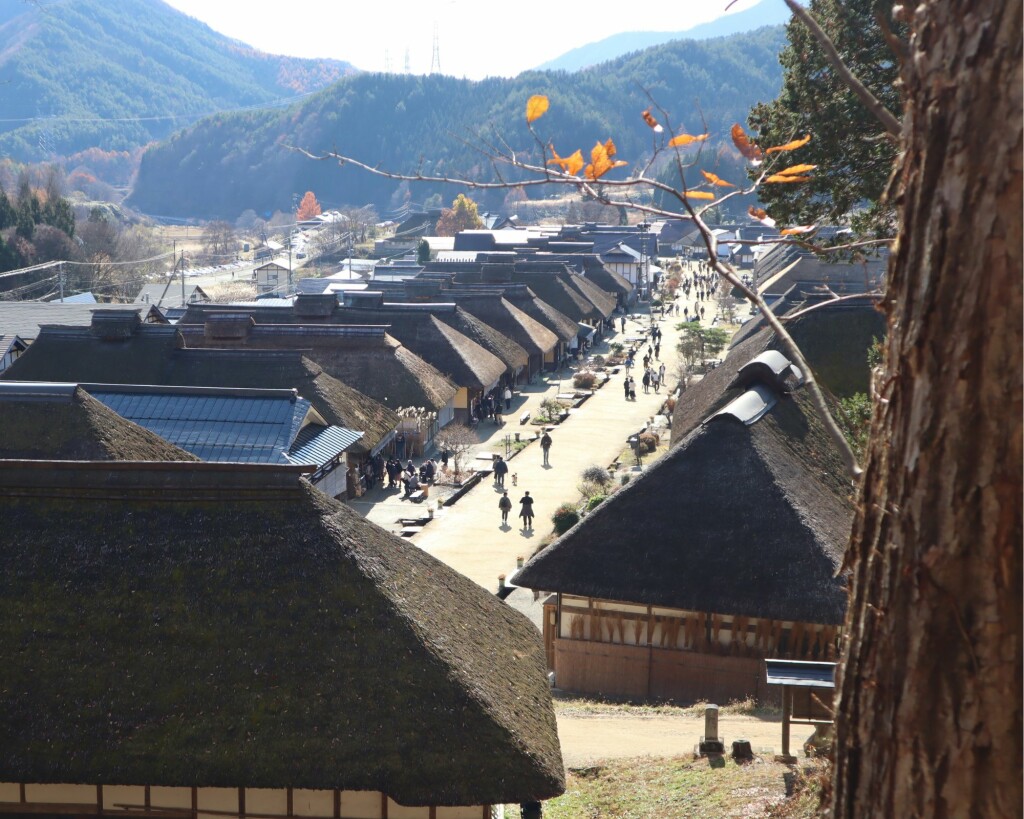 The best view of Ouchi-juku can be found after a short walk through the main street towards the shrine. Climb up the stone stairs and you will find yourself in front of a famous photo spot overseeing the traditional kominka houses, mountains stretching out in the background.
In spite of its striking beauty, this town remains quiet and rarely sees crowds, making it perfect for visitors who enjoy taking their time to explore places off the beaten path.
After looking through the pictures of that day, I noticed that the prints of kimono look even more vivid against the backdrop of Ouchi-juku's earthy hues. Strolling through such a well-preserved historical site in a kimono was a one-in-a-lifetime experience.
If you would like to wear a kimono in Ouchi-juku, read more about the Ouchi-juku Edo Time Slip and Kimono Tour, which includes a two-hour stroll in a kimono, matcha and sweets at a traditional tea house, and entry to the townscape exhibition hall where you can learn more about the way of life way back then at Ouchi-juku.