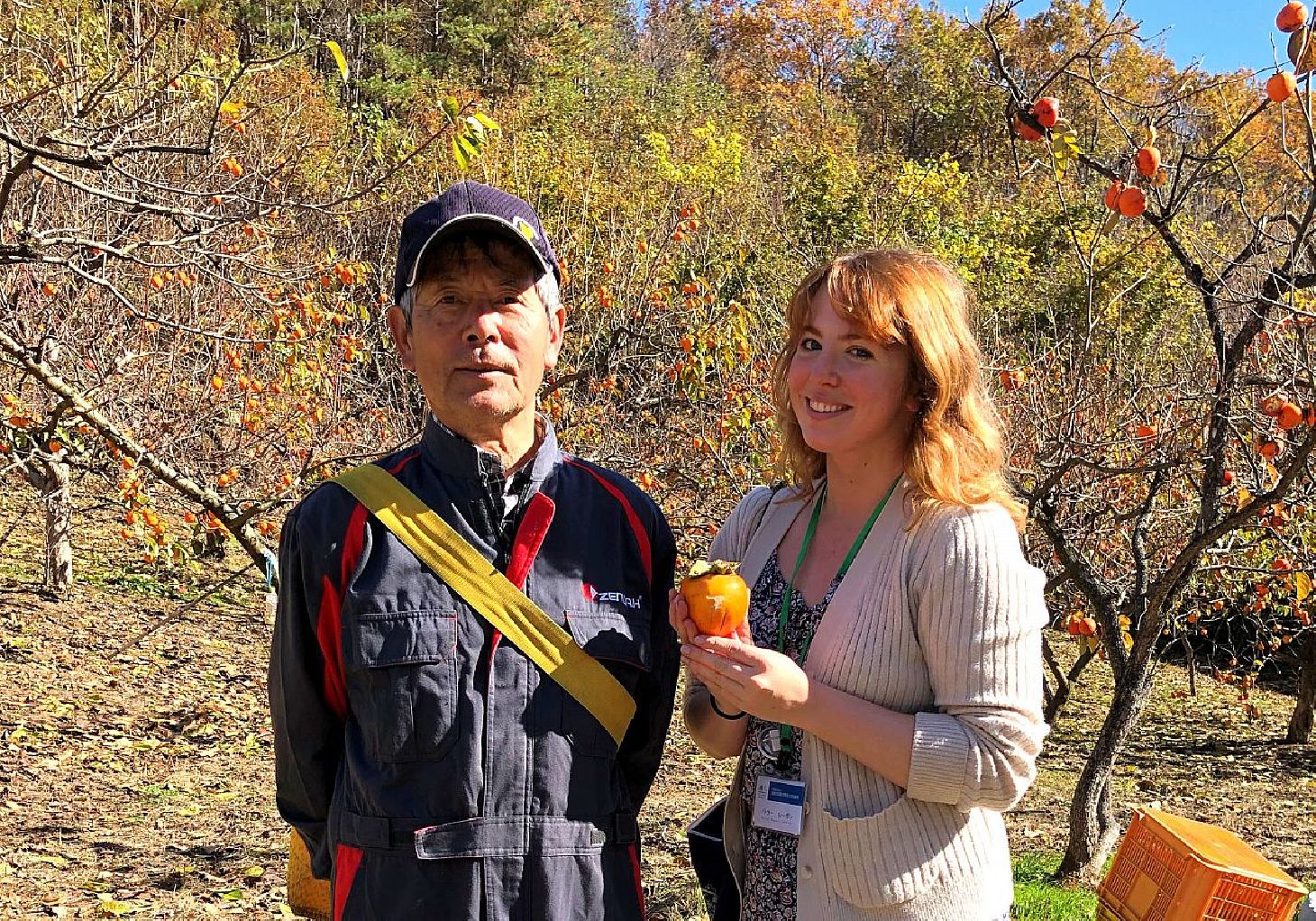 People of Fukushima
Over ten years have passed since the Great East Japan Earthquake, Tsunami, and Nuclear Disaster devastated people living along the coastline of the North Eastern region of Japan known as Tohoku. Despite the overwhelming love and support that poured in from around the world, the journey of grieving and overcoming this terrible set of circumstances must have been too great at the time to even imagine a brighter future.
However, today when you visit Fukushima you'll see people smiling, children laughing, and flowers blooming. The smiles on the faces of the people of Fukushima seem contrary to the hardships they've experienced…
It makes one wonder, could this possibly be the same place?
Through their smiles we can begin to understand the story of a people who have overcome difficult circumstances, and continue to stay optimistic and remain motivated to overcome anything that comes their way.
In a relatively short time frame, recovery efforts have progressed greatly. This is largely thanks to the astounding motivation and hard work of local people whose love for their hometowns and communities is extremely touching. Although there is still work to be done, Fukushima is a wonderful prefecture that deserves more love and attention, so I hope that you will keep reading to learn more, and even consider visiting someday.
Tokyo Plus 90
Widely considered to be the gateway to the Tohoku region, Fukushima Prefecture is a land of rich history and abundant nature.
It's closer that you think, only 90 minutes from Tokyo!
This remote prefecture may seem difficult to reach; however, you can get to Fukushima Station from Tokyo Station in only 90 minutes! From there you can access spectacular historic sights and experience the charms of rural Japan!
Time Travel?
Experience the charms of ancient Japan by visiting the historic sights of Fukushima, many of which have maintained their structures for over 300 years! The Aizu region is the main sight-seeing area of Fukushima Prefecture thanks to the regions large number of preserved historical sights. There is also an abundance of hot springs, natural resources, and historical charm that draw in visitors. This is the area of Fukushima that experienced the least damage from the Great East Japan Earthquake.
Tsurugajo Castle in Aizu-Wakamatsu City
The Tsurgajo Castle was burned to the ground when the age of the samurai came to a violent end after the events of the Boshin War. With great care, the castle was reconstructed from the rubble to honor the valiant warriors who gave their lives to defend the Aizu Clan and her borders. The original stone base tells stories of the past such as etchings of crosses that suggest the existence of Christian groups within the Aizu clan, a rarity at the time.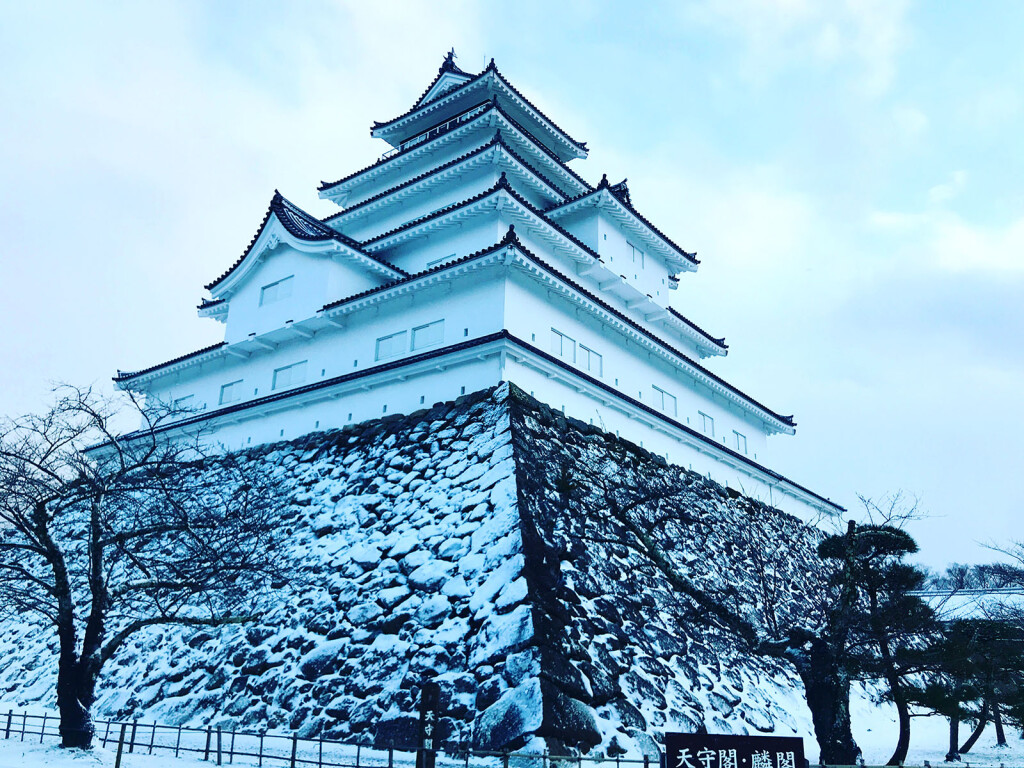 Visit the frozen castle of the Aizu samurai clan...
During the winter months, the red tinted tiles of the castle roof covered with snow combine with the striking white walls, making the castle appear to be made of ice and snow. A sight that must have been a great source of pride among the samurai citizens of Fukushima!
Ouchi-juku
After vising the former castle town of Aizu-Wakamatsu city, we highly recommend a trip to the one of a kind Ouchi-juku! This beautifully preserved post town once served as a rest stop for samurai travelers who were required to make yearly pilgrimages to the capital of Edo (Modern day Tokyo) during the Edo period (1603-1868).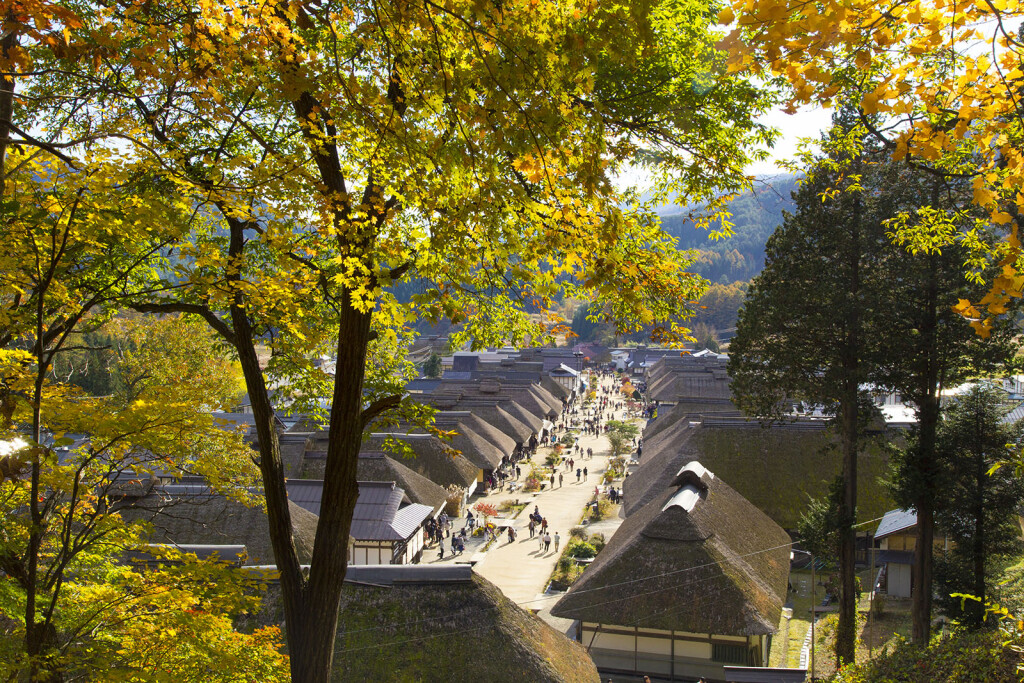 The town still retains its original thatched roof buildings and atmosphere. The charming local residents are friendly and love to chat with travelers! In fact, all of the inns, cafes, and restaurants are still locally owned and operated by the descendants of the people who lived here hundreds of years ago. Without the presence of modern shops and chain stores, you can feel totally immersed, making it feel as though you've slipped back in time.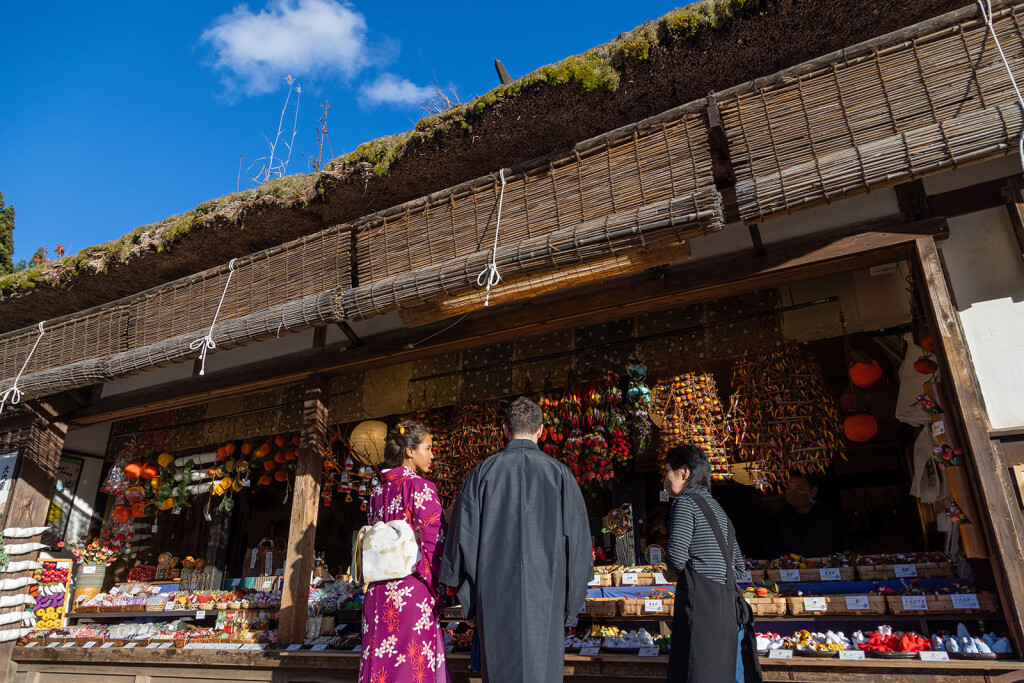 Enjoy a cup of warm tea & a traditional snack while you soak up the atmosphere.
When you visit, be sure to try a freshly baked rice cracker as well as Ouchi-juku's specialty negi-soba! This fun noodle dish is eaten with a long green onion as a utensil. The streets are lined with different vendors serving up old fashioned Japanese snacks. With so many options, it's tempting to try them all. Many vendors will offer you tea and a place to sit and soak in the atmosphere of the town. If they aren't too busy they will almost certainly strike up a conversation with you, whether you speak Japanese or not.
---
Ouchi-juku
https://fukushima.travel/destination/ouchi-juku/11
---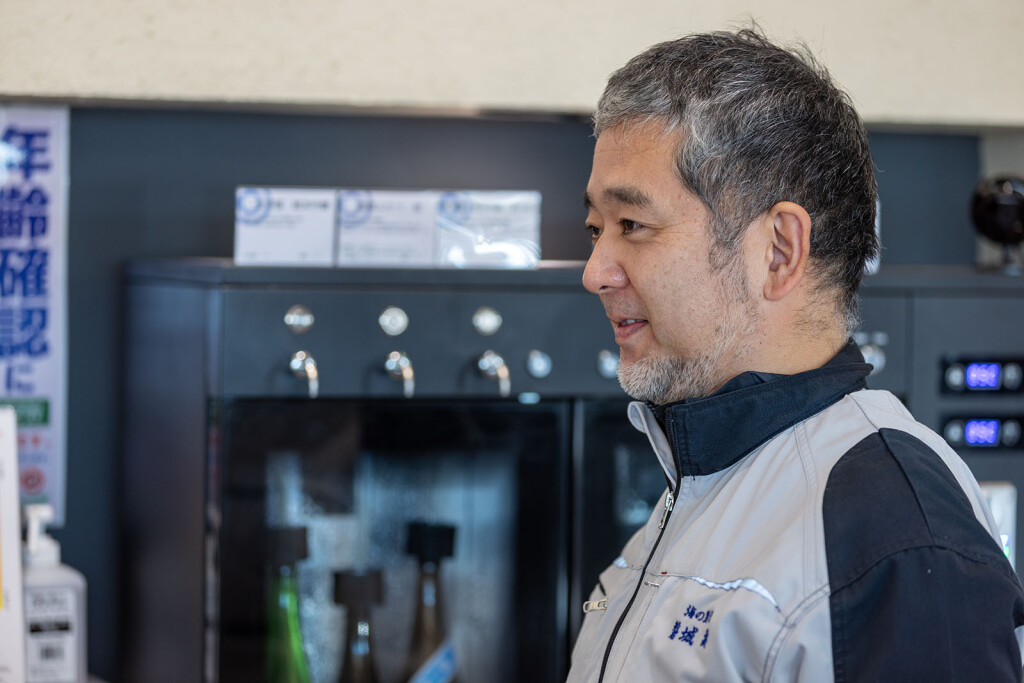 The Suzuki Brewery in Namie Town
Namie Town is located in the coastal area of Fukushima Prefecture known as the Hamadori area. This was one of the areas that suffered tremendous damage during the Great East Japan Earthquake. The Suzuki Sake Brewery used to operate a sake brewery in Namie Town's Ukedo district, this building was located steps from the sea and was physically destroyed by the tsunami wave.

This left the owner of the brewery without a home or a livelihood.
They managed to evacuate with the necessities of the brewery and after the disaster, the brewery was moved to Nagai City to the mountains of Yamagata Prefecture in October 2011 (the same year as the earthquake). Since then, they've continued to brew sake with the hope of preserving the traditional sake brewing techniques that had been developed by generations of brewers in Namie Town.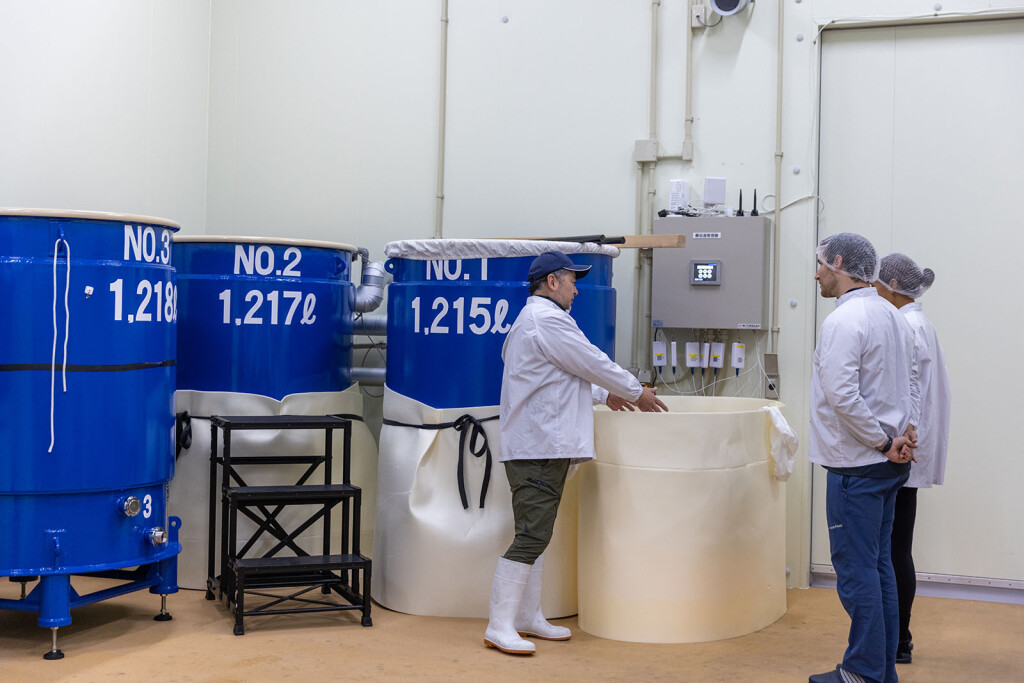 Finally, on March 20, 2021, the brewery was able to return to its hometown of Namie with the opening of a new brewery at the Namie Roadside Station. Here, visitors can watch the Suzuki brewers at work making their delicious sake. They even use locally grown rice to make some of their sake, with a focus on maintaining their hometown flavor.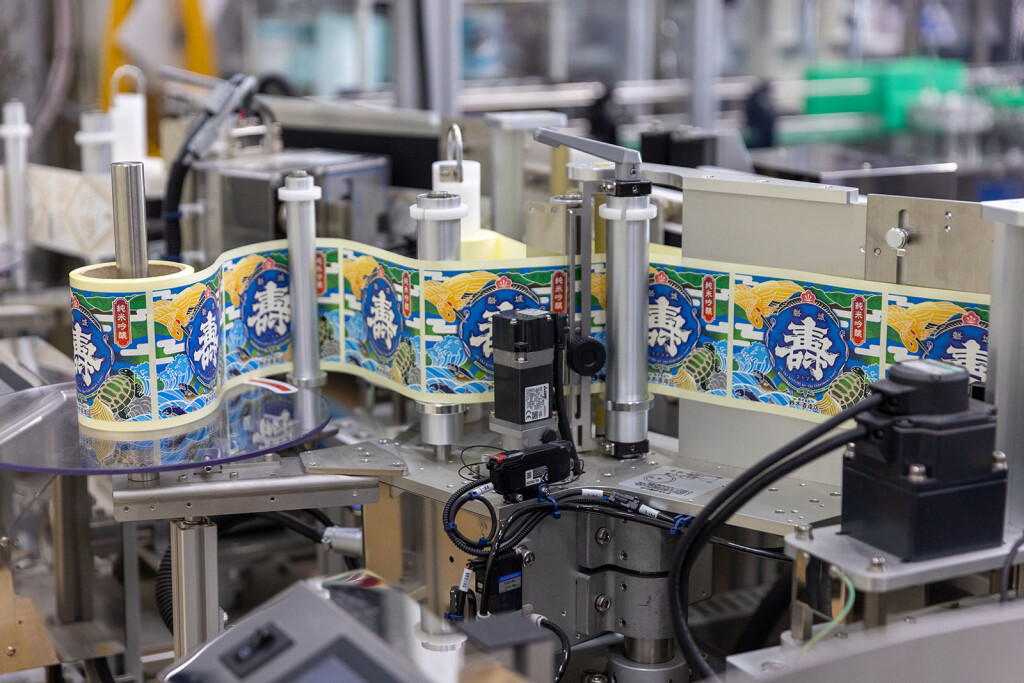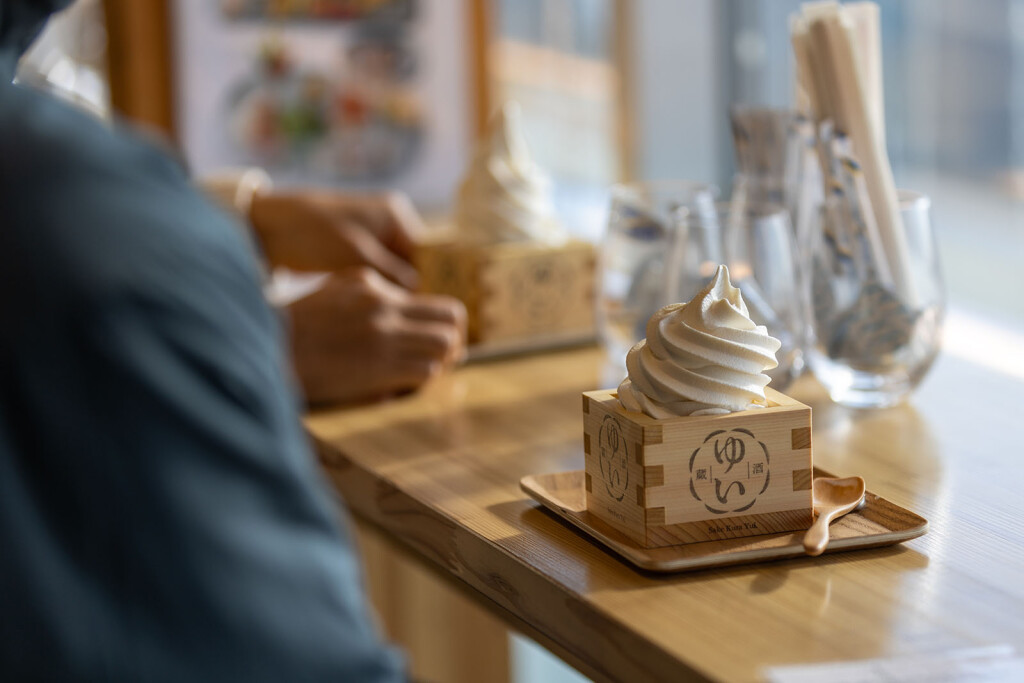 At the Namie Roadside Station, you can visit the sake brewery and taste their freshly brewed sake. For visitors who don't drink sake, there is also a sake flavored soft serve ice cream that is absolutely delicious. The soft serve comes in a traditional wooden sake cup!
---
Namie Roadside Station (https://michinoeki-namie.jp/)
---
Nature's Candy
These are "Anpo-gaki," or semi-dried persimmons. This is a healthy and popular traditional sweet from Date City in Fukushima Prefecture. They are dried persimmons with a chewy outer layer and a sweet gelatinous textured interior that is absolutely incredible. The beautiful and distinct orange color (in addition to the superb taste) make it one of the most popular dried persimmon producers in Japan.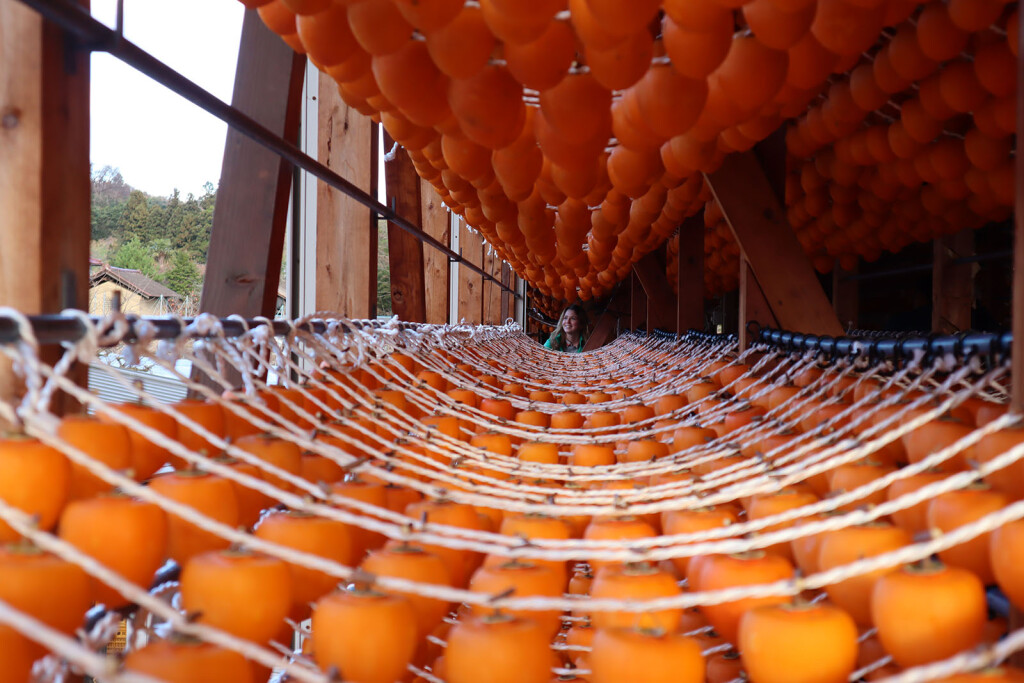 Anpo-gaki have a long history that dates back to the Edo period.
Even in ancient times Date City was widely known for its natural abundance of delicious fruits. People used to hang dried persimmons in the sun to preserve them for a longer period of time, the sight of persimmons hanging from private homes was common. However, persimmons lose their beautiful color in the intense light of the sun. So, after many years of careful research and creativity by the local people, they developed a special method of drying persimmons in shaded, open air rafters that help them to maintain their gorgeous orange color and grow in popularity.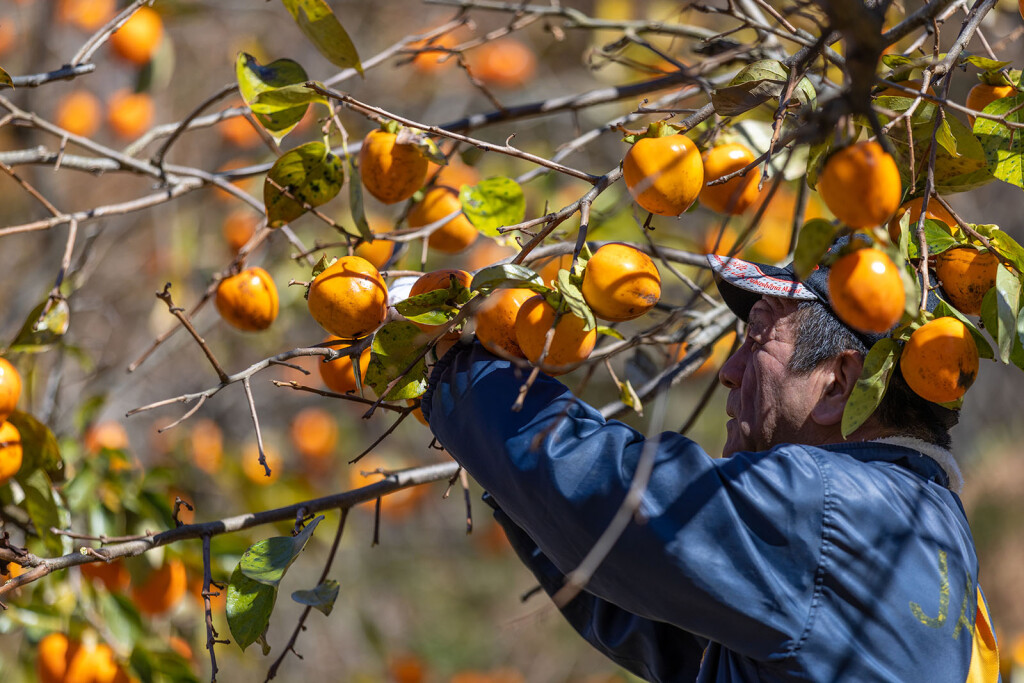 When the disaster occurred, local farmers were unable to produce anpo-gaki for many years due to safety concerns. People were concerned that they would lose the tradition of drying persimmons. However, with time and immense efforts from local farmers, they were able to meet strict requirements that deemed the anpo-gaki safe for consumption. Even once the products were tested and found to be safe, due to rumors and fears of radiation, it was difficult to ship products.
Finally, this year, we achieved our long-standing goal of exporting anpo-gaki! Anpo-gaki from Fukushima Prefecture are now available in Dubai. This is a huge achievement and mark of progress for farmers in Date city. Today, people in Date City continue to produce delicious Anpo-gaki while preserving their traditional techniques.
---
Persimmon Paradise in Date City Blog
https://fukushima.travel/blogs/persimmon-paradise-in-date-city/106
---
Fighting to preserve rural culture in a rapidly urbanizing Japan
The man holding the camera is Mr. Hoshi Kenko. Born and raised in Kanayama Town in the Okuaizu region of Aizu Area, he spends roughly 300 days out of the year photographing his hometown. Thanks in part to his efforts, this beautiful area has become an increasingly popular spot to visit.
In post-war Japan, when urban areas were expanding rapidly, many young people left their hometowns to work in bigger cities. This caused a decrease in the population of the Okuaizu region. This is something that has affected rural communities across Japan and has inspired a sense of crisis for some, including Mr. Hoshi.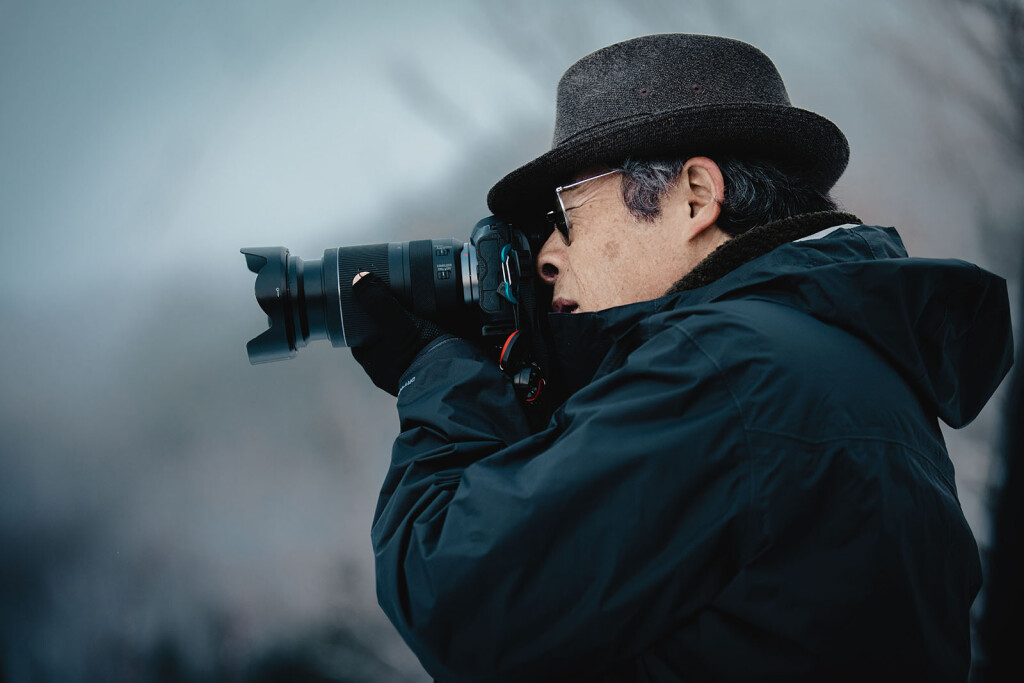 Without action, there was fear that the tradition & beauty of the farming villages could be lost forever.
Using his own money, he took it upon himself to do anything he could to preserve the local traditions of coexisting with nature. Through his photography, he raised interest in the area. He also revived a once lost traditional Japanese-style river-boat ferry service known as the Mugenkyo Ferry or Mugenkyo no Watashi. Thanks to Mr. Hoshi and many other highly motivated people in the region, the culture of rural Fukushima is being preserved and the area is becoming more lively.
The Tadami Line

photo by Kenko Hoshi
Still relatively undiscovered by foreign travelers, this is certainly a unique adventure. The views from the train are beautiful no matter the season, but the atmosphere is particularly romantic in winter.
The Tadami Line's No.1 bridge viewpoint became famous in Taiwan and South East Asian countries when a photo of it began to circulate on social media. This incredibly scenic train line runs across the Aizu region and passes through many historic and beautiful areas.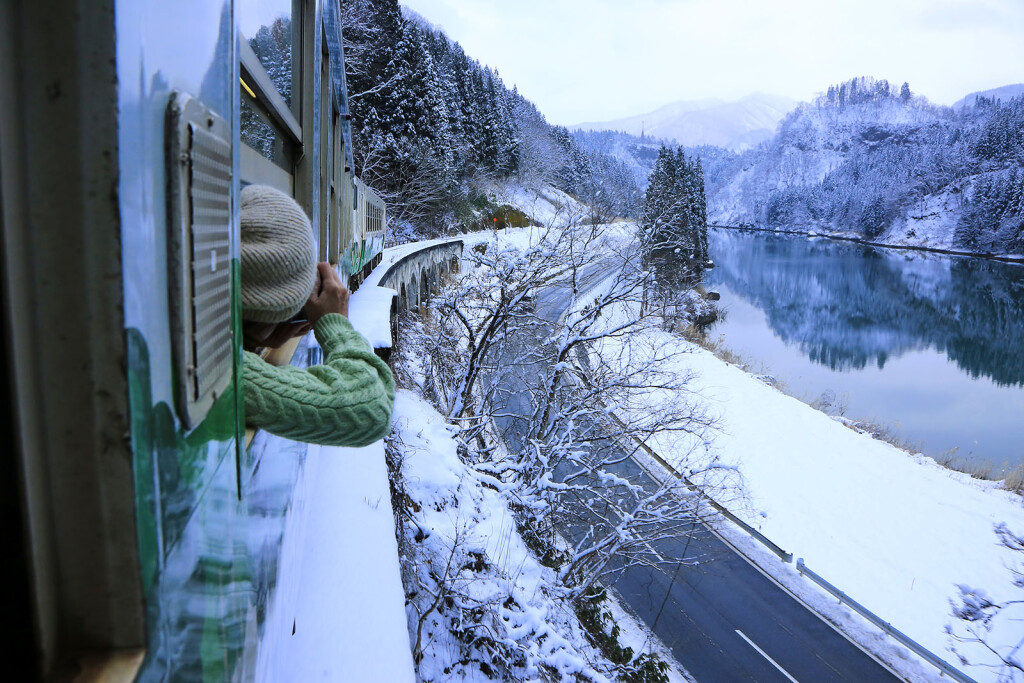 photo by Kenko Hoshi
Part of the JR Tadami Line, which served as a lifeline for the local people was washed away by a major storm that hit the area in the summer of 2011. A bus route was established to complete the route with full restoration predicted to be completed by the end of this year, 2022.
Mugenkyo Ferry (Mugenkyo no Watashi)
The ferry was named " misty gorge" or "Mugenkyo" because it was often shrouded in mist on summer mornings and evenings, creating a dream-like atmosphere. This (now restored) ferry service once connected the now abandoned village Sanzara Village in Kaneyama Town to the other side of the river some 50 years ago. Like private cars, ferry boats like these were used as a part of daily life in the area.
Although the local people were very poor, they were creative & resilient.
Due to volcanic activity, flooding, and landslides they had to relocate their village several times! Each time, however, they adapted and overcame their difficult situations. Continuing to choose a lifestyle that involved coexisting with nature.
(https://fukushima.travel/destination/mugenkyo-no-watashi-river-crossing/96)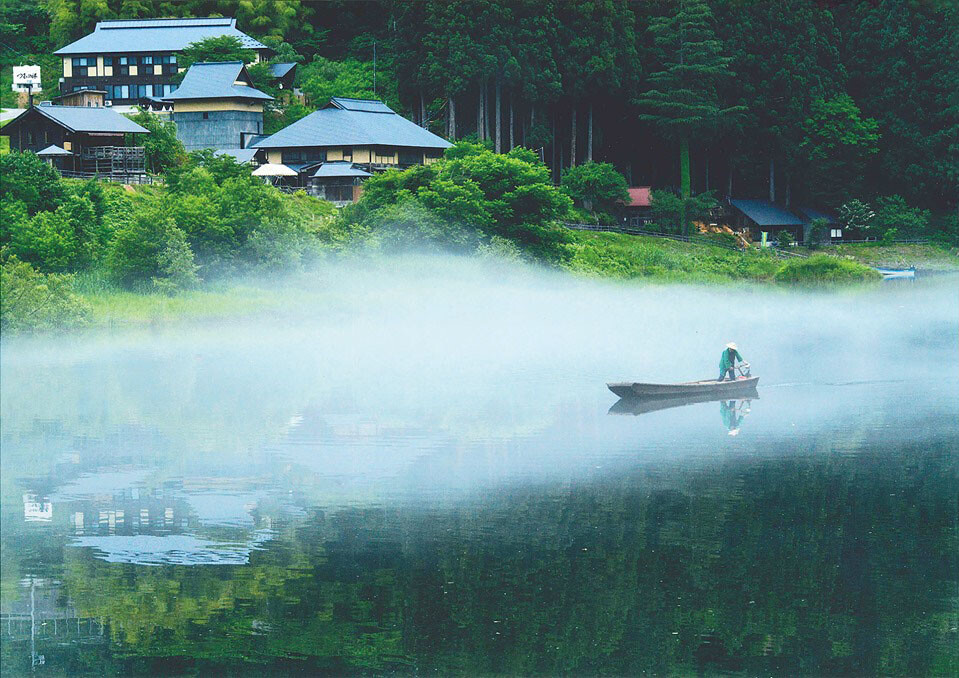 The mist enveloping the area is great for photographers, and visitors who want to get a glimpse back into the unique lifestyles of ancient Japan. Here you can glide across the emerald waters, and escape the noise and busyness of modern day life for a moment.
Aizu Lacquerware at Suzuzen
Aizu Lacquerware is one of Japan's three major lacquerware styles. The history of Aizu Lacquerware dates back to the Muromachi period (1336-1573) when it was first used. The natural warmth of the wooden container combines with the soft texture of Aizu Lacquer to create a product that has been widely loved by people for generations.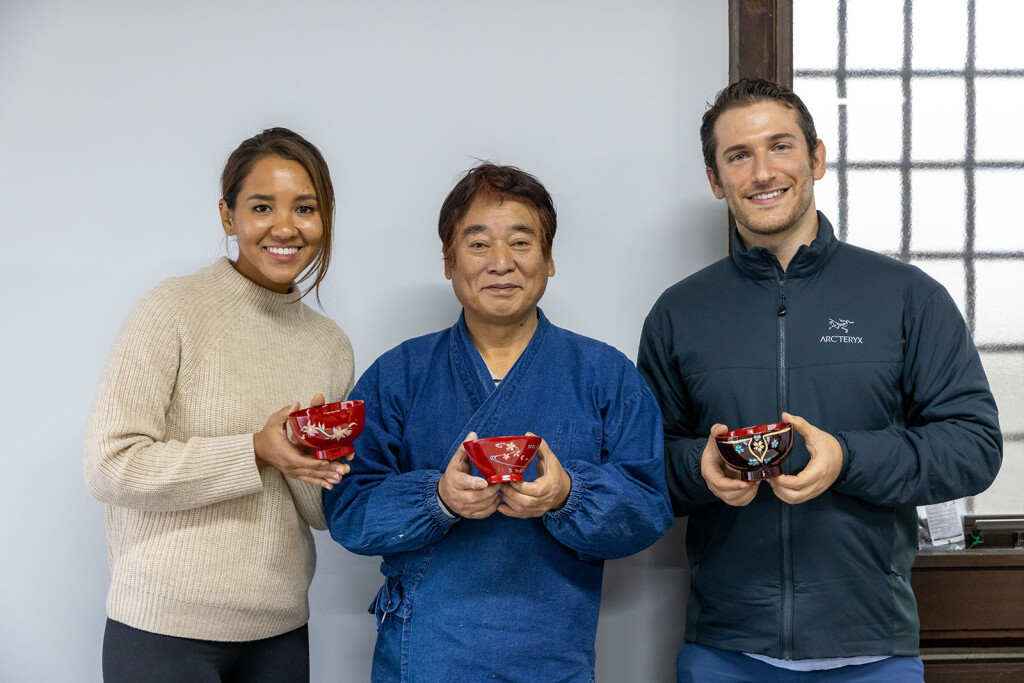 Mr. Kosae Nakamura, pictured in the center of the photo, is a professional craftsman at Suzuzen, a lacquerware wholesale shop that was established in 1833. He creates lovely designs using "Makie" techniques that involve being finished using gold, silver, or colored dusted designs.
Due to harmful rumors caused by the nuclear power plant accident, the number of tourists to Aizuwakamatsu City decreased for a while. Sales were lower, and he began to worry for his business and the preservation of Aizu Lacquerware.
Despite this, Mr. Nakamura remained positive and explored new options

He thought that he could increase the awareness of maki-e and show others the value of lacquer-ware by teaching the techniques directly to the general public. So today if you visit Suzuzen, you can learn maki-e directly from a master craftsman! This is one way that the culture and traditions of Aizu are being carried into the future.
---
Maki Painting Lacquerware Experience at Suzuzen
https://fukushima.travel/destination/makie-painting-lacquerware-experience-at-suzuzen/283
---
These are just a few stories
The Great East Japan Earthquake, Tsunami, and Nuclear Disaster caused enormous damage in many ways, in many areas. In the coastal areas, many lost their loved ones, their homes, and their livelihood. Despite these circumstances, the people of Fukushima Prefecture have proven to be stronger than their challenge. By working together, people have rebuilt their communities and stepped forward into a brighter future.
I want people to know about the real Fukushima Prefecture.
I want people to learn about the real Fukushima Prefecture from the stories of those who live here. Each of us have our own small stories, and we will continue to create new stories together in Fukushima Prefecture. Of course, there are still some areas where people can't go home, but thanks to the support and understanding from people all over the world, each one of us has hope for the future.
Thank you for supporting us, and cheering us on.
If you are interested in learning more or supporting the people of Fukushima, please add Fukushima to your bucket list, come and experience this unique and often misunderstood Japanese Prefecture!