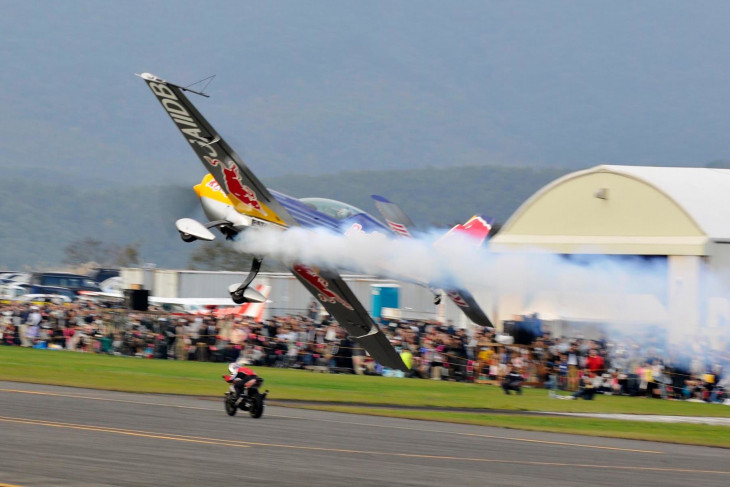 Taking place under the challenging conditions of a maximum speed of 370 km/h and a maximum gravitational acceleration of 10Gs, the Red Bull Air Race World Championship is a kind of motor sport that is also called the 'F1 of the Sky' as it is a competition against time using delicate maneuvering skill. The domestic base of Japanese pilot Yoshihide Muroya, who became the Red Bull Air Race World Champion in 2017, is the Fukushima Sky Park facility located in the central northern part of Fukushima Prefecture. This facility is located at an altitude of 402 meters, unusual for an airfield, and is sometimes referred to as the 'airport in the sky.' Muroya is active at Fukushima Sky Park, doing his best to practice and promote the practice of sky sports.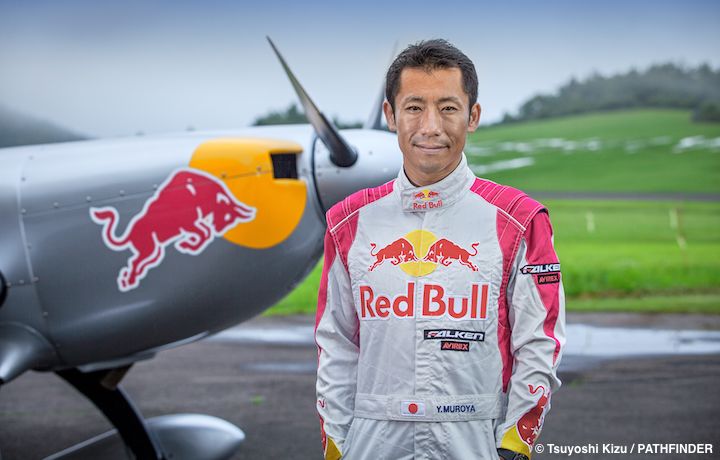 "I want to fly freely in the sky." Ever since he was young Muroya loved high places. However, his dream was not originally to become a pilot for general passenger aircraft, but rather to become a competitive pilot that could soar through the sky as he pleased. He became passionate about gliders during his college days and his fascination with the feeling of flying through the beautiful sky with its wide perspective led him to obtain his pilot's license in the US while still a student. At that time, his thoughts were merely concerned with flying in the sky.

Muroya happened to watch the world championship for a contest of acrobatic flying, known as aerobatics. Shocked by the sight of the aircraft flying freely around the sky above, he was confident that "this was the free flight I had dreamed of." He set out to become an aerobatic pilot with the world's best maneuvering skill. However, Japan did not yet have an environment that could support aerobatics at that time and Muroya was concerned that he could not even do training in Japan. He worked hard to recruit supporters and finally acquired the environment he needed to take on the challenge of a world tournament.

Muroya made Fukushima Sky Park the base for his activities in 1999. He chose this place for its spacious location surrounded by beautiful mountains such as the Azuma mountain range and its clear air. In 2003 he established an NPO corporation with friends out of the desire to "spread sky sports" and lent his cooperation to events held at Fukushima Sky Park. He began to engage in community development through sky sports, such as hosting air shows.

Then in March 2011 the Great East Japan Earthquake struck and Fukushima experienced significant damage. As people in Fukushima were filled with anxiety in the aftermath of the disaster, Muroya and his team decided to help energize the children of Fukushima by inviting them to Fukushima Sky Park that May. He put on an air show and the children were delighted by the chance to see Muroya fly up close. As Fukushima headed towards recovery, Muroya started advancing again towards the pinnacle of the world.
Since 2003, Fukushima Sky Park has been holding its own annual event - currently called 'Sky Agri' - which fuses agriculture promotion and sky sports awareness. In 2017 it was held in September, and approximately 6,000 people from inside and outside Japan visited over the two-day event to witness world-class top performances firsthand, such as an aerobatics show put on by Muroya and a demonstration run by the champion of Japan's highest-level "Super GT 500 Class" car race. Fukushima Sky Park is also known for having audience seats that are the shortest distance from the runway in all of Japan. Extreme sports fans cheered the speed and power that can only be experienced here.
Muroya also started a new project to train personnel engaged in the aviation industry using his base at Fukushima Sky Park. In addition to opening a facility which exhibits high-performance aerobatic planes, he plans to develop a course to help young people learn about aviation around autumn of 2018. "I want people to take even a little interest in the aviation world, and I want people from all over the world to visit Fukushima Prefecture." With that desire Muroya continues his activities at Fukushima Sky Park.