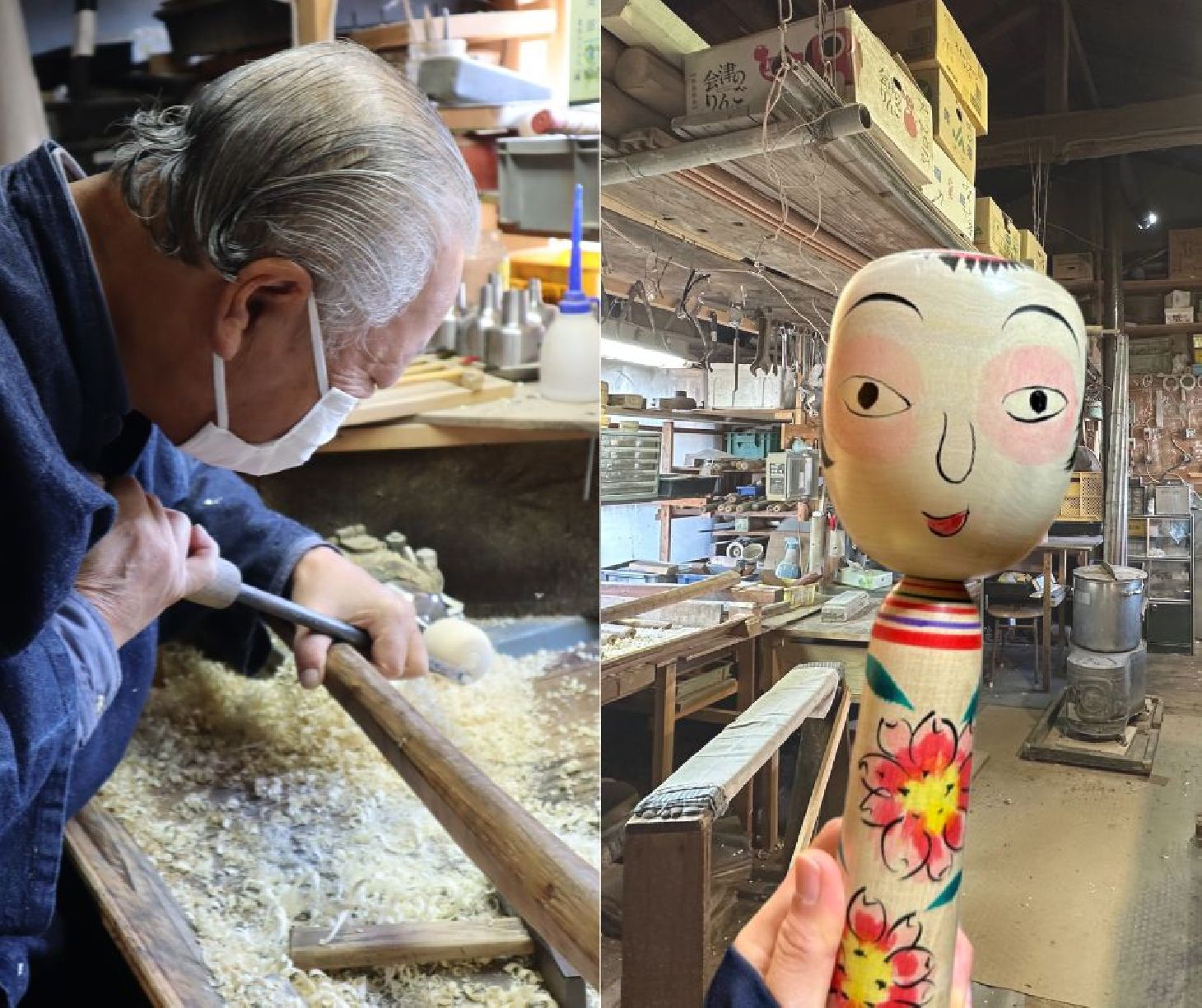 Woodworkers in Northern Japan's hot spring towns started creating dolls for children out of wood scraps over 150 years ago.
These dolls became known as kokeshi (こけし).
Kokeshi dolls rose from their humble origins and became a distinctive symbol of Northern Japan's Tohoku region. They developed into something more than a simple children's toy, and are now considered a lucky charm that guards the happiness of children!
The Unique Faces of Nakanosawa Kokeshi Dolls
Nakanosawa kokeshi dolls at Guest House Inawashiro Hanbog
Fukushima Prefecture's Nakanosawa kokeshi (中ノ沢こけし) aren't like any other kokeshi dolls: they typically have wide eyes with pink or red rims around them, thick black eyebrows and bulbous or long noses. Some Nakanosawa kokeshi dolls look really serious, although you can find smiling ones too!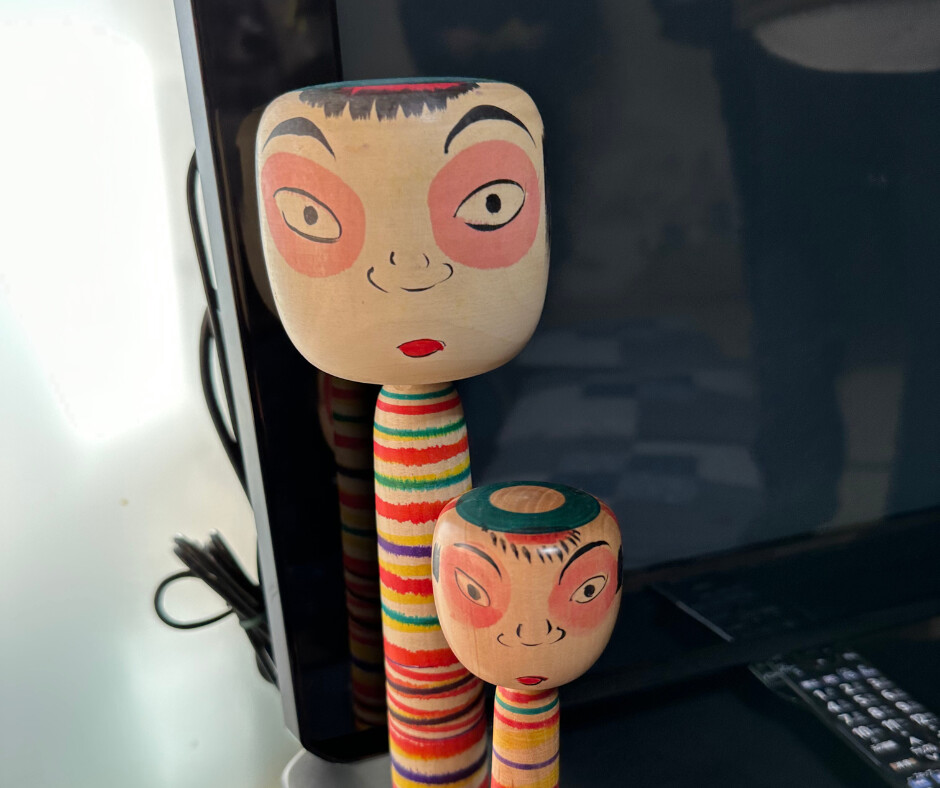 Additionally, some Nakanosawa kokeshi dolls are known as "tako bozu" (たこ坊主, bald boys), and have a blue ring on the top of their heads and/or very little hair painted on them.
Why do they look like that, you may ask? Are they startled? Confused? Angry?
Neither, according to Fumio Kakizaki, a Nakanosawa kokeshi maker from Inawashiro town, Fukushima prefecture.
Fumio Kakizaki making a kokeshi doll
Nakanosawa kokeshi have a fascinating history.
The Origin of Nakanosawa Kokeshi's Distinctive Face
The creator of Nakanosawa kokeshi was called Zenkichi Iwamoto. Iwamoto was an occasional entertainer, and it is believed that the face of Nakanosawa kokeshi could have been inspired by one of the props he used for his comedic act.
Nakanosawa Kokeshi Dolls at Takamiya Hotel Bonari no Mori
It is said that Iwamoto wanted to make an original kokeshi doll that looked like no other. The features he chose for his wooden dolls certainly didn't leave anyone indifferent and Nakanosawa kokeshi became famous and celebrated around Japan and abroad.
The Power of Makeup: Nakanosawa Kokeshi's Pink-Rimmed Eyes
Fumio Kakizaki admits that Nakanosawa kokeshi may look "grotesque" at first. But, after a closer look, he trusts you may be able to see something "innocent" and "simple" in them.
This is a picture he uses as a reference to paint his dolls. Certainly, the dolls have pink makeup and bright colored flowers similar those of the girl in the picture.
Fumio Kakizaki's workshop in Inawashiro Town is surrounded by a beautiful, lush natural environment
How Are These Dolls Made?
Fumio Kakizaki's workshop
Kakizaki used to walk up the mountain to gather the dogwood he uses to make kokeshi dolls, he says, but now uses his car as the climb is steep and the wood is heavy. He is now 75 years old.
He walked us through his craft effortlessly, showing us how he chisels the dogwood logs, chops them into smaller pieces and shapes the head of a kokeshi doll—you can watch a video about the fascinating process here.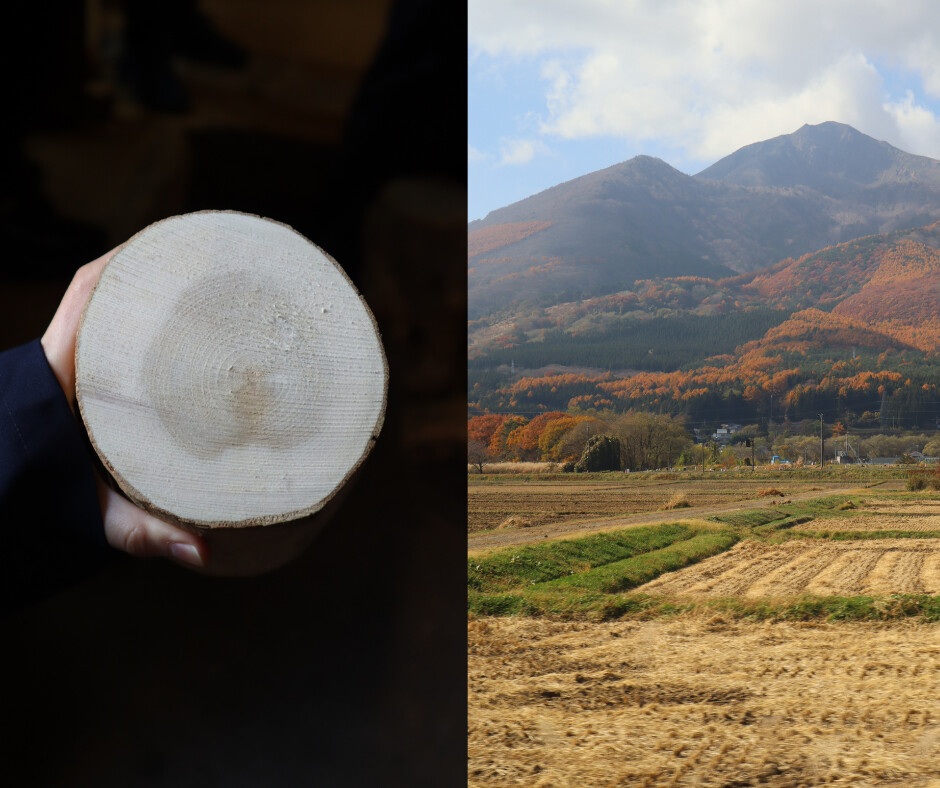 Apart from kokeshi in many shapes and sizes, Kakizaki also makes other wooden toys like wooden spinning tops, which, traditionally, boys would play with.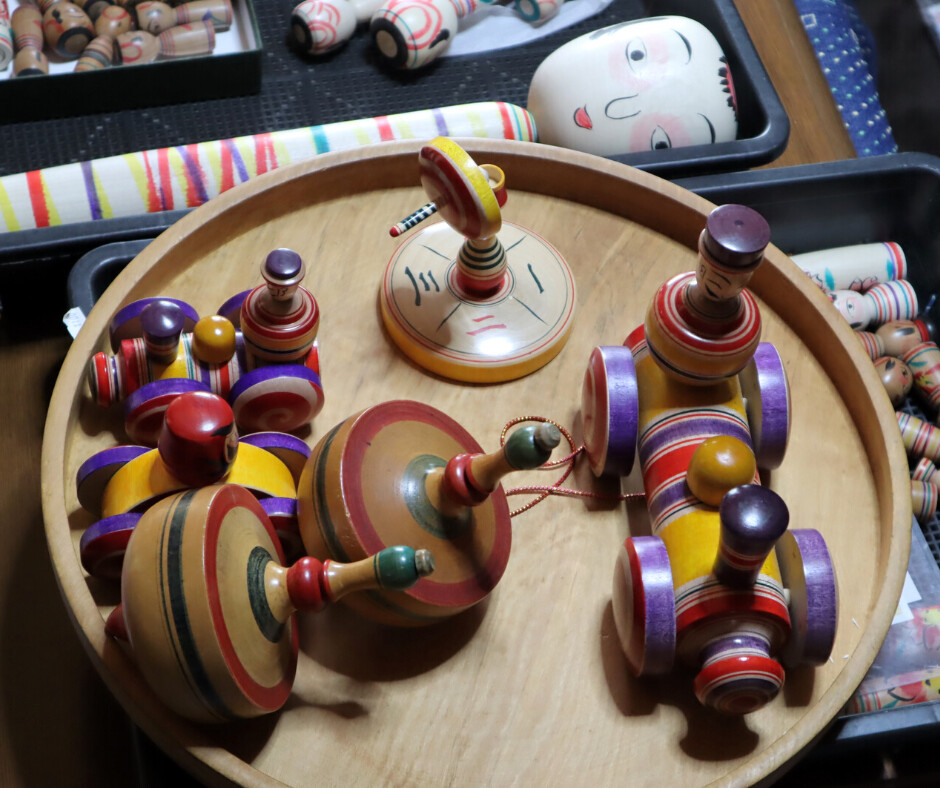 Wooden spinning tops and other toys
Ejiko kokeshi (嬰児籠 こけし) are kokeshi dolls shaped like "ejiko", a type of basket used in the past to carry babies in rural villages.
An ejiko kokeshi doll
Nakanosawa kokeshi are long-lasting dolls passed down through generations. They are handcrafted from start to finish, so they're more than a souvenir to bring back home—each one is a unique piece of folk art that are sure to serve as a warm reminder of your trip to Tohoku in Northern Japan.
You'll find Nakanosawa kokeshi dolls in many parts of Fukushima prefecture, and, of course, in Nakanosawa Onsen itself.
Tsuchiyu Onsen (土湯温泉) is another spot in Fukushima prefecture that is famous for its own type of kokeshi dolls, Tsuchiyu kokeshi (土湯こけし). You can make your own kokeshi doll at Matsuya Souvenir Shop in Tsuchiyu Onsen.
Special thanks to Fumio Kakizaki for his invaluable guidance and insight on the fascinating world of Nakanosawa kokeshi dolls.