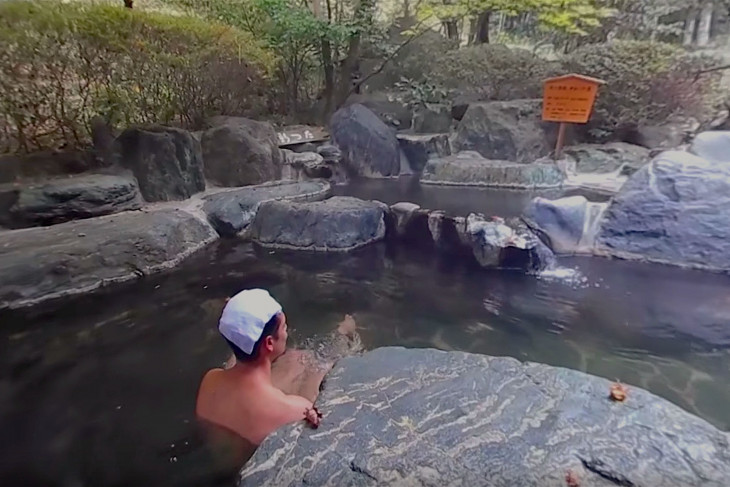 While on a tour of Fukushima Prefecture, John made some 360-degree videos that make you feel like you're right there with him; you'll be able to join him in his travels and see what kind of adventures he embarked upon.
You will be able to feel real moments, such as how far above you the ceiling of the bathroom is, and stunning views that regular pictures just cannot do it justice. Please use these videos to enjoy hot springs, ryokan hotels, and cuisine - all part of Fukushima's wonderful onsen culture.
Ookawaso (Ashinomaki Onsen)
The outdoor baths of Ookawaso are known for their tiered layout. The styles and temperature of the water differ depending on the bathtubs, so you can find your ideal bath, with the perfect temperature and location for you. As you can see in the video, the outdoor bath faces the river, and is not covered with a roof. Listening to the river and looking up at the vast sky make you feel as if you are enveloped in nature.
Tamagoyu (Takayu Onsen)
Tamagoyu is a historical hot spring inn that was opened a hundred and fifty years ago in Takayu Onsen, in the Meiji period. Blueish cloudy white spring water called tamagoyu, (which means 'egg bath') gained its name for two reasons. First, there is the unmistakable, egg-like sulfurous smell, and second, after taking a bath in this water, your skin becomes smooth, like a boiled egg. The hot spring water gushes out naturally at this 100% free-flowing hot-spring. What's more, the water flows into the baths via naturally-occurring contours in the rocks. Neither hot nor cold water is added to adjust the temperature of the baths, which means the water in the bathtubs is pure spring water. There is a large garden, where you can enjoy a variety of styles of bath, such as an elegant bath with a thatched roof on top and a spacious outdoor bath.
About Onsen
Although the Japanese word 'onsen' is often translated as 'hot spring,' that's not 100% accurate. The onsen experience encompasses not only the baths, but everything that goes along with them, such as seasonal food, hotels where you can spend time relaxing, and hot spring towns that you can enjoy strolling around.
Some onsen resorts are lively towns, while others are located in remote mountainous areas that are so quiet that the only sounds you hear are those of flowing rivers. The wonders of onsen differ depending on the regions; thus, onsen is loved by so many people for so many different reasons, including therapeutic purposes and spending leisure time with family. The onsen experience also varies from season to season. Please visit, and discover how relaxing, rejuvenating, and fun onsen is if for yourself.