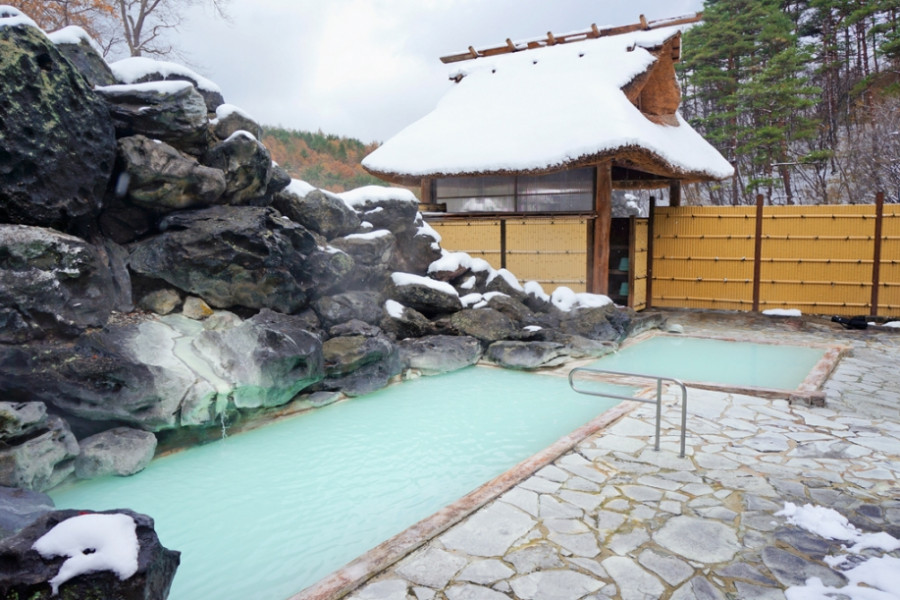 This famous hot spring area is located at an altitude of approximately 750 meters, which is why it's called 'taka-yu' ('taka' means 'high-up' and 'yu' means 'hot spring'). Located on the slopes of the Azuma mountain range, Takayu Onsen area was once known as "Shinobu Takayu" and, together with Zao Takayu and Shirabu Takayu, prospered as one of three Takayu in what was once known as the northern Ou region.
The waters of Takayu Onsen are a bluish milky color and are thought to have healing properties. Most of the resort facilities of the area neither add water nor adjust the temperature in order to maintain the natural allure of the hot spring waters. After bathing in the waters of this spring, your skin becomes almost slippery from the high acidic and hydrogen sulfide makeup.
In the Takayu Onsen area, there are 10 natural hot spring sources, with names such as 'Takinoyu', 'Netsuyu', and 'Senkinoyu'. These sources are named after old public baths. In the olden days, bathtubs were built right next to or directly above the hot spring source. Today, the bathing facilities still receive their water flowing directly from the same source.
Nowadays, Takayu Onsen consists of about a dozen ryokan (traditional Japanese inns), all offering their unique charm to travelers. You'll be pleased to note that many of the ryokan open their hot spring baths to non-staying guests for a small fee. The most famous hot spring facility in Takayu Onsen is Tamagoyu, a wooden bathhouse with a traditional feel. There's even a foot bath in the center of the town open to the public.
If public bathing isn't something you feel comfortable with, many of the onsen facilities in the area also offer private onsen rooms with a rotenburo (open-air bath) available for your own use. It is a relaxing experience unlike any other to soak in the hot waters and feel your worries melt away.
Venue Details
Venue Details
Website
http://www.takayuonsen.jp/en/
Contact

Takayu Onsen Tourism Association

(+81) 24-591-1125

Best Season
All Year
Estimated Visit Time
1h
Parking
Available
Access Details
Access
25 Takayu, Machiniwasaka, Fukushima City, Fukuhsima Pref. 960-2261
View directions
Getting there

By Car: 30 min from Fukushima-Nishi I.C. or Iizaka I.C. exit off the Tohoku Expressway.