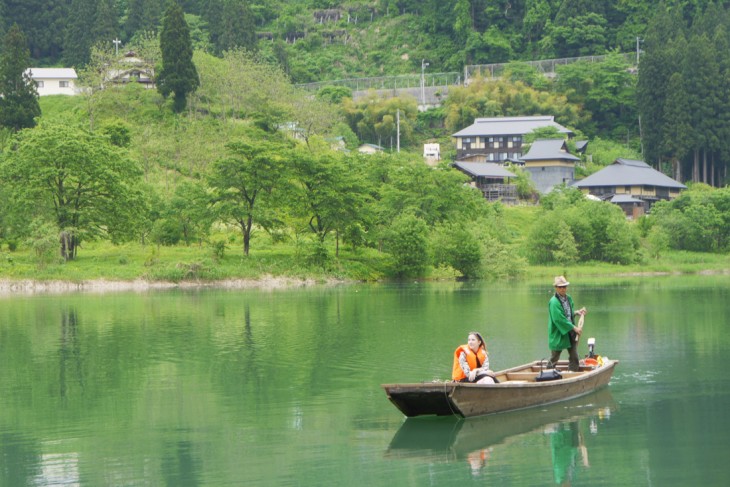 I had seen some amazing photos of the Mugenkyo Ferry (夢幻峡の渡し)passing through the beautiful emerald water of the Tadami River, and was excited to go and experience the ferry ride for myself. So I headed off to Mishima Town to meet Hoshi san, who had kindly offered to show me around.
MY EXPERIENCE OF THE MUGENKYO FERRY (MUGENKYO NO WATASHI)
The ferry leaves from a tiny jetty from near the public hot spring facility called 'Tsuru no Yu'. The jetty was a bit hard to see from the car park of Tsuru no Yu, but I spotted it when I walked to the back of the public hot spring, and followed some steps down to the water's edge.
From here, the jetty was easy to spot, because it was very close by to an onsen shrine (onsen jinja 温泉神社) that caught my eye. This has got to be one of the most picturesque shrines I've been to.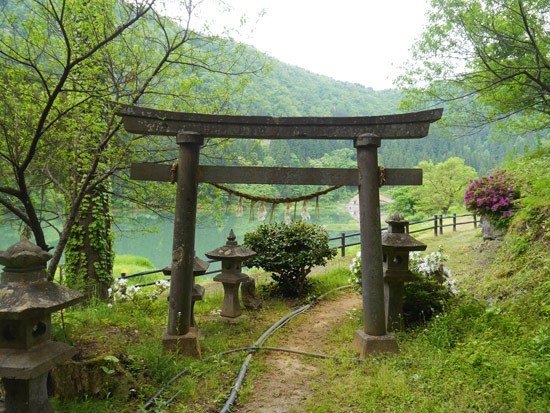 After I took photos at the shrine, I continued on to a small building next to the jetty. This building was complete with an odd wooden structure, from which water was streaming. Upon closer inspection (and after getting our hands burned) my colleague and I deduced that this was in fact the source of the local hot spring water!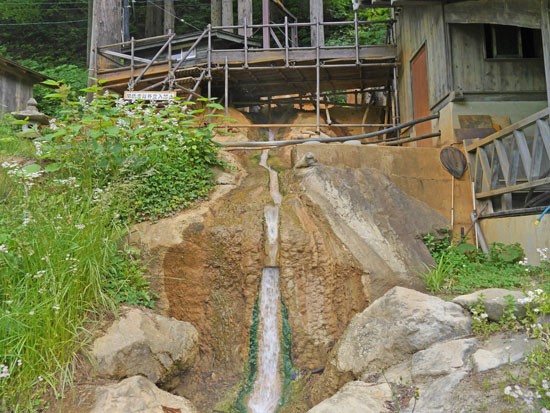 It wasn't long before Hoshi san made his dramatic entrance on his wooden boat. He looked really awesome in his sunglasses and happi robe (happi 法被).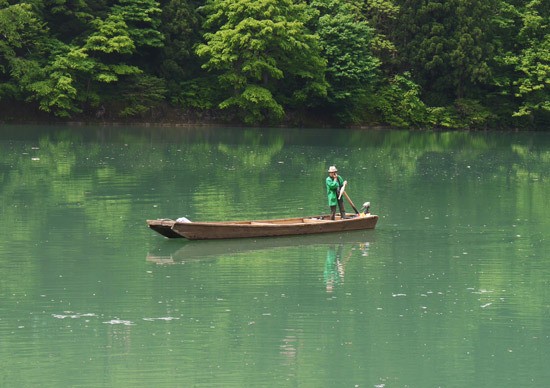 After getting kitted up with a life jacket, Hoshi took me across the ravine.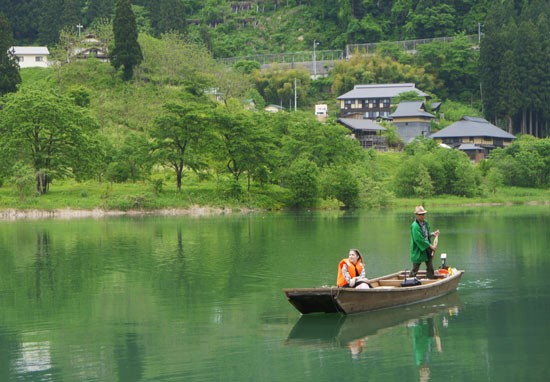 It was so relaxing to be taken across the surface of the Tadami River. It struck me while taking the ferry across the ravine that I couldn't hear any of the busy noises of the city that can make you feel stressed or distracted. In fact, the only sounds I could hear were the wind, the birds and the slow rhythmic paddling of Hoshi san's oar gliding through the surface of the river.
Hoshi san's recommendation for enjoying the best Mugenkyo Ferry experience is to lie flat on your back in the middle of the boat and have a nap. I'm not sure whether his customers can actually do this, or if it's just something he's been able to try, but it sounds amazing!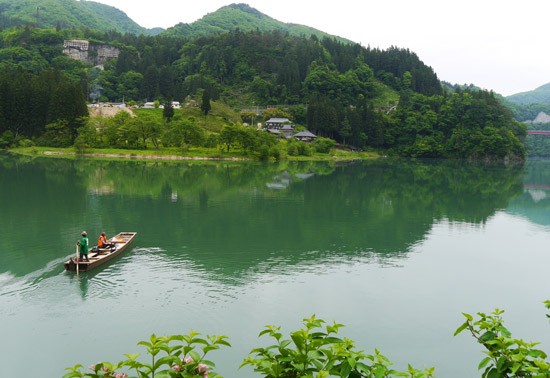 The journey to the other side of Mishima Town takes 30 minutes one way, during which time you get some great views. It was really cool to see buildings like the Tsuru no Yu onsen from such a different angle. The reflections looked amazing.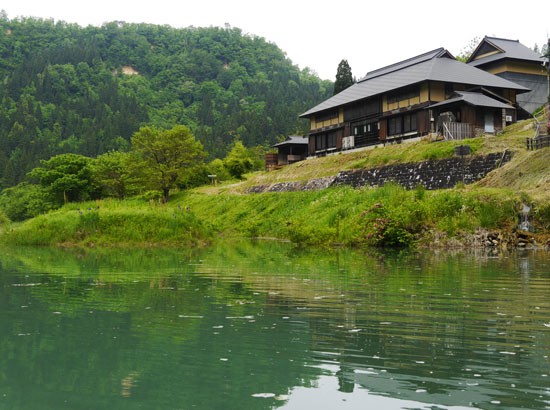 Tsuru no Yu Onsen is a great hot spring in Oku-Aizu area of Fukushima Prefecture. Unfortunately, I have yet to take a dip, but I definitely want to go soon. Knowing how relaxing it was to be in the ferry, I can just imagine how amazing it would feel to chill out in the onsen looking out over the Tadami River.
One thing that visitors should note about visiting Tsuru no Yu Onsen, however, is that the open-air baths (rotenburo 露天風呂)are totally exposed to the elements. Seeing as the only thing surrounding the onsen is a river, usually this isn't an issue, but I can say first hand that people in the open-air baths can definitely be seen from the ferry!
I actually had to edit the naked guys who were sitting on the edge of the bath out of the photo below…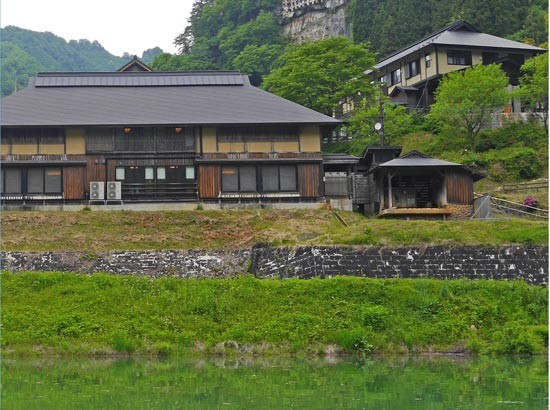 These sightseeing ferries are made from boats that were used by local people crossing between areas of Mishima area over 50 years ago. For Japanese people, riding in one of these boats is very nostalgic.
The running of sightseeing ferries between the different areas of Mishima began in 2010, but was halted in 2011 when the Great East Japan Earthquake caused infrastructural damage to Mishima and surrounding areas. The ferry service was restarted in 2017.
If you visit the area and travel on the Mugenkyo Ferry during the early morning in summer, you're likely to get to see picturesque mist atop the Tadami River. This makes for some very beautiful photos.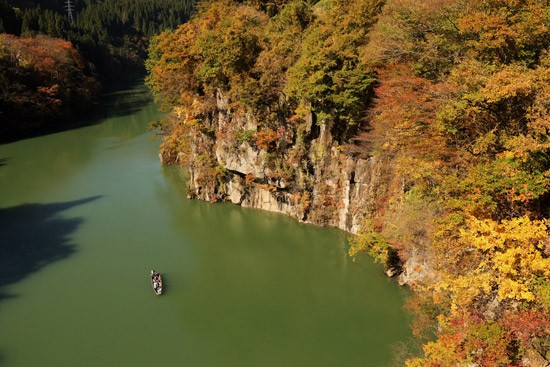 The Mugenkyo Ravine Ferries are operated by Kenko Hoshi, an extremely talented local photographer who specialises in capturing the beauty of Oku-Aizu and the Tadami Line. Kenko Hoshi has an incredible amount of energy and enthusiasm for his hometown.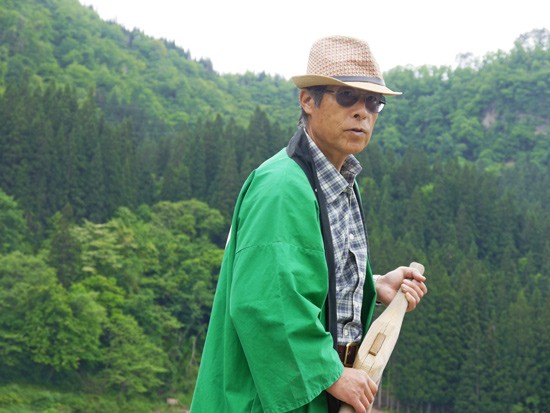 Below are just a couple of photos taken of the Mugenkyo Ferry by Hoshi san. It's quite possible that if you have seen photographs of the Tadami River No. 1 Bridge that they were probably taken by him.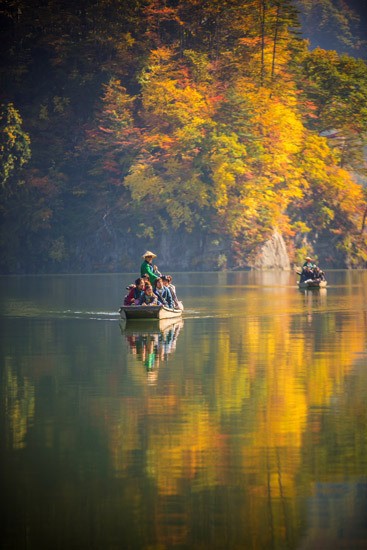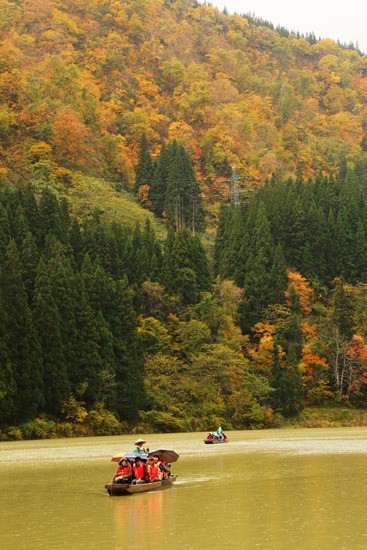 Hoshi san was brought up in Mishima Town, on the opposite side to where visitors start their journey. Hoshi san's hometown area is now what is known as a 'haison 廃村' or 'ghost town'.
The ground on which the town was built is prone to landslides. As a result, the area has fallen victim to a number of related disasters over the centuries. A really intense landslide hit Mishima in 1964 and finally forced the local people to move to the opposite side of the Tadami River. Nothing was left behind, save for one traditional farmhouse built 300 years ago, a shrine, temple and Buddhist statue.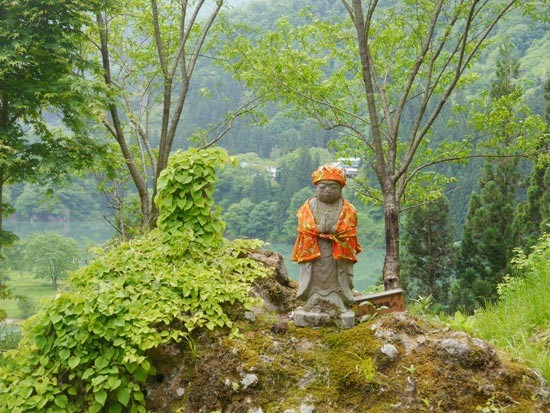 I wholeheartedly recommend this experience as something to try out when traveling on the Tadami Line, as it is easily accessible from Hayato Station. It's a must-visit for those hoping to see countryside Japan during their visit to the prefecture, as well as for those who are passionate about photography like myself.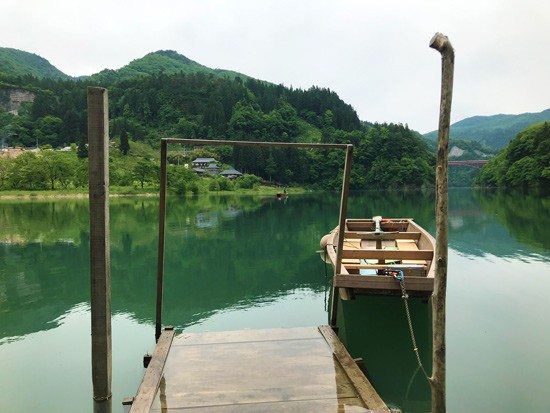 If you'd like to take a journey on the Mugenkyo Ferry, please take a look at the information below!
BASIC INFORMATION*
*Correct as of May 2018
Boats run throughout the day between late April and November.
It takes 30 minutes for a 1-way journey or an hour for both ways.
In summer, the boats run between 6:00 AM and sunset.
If you'd like to see the picturesque Tadami River mist, it's best to ask for Hoshi's recommendation regarding the best day (and time of day) to visit.
See more information (from Oku-Aizu Tourism) about the Mugenkyo (Mugenkyo no Watashi) here.
Hoshi san can't guide you in English, so he won't be able to guide you around the deserted town on the opposite side of the river.
HOW TO BOOK
PRICE
5,000 yen per boat (up to 4 people).
If there are more than 4 people, then there will be an extra charge of 1200 yen per person.
CHOOSE A MEETING POINT
When you reserve, make sure to state whether you'd like to meet Hoshi san or his colleague at the main jetty near Tsuru no Yu (where I met him), or if you'd like him to come meet you at Hayato Station, on the Tadami Line. See here for the Tadami Line train schedule.
If coming by train, make sure to tell the staff what time of day your train will arrive at.
FINDING THE TSURU NO YU JETTY
If you are driving, park at Tsuru no Yu Onsen.
Walk down to the water's edge.
There will be a shrine nearby and a small wooden building near the jetty.
OTHER INFORMATION FOR VISITORS
As of summer 2020, there are a number of portable toilet facilities close to Tsuru no Yu, for customers of the Mugenkyo ferry.
The ferry will run even in rain / windy(ask people to bring their own umbrellas) but may have to cancel appointments in the case of heavy rain.