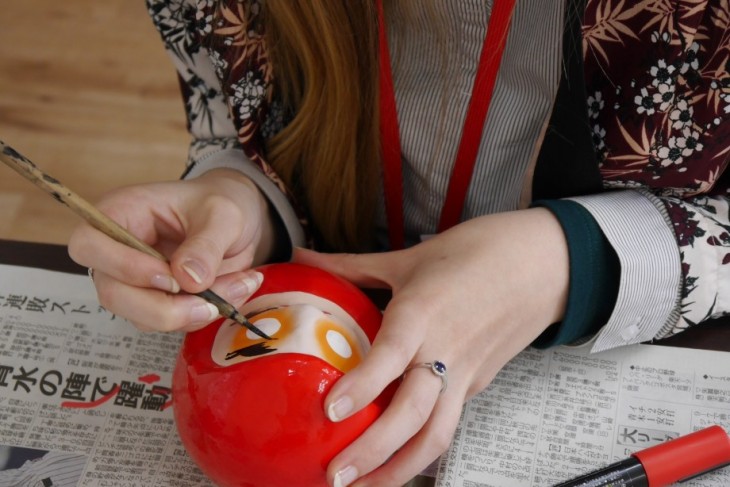 I love art and creating things, so I was really pleased to learn I'd be painting a daruma as part of my trip to Shirakawa City, Fukushima Prefecture.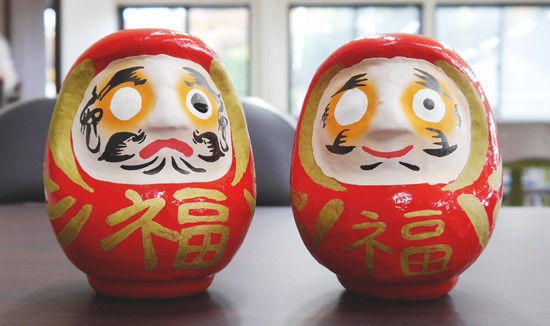 WHAT IS A DARUMA?
Daruma are a traditional craft with origins rooted strongly in Buddhism. The word daruma seems to have come from the Buddhist word "dharma", which expresses the concept of the Buddhist teachings, and is often used to talk about Buddhist priests in Japan. Japanese daruma are often round in shape, with a face painted a different colour to the outside. One other distinctive feature of daruma is that you usually see them and buy them with no eyes.
You are supposed to colour in the left eye of a daruma, and to set yourself a goal as you do so. When that goal is realised, you can paint in the right-hand eye. I googled the origin of daruma, and why they have such stern expressions. Their stern faces are supposed to represent a priest in a state of meditation. The eyes have a bit more of a gross history…. So I'll leave that to you to google!
SHIRAKAWA DARUMA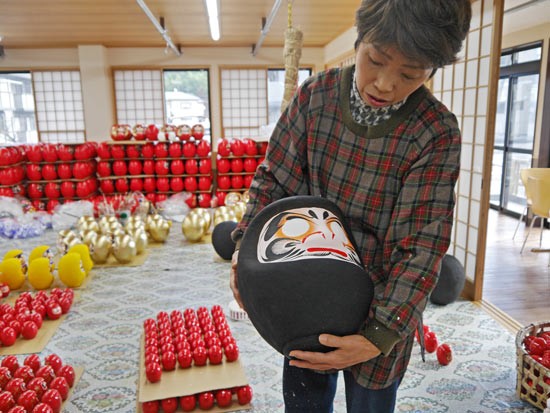 Many areas in Japan, including Shirakawa, have their own specific daruma design. They are set apart from those from other regions by 4 decorative elements of the face. All of these are traditional symbols of good luck in Japan.
The eyebrows are the shape of cranes
The moustache is made up of two turtles gazing at each other.
The squiggly shapes on the cheeks of the daruma represent plum and pine trees.
The beard is thought to resemble bamboo shoots.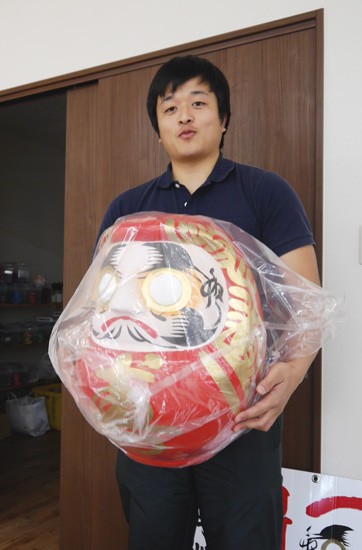 Watanabe Daruma, the workshop that I visited in Shirakawa City, makes all styles and designs of daruma. They receive orders from all over Japan, even from temples and shrines. They also sell daruma abroad. Usually only the women of the house make daruma. While the women are in charge of the creative aspect of the process, men do the manual labour involved with moving and selling the daruma.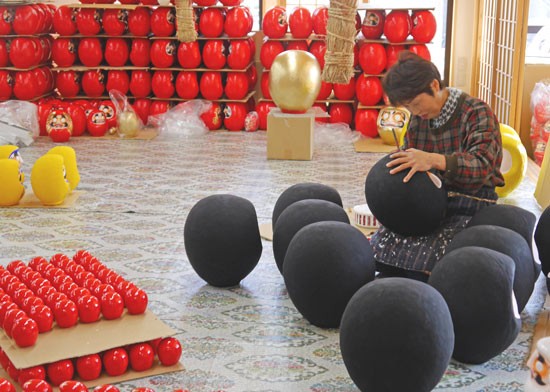 THE HISTORY OF SHIRAKAWA DARUMA
As a prefecture which famously gets a lot of snow during the winter, daruma-making as a way to make a living was useful for those unable to work outside during winter. In summer, local families would do farming and manual work, and in winter they would spend time creating daruma to sell during the spring.
Even now, daruma-painting is usually left until the autumn and winter months due to the hot Japanese summers. The humidity of the summer sun makes the paint dry unevenly. However, Japanese summers are very useful for creating the base of the daruma. The bases are made of paper (similar to papier-maché), and take a long time to dry in the colder months. The summer climate creates perfect conditions for making lots of bases in preparation for the autumn.
PAINTING THE BASE
In order to paint the daruma base coat, daruma are placed on sticks and dipped in paint. Then the stick that they're on is wedged into a post so that they can air dry it evenly from all directions. Next the face colour is painted on. After the face has dried, the whites of the eyes are painted!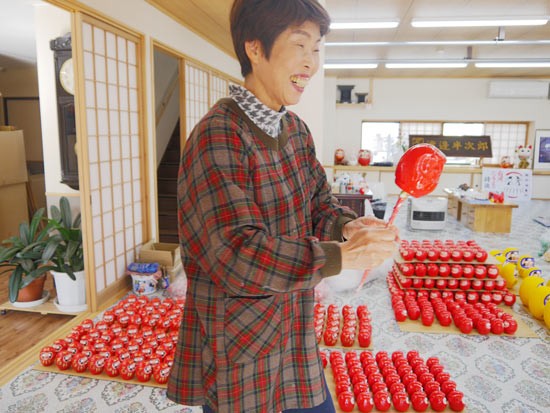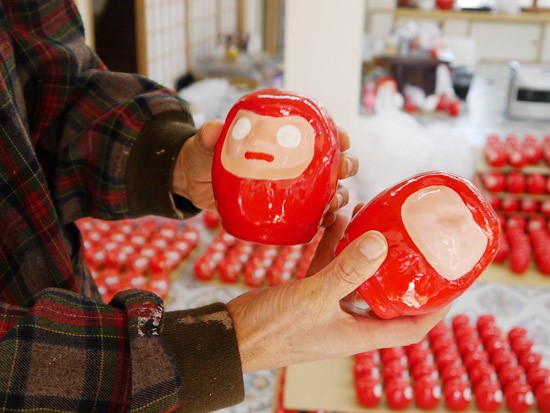 PAINTING MY OWN DARUMA
It takes up to one hour to design the face of a daruma which has already had the base colours painted on. This is what I did during my visit. Those who wish to create their own unique design are able to do just that, if they have more time to spare! You have to wait for base colours to dry, so visitors would have to make two visits to the store, but I think it's well worth it in order to design a unique daruma!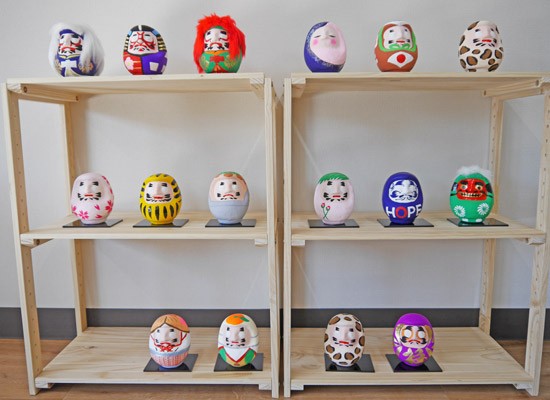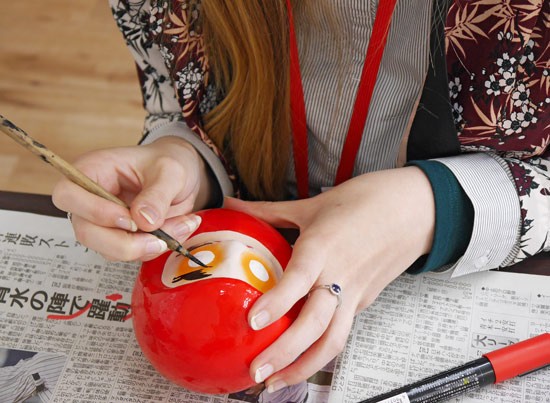 Myself and my colleague designed the faces of our daruma in stages, starting with the mouth, moving on to the black ink facial hair and eye, and finishing with the gold decorations on the outside, including the '福' kanji, which means 'luck'. There was plenty of newspaper that we could use to practice the strokes before painting the real thing. This painting experience was really fun, and I am pleased with the outcome. My daruma currently sits on my desk.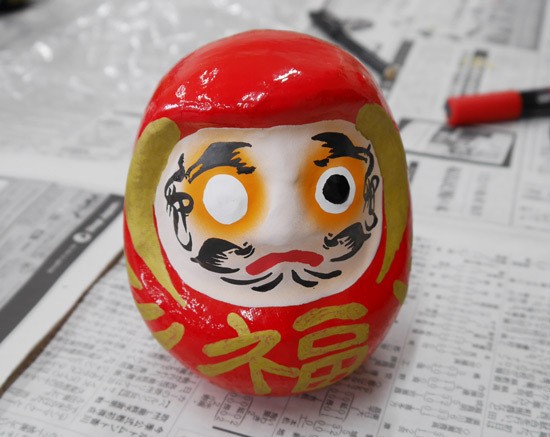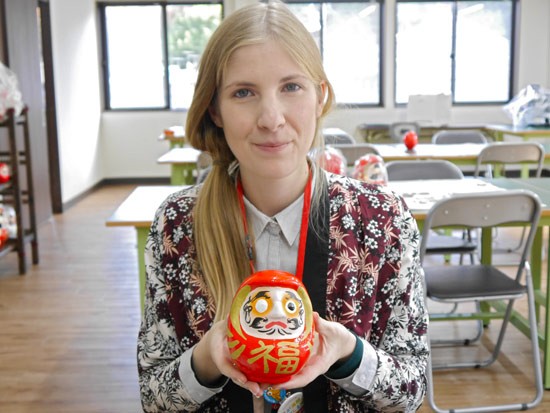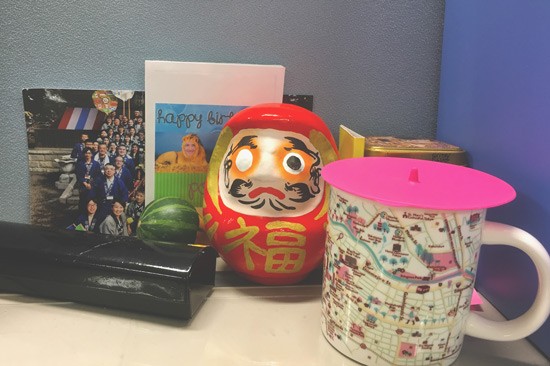 MORE INFORMATION
Watanabe san of Watanabe Daruma also let me know that he is happy to teach visitors in English!
I must point out that there is one more daruma workshop in Shirakawa City where you can try out painting daruma – Sagawa Daruma Main Shop.
Check out basic information about both of these workshops and daruma painting on our site here.