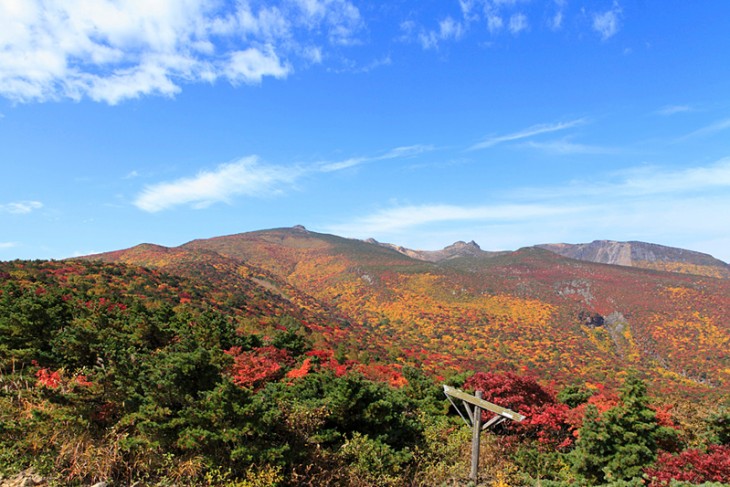 Mt. Adatara is one of Fukushima Prefecture's most spectacular places to go and see the bright colours of the autumn leaves, in a custom that is called 'momiji-gari' in Japanese. I went to Mt. Adatara in Nihonmatsu to try and do some momiji-gari of my own! I was a little worried about hiking Mt. Adatara before I went because I have a bad sense of direction, so I wanted to write this blog to give some tips to those interested in visiting!
WHERE TO START?
The most simple hiking route – and definitely the most popular one in the autumn season – starts with the Mt. Adatara Rope-way. This rope-way is located at the Adatara Kogen Ski Resort, in Oku Dake (see map below).
TRAVEL TIP
During the autumn, there are a number of daily shuttle buses between Dake Onsen town and the rope-way. There is also often a shuttle bus service leaving from Nihonmatsu Station, which takes 50 mins.
---
TAKING THE ROPE-WAY TO YAKUSHI PEAK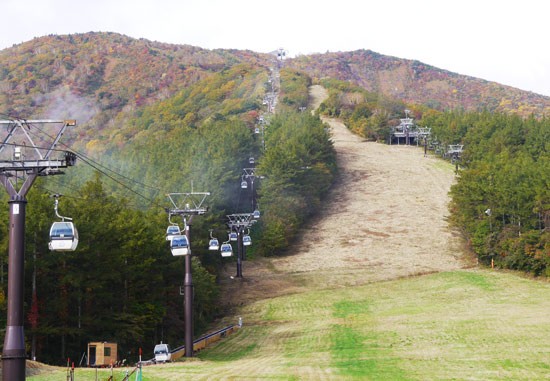 The 10-minute journey on the Mt. Adatara Rope-way is incredibly scenic, regardless of the time of year.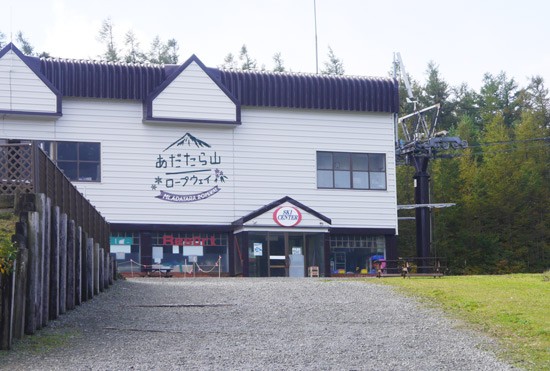 Price: 1,050 yen one-way. 1,750 yen return.*
Opening hours: The rope-way tends to be open from late April to early November. Please make sure to make a note of the last return rope-way trip when you visit, to make sure you don't get stranded at the viewpoint!
*Correct as of June 2020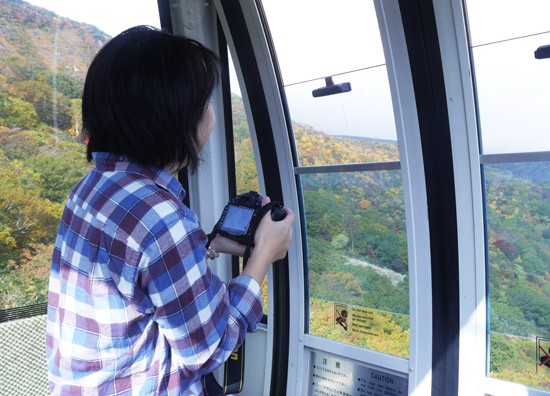 When you get off the rope-way, it is a short walk to Yakushi Dake Peak, which is a very popular photo spot. Many people come here just to take photos, then go back down the rope-way and go have their lunch or dip in an onsen! I've done this before actually, but this time we wanted to do the full basic hike.
We happened to plan our trip to Mt Adatara on a very, very cloudy day – which was unfortunate! But you can tell just how bright the colours of the leaves on the mountain were from the photo below.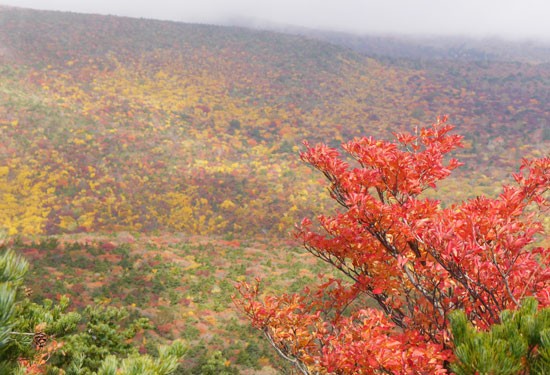 ---
MISTY HIKE TO THE TOP OF MT. ADATARA
It turns out I didn't need to worry about getting lost – the route to the top was well signposted – albeit just in Japanese.
TRAVEL TIP
Make sure you know the kanji words for the places you want to go before you set off on your hike! 安達太良山頂 – Peak of Mt. Adatara (adatara sancho), 奥岳 – Oku Dake (where the hike begins)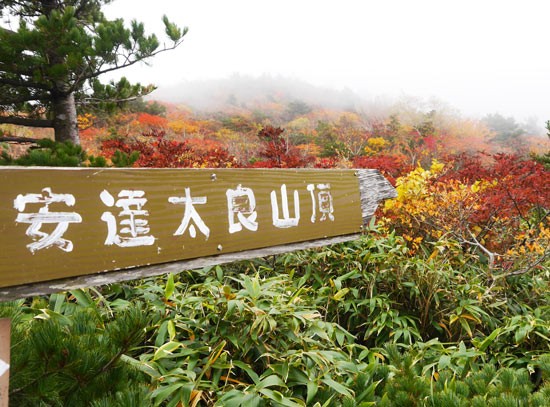 I was pretty disappointed that, despite being able to see the leaves from the bottom of the rope-way, after departing from the Yakushi Dake view spot, the mist got more and more intense. Check out the amazing views I got from the peak of the mountain!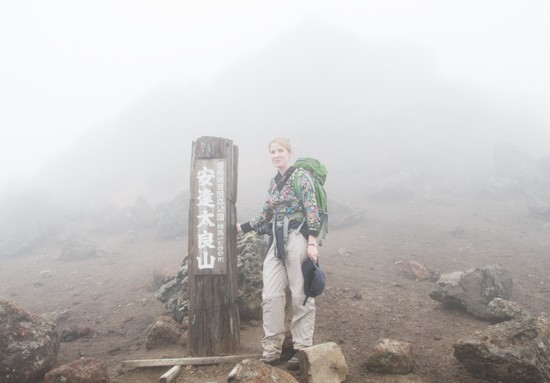 ---
AUTUMN COLOURS SHINING THROUGH
Luckily, the weather began to take a turn for the better on the way to our next destination – Kurogane-goya Mountain Lodge.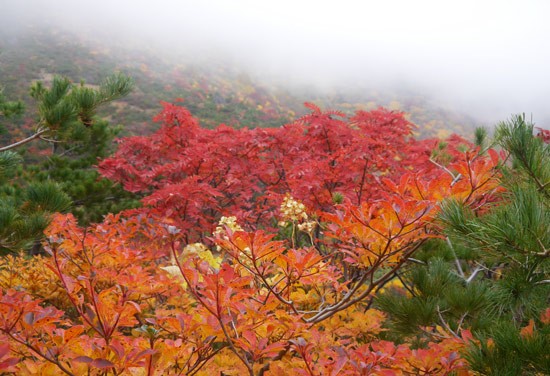 Going from being able to see nothing but white, to being surrounded by colour was a very odd experience! It was a little frustrating, as I realized I could have been seeing amazing sights for the last hour. However, I was so happy to get to enjoy the fantastic views that I soon forgot about my woes.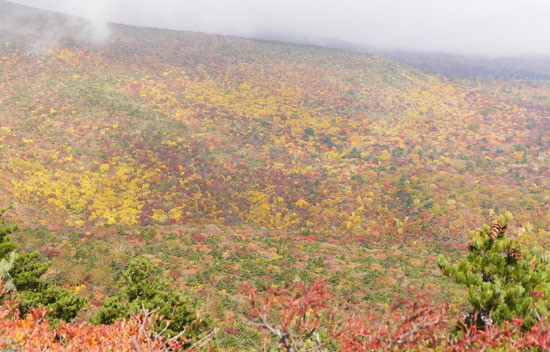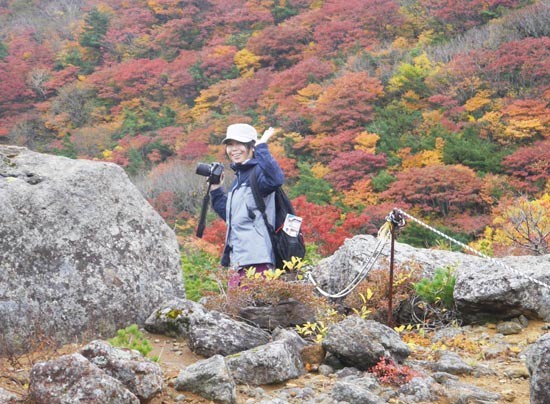 Soon we were able to see our lunch stop, the mountain lodge, off in the distance. It's the lone building in the photo below.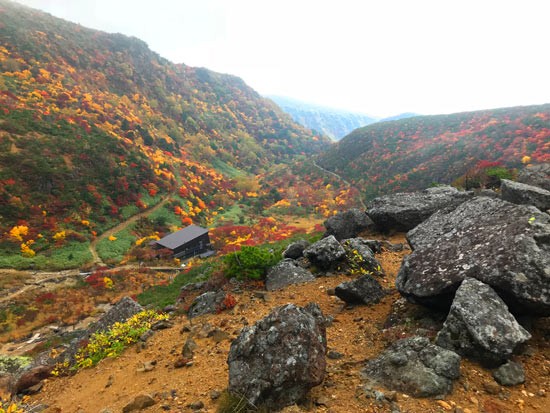 ---
LUNCH AT KUROGANE-GOYA
2023 Update: Kurogane-goya Lodge is currently closed. We apologize for the inconvenience.
Kurogane-goya Mountain Lodge acts as a rest stop for hikers passing through, as well as being a place to stay the night for those going on longer hikes.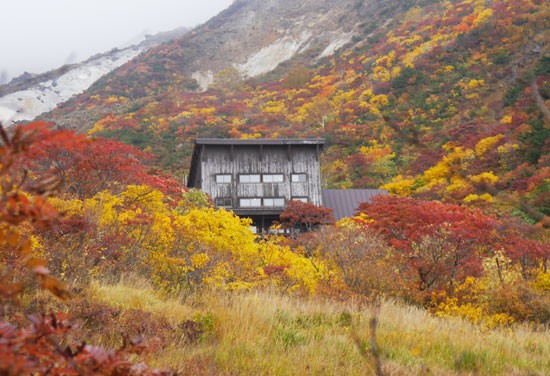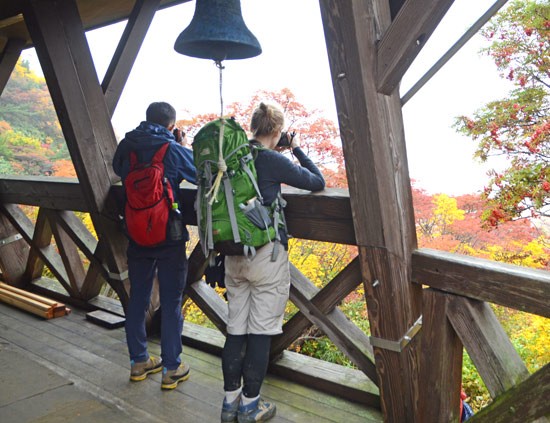 The inside decor of the Kurogane-goya Mountain Lodge is nearly completely made of wood. The vintage style lamps and wood stove burner give it a very homey and welcoming feel. I would love to stay here in winter, all warm and comfortable by the fire, despite the heavy snow outside.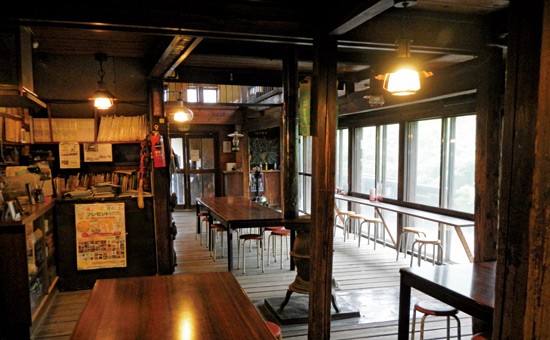 One thing that is quite well-known about Kurogane-goya is the delicious curry they serve to customers who stay overnight! Even though we didn't stay overnight on this occasion, we got to sample the curry since we were visiting for a photo shoot. It did not disappoint!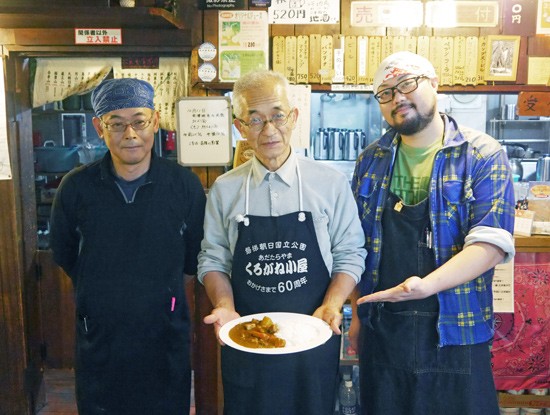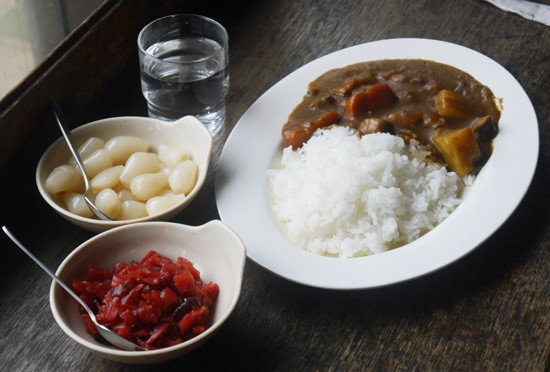 There is also a public hot spring facility built into the lodge, complete with amazing, cloudy water straight from a nearby source. I cannot describe how great it feels to get in a hot onsen after hiking for an hour or so. I only had time for a 10-minute dip, but even that was enough to make my body feel physically refreshed. You can use the onsen even if you aren't spending the night at the lodge. Just remember to bring a towel and prepare to share your bath with other weary hikers!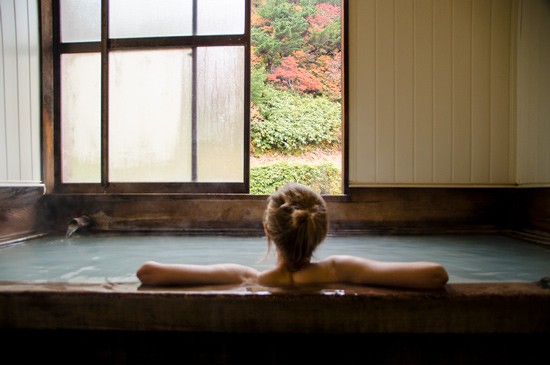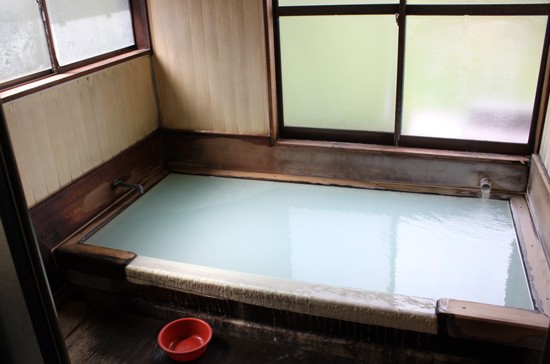 We were blessed with better weather for our hike on the way back from Kurogane-goya Mountain Lodge.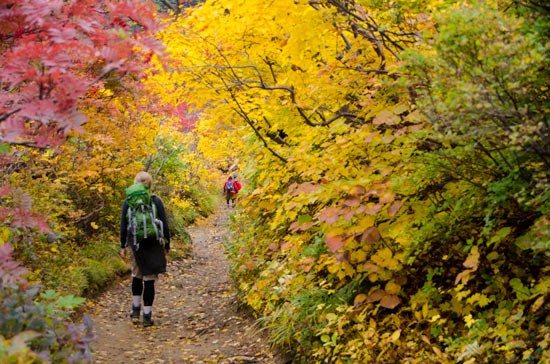 The path back to Oku Dake from Kurogane-goya is lined by tall trees for most of the hike, unlike the route to the top of Mt. Adatara which (is supposed to have) panoramic views!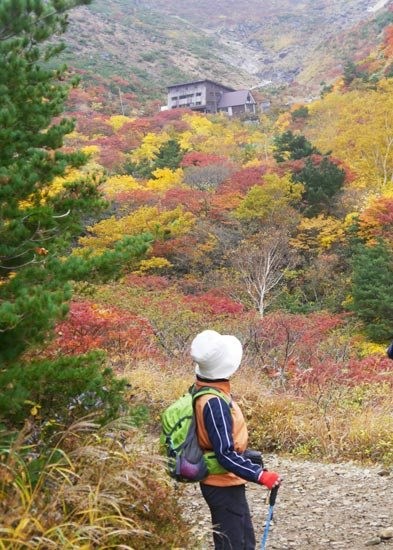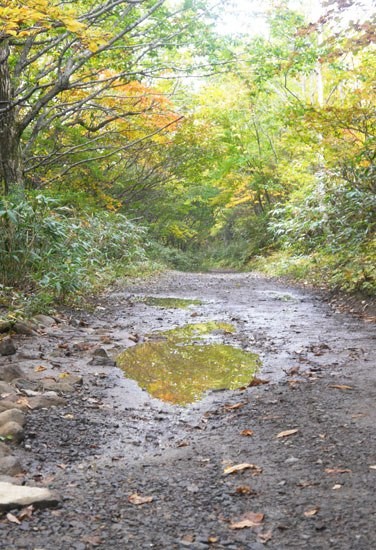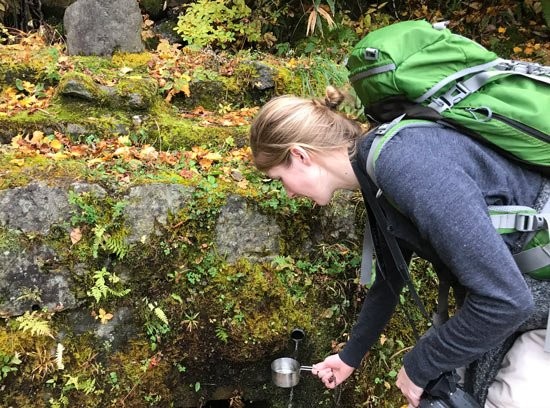 On the way down, I spotted a pipe from where you can drink fresh water from the mountain. They even provide you with what looks like a tiny saucepan!
As we got closer to the end of our hike, one of my colleagues showed me a few photos he had taken the week before when he went hiking here… I was gutted that the weather hadn't been better on the day of my visit!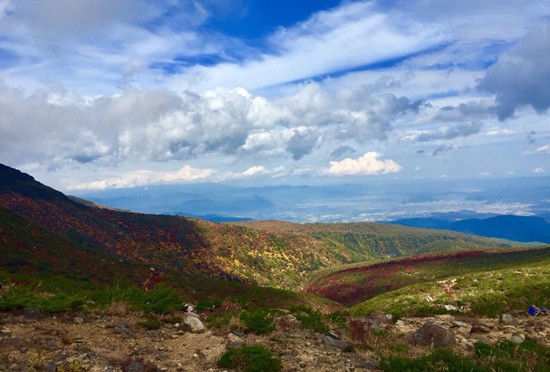 ---
OKUDAKE ONSEN
Back at Okudake, from where the hike started, we decided to check out the onsen before heading back to the office. This onsen is called Okudake no Yu. The water is not as cloudy as at Kurogane-goya, and the temperature is a bit cooler, but the water still felt amazing. The outside baths also look like infinity pools!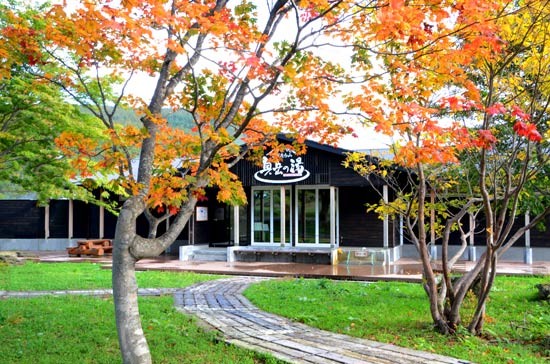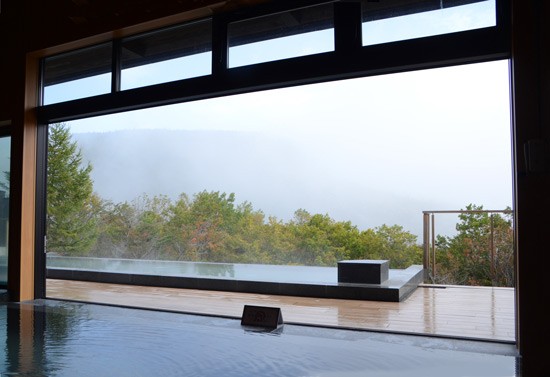 I definitely recommend visitors to stop by at one of these onsen and have a rest before returning home after their hikes – it is an amazing feeling!
---
HIKING ROUTE
Here is a little illustration of the route that we hiked. I hope that it is helpful.