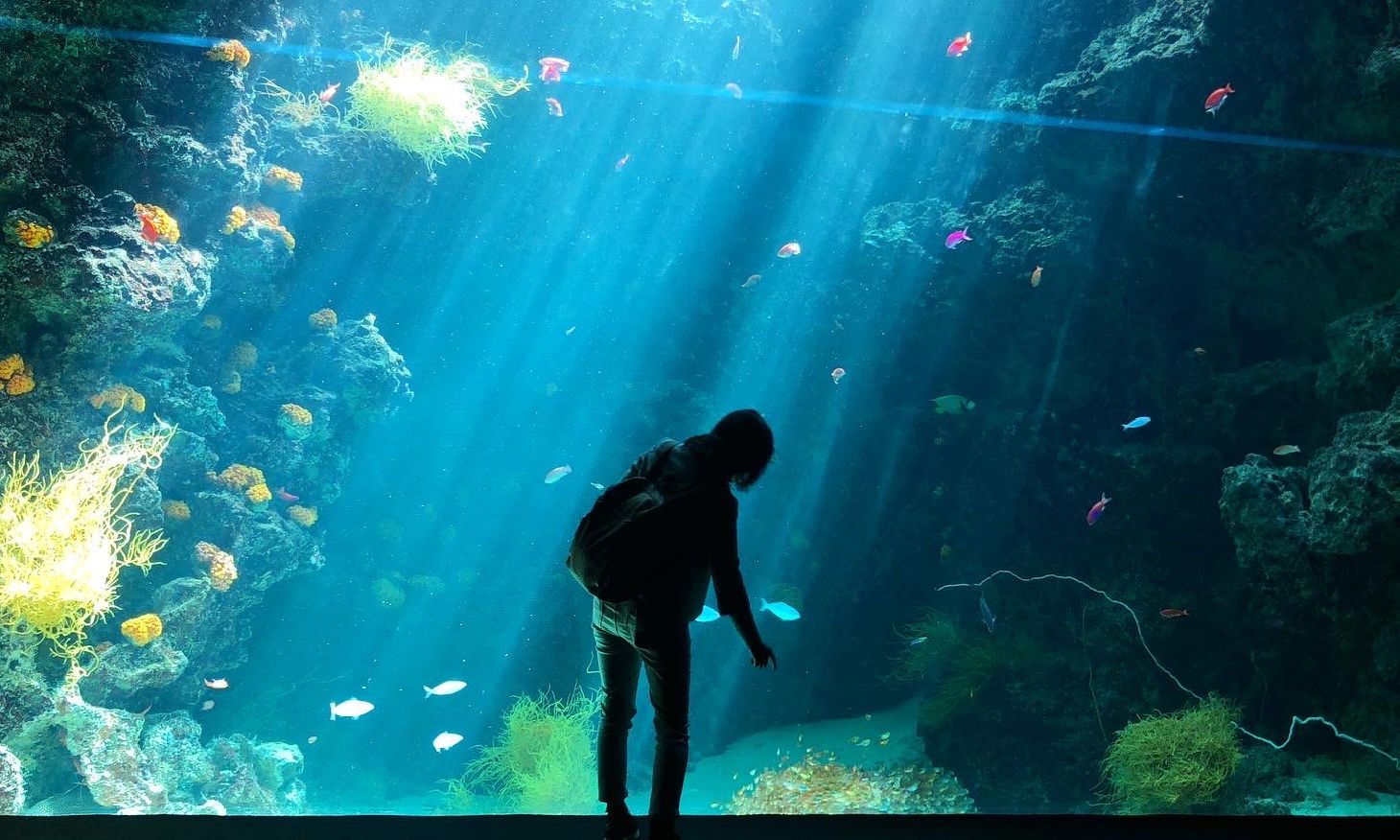 I know what you're thinking... Fishing?? At an aquarium?
Well, this isn't a typical aquarium.
Aquamarine Fukushima is an Environmental Aquarium focused on research and providing educational information about sustainability and conservation.
The aquarium is most well-known for its triangular tunnel that separates two large tanks that represent the part of the sea where two currents meet. The Oyashio current (home to a high degree of diversity and reef environments) and the Kuroshio current (home to fast-moving fish and wide open sea environments). This was my first time seeing large schools of fish moving together, and it was really mesmerizing!
After getting hypnotized by the swirling school of fish, we headed over to the fishing pond to catch some lunch!
At the fishing area, I was handed a rod and some bait. You pay (1000 yen) to use the rod, and then it is a small fee (100 yen) per fish you catch.
The fish in the pond were really cute, so I was nervous about eating them. I love eating sushi but when confronted with a cute little fish swimming around, I start to think less with my stomach and more with my heart.
I've never successfully caught a fish on my own, so I was shocked when I almost instantly felt a tug on the fishing pole. I pulled the rod up and suddenly there was a flopping fish in my hands!
In the same way, I was able to quickly catch two more fish. So, one for me and each of my coworkers. You aren't allowed to return any fish to the water, so be careful not to catch more fish than you can eat.
Catching the fish here is pretty easy, so I think this is a great activity to try!
Most of us have very little experience with fishing or hunting. When you source all of your food from the local grocery store, it can be hard to remember or come to terms with the fact that the meat we eat was once alive. Faced with a living fish, some visitors (mostly children) have broken the rules and released what they caught once no one was looking! However, rather than feeling sad about the fish, I channeled the mindset of gratitude towards the fish for providing me with life-sustaining nourishment. Thank you, fish friend!
We carried the fish friends over to the cooking area, said a little goodbye, and handed them over to the chef. Quickly, the fish were swiftly prepared in front of us and cooked. A few minutes later, we were handed a plate of hot fish fry.
They smelled really good. We said a heartfelt thank you, "itadakimasu," and ate. The taste was so fresh and delicious. I have never eaten such fresh fish before, and my coworker and I agreed that the meat almost tasted more like fried chicken than fish. It felt good to know exactly where our food had come from.
In order to consume consciously, it is good to remember to value the life of the creatures that we eat.
By keeping our oceans clean, we can honor the lives of sea animals. After we ate, we walked around a bit more and took a look at some of the exhibits. One had a lot of information about beach cleanups and efforts that the aquarium is making to stay environmentally conscious which I hope you will check out if you visit!
It was a lot of fun visiting Aquamarine Fukushima, and I hope that you will consider visiting!