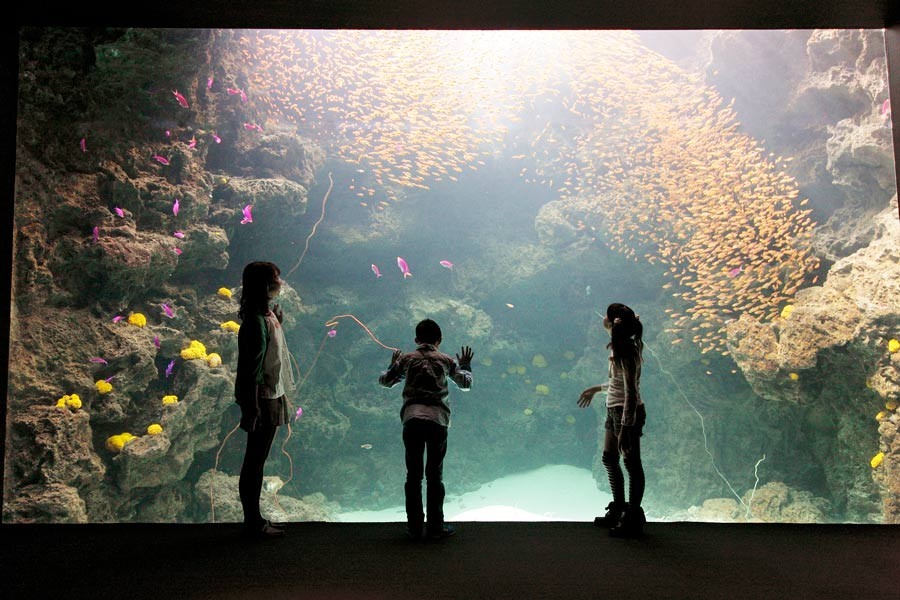 Aquamarine Fukushima is an 'environmental aquarium' that exhibits aquatic creatures in environments which closely mimic their natural habitats.
As well as being an aquarium, Aquamarine Fukushima is also home to a research center and offers educational information about sustainability and conservation.
The main exhibits are two gigantic tanks that extend from the second to the fourth floor, reproducing Shiome no Umi, an area of the Pacific Ocean off the coast of Fukushima Prefecture where the Kuroshio (Black Current) and the Oyashio (Kurile Current) meet.
Visitors can enjoy walking through a transparent tunnel whilst being surrounded by the wealth of marine life found in Shiome no Umi, which includes vast schools of sardines and bonito. On the fourth floor, visitors can also visit a calming botanical garden which exhibits the various plant life of Fukushima Prefecture.
In addition, guests can see over the top of the main tank, a great spot to appreciate the sheer scale of the water and the curious marine life below. There is also a touch tank where interested visitors can try touching starfish and other small sea critters.
Since its establishment, Aquamarine Fukushima has conducted research into an ancient species of fish called coelacanths, and its findings are exhibited on the first floor in a corner entitled the World of Coelacanths. Here visitors can view an anatomical specimen of the rarely seen coelacanth and watch exclusive footage of living coelacanths.
There are events throughout the year, with many activities for children and families to enjoy together including a fish maze, art festivals, and a fishing experience where you can catch real fish to be fried for lunch!
If catching your own lunch doesn't appeal to you, you are in luck as there is a seafood market selling fresh seafood just a 10-minute walk away!
The seafood market is located within Iwaki Lalamew, a shopping center that also includes restaurants where you can dine on locally sourced, freshly caught fish.
Venue Details
Venue Details
Website
http://www.aquamarine.or.jp/english/index.html
Contact

Environmental Aquarium Aquamarine Fukushima

(+81) 246-73-2525

Parking
380 cars. Disabled parking available.
Entrance Fee
Adult: 1,850 yen<br>Elementary, Junior High, High School Students: 900 yen<br>Pre-school Age: Free<br>Groups of over 20 people: 750 yen to 1550 yen per person
Accommodation details

Pets: Not allowed (Caged pet carrier which are to be left outside in a designated pet area are available upon request at the entrance)

Related info
Wheelchair-accessible toilet and ostomate toilet available (Omatsuri Square outdoor toilet).

Wheelchair rental available.

There are signs in English.
Access Details
Access
50 Tatsumi-Cho, Onahama, Iwaki City, Fukushima Pref. 971-8101
View directions
Getting there

By Car: 20 min from Iwaki-Yumoto I.C. exit off the Joban Expressway

By Public Transport:

From Tokyo Station, an expressway bus leaves from Yaesu Minami-guchi to Iwaki Station every 30 minutes. It takes 3 hours.
From Fukushima Station, take a bus heading to Iwaki from Fukushima Station East Exit. It will take around 2 hours.
From Iwaki Station, take the Hitachi-Tokiwa Line train to Izumi Station.
From Izumi Station, take a bus from the east exit, heading to Onahama 小名浜 or Ena 江名. It will take 15 minutes. Get off at Shiyaku Iriguchi (支所入口). From there, Aquamarine Fukushima is a 10 minute walk. (Alternatively, take a taxi for 13 min from Izumi Station)