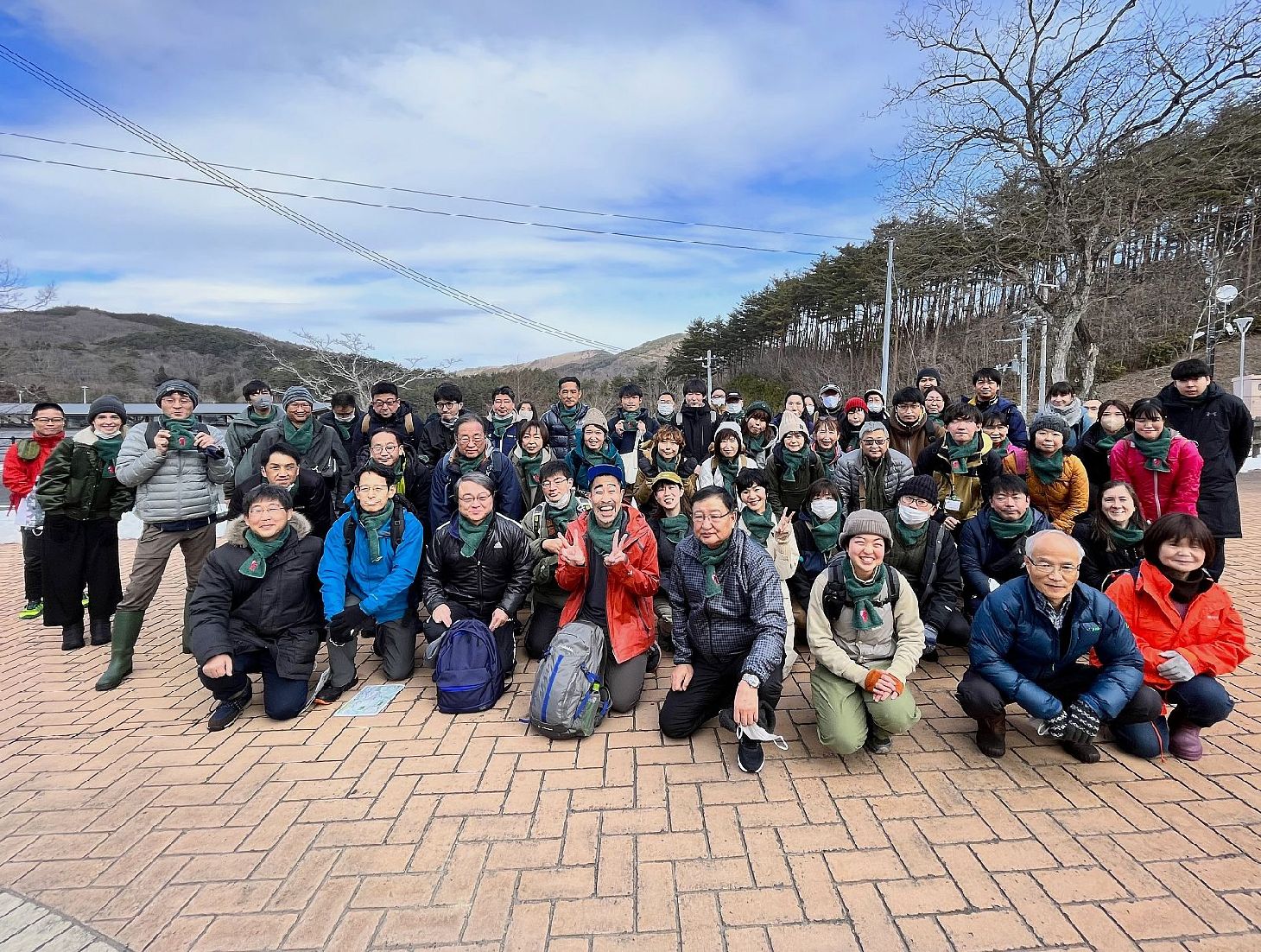 Japan is blessed with plenty of green areas where clear rivers and pristine forests are everyday sights. Such is the case of Katsurao (葛尾村), a rural mountain village, located between Namie Town and Tamura City, in the coastal area of Fukushima prefecture.
Traversed by gushing rivers and gentle slopes, this village was the location of a footpath event held on a breezy day in early February, 2023. I joined the event, along with +70 participants, and I'd like to share how it went! But first…
What's a footpath event, you may ask?
As part of something called the 'Reconstruction Exploration Project', Fukushima prefecture is developing footpaths (hiking trails) in towns and villages that were severely affected by the earthquake, tsunami and nuclear accident in 2011. These trails are designed alongside residents, who include some of their favorite local spots that they'd like visitors to see.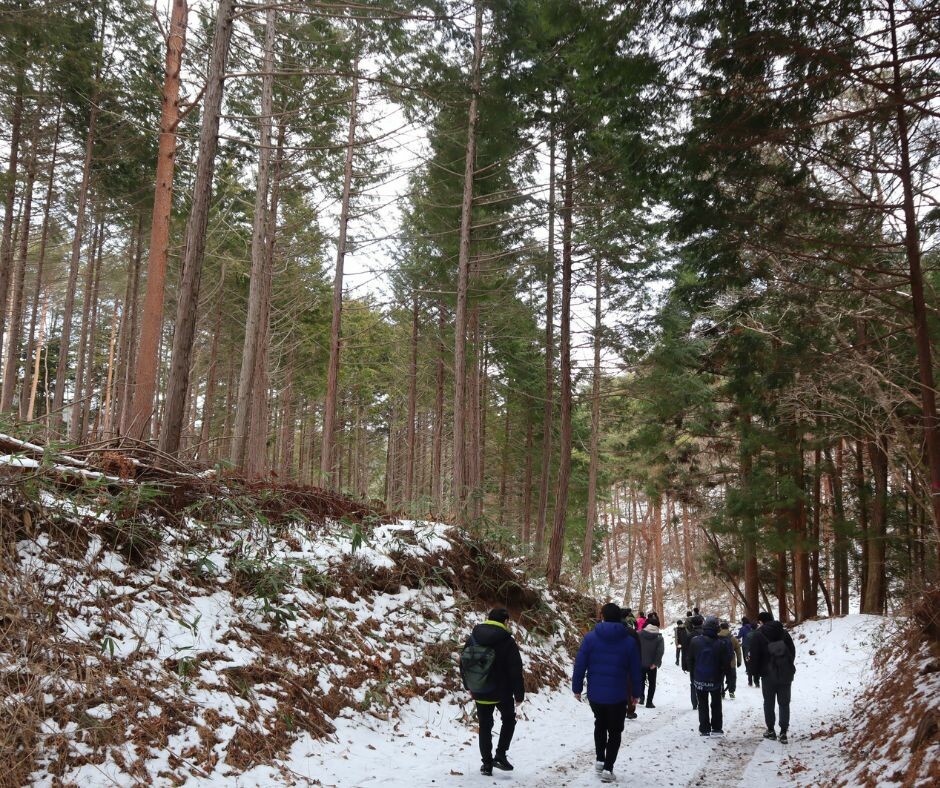 By following footpaths, visitors and locals can come together to experience firsthand the reconstruction and revitalization of Fukushima, as well as discover the beautiful sights that each area has to offer!
Katsurao Village's Evacuation & Revitalization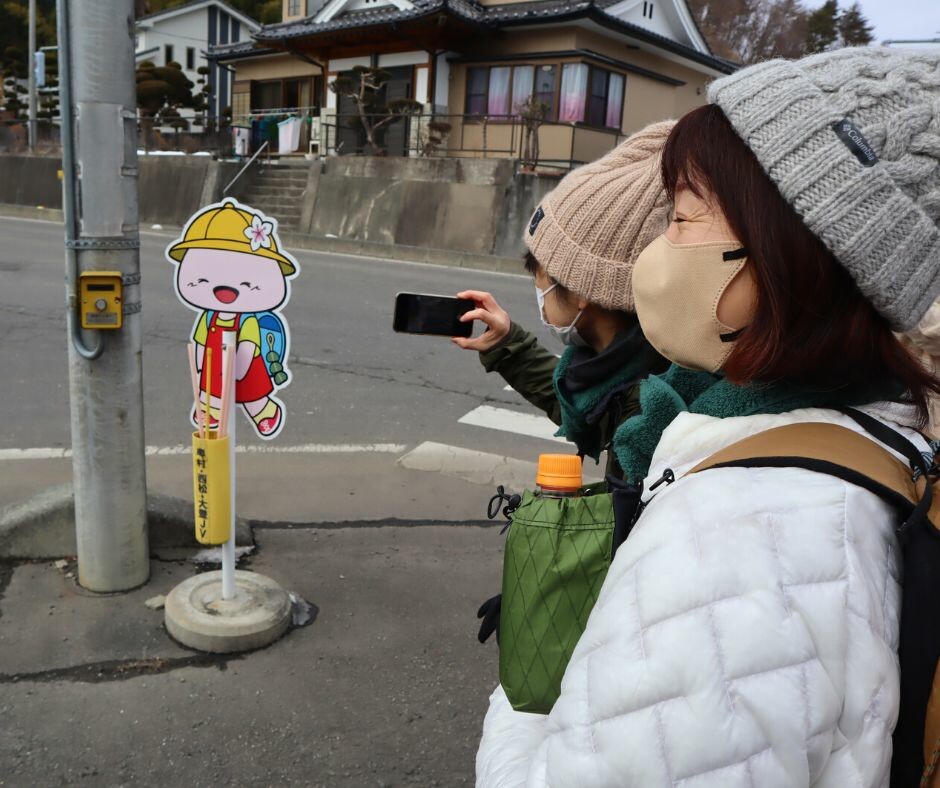 Due to the nuclear accident, Katsurao village had to be entirely evacuated in 2011. Five years later, following decontamination work, the evacuation order was lifted for most of its districts, and in 2022, the entire village saw the end of the restrictions.
As of today, over four hundred residents live in Katsurao. There is a restaurant, a convenience store, a traditional Japanese-style inn and other services, although businesses in the village remain few and far between, with dense woodlands and wide roads dominating the landscape.
Katsurao's Footpath
We began our walk under the early afternoon sun, our boots crunching on the snow-covered roads. At one point, the slope became steep and slippery, but we persisted all the way up to a beautiful shrine, which was well worth the climb.
Myoken Shrine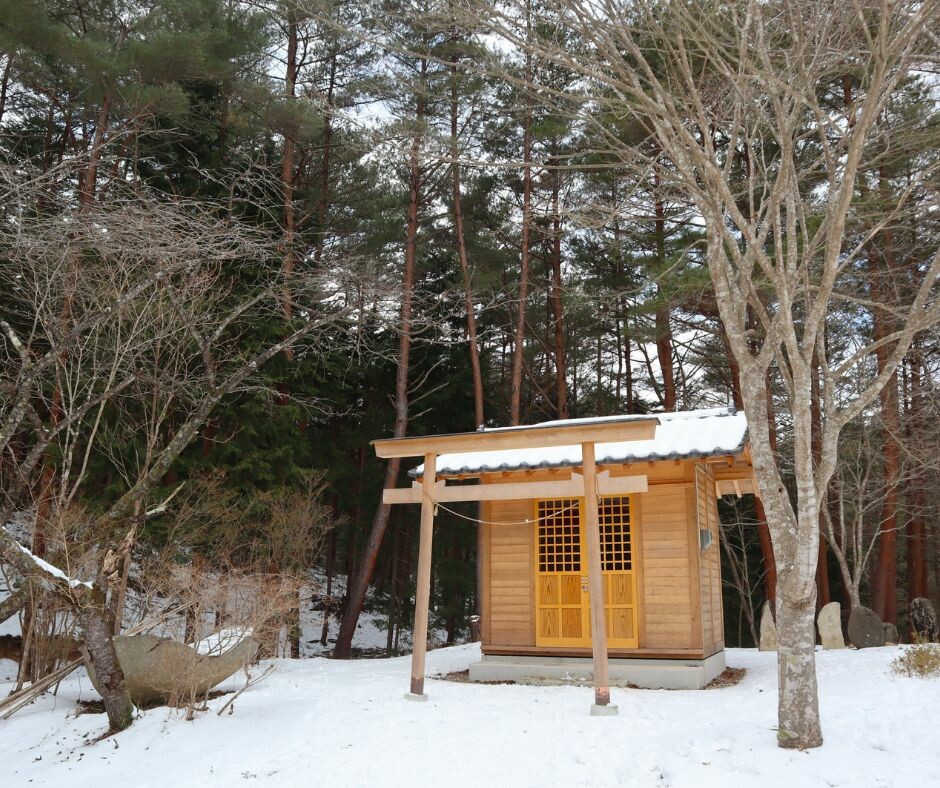 Myoken shrine's (妙見神社) light wooden structure contrasts beautifully against the dark woodlands in the background.
Some participants stopped to pray at the shrine, while others rested or had some water. There was also a picnic table nearby where participants could sit and catch a break while breathing in the cool mountain air.
Among the participants were some local celebrities and influencers, as well as editors from travel magazines.
Katsurao Village Reconstruction Exchange Center Azalea
We descended the slope and after a bit of walking came across a big, modern building that, in spite of looking strikingly new, seemed to fit its surroundings perfectly.
This, I learned, is Katsurao Village's Reconstruction Exchange Center Azalea. And it looks as beautiful and cozy inside as it does from outside!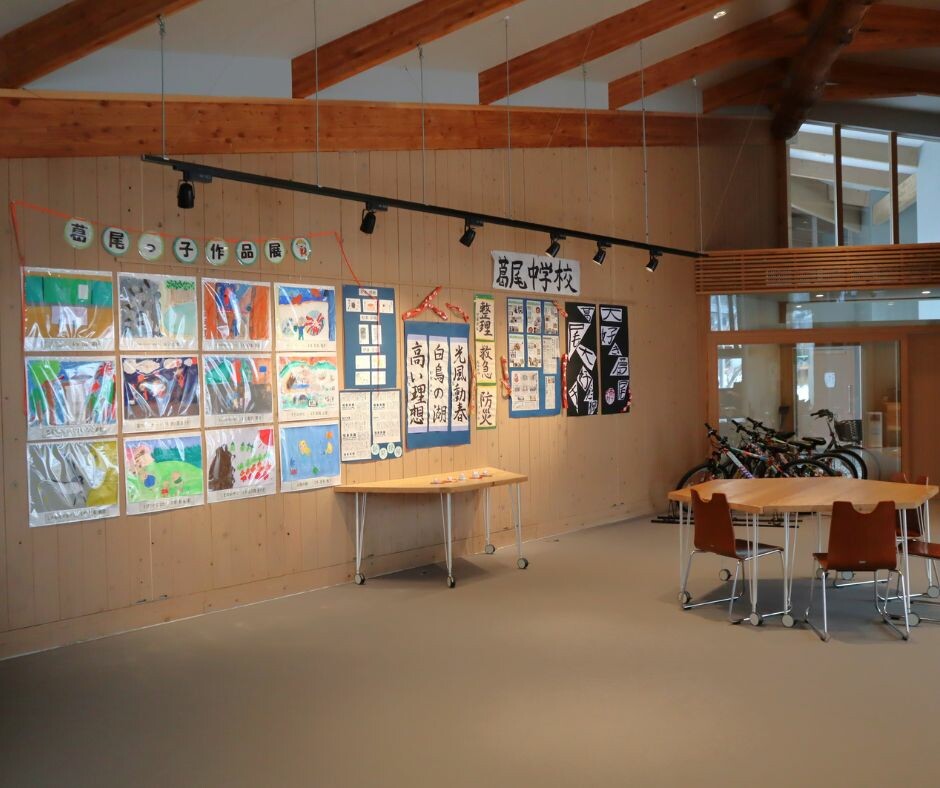 Here, you will find a souvenir shop that sells local crafts and snacks, and a cafe, as well as a vending machine for… sheep meat! (Katsurao's specialty).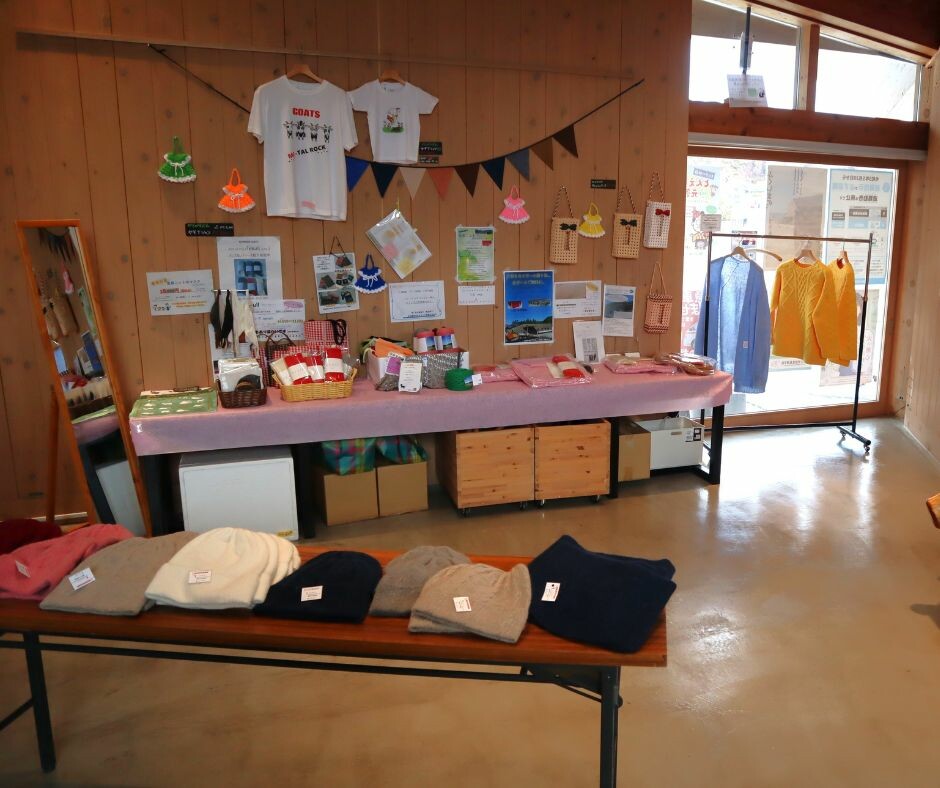 That day, they were having a big Valentine's Day sale for knitwear made in Katsurao.
Lunch Time!
We finally returned to the starting point, the lobby of "Midori-no-Sato Seseragi-So" (みどりの里せせらぎ荘) a Japanese-style inn and onsen resort.
We were welcomed back with a warm homemade curry prepared by local chefs using herbs from the area. Needless to say, it was delicious, and the perfect way to end the hike.
Itadakimasu!
Shimi-Chan: The Star of the Village
I must admit that at first I thought Katsurao village's mascot, 'Shimi-chan', was modeled after a peach, but it turned out I was very mistaken! (To my defense, I live in Fukushima City, and peaches are kind of a big deal here).
'Shimi-chan', which you'll see all over Katsurao, both in crossings, as well as in souvenirs, is modeled after...
Shimi-mochi!
a.k.a., the area's delicacy.
Shimi-mochi, as the name indicates, is a kind of 'mochi' (Japanese rice cake), but it is unique both in flavor and in the way it is prepared.
First, the

mochi

is hung outdoors during the winter months, so that it freezes and dries up ('

shimi-mochi

' means 'frozen mochi' in Japanese).

The

mochi

is then soaked in water so that they regain moisture.

The water is then drained, and the mochi rice cakes are cooked in a pan.
Shimi-mochi is usually served warm and topped with a sauce. This time, we got to try shimi-mochi with a sweet soy sauce which was absolutely delicious!
The texture and flavor of the mochi was unlike any other I've tasted before. I'd recommend trying it yourself during your next visit to Katsurao village!
Participants were given this towel. This deep green shade is dubbed 'Katsurao green', and it has an illustration of Akabeko (Fukushima prefecture's folk red cow) drawn by 'Meli et Malice', a French illustrator based in Fukushima. I was thrilled that I got to keep it as a souvenir!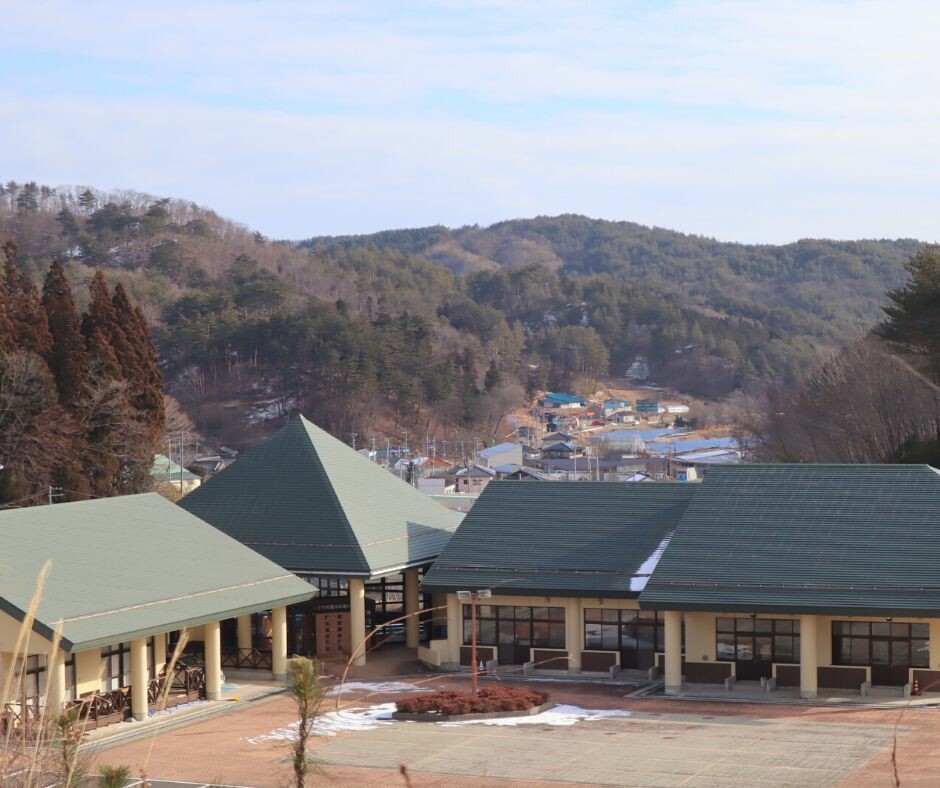 If you're interested in following this footpath, check out the following link where you can find more information.
If you're interested in knowing more about Fukushima's footpath, check out this post about hiking in the Miyakoji area of Tamura City.