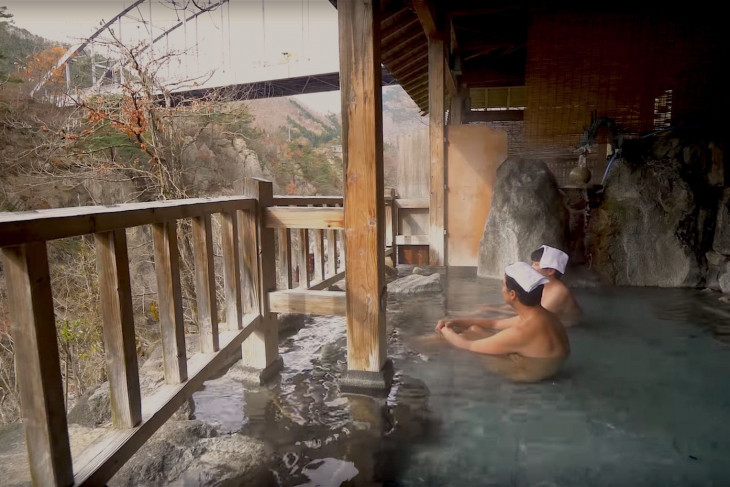 The beauty of hot springs in Fukushima is that each onsen has different characteristics, such as the different minerals and temperatures of the waters, or the different styles, sizes, and atmospheres of the baths. This variety in types of onsen baths is what sets aside onsen in Fukushima from those in other prefectures.
Getting away from the city and visiting a hot spring to relax for a few days is a popular activity among Japanese people. If you go on a trip to one or more hot springs for a week, you will see why they are in such high demand.

Japan has four distinct seasons, changing every three months. You will experience something different depending on the season, even if you visit the same hot spring resort or hotel.
Hotel Sansuiso (Tsuchiyu Onsen)
Tsuchiyu Onsen, is located in the northern part of Fukushima Prefecture, about 16 km from Fukushima Station. Tsuchiyu Onsen is a hot spring resort with a long history, and is also known as the birthplace of the Tsuchiyu Kokeshi traditional craft.
This hot spring town is home to over 10 types of onsen. Hot spring ryokan and hotels of various sizes line the river, each with baths that can be enjoyed through every season.

At Hotel Sansuiso, you can enjoy a wonderful variety of baths. Highlights include an outdoor baths situated right across from a two-tier powerful waterfall, a two-story large hot spring area with various sizes of bathtubs and water types, a bath with a majestic ravine view, and a luxury private bath suitable for families.
In particular, using the outdoor bath with a view of the Arakawa River in a snowy landscape in winter is breathtaking.
Toryukan (Yunokami Onsen)
Yunokami Onsen is a hot spring tow well-known for its abundant spring water and magnificent ravine view. Take a walk along the Okawa River from a simple thatched station and you will see a number of hot spring hotels. This hot spring town is not flashy, but is a wonderful spot for experiencing Fukushima's breathtaking nature.
Toryukan is a family-run hot spring inn which has been in business for generations. Each room is very spacious, and has a private bathroom with bathtubs made from cypress, so you can enjoy a hot spring bath in your own room any time of the day. Additionally, the inn's outdoor bath located along a mountain stream, you can spend time relaxing and listening to the murmuring of the Okawa River, which changes as the seasons go by.
The Wonders of Onsen
One of the joys of hot springs is relaxing in a bath, listening to the sound of a waterfall in the distance, all while heating yourself up in the warm water, with a refreshing cool breeze brushing gently against your face. Indeed, this feeling itself is often referred to in Japanese as 'onsen' and is the very reason why Japanese people often visit hot springs. It is an amazing feeling that everyone should experience.
One of the attractions of onsen is that you can enjoy it all year round. We highly recommend you to try an outdoor bath, which is called 'rotenburo' in Japanese. See here for more information on private rotenburo. While you take a bath, you could be looking at cherry blossoms in spring, relaxing under the star-filled sky in summer, enjoying the colored leaves of fall, or reveling in your snowy surroundings in winter. Onsen is a special way for you can directly experience the seasonally changing nature of Japan.
There are a large variety of hot springs, such as tranquil riverside hot springs and large hot spring facilities with more than thirty baths! In Fukushima, you can find the one that perfectly matches both you and your trip.