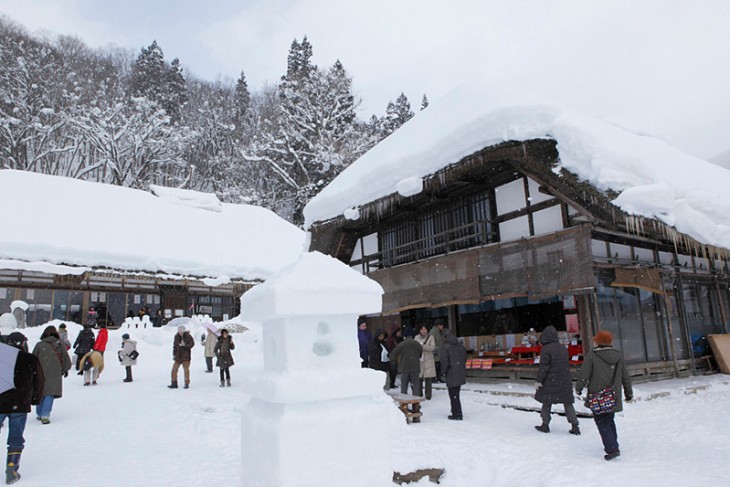 Ouchi-juku, Minamiaizu, is a town with a rich history, and is well known having been used as a 'post-town' for travellers during the Edo period. The area includes 33 buildings which have been painstakingly preserved as they were hundreds of years ago. Ouchi-juku's breathtaking snow festival is held on the 2nd weekend of February every year.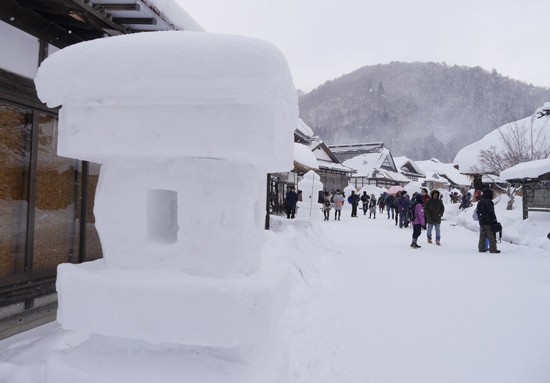 Most of the buildings that make up the main street of Ouchi-juku now operate as gift shops, but visitors can still stay the night in 3 traditional minshuku in the town. These houses have access to electricity and the internet, but Ouchi-juku still manages to feel like it exists in a whole world of its own.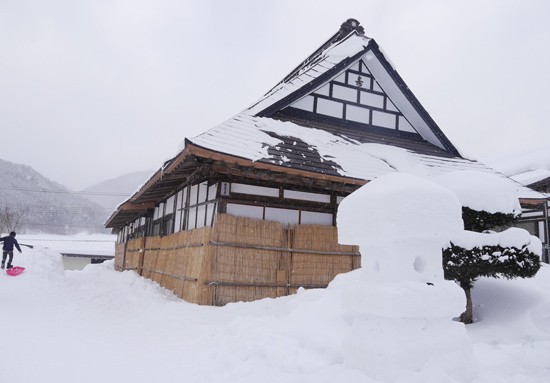 One of the best parts of visiting Ouchi-juku is taking a trip up to the view point that overlooks the beautiful thatched houses. I headed there early upon arrival, in the hope of getting a good photograph, but the snow was so strong that I ended up getting more snow in my lens than anything else!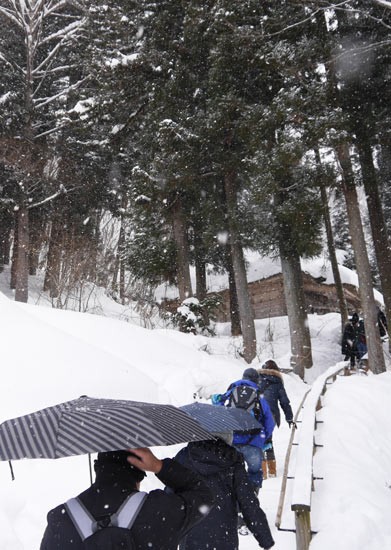 I have seen photographs of Ouchi-juku in the snow on the internet before, so I was really happy to have the chance to go and see this view for myself, and take my own photographs. It definitely didn't disappoint.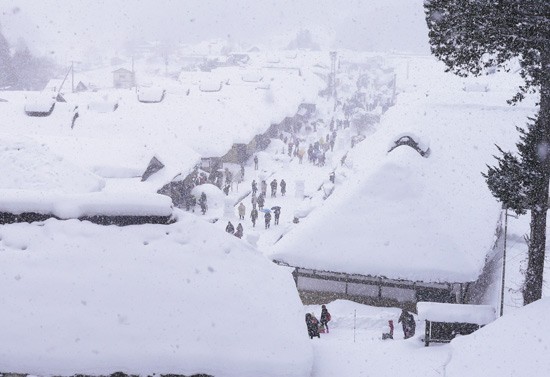 Ouchi-juku Snow Festival takes places over the space of a weekend. There are a number of events over the two days that visitors of all ages can enjoy.
One of the events that took place on the Saturday was a "mochi pick-up" event. This event is where mochi (glutinous rice balls enjoyed as a sweet treat) are thrown from the roofs of buildings. Visitors can compete with each other to see how many they can collect!
Even if you miss the mochi pick-up event like me, visitors can appreciate the hand-made mochi as a beautiful decoration displayed on the trees around the area. The bright and bold colours of the mochi were really beautiful against the snow.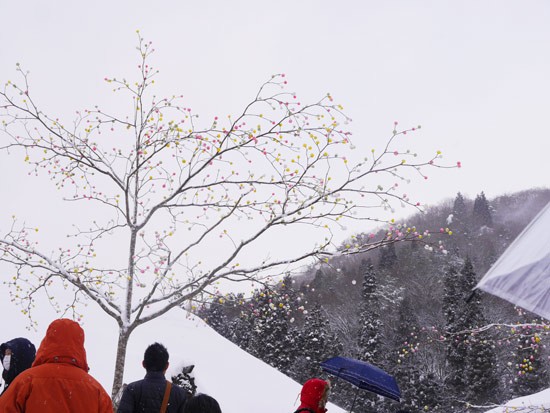 Another event during the weekend is call Maruta Kiri Competition (丸太切り競争). This involves trying to saw through a small section of tree trunk faster than the other competitors.
I was invited to take part in this competition! It was so much more difficult than it looked and I think that it took me about 3 minutes to cut through the wood, which was a bit embarrassing! However, it was also really fun, because the men in charge of the competition kept teasing me about how bad I was and insisted on showing me how to do it properly.
I got to take back my bit of wood as a souvenir. I asked the volunteer what I should use it for. Despite it being twice the diameter of a map, he suggested that I use it as a coaster. I took it around with me for the rest of the event!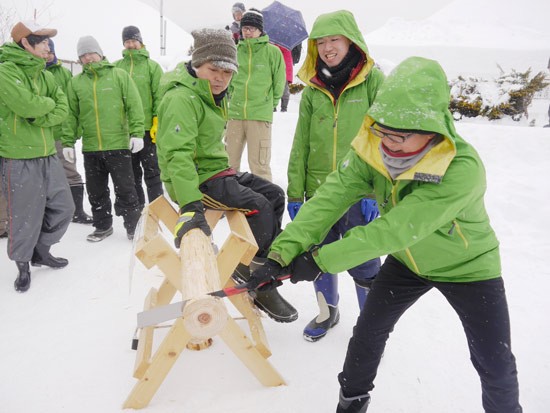 If you don't feel like performing yourself, visitors can watch performances of traditional performing arts. The photo below is from the Sanshi Kagura performance that took place on Sunday. These performances were very important hundreds of years ago, when they were most often performed around the start of the new year, as a way of warding off bad luck and evil throughout the year.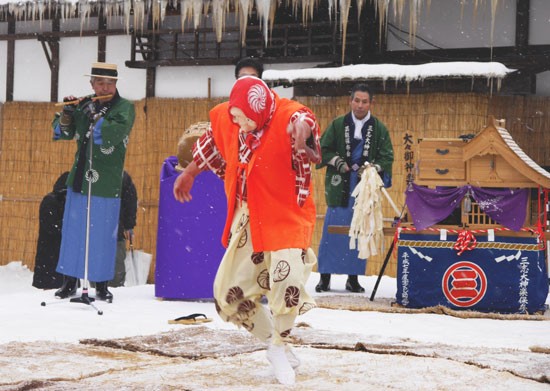 Other events included a soba noodle eating competition, a dance performance by the area's local yosakoi dance team, and a group effort to try and make Japan's longest dango mochi (Mochi skewered on a stick).
Between events, it was nice to check out the local cuisine. The food stalls aren't only for the festival, but are open to visitors throughout the year. Traditional grilling techniques are used to make well-known local delicacies like senbei (rice crackers).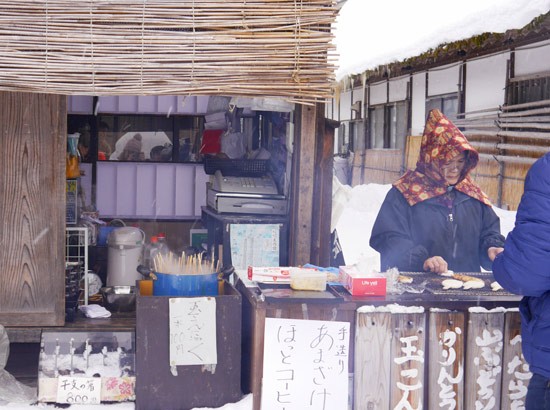 There are also many other things to explore with your friends and family, such as a number of different igloos, some of which actually function as makeshift shrines, whereas others make good rest spaces.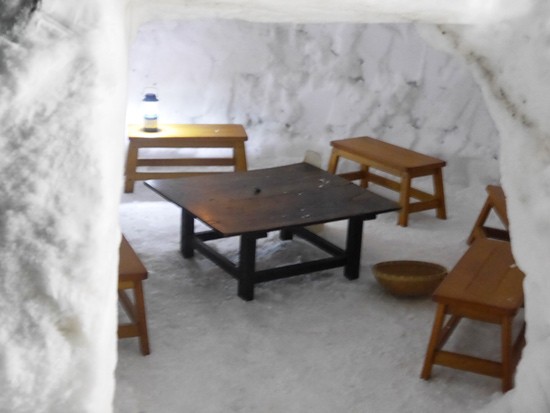 As the sun went down, I decided to go back to the viewpoint and see what Ouchi-juku looked like at night. It was absolutely amazing, especially because the lighting of the lanterns – which are also made of snow – had already started to take place.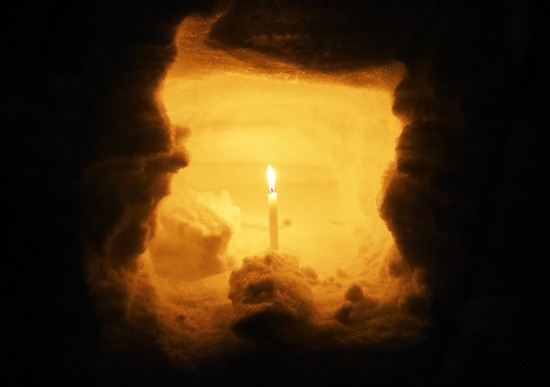 Certain parts of the staircase and path to the viewpoint became slippery as the temperature dropped, so I would advise visitors to take care. I have never seen so many people slipping over during just one day.
When I reached the bottom, I decided to have a look at some of the local shops before the firework display of the evening started. I fell in love with these cute hand-made ornaments – each of which has their own meaning and importance. I bought some of the chillies, which were used centuries ago to ward off spirits.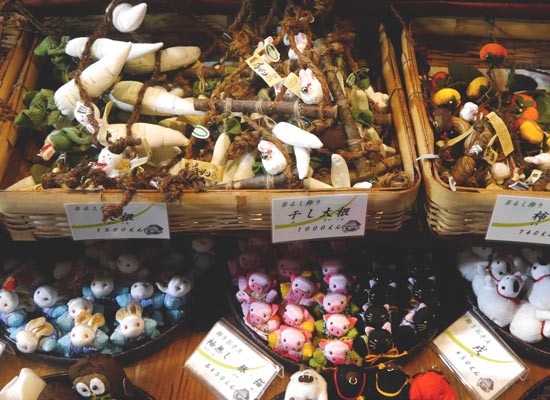 Another highlight of the Ouchi-juku Snow Festival was the firework show. The heavy snowy, strong wind made a really beautiful foreground for the 100 fireworks set off on Saturday evening. This is the most stunning location that I have ever seen a firework display.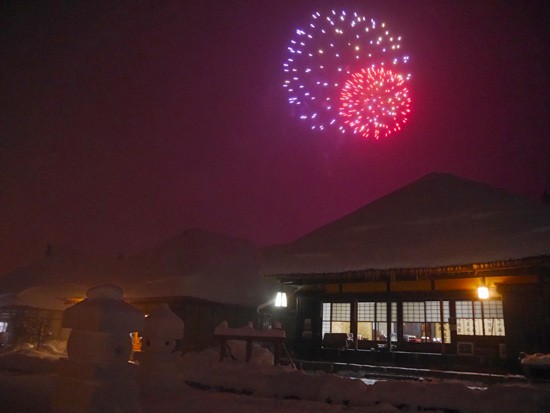 I loved watching the faces of the locals as they enjoyed the views of the night sky.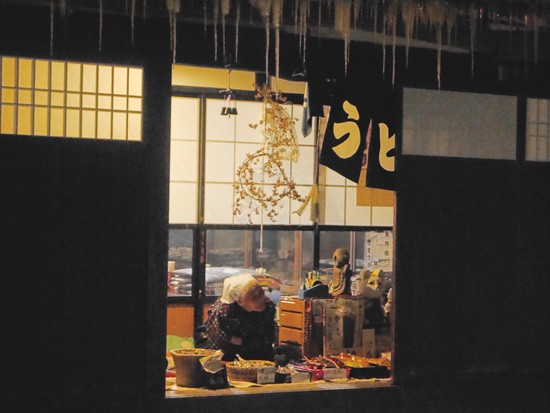 I had an absolutely amazing trip to Ouchi-juku Snow Festival, and I would highly recommend it for anyone interested in traditional Japanese culture and local festivals. I would be very interested in coming back next year
ACCESS
Ouchi-juku can be accessed by taxi or bus from Yunokami Onsen station, which is on the Aizu Railway line. It can become very crowded during festival time, so if coming by taxi, I would suggest booking both journeys of your taxi in advance, and preparing for congestion upon entering the area. If coming by rental car, make sure to prepare yourself for long queues to get into and out of the car parks.