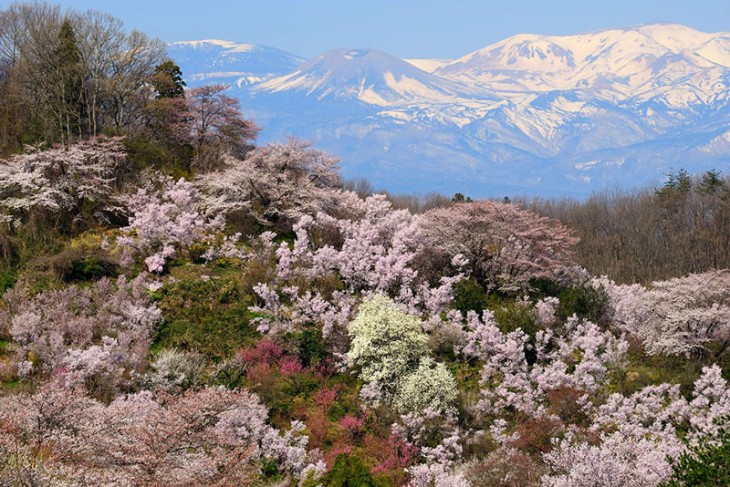 Vistas of indescribable beauty will greet you at Hanamiyama, an area in Fukushima City, in springtime between March and April. The abundant flowers, including cherry and peach blossoms, magnolia, forsythia, and Japanese quince, weave their colors together to create a gradation of nature with pinks and yellows and greens. Released from the severity of winter, this vista announces the arrival of spring with fanfare, and is loved by visitors from not only within Fukushima but from throughout Japan, and abroad as well.
Come enjoy a walk through Hanamiyama Park, located in the central Hanamiyama area, as you are embraced by the soft, warm sunlight of springtime.
One of the most fantastic things about Hanamiyama Park is that the hill upon which the park is located is home to uncountable wildflowers. Originally a private garden used to cultivate flowers, it was ultimately opened to the general public in 1959 as its beauty gained renown.

Since then, countless visitors have come to Hanamiyama Park each year, making it one of the best known tourist destinations in Tohoku. The popularity is such that it gave rise to the phrase, "The Peach Blossom Spring is found in Fukushima," referring to the ancient Chinese fable describing an isolated utopia inhabited by a hermit where beautiful flowers bloom, pure water flows, and birds sing. It is said that the Peach Blossom Spring cannot be found if you seek it, but that it in fact exists within your own heart. Yet Hanamiyama Park in the springtime will present you with a fantastical vista as if the Peach Blossom Spring has been made real and materialized before your very eyes.

The specific aspects of that vista will change depending on the precise timing of your visit. Unlike the traditional Japanese 'Hanami' practice of flower viewing which focuses exclusively on cherry blossoms, Hanamiyama Park features a procession of different blooming flowers covering the entire hill that lasts from March all the way through May. The view transforms from pale flowers in March, such as various shades of plum blossom, through pink flowers in April including yoshino and weeping cherry blossoms, to deep pink and red flowers in May, including double cherry blossoms and azaleas. Thus, the color of the flowers steadily deepens with the progression of the season weaving a beautiful gradation of hues.
While the view appears more like an impressionist painting from afar, you will find yourself surrounded by a veritable explosion of flowers the moment you step into the park. Take in the ever-changing vista and the procession of flowers as you enjoy conversation with friends or a relaxing walk.

There are a number of walking courses that take visitors around Hanamiyama Park. You will find everything from gently graded walking courses that can be enjoyed by wheelchair users to more challenging trekking courses for those with energy to burn.

Let your heart dance and you will quickly find yourself at the end of a long walk much sooner than you expected. That will be a perfect time to enjoy a break of green tea and rice cakes at the nearby shops and stalls as you take in the outside views.

Don't forget to visit the local shops and stalls before you leave. Shops and stalls sell an array of farm produce such as apples, green onions, and spinach in addition to popular sweets and locally processed foods.

Hanamiyama Park can become quite crowded during the peak season, but the mornings are relatively less crowded than other parts of the day. We recommend you come to enjoy the fresh morning air of the park and take some photographs of the beautiful scenery while you're at it. You might also enjoy the luxury of eating a delicious breakfast here after building up your appetite by walking.