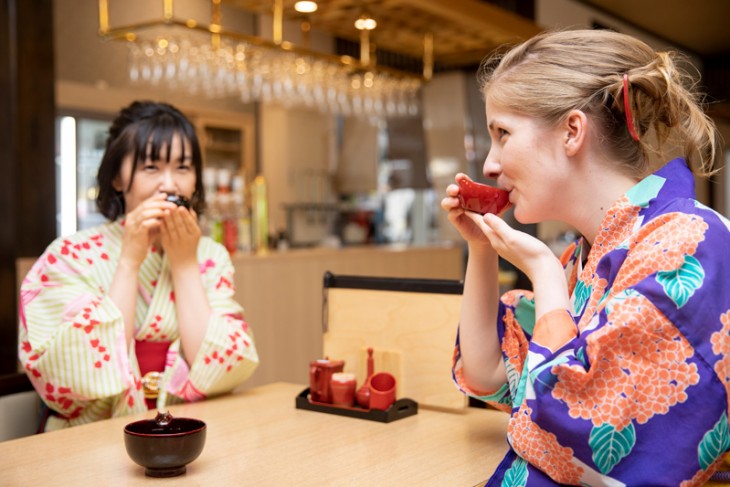 One reason why Japanese sake produced in Fukushima is particularly delicious is that production of rice, the raw material of sake, also thrives here. Fukushima is in fact a well-known rice production region with plains covering a wide area and clear separation in climate between the four seasons. The availability of abundant spring water is also important. Thus, Fukushima has both the rice and water appropriate for brewing sake. Praise for the sake produced in Fukushima continuous to rise, such as receiving gold awards at the Annual Japan Sake Awards. The Annual Japan Sake Awards is run by the National Research Institute of Brewing (NRIB), the highest authority on sake in Japan. Effort is also put into exports, and the number of fans of Fukushima's sake is beginning to grow throughout the world.
While sake is made primarily from the simple ingredients of rice and water, the resulting flavor varies greatly depending on the producer. Not only are there differences between breweries, with types of sake that are variously sweet, refreshing, or fragrant, but there is variation in types even under the same brand. Thus the mystery of Japanese sake is the ability to brew countless different flavors and aspects that all share the same raw ingredients and process.
There are more than 60 sake breweries in Fukushima today. The majority of these boast long histories of more than 300 years for the older ones, and more than 100 years for the more recent ones, and there are those that still produce sake in the same building as they did when they were founded. Each day they work to preserve their traditional taste while researching ways to make sake even tastier. In recent times, there has been a rise in the number of breweries that provide tours for the general public in a desire to allow more people to learn about the sake brewing process.

If you get a chance to tour a sake brewery, there are two important things to keep in mind.

First is the brewery itself, which has likely been operating for many years. Brewery buildings constructed using traditional Japanese architectural methods can transport you back to an earlier time as you step across the threshold. You will begin to grasp the history and tradition of sake cultivated in this land. The other point is how sake was brewed over this long history. The entire process is managed carefully by master brewers. These master brewers have typically passed down the techniques of sake brewing used in their breweries within their families over many generations. Delicious sake is only possible thanks to their tireless dedication to quality and their unrivaled skill.
Some breweries, such as Suehiro Brewery in Aizu-Wakamatsu City, even provide tour guides who will describe the history of the brewery and introduce some of the valuable tools used over the years. After completing your tour, you will often be guided to a tasting corner. Choose your favorite flavor as you consider the brewing process you have just learned about. If your timing is lucky, you may even get to taste sake that has just been freshly brewed. Unlike wine and beer, sake is made only in Japan, so it makes a welcome gift. Why not enjoy the flavors of sake with your friends and family as you talk of your experiences in the sake wonderland of Fukushima?

Sake breweries come in many sizes, from small family-run operations, to major factories capable of mass production. Furthermore, the busiest time for sake brewing is in the winter time because the process begins after the fall rice harvest. Sake breweries in Fukushima are largely concentrated in the areas of Aizu-Wakamatsu, Kitakata, and Nihonmatsu cities. These are each historic towns in their own right and we recommend spending the time to walk through the streets as well.