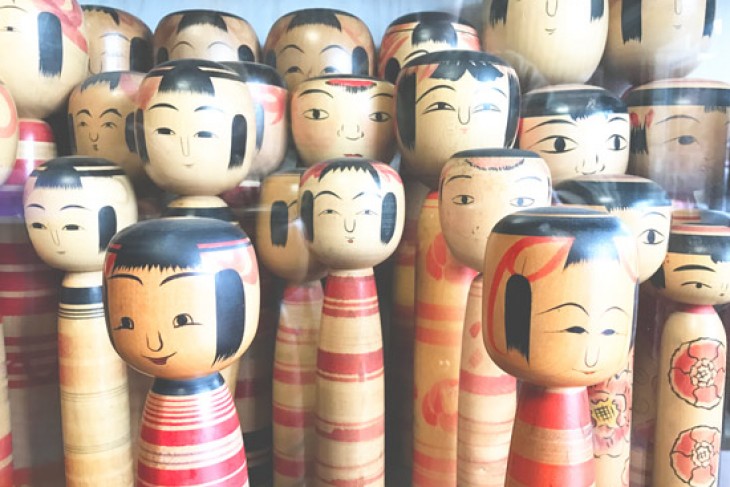 Tsuchiyu Onsen has been a well-loved kokeshi-producing onsen town for over 170 years. Kokeshi are painted wooden dolls, which have been produced in Japan since the late 18th century in onsen towns in Tohoku (the eastern region of Japan).
Kokeshi were originally made and sold in onsen towns as souvenirs for visiting guests to take home to their friends and families. Throughout the 6 prefectures that make up Tohoku, there are 11 distinctive styles of kokeshi. This being said, the Tsuchiyu Kokeshi is ranked among the 'top 3' of the Tohoku Kokeshi.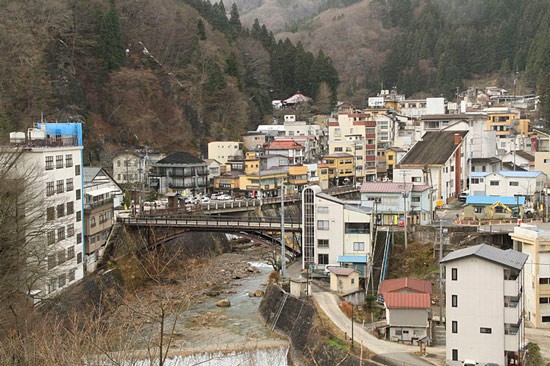 Tsuchiyu Onsen is a lovely place to visit for a day trip. Since there are lots of onsen that you can visit for the day, it is particularly nice to visit at this time of year, so that you can get yourself warmed up after exploring the town.
So what can you do in Tsuchiyu Onsen?
1. STRIKE A POSE WITH A KOKESHI!
Try and find the 3 large kokeshi doll sisters scattered around the town! The kokeshi in the photograph below is 2 metres in height and weighs 500 kilograms!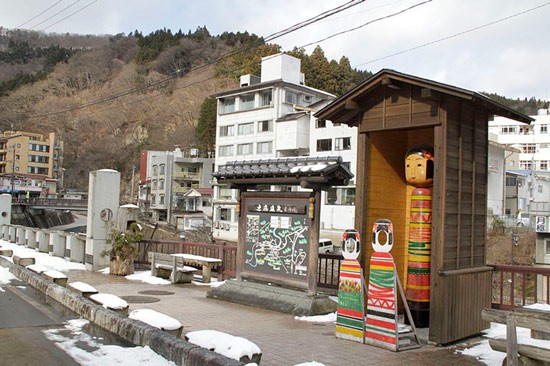 Each kokeshi stands in a really scenic spot where you can enjoy beautiful views overlooking the charming onsen town.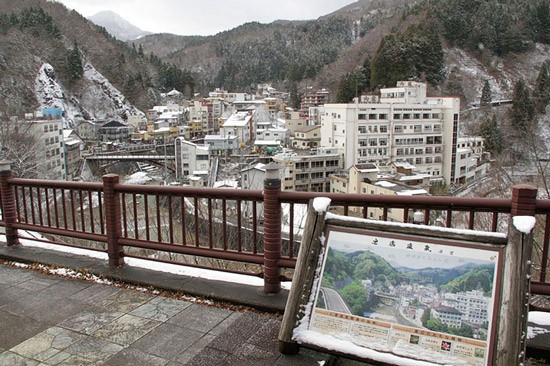 2. PAY A VISIT TO THE 6 JIZO
Start your walk around Tsuchiyu Onsen to the 6 Jizo. You might have seen similar groups of statues in other areas of Japan. These 6 Boddhisatva figures, known in Japanese as jizo, represent 6 roads in life (hell, hungry ghosts, animals & beasts, carnage & battle, man, heaven), and are thought to protect children and travellers from life's hardships.
After the start of the Meiji Restoration in 1868, Buddhist statues and places of worship were destroyed in an attempt to centralize power and worship around Shintoism. These particular statues in particular were hidden during this period to avoid their destruction. They were rediscovered in 1971. The original statues have now been relocated, and replacement statues placed in their original spot.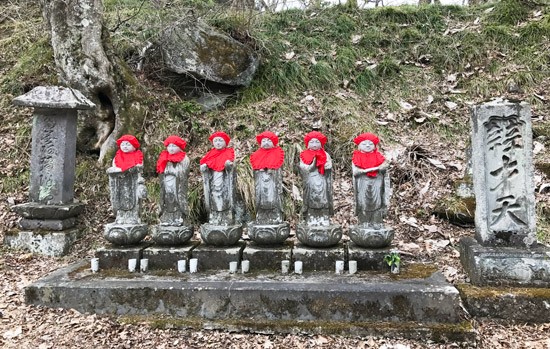 3. TAKE SOME PHOTOS FROM TAKINOTSURI BRIDGE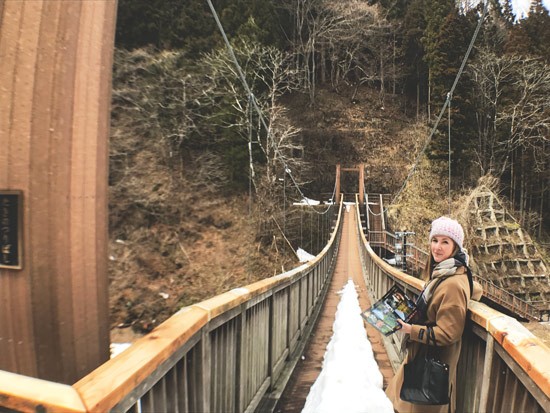 A little further from the 6 Jizo statues in Takinotsuri Bridge. The bridge is less than a 5 minute walk from the main street of Tsuchiyu Onsen town. This being said, standing on the top of the bridge, it is hard to believe that the town is close – you feel as if you're in the middle of a forest!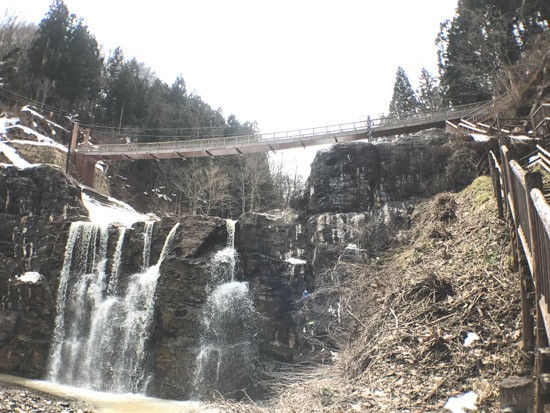 The views from the top of the bridge are very beautiful, and make the bridge well-worth visiting.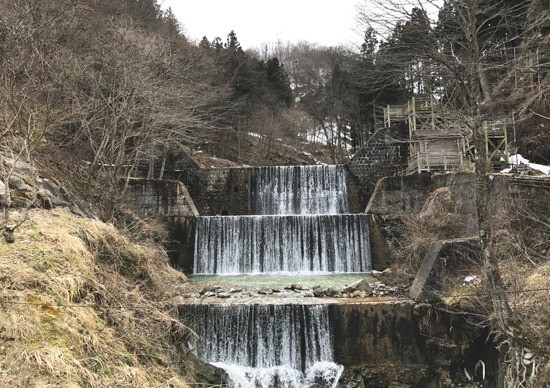 4. WARM UP AT TSUCHIYUKKO FOOT-BATH
The foot-bath that you can see from the top of Takinotsuri Bridge is Tsuchiyukko foot-bath. Surrounded by nature and the calming sound of the waterfall, it is a great place to relax, regardless of the time of year – although I personally love going in the winter to warm up.
Tip: Remember to bring towels with you so you can dry your feet afterwards!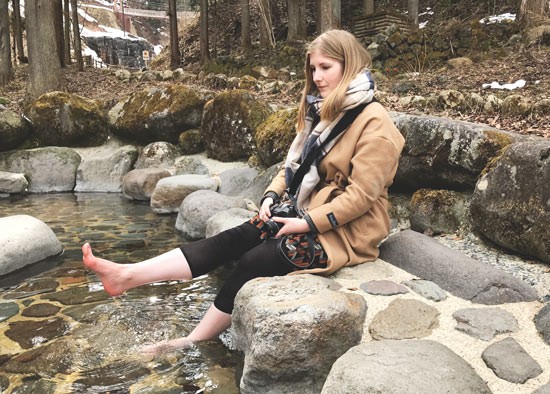 5. LEARN ABOUT TSUCHIYU'S HISTORY AT SHOTOKU TAISHI-DO
Shotoku Taishi-do's history stretches back to the 7th century, when a man named Hatanokawa Katsu was given the task of visiting eastern Japan in order to pray for teh recovery of the Crown Prince Shotoku – who had taken ill – and to carry out Buddhist missionary work.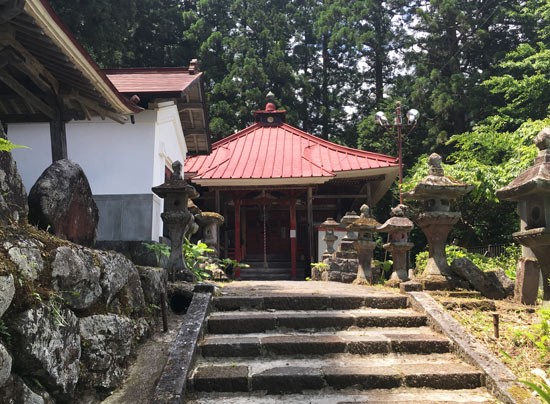 It was during his time in Fukushima that Hatanokawa also became ill. His illness did not respond to treatment he was given by doctors at the time. He had basically all but given up, but one day, upon fall asleep in bed, and had an intense dream during which he was informed to dig up a bath in the area, which had healing, spiritual waters that would heal him.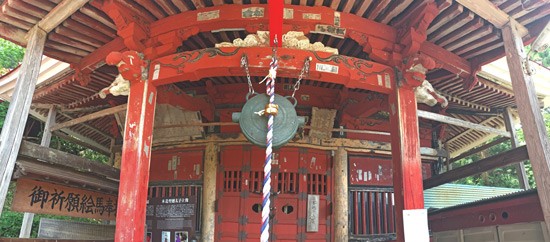 Upon awakening, he dug up a pool of onsen water, bathed and was completely cured of his illness. Believing this to be a sign, he created the Buddhist temple, which he dedicated to Crown Prince (Taishi) Shotoku. This area became known as Tsukiyu (meaning lunging water) from that date, and the name gradually morphed into Tsuchiyu over the centuries.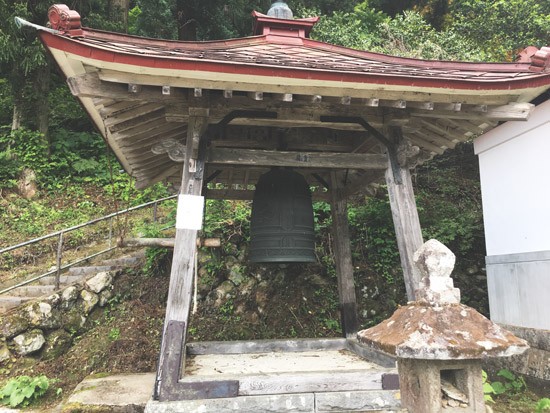 The Shotoku Taishi-do is now visited to pray to a guardian deity, who is thought to have influence over safe childbirth, and the good education for children. The temple is complete with English-language information boards. The current body of the temple was rebuilt in 1726.
Inside the temple grounds stands the Yakushi kokeshi do – a unique temple which is dedicated to the god of protecting onsen (pretty standard) and also kokeshi-making technology (very unique). It is a symbol of technological advances and mental coordination.
Tip: A kokeshi festival is held on the first Sunday, and 3rd Saturday of April every year at Yakushi Kokeshi-do.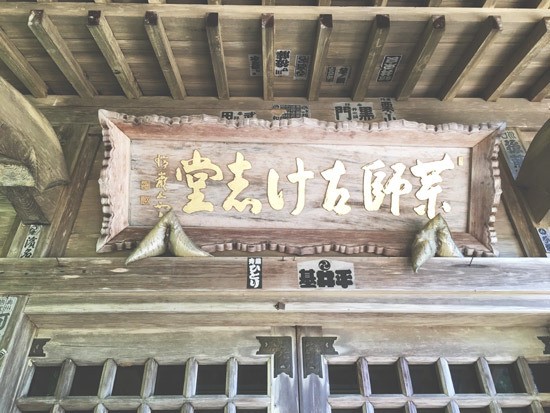 6. SPOT THE DIFFERENCES BETWEEN KOKESHI AT TSUCHIYU DENSHOKAN
Visit the Denshokan to view a huge selection of kokeshi dolls, and see to how the Tsuchiyu style has changed over the years, as well as learning about the different styles of the various Kijiya (woodworkers) who have made them for generations.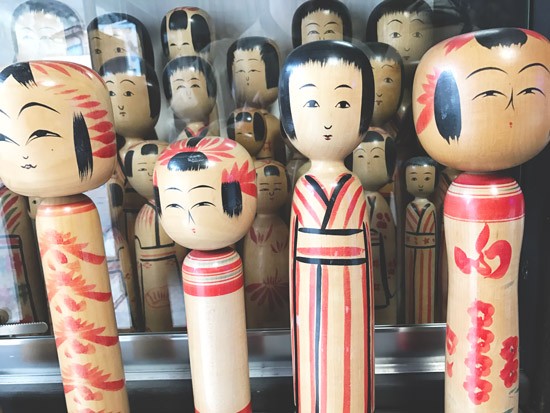 Tsuchiyu Kokeshi have a number of unique features. Their faces feature a little black fringe covering their forehead, a long, thin nose, and rounded eyes. Their slender body is usually striped and is painted by gently running a brush over the wood while it is spinning the kokeshi on a potter's wheel. Tsuchiyu Kokeshi also have black hair on the crown of their heads.
I personally think that their long noses are their most easily-identifiable feature!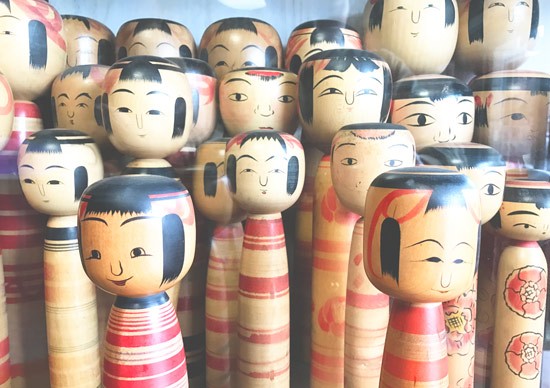 If you have extra time, have a wander around the town and visit some of the workshops of the town's kijiya. If you're lucky, you might even get to see them in action!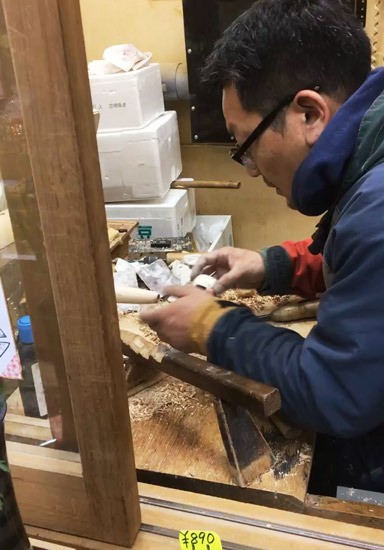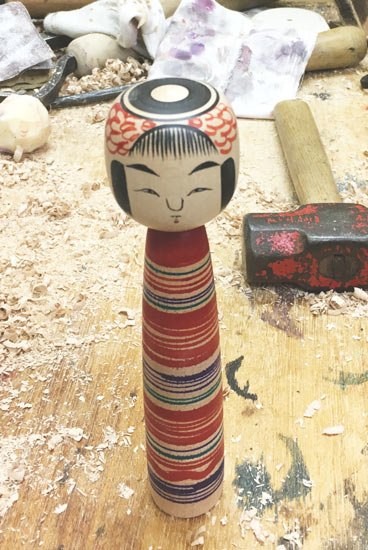 7. SAMPLE TSUCHIYU'S OTHER FOOTBATHS
After wandering a little further, it's the perfect time to take another dip in a footbath to warm up before moving on to lunch, such as Tsuki no Yubuje (月のゆぶじぇ)and Omoi no Yu (偲いの湯).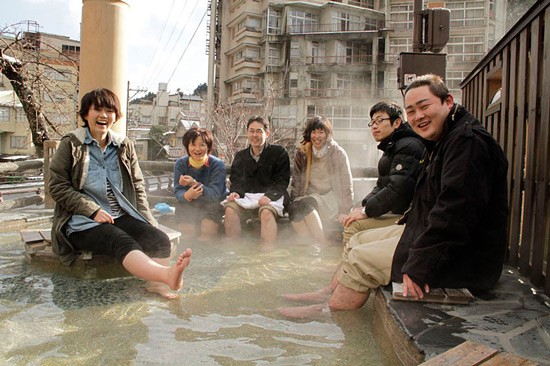 8. CHOW DOWN ON A TASTY LUNCH
There are a couple of great places to eat lunch in Tsuchiyu Onsen. Check out Tsuchiyu Onsen Tourism Association's list of places to eat here.
9. ONSEN TIME!
There's nothing better after lunch than going to an onsen – and you really are spoiled for choice in Tsuchiyu. There are over 10 ryokan, many of which extend the offer of bathing in their on-site onsen to visitors who are not staying overnight.
The 10 varieties of hot spring water which flow from the source at Tsuchiyu Onsen will enable you to find a bath that is perfect for you!