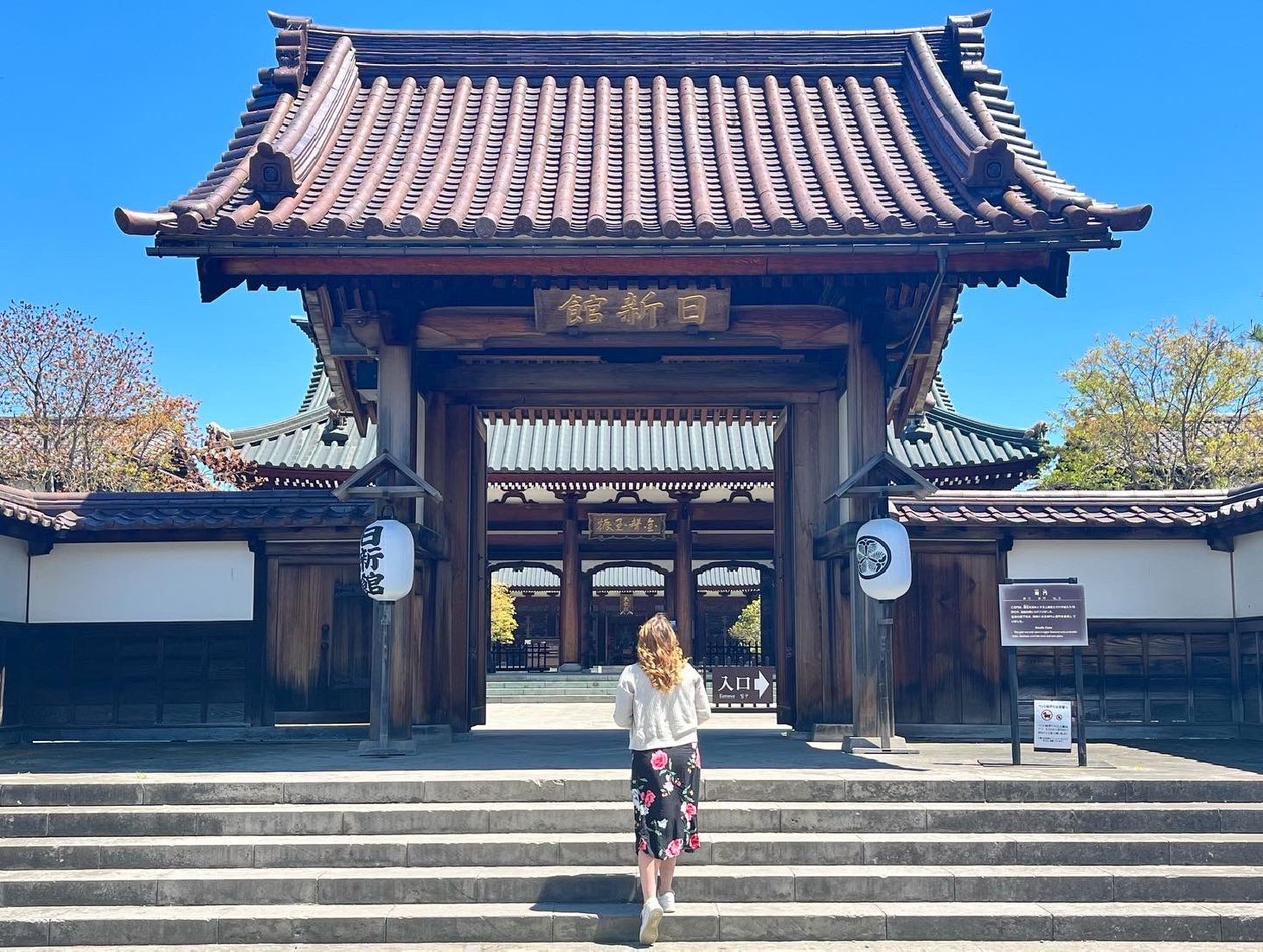 I visited the Aizu Hanko Nisshinkan, originally established in 1803. This was a large and prestigious school where the children of samurai families were sent at the age of ten to learn both academics and physical discipline. Today it is a large interactive museum where you can participate in many of the activities that the students here would have practiced back in the day. So, for anyone interested in history, culture, or anything samurai, I highly recommend a visit! Even if you do not know much about the history, there are lots of interactive group activities that you can enjoy with friends and family.
A school for samurai or a Japanese school for wizards?
1. Walk around the school grounds
Walking through the front entryway, the beautiful architecture and vastness of the school will immediately draw your attention. The property covers something like 26,500 square meters, making it as large as some modern-day universities. It feels like a Japanese school for wizards and it is so fun to get lost in your imagination as you wander around the grounds.
The architecture throughout the complex is beautiful, and there are even the remains of an astronomical observatory where students could have studied the stars.
2. Check out the oldest swimming pool in Japan!
The first thing that drew my attention was a large pool of water, which is actually Japan's oldest swimming pool! Today, you can see koi fish swimming peacefully in the water, however, this was once a place when samurai-in-training would wear weighted practice armor and swim while practicing battle moves. This was to train them in the case of a mid-battle river or moat crossing. Swimming was always my favorite subject so I asked a staff member if visitors could swim here, and unfortunately the answer was no. It's too bad, but I probably wouldn't have lasted long trying to swim in weighted armor... Maybe it is better this way! My disappointment evaporated when we walked over to the archery course.
3. Try out Japanese archery or "Kyūdō"
The archery course is shaded by a classic-style wooden roof, and there are a variety of classic Japanese-style bows to practice with. There is a lot of space to sit and watch your friends and see who can hit the target the best. Even if you come alone, the male and female archery teachers are really kind and will give you lots of pointers and advice.
Japanese archery is called Kyudo, and has a rich history! Archery in Japan dates back to pre-historic times with images of long-bow-wielding Japanese people first appearing in the Yayoi period which lasted between 500 BC to 300AD. Sometime during the Edo period (1603-1868) the name "Kyūdō" was coined to refer to the martial art of Japanese archery. Kyūdō was commonly used in ceremonies, competitions, and festivals. Today, you can still see Kyūdō events in festivals around Japan.
It's a lot of fun, but it's harder than it looks! Will you impress yourself and others with unexpected talent? Pricing is very reasonable, only a couple hundred yen (a couple of dollars) for a handful of arrows.
4. Decorate some traditional crafts to take home
If you want a relaxing activity to do, I recommend trying your hand at painting a traditional craft. The open-air craft space is cool in the shade, with an occasional breeze blowing through. You can even hear the songs of birds drifting in through the large open doorways.
I painted an Akabeko and a set of Okiagari Koboshi dolls. Akabeko is a good luck charm that is thought to ward off illnesses, while Okiagari Koboshi are little dolls that represent perseverance as even when they are knocked over they stand up again. Both of these crafts are symbolic of Aizu and Fukushima spirit making them a great souvenir once you finish painting them!
Learn more about Fukushima Local Crafts
5. Learn the history by exploring the classrooms
Exploring the classrooms, you can get a sense of what it must have been like to live a day in the life of a student here. Students would begin attending from age 10 and continue till age 15, after which they would study etiquette, calligraphy, martial arts, and other subjects. Top students may have gone on to university for further studies.
In some classrooms, you can see classrooms recreated as they would have looked to students so many years ago. Other classrooms are left open so that you can enter and even experience some classes that students here would have experienced such as meditation and tea ceremony.
6. Become a student!
If you visit with a party of at least ten, you can try out Japanese classes the traditional art of Zazen (Japanese Mediation) and Sadou (Japanese Tea Ceremony) which were also traditional cultural subjects that the samurai students would have studied back in the day. Combine this with archery and painting experiences to feel like a student for the day!
Learn more about the Aizu Hanko Nisshinkan Samurai School
Contact us through email or on our social media channels if you have any questions or need help planning a trip here!
Published 2022/05/11