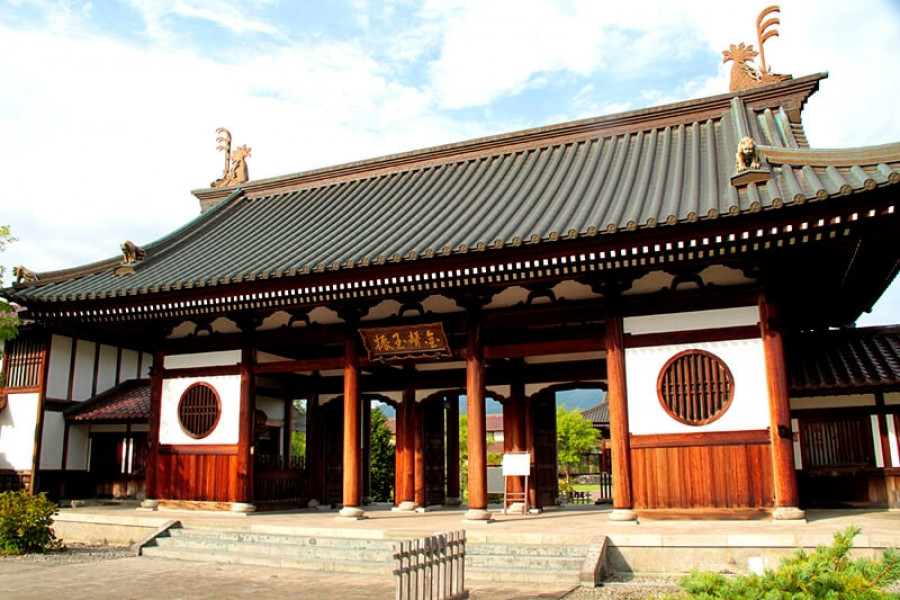 Aizu Hanko Nisshinkan was the highest level of learning institution of its time. It was established in 1803 by the Aizu Domain for the purpose of fostering Japan's next generation of talented samurais.

Children of samurai families entered this school at the age of ten and worked on academic studies and physical exercises to instill both physical and mental discipline.

The property, covering about 26,500 square meters in area, used to house such facilities as a martial arts training hall, an astronomical observatory, and Suiren-Suiba Ike, Japan's oldest swimming pool.

During the late Edo Period, the school turned out a great deal of excellent talent, including the legendary group of young warriors, the Byakkotai. The facilities, which were burned down during the Boshin War, have been rebuilt faithful to their original design, and now function as a hands-on museum that features exhibits of the magnificent architecture of Edo Period and dioramas of school life as it used to be.

Visitors can enjoy practicing some of essential disciplines of the samurai,including tea ceremony, Japanese archery, meditation, and horseback riding, as well as experiencing hand painting of an akabeko (redcow), a traditional good-luck charm of Aizu.
Venue Details
Venue Details
Website
https://nisshinkan.jp/news/11440.html
Contact

Aizu Hanko Nisshinkan

(+81) 242-75-2525

nisshinkan@bz01.plala.or.jp

Best Season
All Year
Opening Hours

9:00 AM - 5:00 PM (Admittance until 4:00 PM)

None

Parking
200 cars, 50 coaches
Entrance Fee
Adults: 620 yen / Junior high & high school students: 500 yen / Primary school students: 450 yen
Accommodation details

Pets: Allowed if carried in a cage or held in the arms (No walking allowed)
Access Details
Access
10 Takatsukayama, Minami-Takano, Kawahigashi-machi, Aizu-Wakamatsu City, Fukushima Pref. 969-3441
View directions
Getting there

By Car: 5 min from Bandai-Kawahigashi I.C. exit off the Ban-etsu Expressway

By Train: 15 min by taxi ride (or 35 min by the city's sightseeing loop bus) from Aizuwakamatsu Station (JR Ban-etsu West Line)