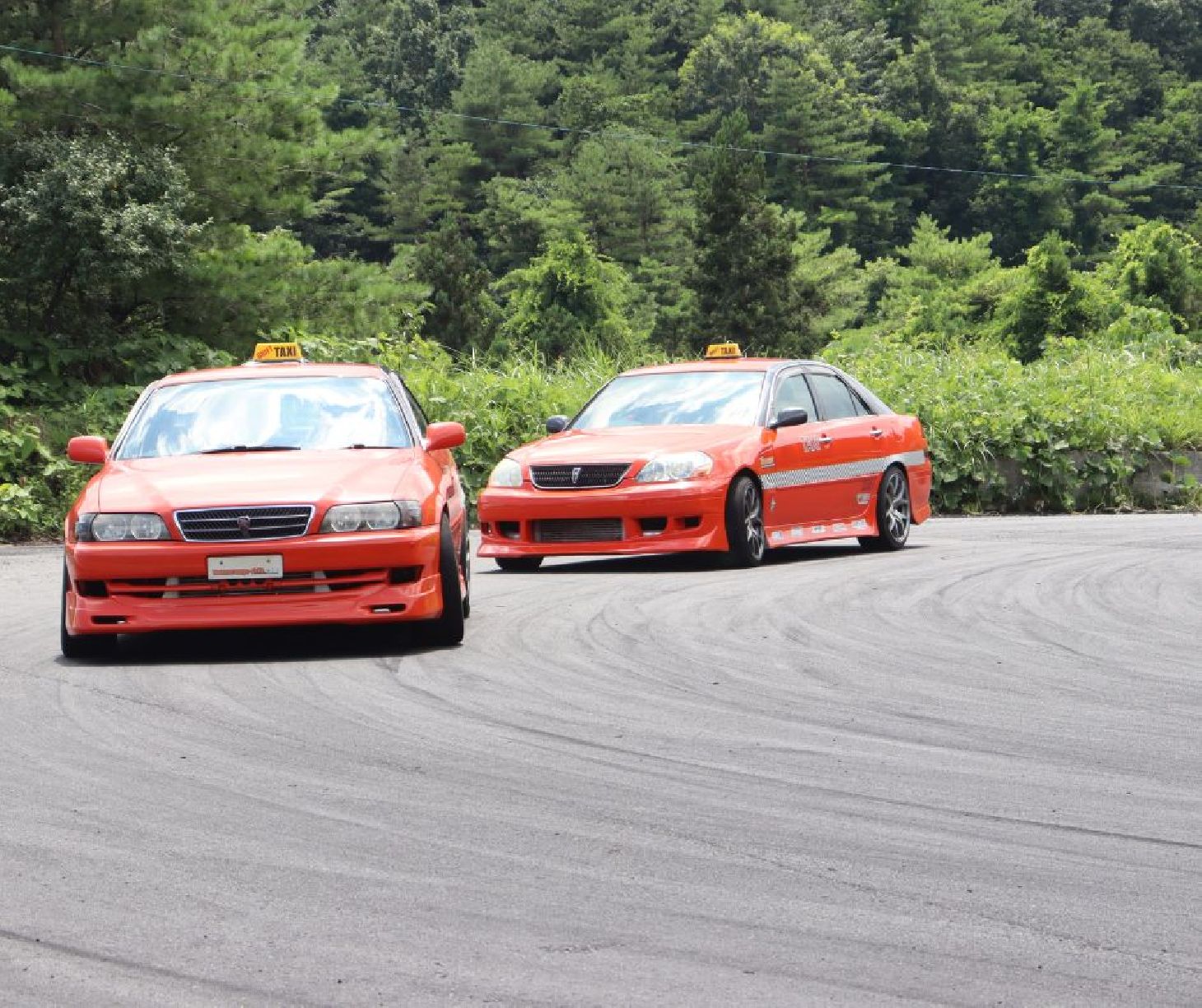 Nihonmatsu, a charming city in central Fukushima Prefecture, is known for its cultivation of rice and chrysanthemums, a famous lantern festival, and its thrilling motorsports scene. Many racing and drifting enthusiasts visit the Ebisu Circuit, a racing and drifting circuit tucked in the mountains of Nihonmatsu, to experience the adrenaline rush of drifting with a professional racer— a thrilling experience known as Drift Taxi.
Experience Overview
During the Drift Taxi Experience, participants get to enjoy a thrilling ride while a pro driver drifts a few laps through three of the circuit courses. Although this might seem extreme at first, you can trust that your safety is in good hands with knowledgeable drivers who are experienced drifters. Since they are the ones who do the drifting, those who do not have a driver's license can also participate.
©JNTO
What is Drifting, and What Does it Involve?
Drifting is a motorsports technique in which a driver approaches a curve by oversteering the vehicle, causing it to glide sideways with the wheels facing the opposite direction to the turn.
When drifting started growing in popularity in Japan during the 1980s, there were no closed courses where to practice, which meant that drifters would do it on public roads in the mountains at night, for which drifting gained a reputation for being dangerous.
Nowadays, however, drifting has evolved into a widely recognized motorsport, with safety standards in place and thousands of enthusiasts and apprentices worldwide. Facilities like the Ebisu Circuit provide a safe space to enjoy and learn about drifting (the circuit also has a drifting school!).
Driving and drifting safely is a top priority at the Ebisu Circuit. Apart from basic measures like fastening seat belts and wearing helmets, rest assured that drivers have a deep understanding of cars, oversteering, and drifting techniques.
Meet Your Drivers
"I am sometimes told that I have the best job in the world", says Naoto Suenaga of his role driving for the Drift Taxi Experience at the circuit. Since first picking up an interest in cars decades ago, Suenaga has been an active member of the racing and drifting scene in Japan and is one of the salient members of Team Orange.
So is Nobushige Kumakubo, the managing director of the Ebisu Circuit, who, after winning the D1 Grand Prix International Drift Championship in 2006, established himself as one of Japan's legendary drifters and also travels the world connecting with others who share his passion for drifting.
Although Kanta Yanaguida is among the youngest at the circuit and at Team Orange, his age should not be mistaken for a lack of experience. He is, in fact, a skilled and confident driver who has been honing his drifting abilities for over 10 years and frequently participates in racing and drifting events around the world.
Cars Used for Drifting at the Ebisu Circuit
Car manufacturers are making it increasingly difficult for drifters: new cars are anti-drifting by design. So, the drivers at the Ebisu Circuit tuned their vehicles for drifting. The two drift taxis used at the circuit are modified cars: a Toyota Chaser and a Toyota Mark II with above-average horsepower and bucket seats.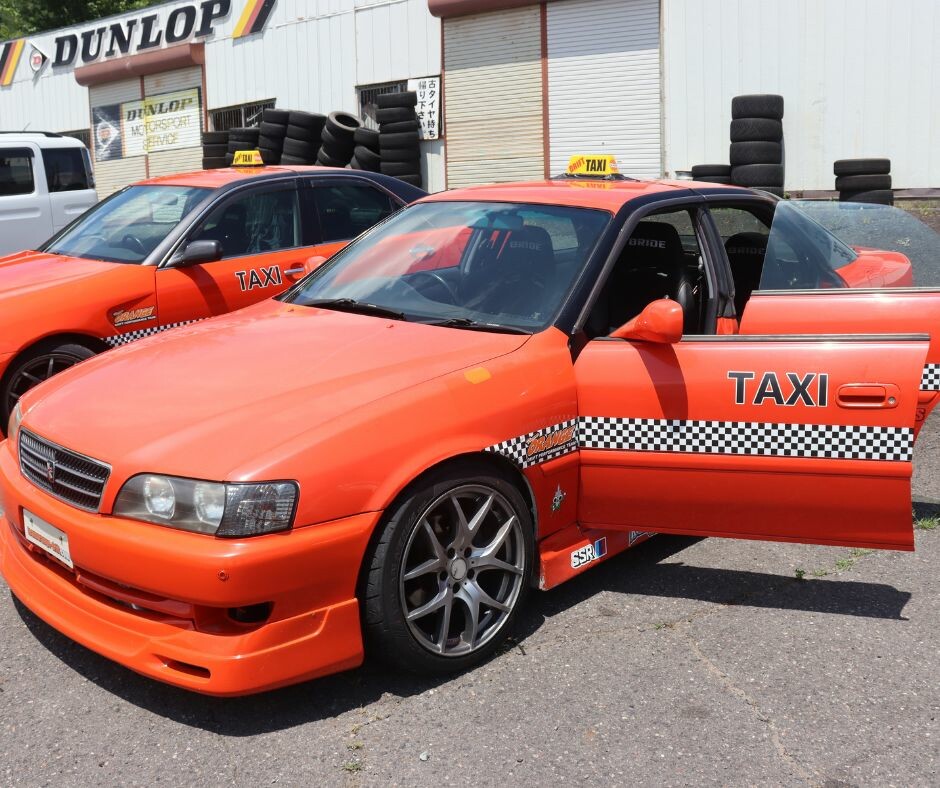 Fasten Your Seatbelt for a Crazy Ride!
Once the experience starts, the driver will drive you through the complex towards the drifting course. You will be required to wear a helmet and fasten your seatbelt. The driver will let you know once the drifting is set to begin. Whether you choose to sit on the passenger or the back seat, enjoy the electrifying halts, twists and turns as you dash through each of the three courses.
Booking
You can book Ebisu Circuit's Drift Taxi experience in English through this link.
FAQs About the Drift Taxi Experience
Are there any restrictions on who can participate?
Participants must be over 140 cm tall to ride. Those with heart conditions or other health afflictions should ask their doctor before drifting.
Do I need a driver's license for this experience?
No, you do not need to have a driver's license to be able to participate in the experience. A professional driver from the Ebisu Circuit will be the one doing the drifting.
Are there any requirements for participants?
Participants are required to purchase insurance for an additional 500 yen. It is mandatory to ride with a helmet on and with the seatbelt fastened.
How much does the Drift Taxi Experience cost?
The experience is offered at a flat fee of 50,000 yen per vehicle.
The price includes drifting several laps on three courses in one car with up to three passengers per car ride. For four participants or more, you can either take turns riding three at a time or book an additional car (up to two cars with a maximum of three passengers per car).
The tires of the car wear off almost entirely after each Drift Taxi Experience. The price is calculated to cover the change of tires, as well as the cost of the gas and the expertise of the professional driver.
If you go with a group, you will pay less per person than if you are going individually.
Can the drivers speak English?
The drivers can speak basic English and are used to foreign visitors.
How much time does the experience take?
The experience takes approximately 45 minutes.
How do I get to the Ebisu Circuit from Tokyo?
Check the final section of this page for information about different ways of accessing the circuit from Tokyo.
If you have any other questions, send them our way and we will do our best to assist you!
Useful Links
Ebisu Circuit: A Drift Paradise