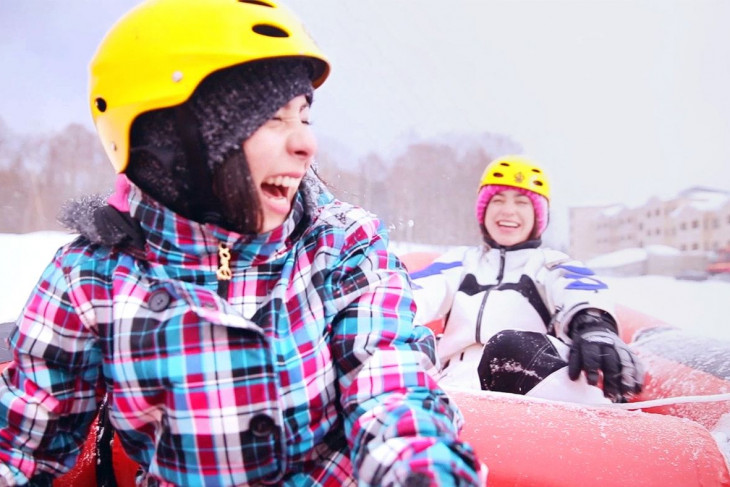 INTRODUCTION
The silvery world of snow-covered ski slopes and mountains sparkling in reflected light is a typical sight in Fukushima Prefecture during winter. The altitude is high in the western part of Fukushima, which includes the areas of Inawashiro, Aizu, and Adatara Kogen, and the snow is deep during winter months from December through March. The many ski resorts in these areas are recommended for first time visitors experiencing snow for the first time because, in addition to winter sports such as skiing, these resorts are great places for sledding, making snowmen, and snowball fights.
Reaching Fukushima
Ease of access and the unstinting hospitality unique to Japan are among the many reasons why Fukushima Prefecture's ski resorts are so popular. These features make these resorts of particular interest to families with children. Koriyama, which serves as the main transportation hub for Fukushima Prefecture, is only 90 minutes from Tokyo on the Tohoku Shinkansen. Travelers will arrive in Koriyama before they know it, entertained en route by the views of mountains adorned in snow juxtaposed with the speed of the shinkansen itself that particularly fascinates children.
Numerous shuttle buses operate between the ski slopes and stations including Koriyama. There are also shuttle buses that run between ski resorts and other facilities. This means driving the unfamiliar snowy roads won't be necessary.
Gear & Clothing
While the temperature here is typically near freezing in winter, it's possible to rent all manner of cold weather clothing and gear, from jackets and pants, to accessory items such as gloves, all available in sizes from child to adult. Staff will pick out the right outfit for your planned snow activities. Perhaps one of the greatest appeals of Fukushima is that it's possible to come to our snow-covered mountains on a whim any time you feel the urge play in the snow during winter time in Japan.
Let's hit the ski slopes!
Go ahead and dive right into the snow. The soft snow will take you in and wrap you in its gently chilly sensation. Fukushima is known for its powder snow, which is low in water content. Powder snow does not melt right away when you touch it, but rather falls away like a dry powder. The sensation of this dry powdery snow that can only be enjoyed in the winter mountains is itself more than enough reason to visit.
The various ski resorts each provide open areas where it is safe for children to play in the snow, and where there is no need to be concerned about being crashed into by skiers.
First, why not try sledding across the surface of the snow? The sleds are ridden in a seated position, and the sense of acceleration is very exciting. You can even experience a sensation of floating as you zip across the surface of the powder snow.
Next, try making snow balls. Here, snowball fights are never painful due to the fluffy nature of the powder snow. The photos you take of your family covered in snow after everyone has had their fill will likely provide fond memories for years to come.
Finally, don't miss the chance to make a snowman. Starting with a small ball of snow, you can create a surprisingly large ball simply by rolling it around to collect more snow. For a Japanese style snowman, you need only make two large balls of snow, one for the body and one for the head, to complete the snowman. You can then try decorating it with small branches and other objects. Perhaps you can make a face that looks just like someone in your family.
Tips
1) Don't overdo it if you get cold
If you start to feel tired, why not head back indoors and lazily enjoy the snowy vistas from a comfy warm room? Another way you can enjoy the Fukushima with your family is to warm up at one of the many hot springs after playing in the snow together.
2) Always watch your feet as you move about
Powder snow is ideal for winter sports, but it also makes the ground very slippery. Make sure to wear waterproof shoes with non-slip soles.
3) Bring appropriate clothing.
We also recommend bringing ample changes of undergarments for your children. The temperature is typically below freezing, so you will become cold quickly when you sweat.
Ski resorts are located in high altitude mountainous areas, and there are times even in April as the cold weather begins to thaw when the sudden arrival of a blizzard can quickly drop the temperature and change the climate at short notice. Thus it is important to be ready for the cold weather even at the end of the season.