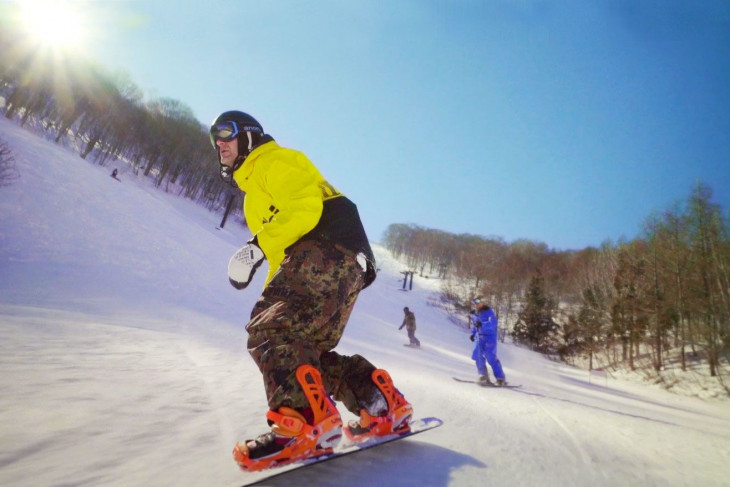 The number one reason why the ski resorts of Fukushima are popular with skiers throughout the world is, without a doubt, the quality of the snow itself. The ski resorts featuring Fukushima's quality powder snow, which is silky and dry due to the low water content, are magnets for the snow connoisseur.
Just as an example, the snow quality in Australia during the peak ski season is only at about the level of Fukushima's snow at the very end of the season. The sense of floating one gets while skiing on powder snow can become addictive to any skier visiting Fukushima for the first time.
The winter sports season in Fukushima Prefecture lasts from December through the following April. There are numerous ski resorts in the western part of the prefecture in areas such as Urabandai and Minamiaizu, and each resort has unique characteristics to enjoy. The diversity of slopes with access to the ultimate quality snow is another feature of Fukushima's ski resorts.

The heights can often be reached easily via chair lifts and roofed gondolas, making it easy to access the numerous courses available. Fukushima's ski resorts feature long courses for beginners with gentle grade slopes, mogul courses featuring well-groomed (compacted) snow, and natural courses for advanced skiers with obstacles such as rocks and trees.

Furthermore, the Minamiaizu area has a long history of being open to snowboarders from early in the season, so many resorts include halfpipes, rails, and kickers to satisfy the most active snowboarders. Night time skiing is also possible at a number of them, allowing you to keep skiing long after the sun goes down.
In order to enjoy the Fukushima ski resorts, there is no need to prepare equipment to deal with winter mountains at a 2,000 meter altitude, or to rent a car to travel over long distances. Instead, shuttle buses run between the ski resorts and train stations including Koriyama Station, the transportation hub of the prefecture. This means visitors from Tokyo can be skiing down the slopes before noon if you take an early shinkansen.
There are also numerous options available depending on schedule and group size for those travelers wishing to enjoy skiing for several days. Ski resorts have on-site hotels for those wishing to focus their time on skiing and snowboarding, while large groups or those looking to stay for longer periods can try a cottage or private inn.
The hot springs located nearby the resorts are recommended for those wishing to experience a taste of Japan. When it comes to local cuisine we recommend ramen, a soul food that warms both body and mind, and the sake of Fukushima that is ranked high in quality nationally, for a fully satisfying and relaxing winter experience.
Things to keep in mind
In recent years, so-called back country skiing, or skiing on new snow outside established courses and in untouched forests, is growing in popularity, and many from inside and outside Japan also come to Fukushima for this reason. However, due to the high frequency of accidents, such as collisions with trees or getting lost, the number of places in Fukushima where this is allowed is very limited. In order to enjoy back country skiing, it is absolutely essential for you to take precautions for safety by employing a guide, bringing the right equipment, and keeping aware of the weather.
While western culture typically places responsibility for behavior on the individual, in Japan, facility managers and communities are typically held responsible for any accidents that happen nearby. Therefore, skiers are asked to adhere to the local manners and rules so that they can continue to come back and enjoy Fukushima's world class quality powder snow in the future.
For more information, check out our page on ski resorts, or the Aizu Ski Japan website.