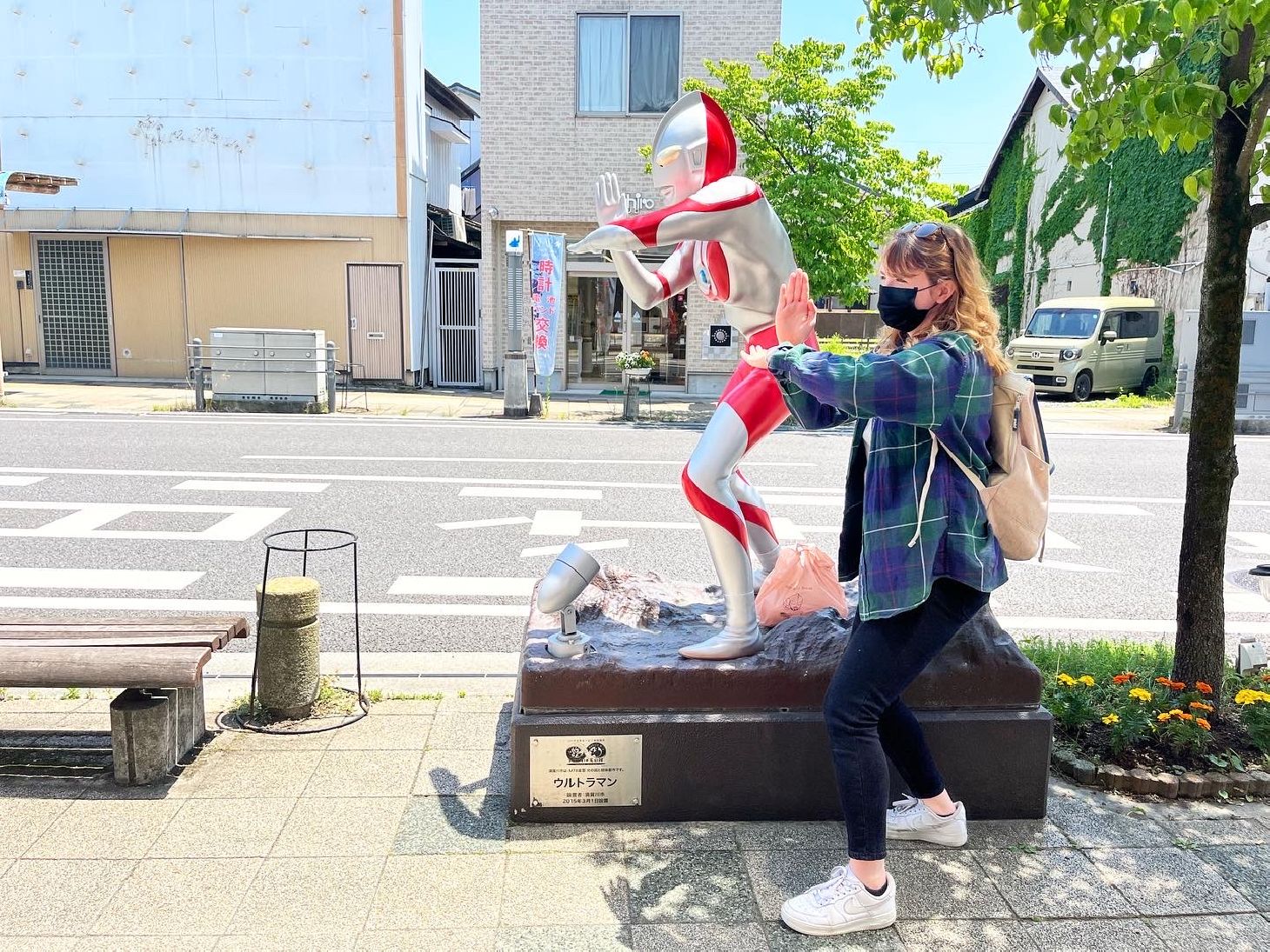 Inside each of us, there is a struggle.
Call it what you want:
Light vs. Dark... Good vs. Evil... Hero vs. Kaijyu...
There comes a day when you must decide, which are you?
I visited Sukagawa City in Fukushima prefecture to delve into this concept a bit more.
Why Sukagawa City?
Sukagawa City is the hometown of Tsuburaya Eiji, the creator of Ultraman and a co-creator of Godzilla. He came to be known as the "Father of Tokusatsu," or, the "Father of Japanese special effects." His post-war work on the Godzilla film of 1954 brought him international success which allowed him to create more science fiction films featuring different monsters, or kaijyu, as well as the internationally popular Ultra-series!
Today, Tsuburaya Eiji's legacy lives on in his hometown where his heroes and monsters roam the streets!
With this in mind, we set off on our adventure!
Eating our heroes...
You are what you eat? Or are you conquering the enemy by eating them? You decide…
My first stop was the Tamakiya Bakery in Sukagawa City where you will find a wonderful family-owned and operated small business. Decorated with Ultraman-related memorabilia. The creativity of the (now adult) kids of the family shines through in the various Ultraman and Kaijyu-related breads and cookies! Each one is absolutely delicious.
I recommend stocking up for your adventure, if there is one thing that heroes and kaijyu have in common, it is that they must eat to stay strong and battle ready!
I ate a Kanegon chocolate bread, and suddenly the money in my pocket started looking like a.. snack?? Kanegon is a kaijyu who is known to eat money! Oh no, have I absorbed his powers? It's impossible to say. Somehow, I managed to contain my dark urges.
Doing some research
Suddenly it became clear that there was a lot that I still don't know about Ultraman and Kaiju.
So, I walked over to the Eiji Tsuburaya Museum to conduct some important research.
The museum has a lot of interesting information about Eiji Tsuburaya's life and accomplishments, various kaijyu, heroes, and the filming of classic sci-fi and kaijyu-related movies.
There is even an original Godzilla suit on display! As you walk around the room, you may feel the eyes of Godzilla following you. Perhaps he is eyeing you up, trying to decide if you are an ally, or a delicious snack. Please tread lightly.
There is a video exhibit and an interactive exhibit that turns you into various Kaijyu and heroes. There is also a station where you can create your own original Kaijyu, unfortunately this exhibit is temporarily suspended, however, it will hopefully be up and running again soon.
Having important discussions with IRL heroes and Kaijyu
When you walk the streets of Sukagawa, you'll never walk alone.
Kaijyu and Heroes line the streets causing trouble and cleaning up said trouble. I recommend stopping and having a chat with these monsters and heroes to get some diverse perspectives on good and evil.
I sat and spoke with Kanegon for quite a while, and we even discussed our struggles with wanting to eat money.
Channeling my hero energy
Next, we stopped by the Sukagawa Enobori Yoshinoya Workshop to create an Ultraman banner.
It was so cool to experience the use of these traditional banner-making techniques in a place with so much historical significance.
As I admired my new Ultraman banner, I thought, maybe I am a hero after all.
The final test
Next, we headed over to the Sukagawa Tokusatsu Archive Center!
Succumbing to my true nature and terrorizing a small town.
Ultimately, the sight of an unprotected town brought out my worst instincts. I almost went full KAIJYU mode. Fortunately, my coworker is a hero, and he saved the town!
After our battle, we explored the various miniature exhibits and classic special effects tools on display.
We were also able to watch a short film and then a video about the special effects that were used to create that short film. It was really incredible, and made me want to try to make my own miniatures at home.
If you are interested in sci-fi or classic special effects, then I highly recommend checking out the Sukagawa Tokusatsu archive center! You won't be disappointed.
Contact us through email or through our social media channels if you have any questions or need help planning a trip here!
©円谷プロ
Published 2022/06/10