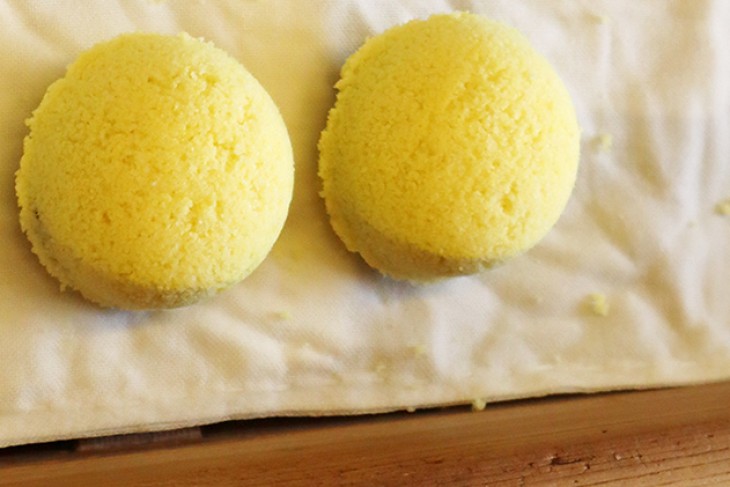 I got to try my hand at making awamanju (a local delicacy from Yanaizu Town, Aizu) and really enjoyed the experience! This activity is suitable for people of all ages, and staff can even instruct you in English!
But first things first…
WHAT IS A MANJU?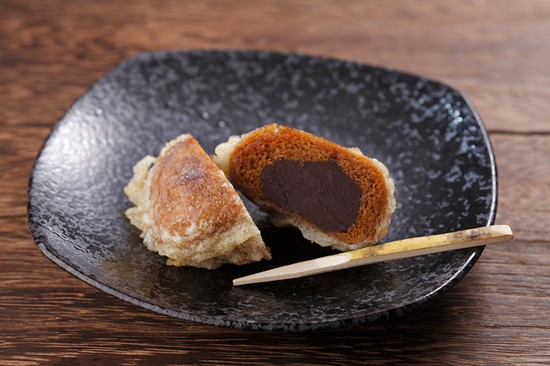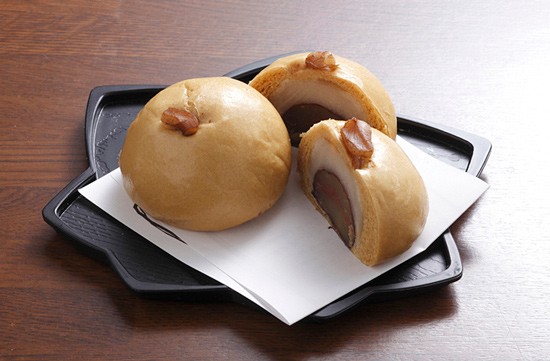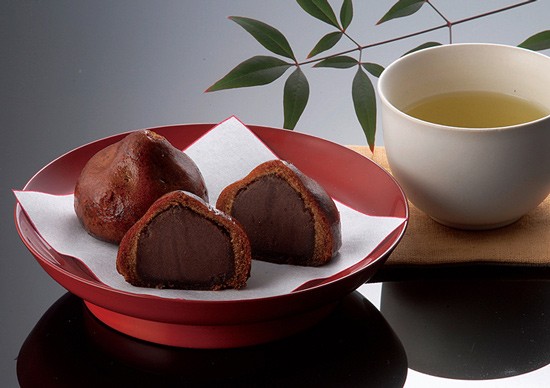 Manju are a type of traditional Japanese confectionery that come under the broad title of 'wagashi'. There are many different types of manju (as shown above), but the standard ingredients shared across most varieties are flour, rice powder, buckwheat and some sort of bean paste filling. Like a lot of Japanese sweets, manju aren't super sweet like chocolate, but have a delicate sweetness to them that matches really well with green tea.
Simply put, they are sweet rice buns, which are either baked or steamed. Manju varieties originating from Fukushima Prefecture – including awamanju – tend to be steamed. I love the texture of the bun when you bite into it, and absolutely adore being able to eat freshly steamed ones – eating them when they're warm is the best.
CHARACTERISTICS OF AWAMANJU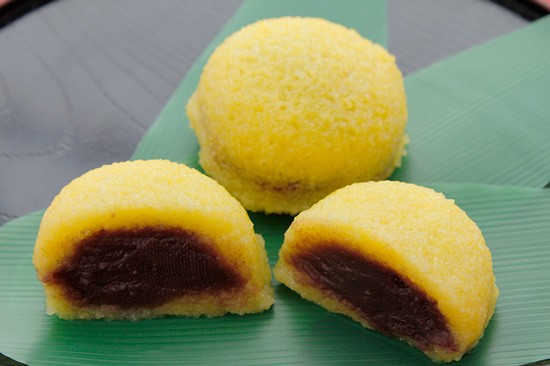 While many manju have a smooth texture to their buns, awamanju are made from millet, and have an uneven, slightly grainy texture. Their bright yellow colour is one of the easiest way to identify these buns! Due to the inclusion of millet in the bun mix, awamanju also tend to not have such a solid outside layer, but one that has a bit more moisture and elasticity to it.
AWAMANJU AND YANAIZU
Awamanju have been produced in Yanaizu Town since the late Edo Period (mid 19th century). One of the oldest awamanju speciality shops is Koike Confectionery Shop (pictured below).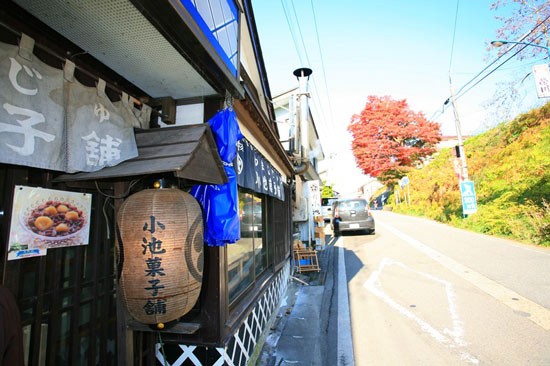 Like many traditional Japanese sweets and ornaments, the reason behind awamanju being produced in Yanaizu has a story to go with it.
During the mid 19th century, Yanaizu Town, and specifically Enzoji Temple which sits at its center, fell victim to a number disasters, including damage from fire and flooding.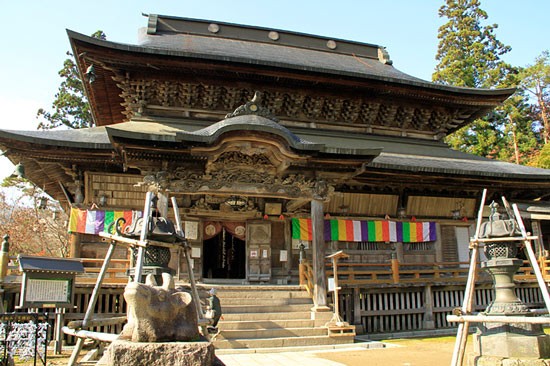 The buns were originally made as a lucky item which could ward off future disasters.
The word 'awa' (あわ) not only refers to the millet that is the main ingredient of the bun, but also to the wish "二度とこのような火災に「あわ」ないよう / Nido to kono youna kasai ni "awa" nai youni", which means "I pray that no more fires ravage our town". It's basically a pun which is hard to translate!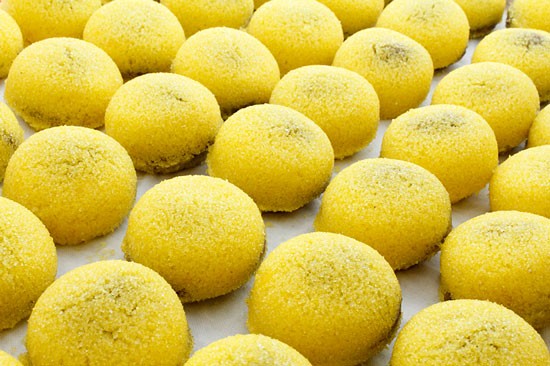 Koike Confectionery Store, like other awamanju shops, have their shop located on the main street of Yanaizu Town. But they also have a small branch inside the nearby sightseeing facility 'Hot in Yanaizu'.
It's Hot in Yanaizu which provides awamanju making experiences, and these experiences are even taught by a member of the Koike family!
MAKE YOUR OWN MANJU EXPERIENCE
Location: Hot in Yanaizu is a short walk from Yanaizu Station (on the Tadami Line)
Length of Activity: 30 min to 1 hour (including time spent steaming the buns!)
Price: 1,200 yen per person
Price Includes: 5 buns to taken home, 2 small souvenirs, and 1 drink
Bookings: Please book in advance by email or phone (Mention if you need English or Chinese guiding when you make a booking). I recommend booking through emailing Oku-Aizu Tourism Association
First I washed my hands and got ready to scoop up the mix which will make the bun.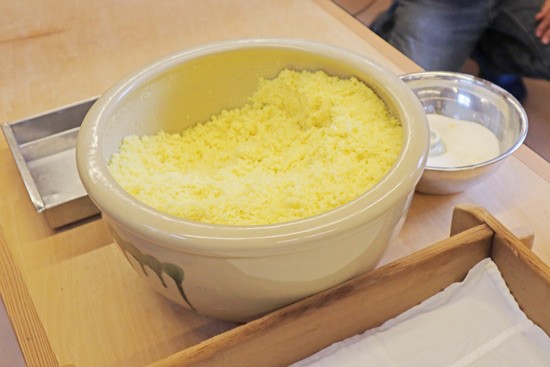 Next, Koike san gave me a rounded cup to place the bun mix into. I lightly filled the cup with the mix, making sure not to knock too much air out of it.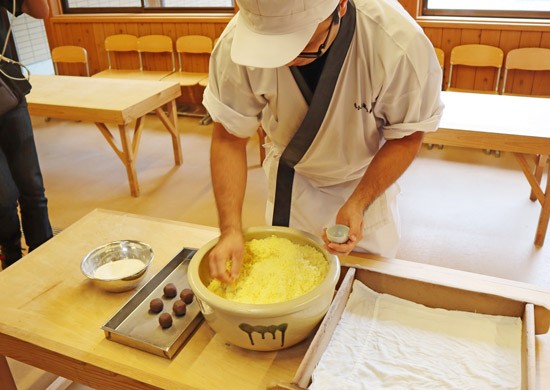 After filling the cup, I used my finger to make a hole where the red bean paste would go. Again, it's important not to press to hard when doing this, to avoid squeezing too much air out.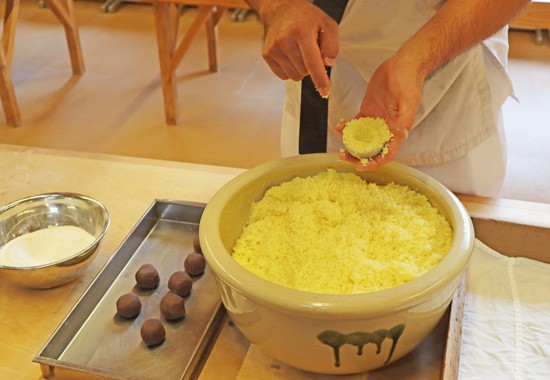 Hot in Yanaizu prepared the red bean paste, so I didn't have to worry about whether it was the right size! After I placed it in the hole, I tapped it gently to push it further into the mix.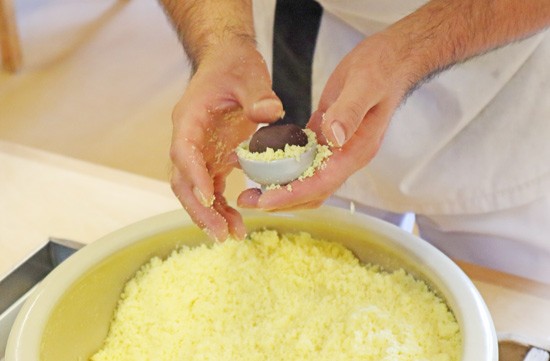 Next, I scooped up more of the mix and pressed it down very gently over the top of the red bean paste, to create a top layer. This was the hardest bit, as it was difficult to judge how thick a layer I had been able to fit around the red best paste.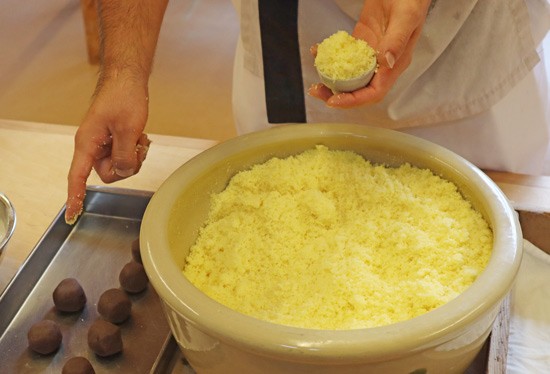 When I was happy with the bun, I placed my hand over the open end of the cup, tipped it upside down and placed the bun onto a wooden tray. They looked pretty good so far!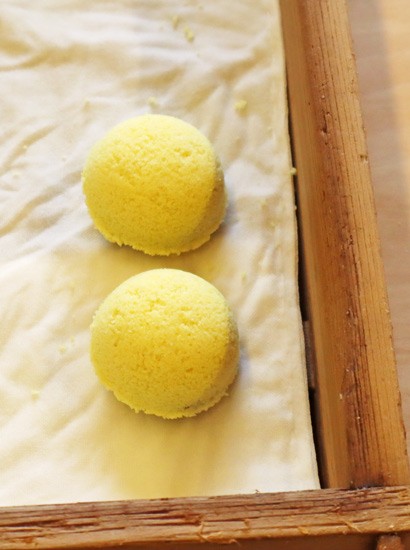 I'm not going to lie, the photo above was what Koike san did as a demonstration… If you look closely, you might be able to see my buns on the left… I didn't quite manage to get the amount of mix for the top layer quite right, so some of the red bean paste was visible through the outer-layer.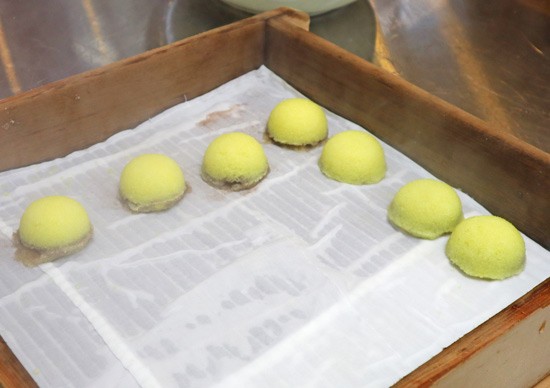 After putting them in the steamer to cook them for 20 minutes or so, the buns were all ready! I then wrapped them (individually) in plastic – as is the tradition with small sweets in Japan – and places them in one of Koike Confectionery Shop's own boxes.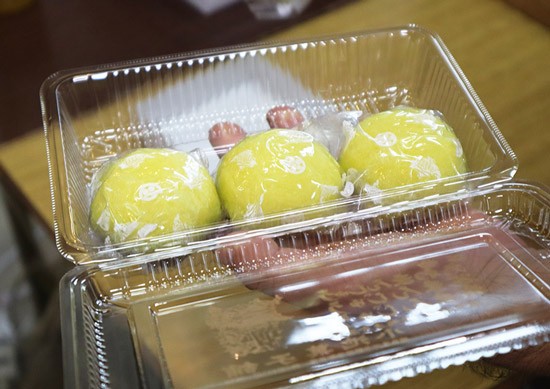 I'm very pleased to say that my manju tasted delicious!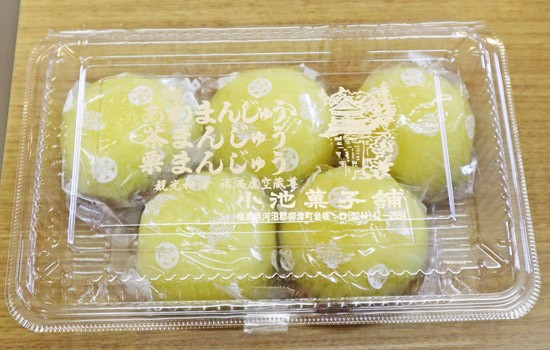 ---
OTHER THINGS TO DO AT HOT IN YANAIZU
Another activity you can try at Hot in Yanaizu is painting an akabeko lucky red cow! There are a number of places that offer this experience throughout Aizu area, but it's quite a cool thing to do while your manju are steaming!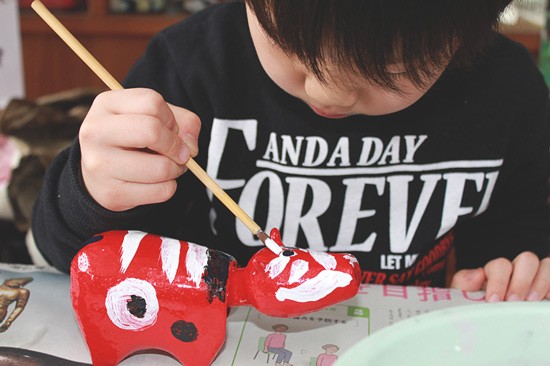 There is also a small restaurant inside the facility, and shop selling local products which would make perfect gifts! As long as you get there pretty early, you might even be able to buy some freshly made manju produced by the experts! (They sell out fast).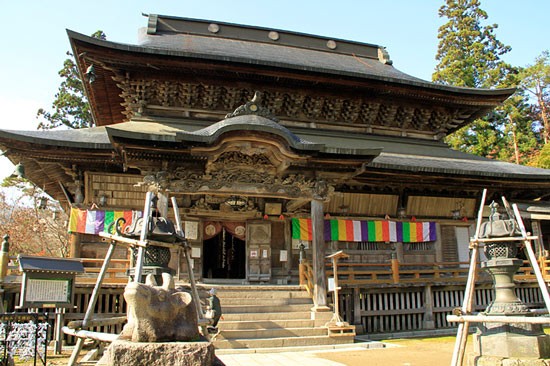 Make sure to check out the original Koike manju shop, and the fascinating Enzoji Temple, which is a beautiful, spiritual building with a range of of interesting areas to explore in the grounds.