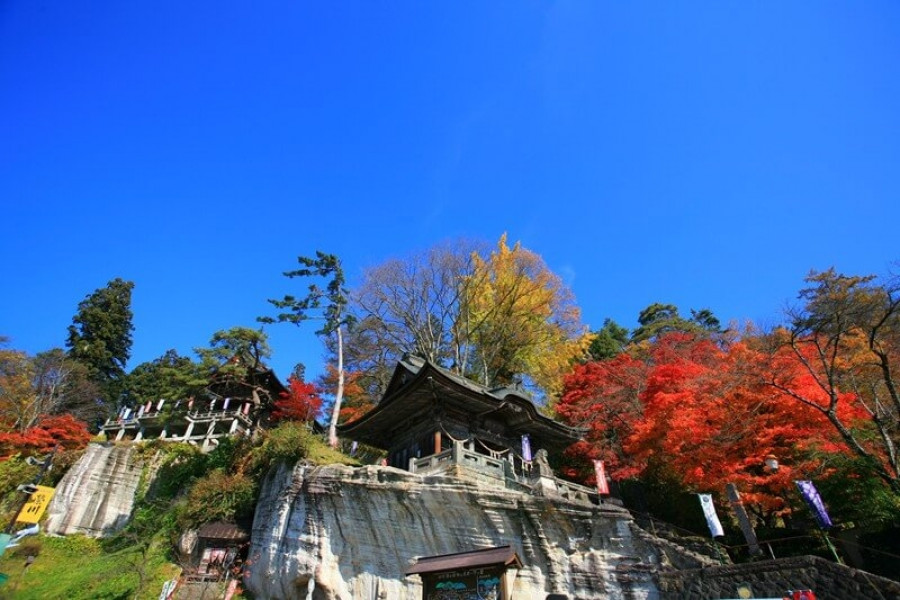 A symbolic temple of Aizu, Enzoji was built about 1,200 years ago in 807.
Fukuman Kokuzo Enzoji Temple (Enzoji Temple for short) was built by Tokuichi Daishi, a noted priest from the Aizu region. The main hall of the temple rises high above a huge crag. From here, the Tadami River can be viewed flowing magnificently through the town.
You can also see the various views of each season, with cherry blossoms in spring, mist over the river in summer, red maples in autumn, and snow in winter.
The temple has many highlights, such as a treasure house and monuments in memory of poets, inscribed with their poems and haiku.
The temple is dedicated to Fukuman Kokuzo Bosatsu (the Bodhisattva of wisdom). There are many legends associated with the temple. For example, one legend tells of how when Kobo Daishi threw wood shavings from the statue of Kokuzo Bosatsu into the Tadami River, they immediately turned into countless Japanese dace fish.
Another story is about how a red cow helped with the difficult construction of the temple - a story that led to the widespread acceptance of the "akabeko" red cow as an important symbol of Fukushima.
One more story is that of Nanokado Hadaka Mairi ("Naked Man Festival" at Nanukado Temple). The legends are many and varied.
Venue Details
Venue Details
Website
https://inbound.aizu-yanaizu.com/en/
Contact

Yanaizu Tourism Association

(+81) 241-42-2114

Best Season
All Year
Opening Hours

Apr. to Nov.: 6:30 AM - 5:00 PM | Dec. to Mar.: 7:00 AM - 4:30 PM.<br>The temple sometimes closes earlier than the times listed above.

Parking
Available
Entrance Fee
Free
Related info
Key points of the sightseeing spot:
Within the precincts of Enzoji stands a statue of a cow called "Nade-Ushi" ("the cow you pet").
Tying in with the legend of the Akabeko, it is thought that the cow helped townspeople to construct the temple, and that if you pet the cow while making a wish, your wish will come true.