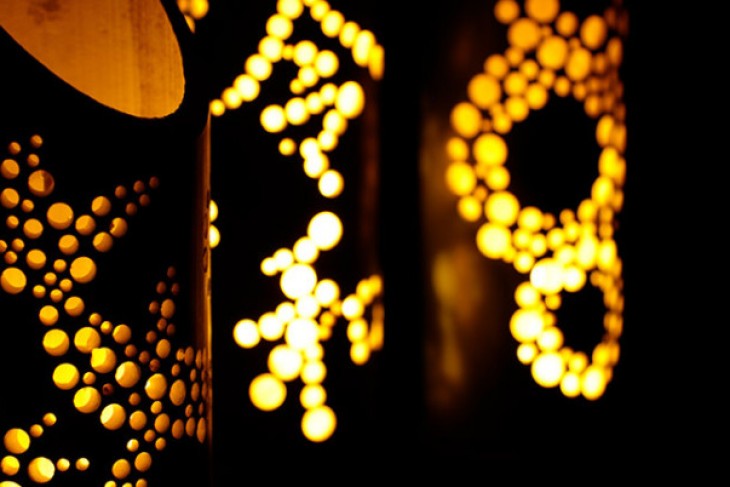 I discovered an awesome temple in Fukushima City! I've known that Ioji Temple existed for a long time, so I was really happy to finally get to visit.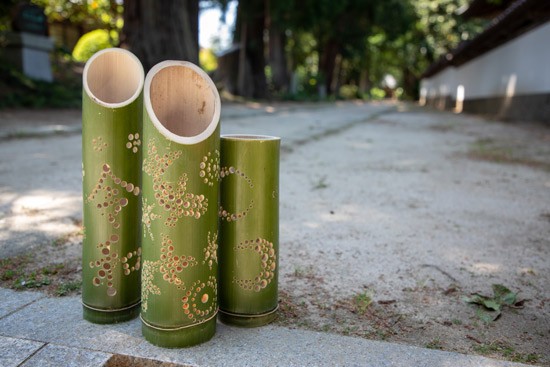 The architecture and traditional garden in the temple grounds make a visit to Ioji Temple worthwhile in itself, but what makes Ioji really special is the fact that you can make bamboo lanterns here!
Before I write about my experience making a lantern out of bamboo, let me introduce a little bit about Ioji Temple.
IOJI TEMPLE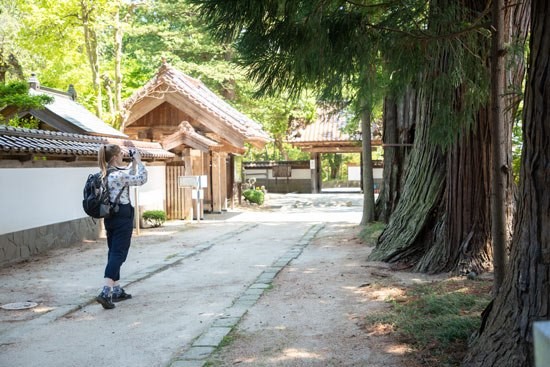 ABOUT IOJI TEMPLE
Ioji Temple was founded as a Buddhist place of worship in the year 826.
A statue of the Yakushi Nyorai (Buddha of Medicine) stands in the temple grounds, which might explain the temple's name (医王寺 features the kanji "医" which means "medicine", or "the healing art".)
It's thought that the statue was carved by the founder of a sect of Buddhism called Shingon Buddhism.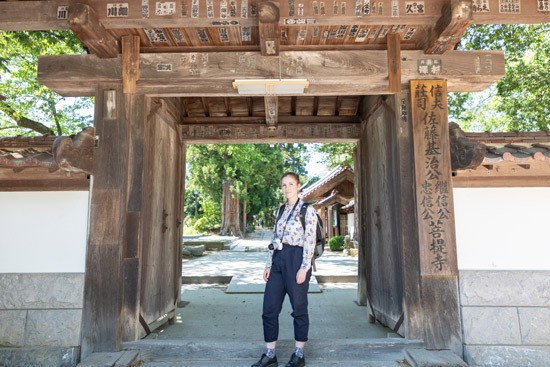 In the late Heian Period (794-1185), the temple was used by the Sato family, who were very important in Fukushima City and worked as administrators of the city's Shinobu district. During this period of time, the Sato household expanded the temple grounds so that the feudal lord of Otori Castle could look down from the castle in appreciation at the temple.
It's possible to visit the nearby site where Otori Castle used to stand in Tatenoyama Park in Iizaka Onsen.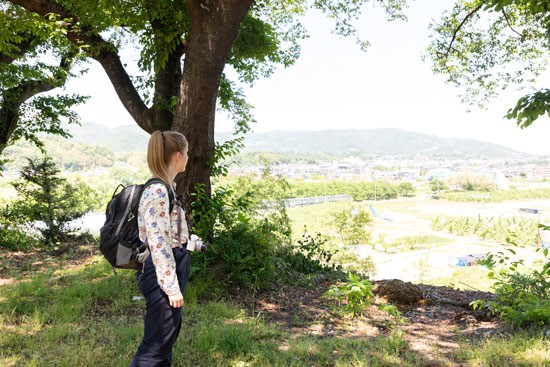 A more recent claim to fame for Ioji Temple is that it was visited by Matsuo Basho in 1689, whose name ranks among those of the most famous Japanese poets.
BAMBOO LANTERN MAKING EXPERIENCE
A local group from Iizaka Onsen in Fukushima City started running classes on making lanterns out of bamboo at Ioji Temple over the last few years. I was really excited to attend one of these classes and experience it for myself.
1. CHOOSING A DESIGN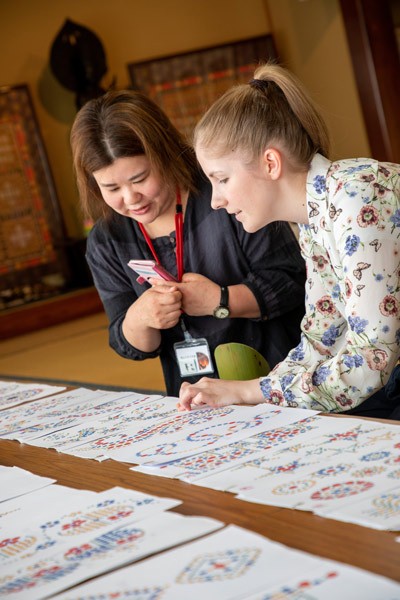 First I had to choose what pattern I wanted to carve into my bamboo. There were many preset patterns to choose from. The more dots include in the design, the more complicated it is, and the more time it takes to carve. I chose a pattern which included two goldfish swimming about.
---
2. CHOOSING YOUR BAMBOO
I got to choose from a variety of cuts of bamboo, which ranged in size and colour.
3. FIX YOUR PATTERN IN PLACE
Next I checked that the pattern I had chosen fit onto the bamboo and stuck it down with clear tape, making sure to avoid any pockets of air being trapped under the tape.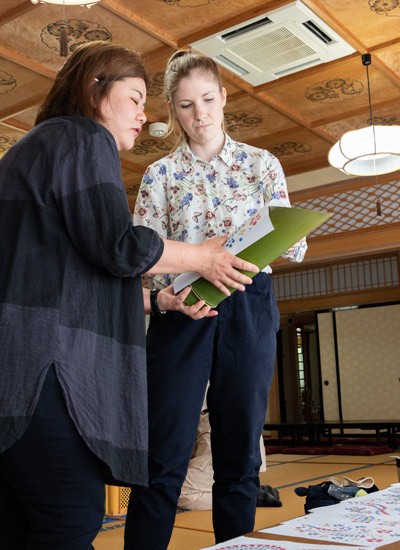 ---
4. DRILL YOUR PATTERN
After taking a seat (well, sitting on a cushion), I used a hand drill to make holes in the bamboo. The holes on the pattern sheet were colour-coded so it was easy to know which size drill to use on which size holes.†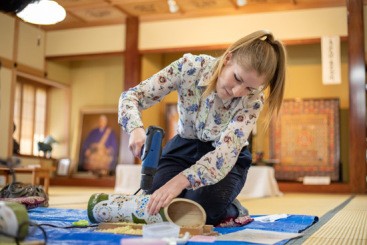 I had never used a hand drill before, but the teachers helped me work out how to use it, and held the bamboo steady for me while I opened up the first holes, since I was a bit nervous.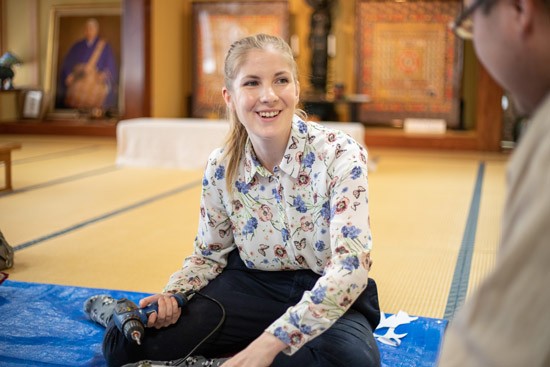 By the end of the experience, I felt like I had been drilling for years! I found this activity really fun and actually very relaxing!
The teachers advised me to open up the largest holes first, and the smallest holes last. I think this is partly because drilling the large holes took quite a bit of effort, and so you get pretty tired by the time you get to the small holes!
Some other tips they told me were:
Drilling becomes so much easier if you drill straight down onto the face of the bamboo instead of at an angle.
If your drill gets stuck in the bamboo after making a hole, press the trigger gently while raising it up slowly until you are able to pull it out.
The smaller the holes, the easier and quicker it is to drill them.
5. ADMIRE YOUR WORK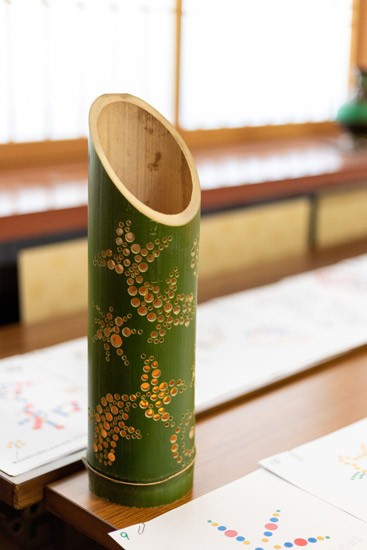 It took me about an hour to complete the design of my lantern. After I opened up the last holes, I used a brush that was available to brush away the sawdust (not sure if it's still sawdust if it's bamboo…), peeled away the tape that was holding the pattern sheet onto the face of the bamboo and took a good look at my finished design.
Some other visitors actually started working on their second design of the day at this point. They had stronger hands than me!
---
6. PUT A LIGHT IN IT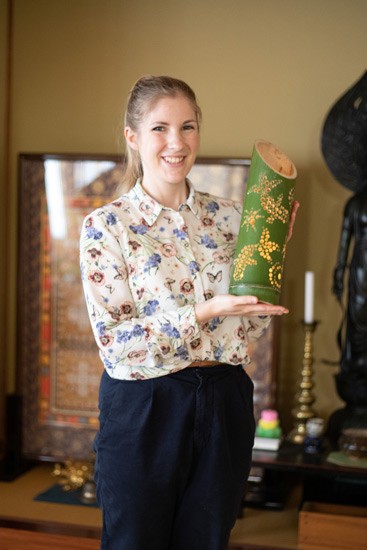 Putting a candle in the lantern would be quite the fire hazard, but LED candles are a great alternative. On the day of my visit, I could buy a short string of battery-powered LED lights in either orange or white. I chose a warmer orange colour and admire the lantern as I placed it inside and switched it on.
---
There were a number of other participants on the day of my visit. It was awesome to see the different designs we had made all lined up next to each other.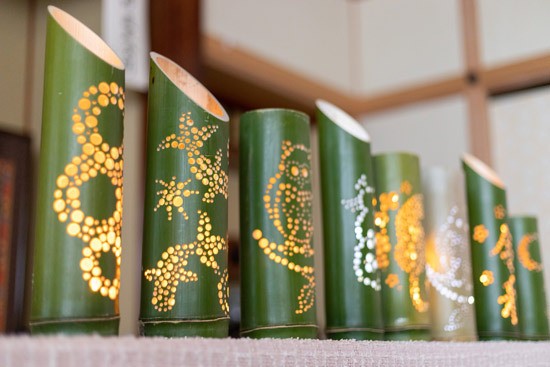 I think my favourite design is the one on the left with the 3 circles. This one was actually made by my colleague. I think it took quite a lot of arm-power to make, because of the number of larger-size holes, but it looked amazing with the light inside it.
7. TURN OFF THE LIGHTS
It's hard to see the full impact of the lantern's light with the lights on. Later on in the day, we turned off the lights and were rewarded with a beautiful sight.

One thing to be aware of is that since the lanterns are made of bamboo, they begin to wither after 2-3 months. So it's necessary to make the most out of the lanterns during their prime!
Also, visitors from abroad may not be able to take the lanterns back home depending on the customs regulations at your countries' airports.
TIPS FOR DOING THIS EXPERIENCE
Wear something which is easy to move in
Don't grip the drill too tightly!
Tie your hair up if you have long hair!
HOW TO DO THIS EXPERIENCE
There is an English speaking member of staff.
Run by: Take-toro no Kai ("Bamboo Lantern Group")
See their homepage here (Japanese only).
When: Classes are held a number of times a month. Please inquire via the Take-toro no Kai Facebook page.
Time taken: Around 2 hours. But in that time, you could make 2 lanterns.
Who can do it: Elementary school children can also do this experience with adult supervision.
Price: 2000 yen for adults, 1000 yen for children
Booking is necessary.
How to book: Send the Take-toro no Kai via their Facebook page.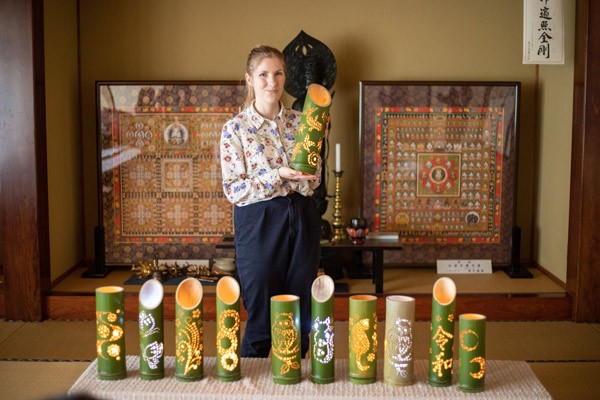 VISITING IOJI TEMPLE
Entrance fee: 300 yen (Free for small children)
Opening hours: 8:30am – 5:00pm*
*Closes early during winter.
See here for English-language information about Ioji Temple.
GETTING TO IOJI TEMPLE
20 minute walk from Ioji-Mae Station on the Iizaka Line, which can be accessed from Fukushima Station.
See here for information on taking the Iizaka Line train.
15 minute cycle from Iizaka Onsen Station on the Iizaka Line. (You can rent bicycles for free at Iizaka Onsen Station.)