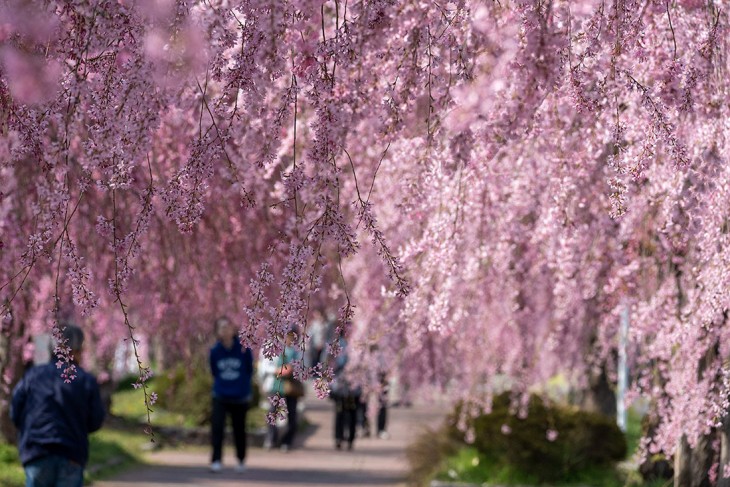 Yesterday I ticked one place off of my Fukushima bucket-list: the cherry blossom along the Nicchu Line in Kitakata City. It definitely did not disappoint, and I am so glad I got to go. The Nicchu Line is an old railway line that used to run between Kitakata City & Atsushio Onsen town. The railway line was over 13 km long, and 3 km of this has been changed into a cycling & walk path, which looks absolutely fantastic in cherry blossom season.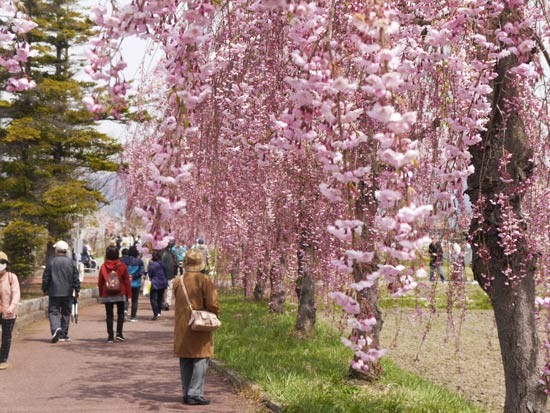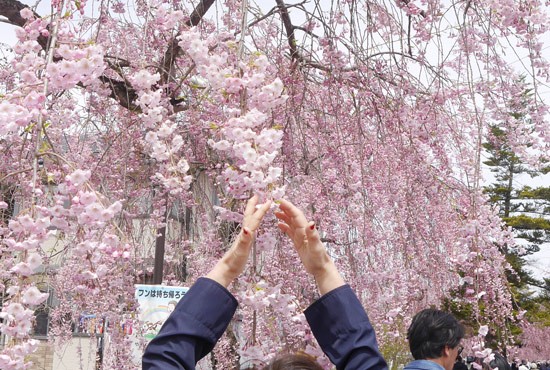 Usually the cherry blossom at Nicchu Line come into full bloom around Golden Week – a string of national holidays in Japan that take place in late April / the start of May – but when I visited in April 2018, the cherry blossom across Fukushima are all blooming really early!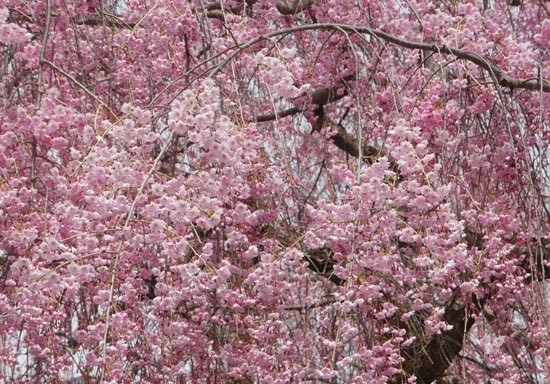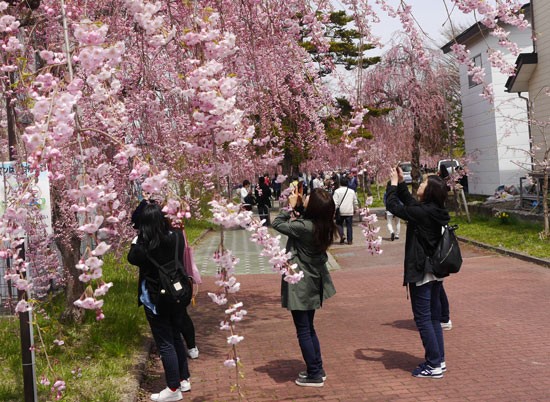 One thing that is really great about the Nicchu Line being 3 km long is that even if some areas along the path are a bit crowded, there will be areas that are less busy so you can take some really nice photos.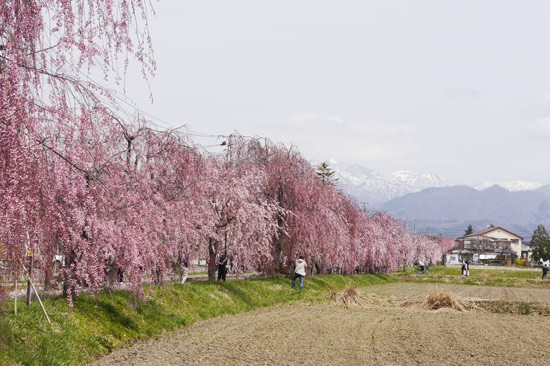 Not only were the cherry blossom fantastic, but I loved being able to see them against Mt. Bandai in the distance. It was also really relaxing to walk along a path surrounded by local houses, rice fields, and farmland for as far as the eye can see.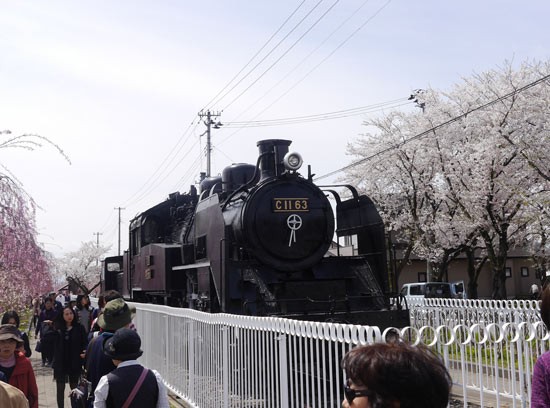 At around the midpoint of the Nicchu Line stands an old steam train that used to used on the Nicchu railway line. The pinker cherry blossom to the left of the train in the photo above weren't blooming very much, but if I took the same photo in a couple of day's time, it would look even more impressive!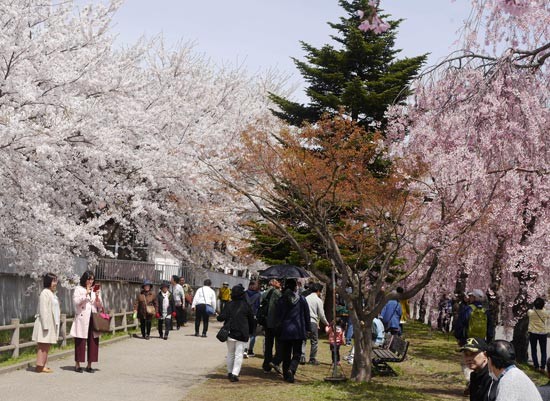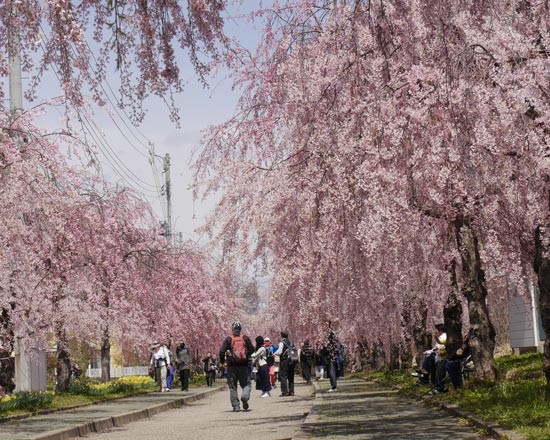 It was really nice seeing lots of different varieties of cherry blossom all in one place. It was really, really relaxing to walk along the line. I saw the women in the photo below and felt a little jealous – it would be lovely to sit under the weeping cherry blossom with a book and just chill out and read for a few hours!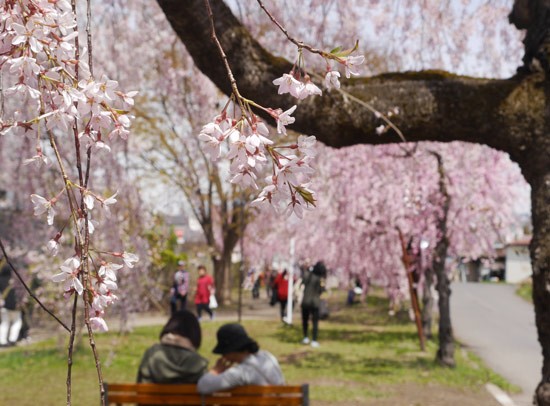 After a bit of time, I joined the many of the other visitors and decided to take some selfies too!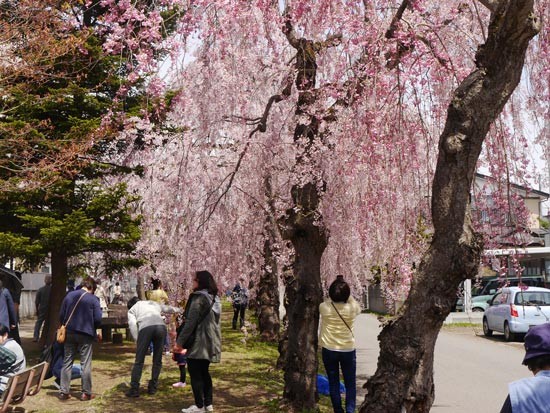 TIPS
1.) BRING SUN CREAM!
The road is pretty long, which means you might be outside under the sun for quite a long time! Make sure to put on protective sun cream.
2.) BRING A PICNIC!
As above, during the 3 km walk, it's likely you'll get pretty peckish. There are some festival stalls at a couple of points during the walk, but it's worth bringing some snacks (and water), and having a picnic under the cherry blossom. There were quite a few people doing this when I visited.
3.) CHECK THE SIGNS ON THE NICCHU LINE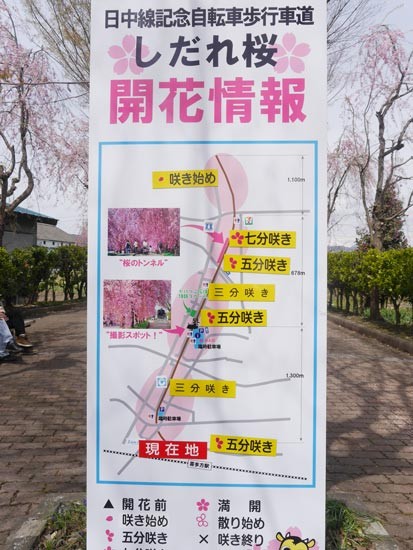 This map shows where you as well as where how much cherry blossom is blooming at different points along the path. This can help you prioritise which areas you visit during your visit! Below are some words to help you understand the map.
現在地 Current Location
咲き始め Just started blooming
三分咲き30% in bloom
五分咲き 50% in bloom
七分咲 70% in bloom
満開 Full bloom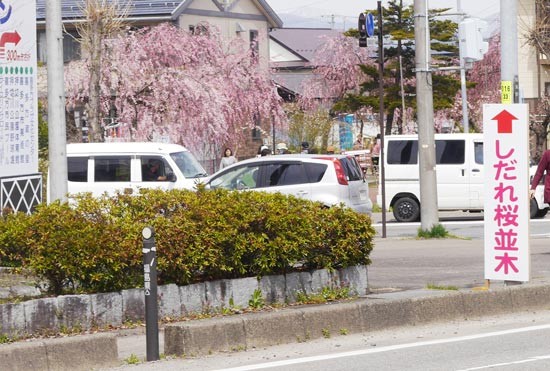 This sign means 'Weeping Cherry Blossoms Road this way' – useful to know if you're coming by car or walking from the station.
There are no big signs point out the start and end of the Nicchu Line. But when you come to an intersection where you have to cross the road and join a perpendicular path (as shown above), this signifies you're nearly at the end (or the beginning!) of the road.
4.) RENT A BIKE AT KITAKATA STATION
There are 2 shops outside Kitakata Station where you can rent a bike for a couple of hours. This means you can see the whole of the Nicchu Line without getting tired out from all the walking!
5.) VISIT NEARBY SIGHTSEEING SPOTS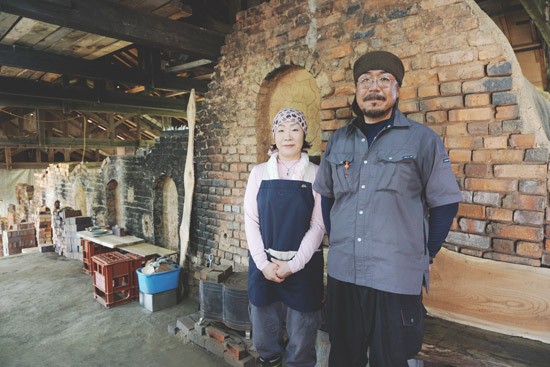 Kitakata has some amazing sightseeing spots, such as the red brick warehouse district, a Ramen Museum, Shingu Kumaho Shrine Nagatoko temple, traditional shops, and much more. Make the most of your trip to Kitakata by exploring some of these places! You can find more information on their locations on this English map.
GETTING TO NICCHU LINE
BY PUBLIC TRANSPORT
The most southern point of the Nicchu Line is only a 7 minute walk from Kitakata Station!
There are Burarin sightseeing loop buses that take you a bit further up the Nicchu Line.
BY CAR
For those travelling by car, there are a number of temporary car parks set up around Oshikiri Park during cherry blossom season, so please use these!
MORE INFORMATION