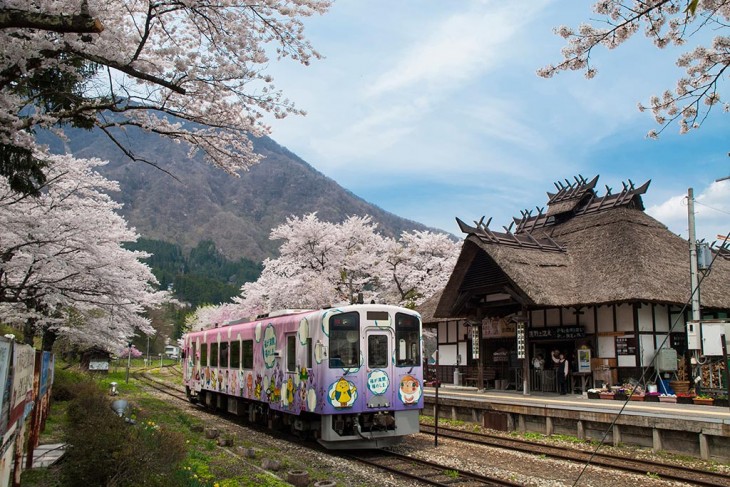 I visited Yunokami Onsen during the cherry blossom season! We visited the station in late April – which just so happened to be perfect timing! We were greeted with blue skies and sakura in full bloom.
YUNOKAMI ONSEN STATION
Yunokami Onsen Station is a very picturesque local station on the Aizu Railway Line that connects Aizu-Wakamatsu City with Aizu-Tajima, and further on to Asakusa Station in Tokyo.
This beautiful thatched-roof station must be one of my favourite stations in the prefecture – it's got a public foot bath just outside so you can treat your feet to natural hot spring water before catching your train, there's a traditional Japanese stove to warm yourself up with in winter, there's a range of souvenirs on sale, and it's extremely photogenic – what's not to love?!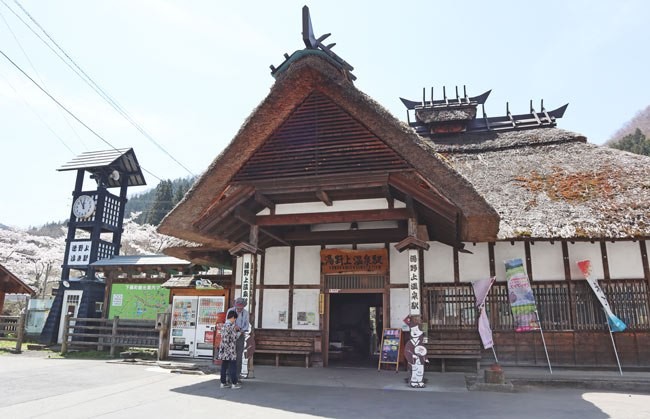 There are many cherry blossom trees surrounding the station, which had caught the attention of quite a few tourists, who were busy snapping photos with the blossoms. If you look directly at the front of the station, turn right and walk down the hill, you'll reach the bus stop for Ouchi-juku. It's the dark green bus in the photos below.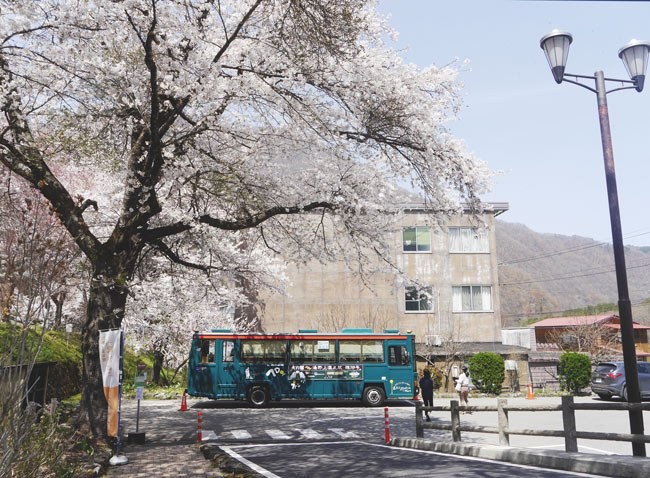 We took photos outside of the station while we waited for the prime time to take a photo of the moment when the local train passes in front of Yunokami Onsen Station. (You can check when the train will pass in front of the station by checking the timetable listed inside the station.)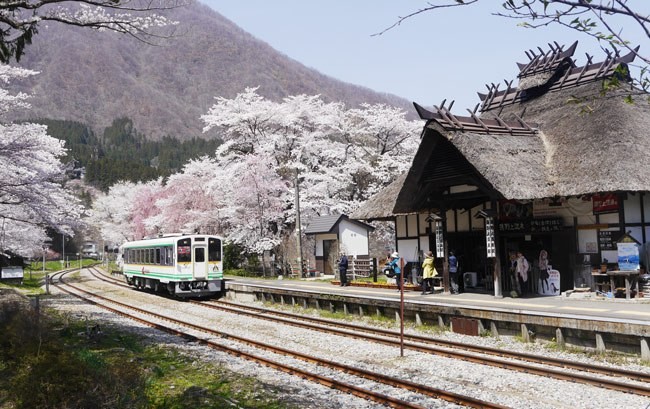 In order to take the best photo, you have to pass through the barriers in the station. It's necessary to buy a ticket that will let you access the train platform. Once we passed through the barriers, we walked onto the platform, then crossed over onto the other side of the tracks, where there were a number of reporters and photographers waiting.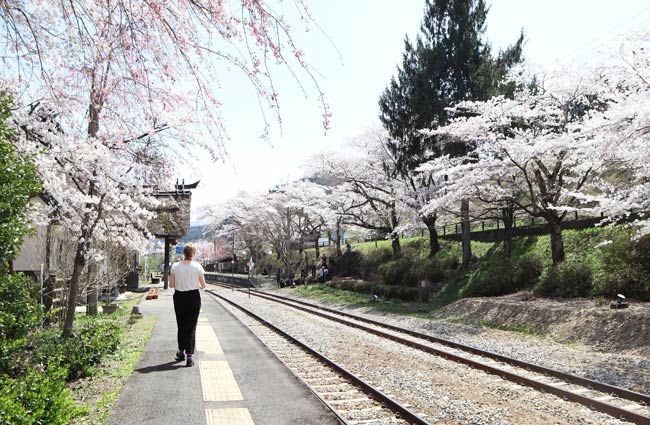 Taking a photo of the train passing in front of the station was harder than I was expecting! After I got home, I looked back at the first photo and realised that the angle I had taken my photos from wasn't quite right for including as much sakura in one shot as possible. It's good to know this for next time!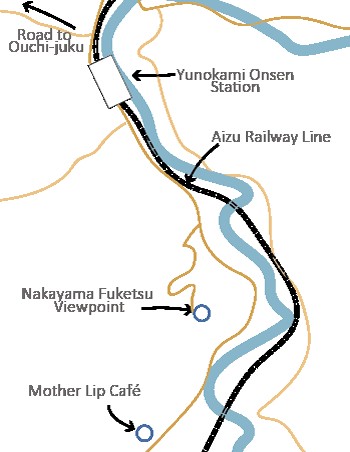 At the tourist information desk at Yunokami Onsen Station, the staff let me know that the cherry blossom at Nakayama Fuketsu were also in full bloom, so we decided to go check it out. This viewpoint is 2.5 km away from the station and much of this is up a steep hill with no footpath, so you may be difficult to reach if you aren't travelling by car. We were travelling by car so it wasn't a problem for us.
NAKAYAMA FUKETSU VIEWPOINT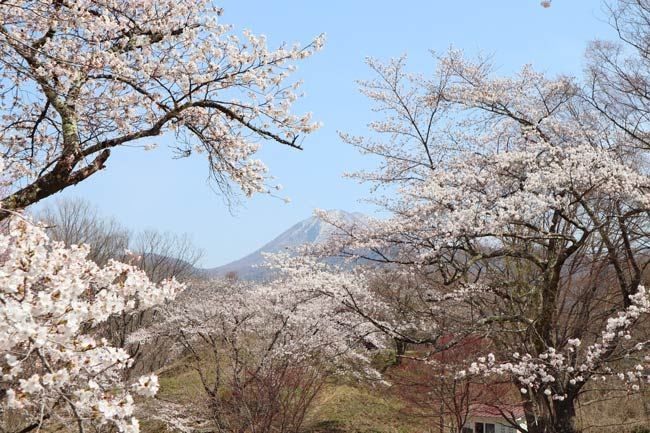 I had never been to this view point before. It was a bit of an adventure getting to the viewpoint, because it involved driving up quite a narrow mountain road. But it was worth it for the beautiful views, especially ones of the snow-topped mountains behind pale pink cherry blossom.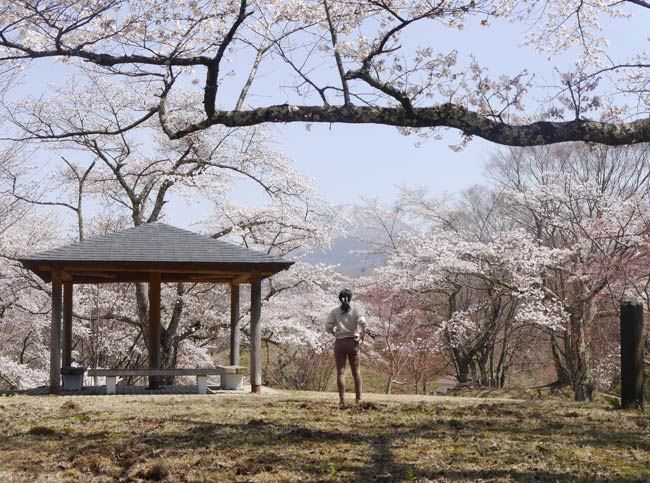 LUNCH AT MOTHER LIP
After we had explored the cherry blossom spots, we went to Mother Lip Café for lunch. I've wanted to go to this café for ages! Mostly because of its intriguing name. The coffee was delicious and the spaghetti was really nice. I chose "Napolitan", which is actually a Japanese spaghetti recipe originating from Yokohama.
We had to head back to work after our trip to Minamiaizu, but there is plenty to do near Yunokami Onsen – both the To-no-Hetsuri rock formations and the Edo post-town of Ouchi-juku are very close. I really recommend you visit this area in late April when you get the chance. It's really beautiful and makes for a very pleasant drive.
I've included Ouchi-juku, To-no-Hetsuri, as well as the places mentioned in this post, in the Google Map below.