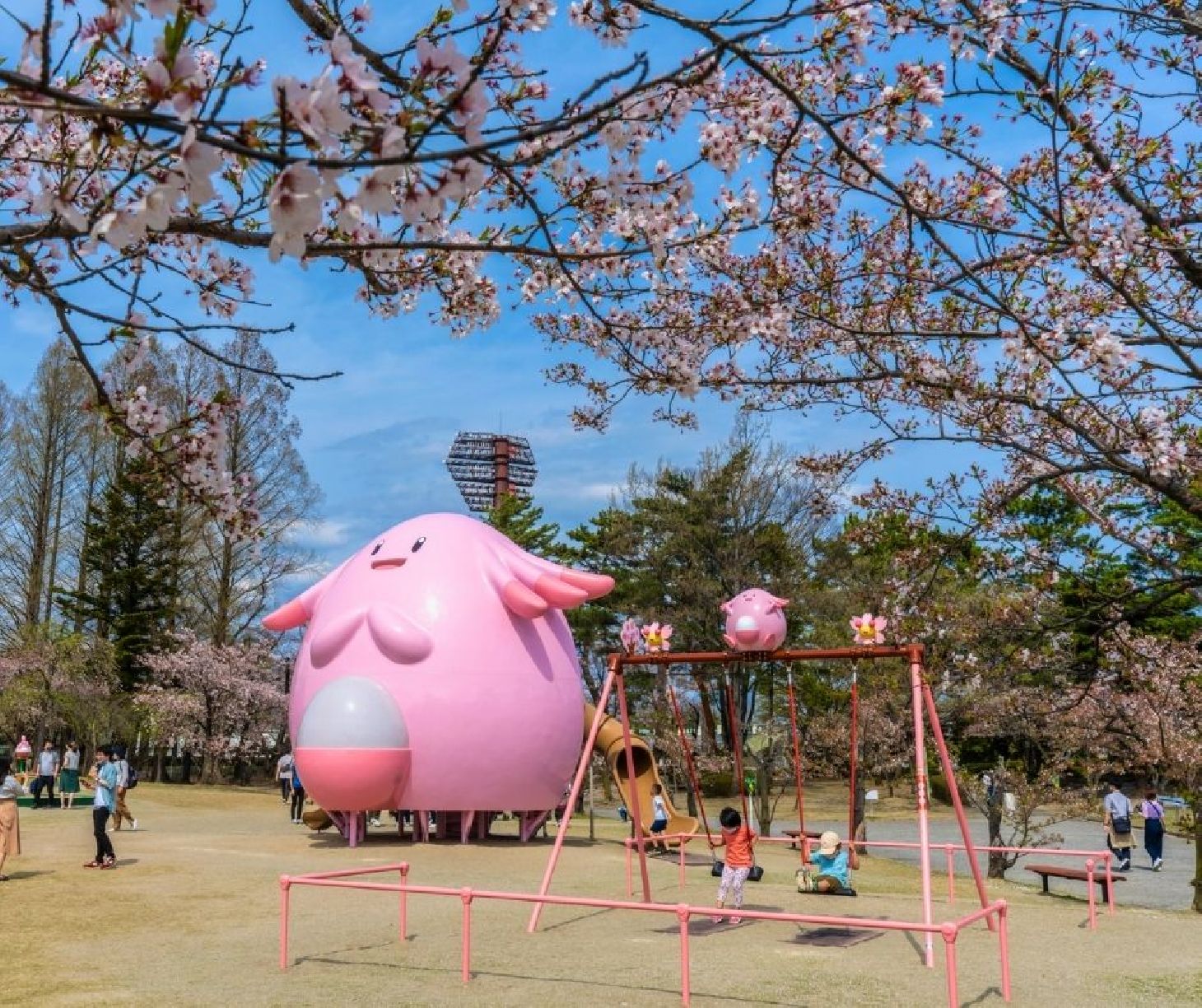 In recent years, Pokémon fans from Japan and abroad have flocked to Fukushima prefecture to enjoy the newly built Chansey parks, snap pictures of its Instagrammable Poké Lids, and buy souvenirs from Fukushima Prefecture in collaboration with Chansey.
Since Chansey was appointed Fukushima's Support Pokémon in 2019, many parks, Poké Lids and other cute stuff that any Pokémon fan would love has been popping up in different parts of Fukushima, making it pinker and brighter!
Here are some of the Pokémon-related things you can expect to see in Fukushima.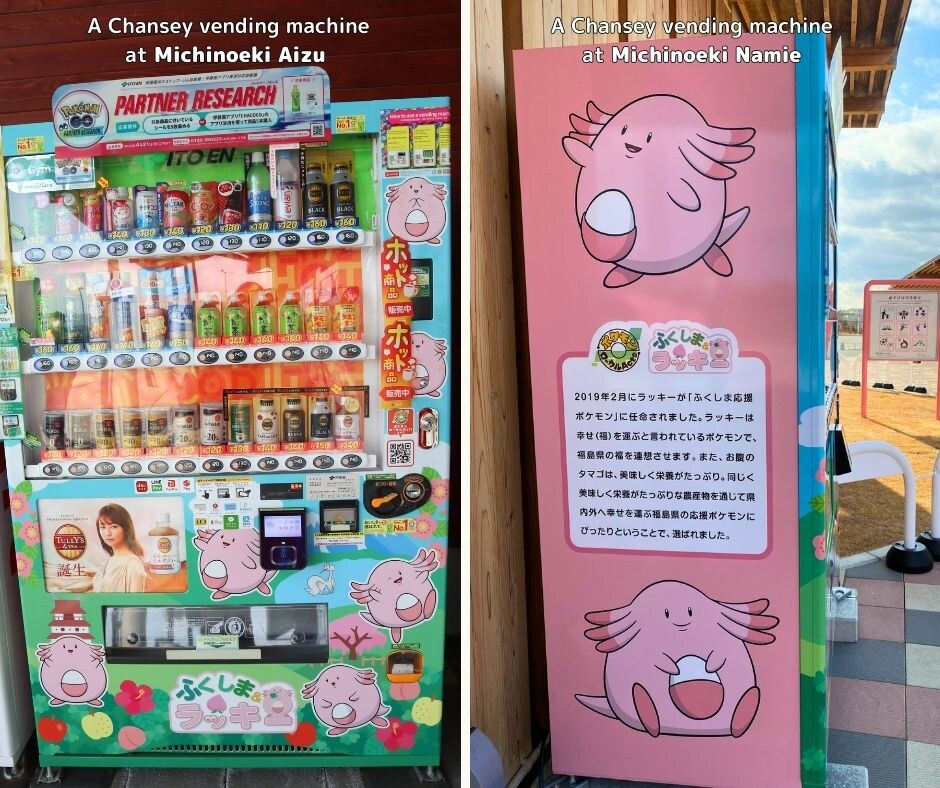 Chansey as Fukushima's Support Pokémon
Chansey's original Japanese name is "Lucky" (ラッキー), while "Fuku" (福) in 'Fukushima' means luck or happiness. This shared etymology is one reason why Chansey was chosen as Fukushima's representative.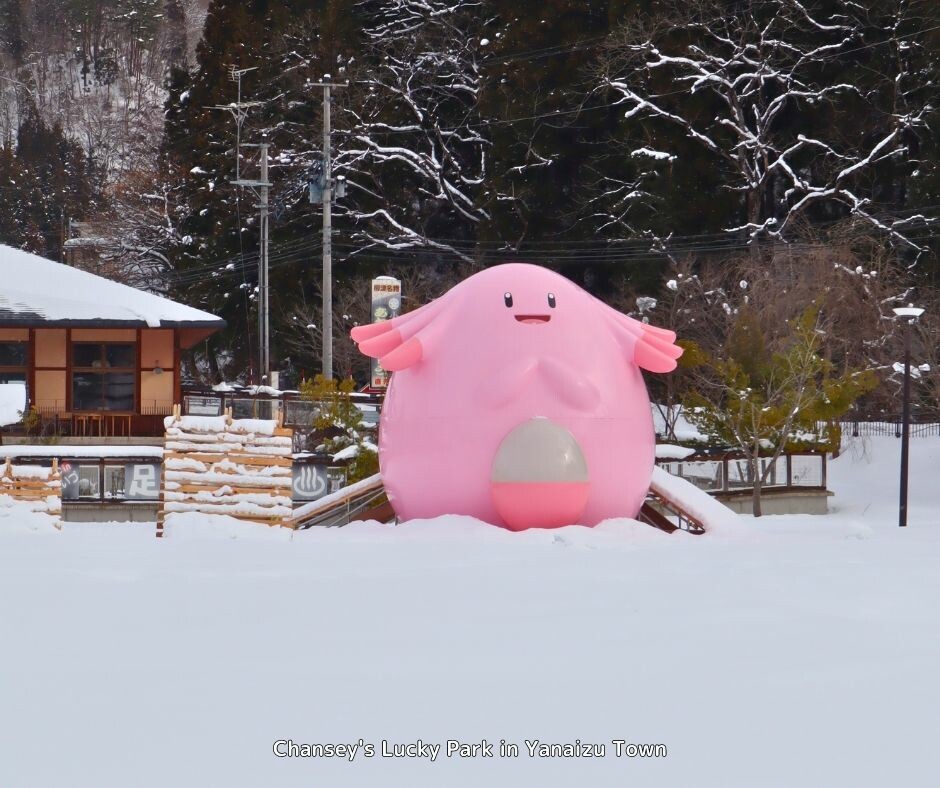 The fact that Chansey's pale pink color resembles that of Fukushima's famously delicious peaches and beautiful cherry blossoms is just a lucky coincidence!
Also, Chansey is said to be a kind Pokémon that lays and shares its nutritious eggs with injured Pokémon and people. Similarly, Fukushima has always been known for producing delicious produce and dairy products, which obviously includes eggs, for people to enjoy in Japan and beyond.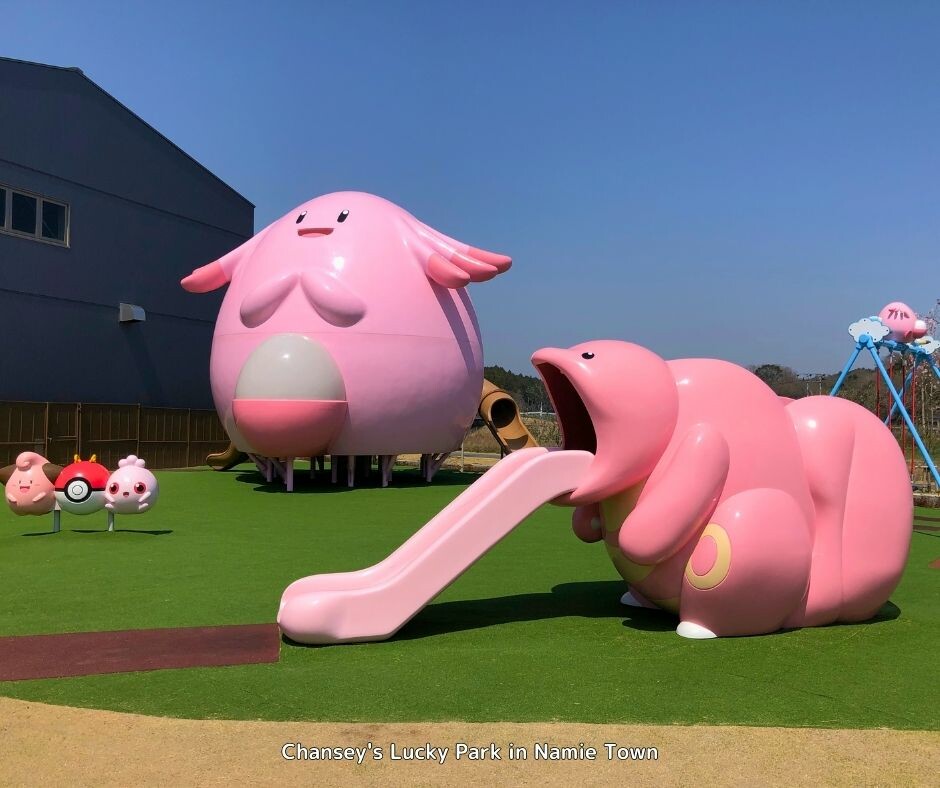 Chansey's Lucky Parks in Fukushima
As part of a collaborative regional revitalization effort with Fukushima Prefecture, The Pokémon Company donated four parks to Fukushima prefecture, which were opened between 2021 and 2022.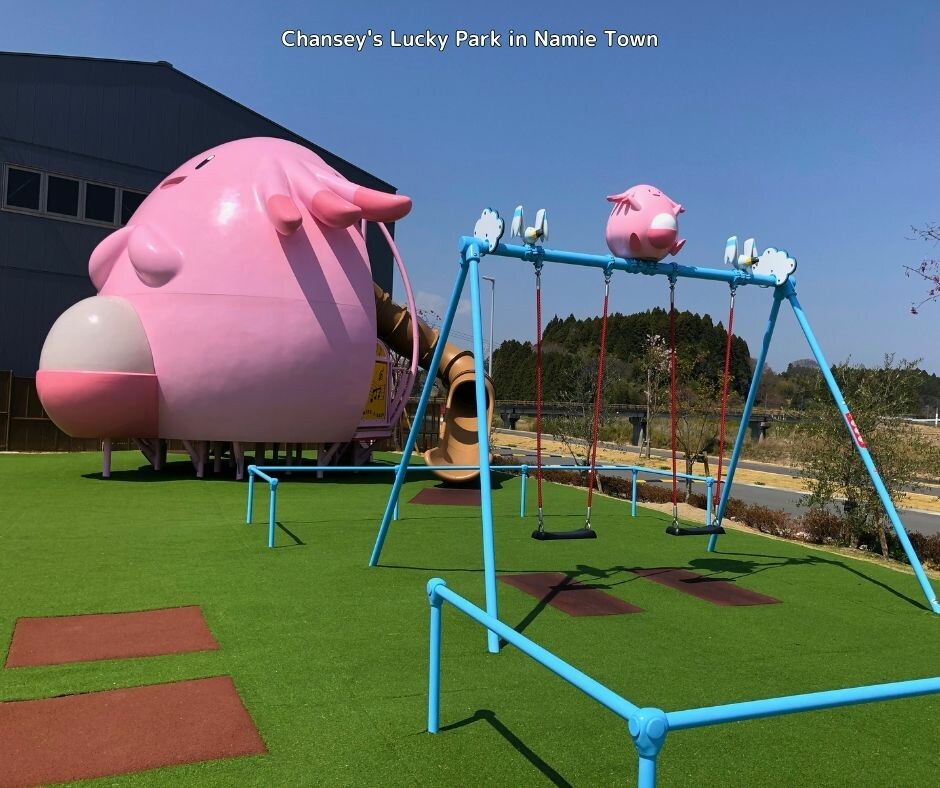 All Chansey's Lucky Parks have very similar structures and attractions. You can find things like a Happiny sandbox, Cleffa and Igglybuff swings, a Lickitung slide, and more!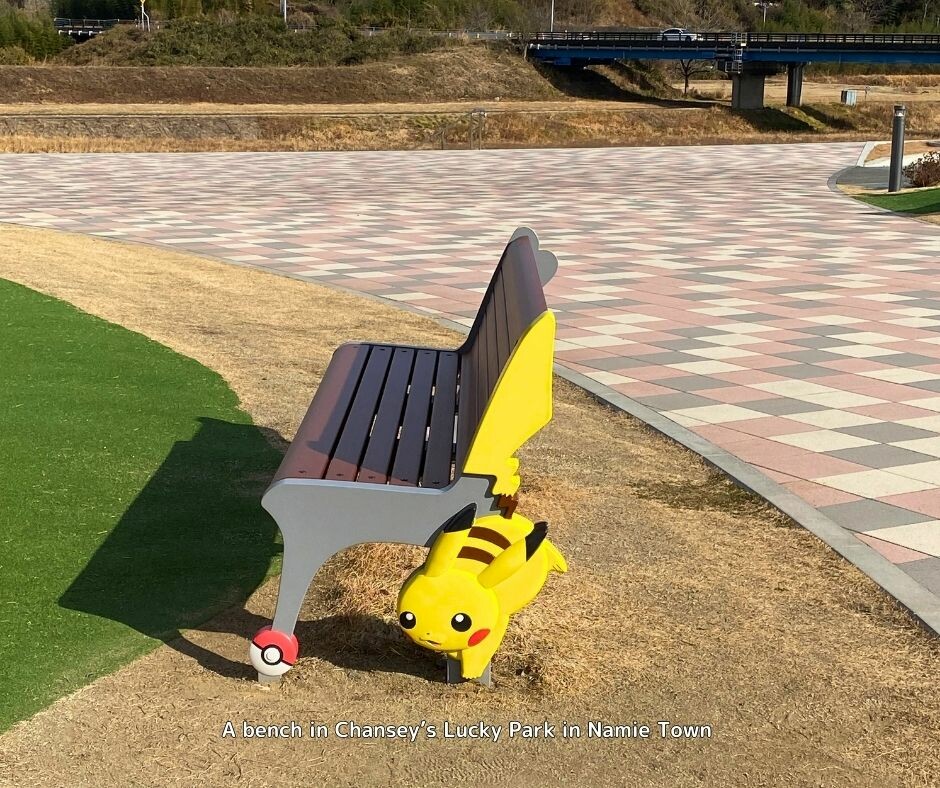 It's perfectly valid to visit these parks with the sole purpose of sitting on a Pikachu bench, though.
Here's a closer look at each park.
1. Chansey's Lucky Park in Namie Town (ラッキー公園 in なみえまち)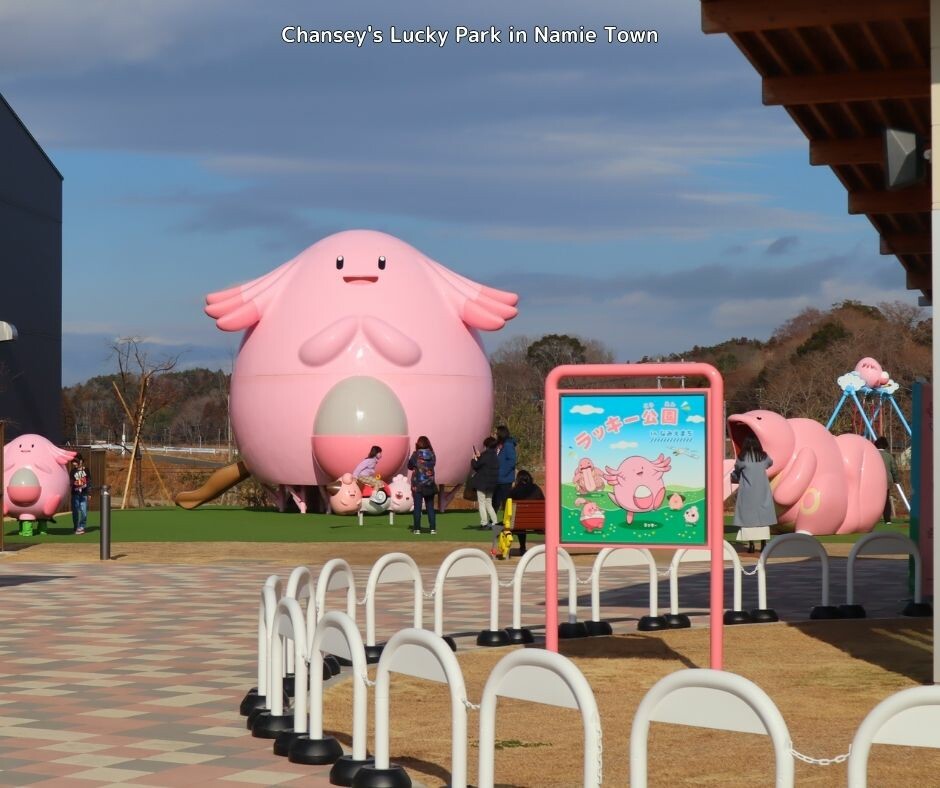 Opening Date: December 2021 (first Pokémon park in Japan)
Location: Michinoeki Namie (Roadside Station)
Distinctive Features: Don't miss the cute Chansey vending machines. There's also a 'kid's room' (indoor play area) for children located right next to the park.
2. Chansey's Lucky Park in Koriyama City (ラッキー公園inこおりやまし)
Opening Date: March 2022
Location: Kaiseizan Park
Distinctive Features: Kaiseizan Park is home to around 1,300 cherry blossom trees, and offers wonderful views of the city. Chansey looks particularly happy when surrounded by the many beautiful cherry blossoms at Kaiseizan!
The park is easily accessible by bus from Koriyama Station, which has a direct shinkansen connection with Tokyo!
3. Chansey's Lucky Park in Showa Village (ラッキー公園 in しょうわむら)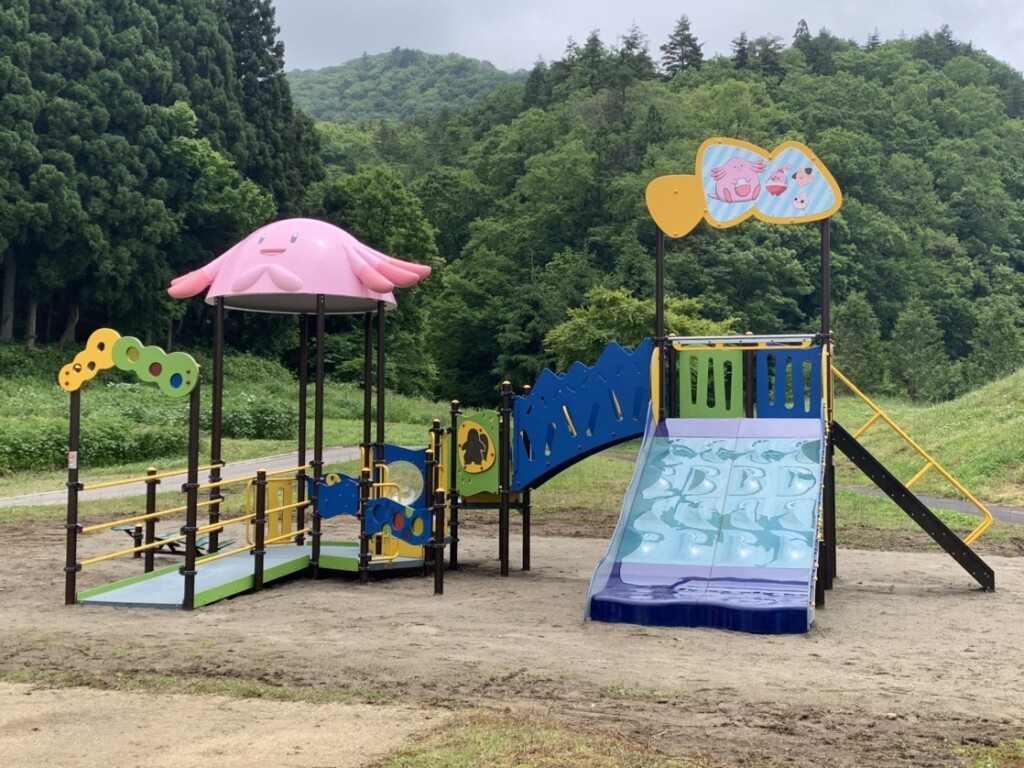 Opening Date: June 2022
Location: Michinoeki Karamushiori-no-sato Showa (Roadside Station)
Distinctive Features: Unlike other predominantly pinkish parks, the playground equipment at this park looks beautifully blue.
While you're there, don't miss going into the Roadside Station, where you can learn about this village's long standing textile tradition and history.
4. Chansey's Lucky Park in Yanaizu Town (ラッキー公園 in やないづまち)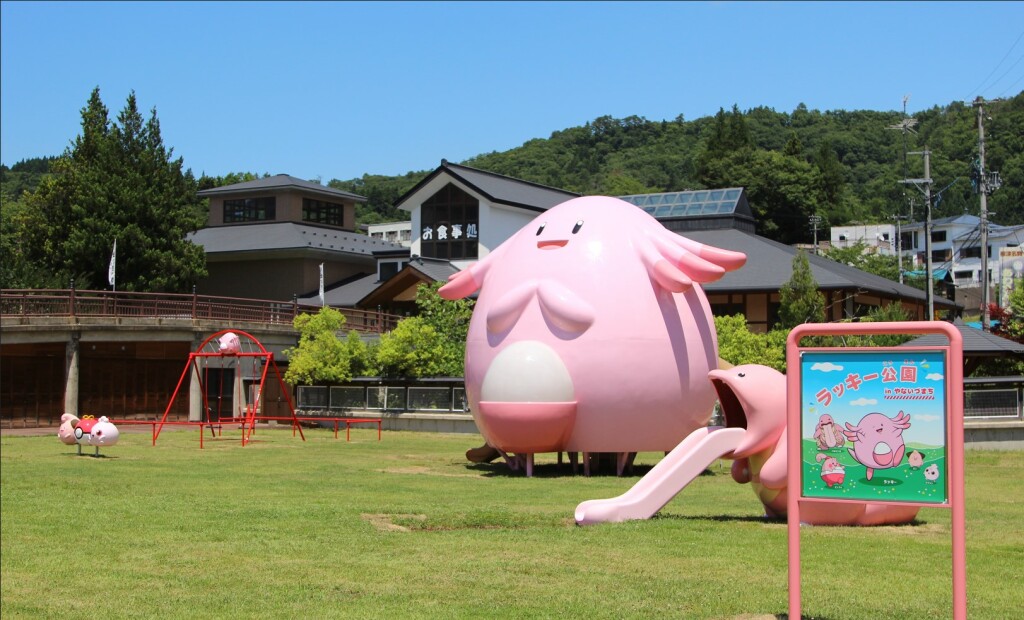 Opening Date: July 2022
Location: Michinoeki Yanaizu (Roadside Station)
Distinctive Features: The nearby Hot in Yanaizu center has local products, a rest area and more. While you're there, try the awamanju-making experience or painting your own akabeko!
Fukushima's Adorable Poké Lids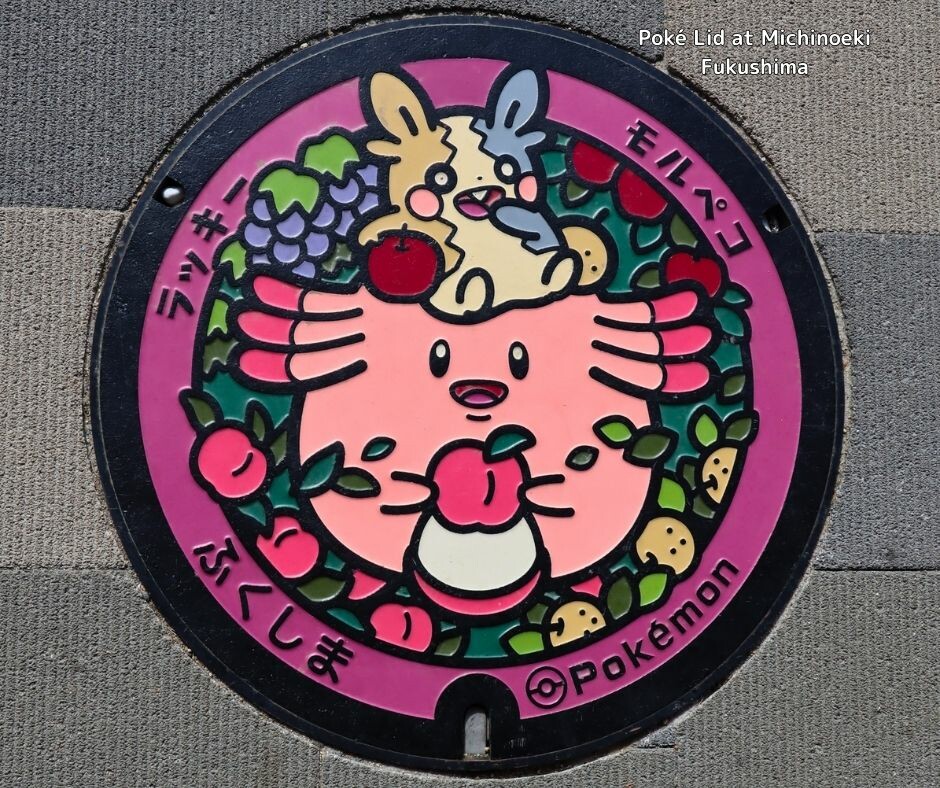 While visiting Fukushima, you'll probably notice these colorful utility hole covers. As of March 2023, there are 26 'Poké Lids' (ポケふた) scattered around the entire prefecture, each showing Chansey (and other Pokémon friends!) in designs that are unique to each region.
For a detailed list of the Poké Lids in Fukushima prefecture, check out this website.
Finding Cute Chansey Souvenirs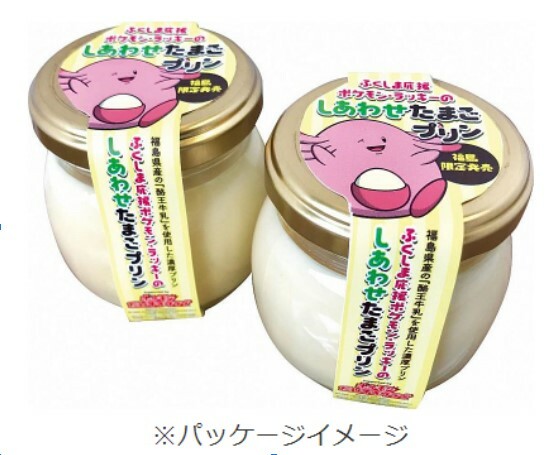 https://www.tif.ne.jp/pokemon/goods.html?id=3
Even if you don't visit any of Chansey's Lucky Parks or see any Poké Lids, you can still indulge in Chansey souvenir shopping!
You'll find Chansey adorning Fukushima's delicious fruit butter, peach jellies, puddings, curries, apple teas, and more! The array of products from Fukushima prefecture in collaboration with Chansey is wide, so you'll have plenty to choose from to make the perfect present to the Chansey fan in your life (which, let's face it, is most likely yourself anyways).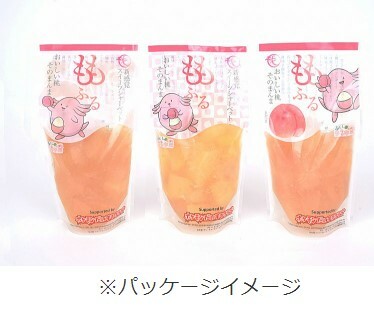 https://www.tif.ne.jp/pokemon/goods.html?id=10
Some places where you can get Chansey items include the Fukushima Prefecture Souvenir Shop as well as most michinoeki (roadside stations), like that in Namie Town.
If you visit Fukushima on a Pokémon adventure, don't forget to tag us on your social media posts! We love seeing your pictures and videos exploring Fukushima prefecture.