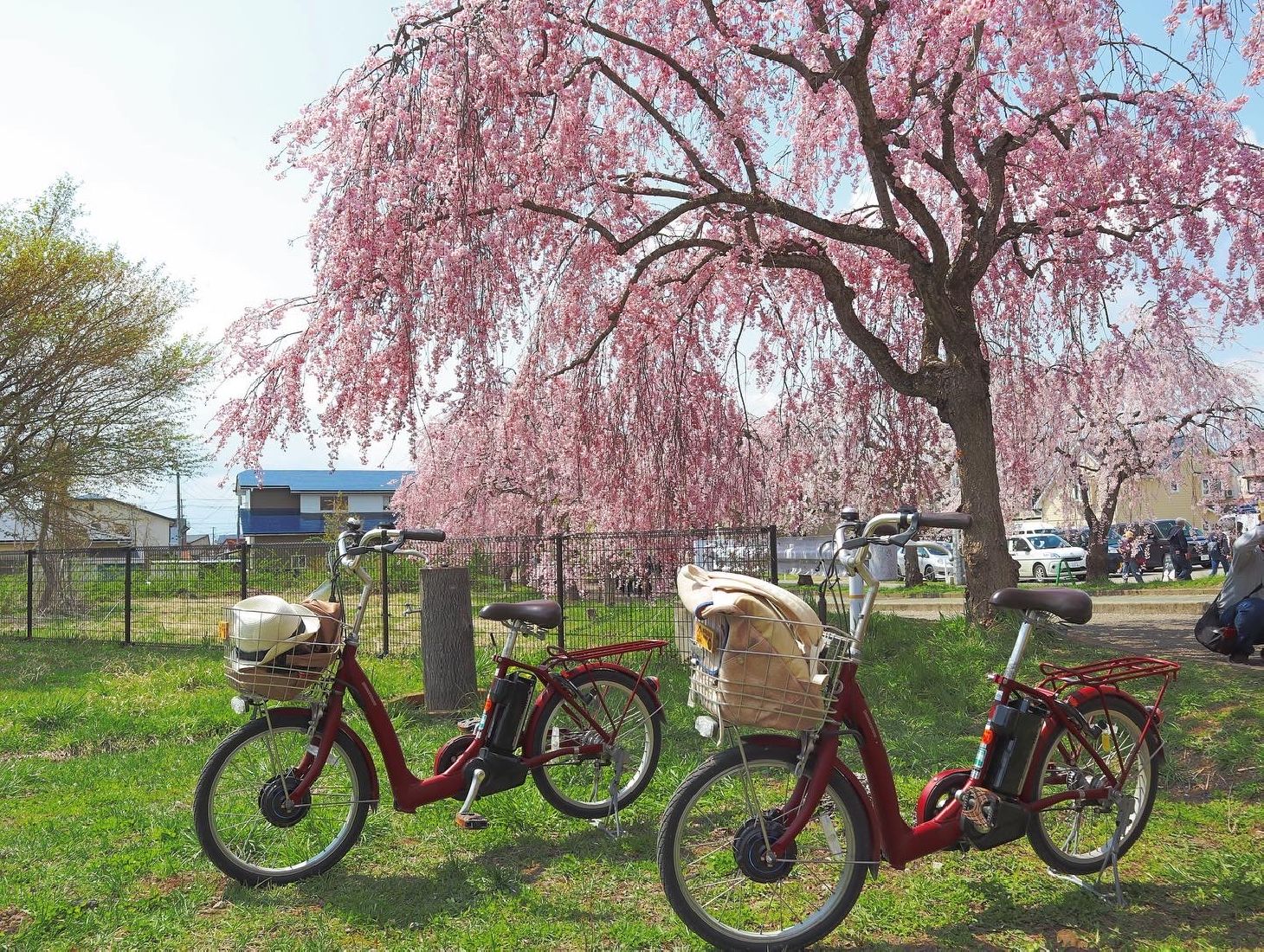 1. Renting a Bicycle in Kitakata City
Kitakata is a small city full of hidden gems and local secrets! Wandering the streets of the city you will discover traces of the city's history as a Japanese warehouse or "Kura" town. You will see many unique and distinctive buildings around town. These unique gems are dotted around a large area that is difficult to fully experience in a day on foot or by car, so I highly recommend renting a bike to get the most out of your trip!
Option 1: Garden Hotel Kitakata
This is a hotel that offers bicycle rentals to guests for free and non-guests for a small fee, the hotel is a short walk from Kitakata Station. A typical bike rental will cost 1000 yen, while an electric assist bike will run you 1500 yen. There are 3 electric assist bikes and 5 regular bikes. During the spring season, bicycle reservations are not accepted in order to give hotel guests priority, however, the bikes are first come first serve, so arriving early in the morning will give you a better chance of securing a bicycle. Staying the night here is another great way to help you secure your chances of renting a bike.If you are arriving by car, the hotel has a free parking lot for guests, so, if there is space available, bicycle renters can request permission to park here.
Option 2: Akutagawa
This is a small local business/gift shop that also rents out bicycles. Located immediately in front of Kitakata Station, this a very convenient place to rent. There are only "mamachari" style bicycles (no electric assist bicycles) and the number of bikes is roughly seven, however the cost of daily rental is only 500 yen making it a great deal. Reservations are accepted over the phone in any bicycle friendly season, however staff only speak Japanese so it may be a good idea to ask for help from a Japanese speaker when making a reservation.
2. Cycling the Nicchu Line Weeping Cherry Blossoms path
The Nicchu Line is a gorgeous 3km long stretch of path that is lined with weeping cherry blossoms. Roundtrip, the journey can be as long as 6km! So, most people only manage to see half of the cherry blossoms before they turn around, or exhaust themselves from walking. However, if you are cycling you will be able to maintain your energy so can enjoy a full day in Kitakata and see all that the city has to offer!!
Cycling through the trees, you will need to watch out for low hanging branches and also pedestrians. The middle kilometer or the trail tends to be really crowded with people taking photos, Fortunately, there are parallel streets so that if you want to go fast you can and enjoy the cherry blossoms while you zoom by the crowds to stop at your favorite trees.
The first and third kilometers are much less crowded so you should be able to cycle between the trees without worrying about a crowd.
Click here for more information about the Nicchu Line Weeping Cherry Blossoms. ( https://fukushima.travel/destination/nicchu-line-weeping-cherry-blossom/51 )
3. Grab a snack from a street vendor
As you zoom along the trail you are sure to notice various street vendors. Food trucks, local famers' stalls, festival style food, and more! At one point of the trail I even spotted an older couple who had a long extension cord coming from their garage so that they could sell cold drinks from their fridge to people on the street. We love to see the hustle! But seriously, I hope that you will check out some of these little street vendors and chat with the local people.
I stopped at an asparagus farmers stall and bought some of her locally grow asparagus to take home and cook. They were SO delicious. Then I stopped at another stall to buy some sakura flavored "Karintou" snacks. Also, delicious! Finally, my coworker and I spotted a place with mini daifuku (rice cakes) and tea, so we stopped to sit and drink some tea have a sweet snack and people watch in front of the cherry blossoms. Although a quick snack will help you find the energy to cycle up and back the entire path, make sure you take the time to enjoy a proper lunch!
4. Kitakata Ramen for Lunch
We chose to try the local specialty, Kitakata Ramen! One of the top three ramen varieties of Japan, you can hardly say you've been to Kitakata City if you haven't tried a delicious bowl of Kitakata Ramen!
We went to Bannai Shokudo and had zero regrets! The ramen here is absolutely delicious, however sometimes there can be long lines. So I would also recommend Shokudo Hasegawa (https://fukushima.travel/destination/shokudo-hasegawa/286 ), or discover your own hole in the wall ramen restaurant.
Although this is a relatively small city, there are over 100 ramen shops, this is a town that takes ramen seriously. If you choose to stay the night, I recommend trying the local culture of "Asa-Ra" which involves eating ramen for breakfast!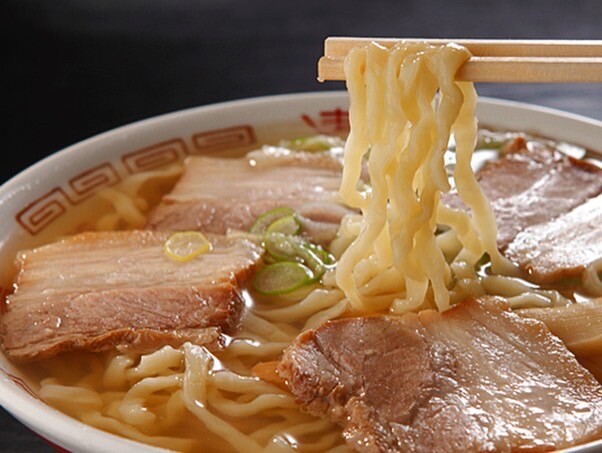 5. Makie Painting at the Kinomoto Lacquerware Store
After filling up on a big bowl of ramen, I recommend relaxing with a calming indoor activity such as trying your hand at a makie painting experience at the Kinomoto Lacquerware Store. The Kinomoto Lacquerware Store is full of various pieces of lacquerware that are beautiful and long lasting. The tradition of makie painted lacquerware in Kitakata City has a rich history that goes back some 400 years! To draw attention to this local art form, the shop began offering painting experiences, so visitors can experience this beautiful and relaxing art form by painting designs and then dusting pigments onto the pieces. This is a fun activity and a great souvenir from your trip to Kitakata City.
After you finish your masterpiece, I highly recommend taking a look at the "Cats School" diorama upstairs which features lots of cute animal figures (mostly cats!) that are handmade from Paulownia wood and posed doing various cute things. The figures recreate nostalgic scenes of Japanese school life in a large model of a traditional Japanese school. The details are incredible and you can spend a good bit of time taking in each scene of little cat dolls enjoying a day at school. There is even a festival scene that is very cute! Photography is prohibited, so you have to see it to believe it. The display is free to see, so I highly recommend checking it out if you are nearby.
6. Okuya Peanut Factory for desert
After trying your hand at painting, you may want something sweet, conveniently located just across the street from Kinomoto is the Okuya Peanut Factory. The shop makes a variety of sweets using Aizu-grown peanuts, my favorite is the peanut soft serve icecream. The chocolate covered version was absolutely fantastic, but of course, you can also get it without the chocolate topping in either a cup or a cone. I highly recommend visiting here if you're craving a sweet treat!
Click here for more information about the Okuya Peanut Factory. (https://fukushima.travel/destination/okuya-peanut-factory/287 )
Cycling around Kitakata city was so much fun! This is a pretty jam packed adventure day, but I hope this will inspire you to take a trip to Kitakata City and try exploring this unique city by bike!
Thank you for reading, please contact us through our social media accounts or website if you have any questions while planning your next trip.