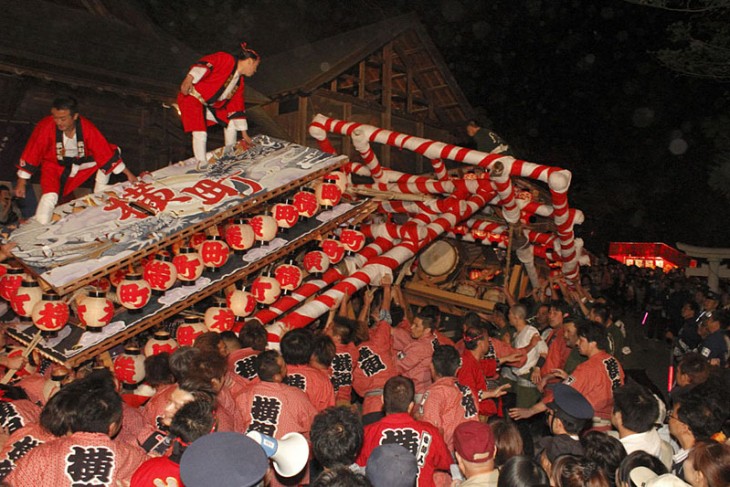 WHERE IS IIZAKA ONSEN & WHAT IS A 'KENKA MATSURI'?
Iizaka Onsen is a quaint town built around the sources of the Iizaka Onsen hot springs. Iizaka Onsen hot spring water has been loved for over a millennium, and is well-known in Japan. Residents of Tokyo often pop up on the Shinkansen to take a dip in the relaxing waters of Iizaka Onsen!
One thing that onsen-lovers should know about Iizaka Onsen is that the hot spring water is very hot. I visited the oldest public bath in the town called 'Sabako-yu' on my first day in Fukushima. I'd read the English information pamphlet that said that the water was hot, but I thought "Well, I've been to onsen before – how hot can it be?!" Spoiler alert: hotter than you can imagine! (Around 46 degrees Celsius!)
There are plenty of onsen you can take a dip in even if you're not a fan of hot springs that are super hot. The further away from the source you get, the cooler the water gets. Guess where Sabako-yu is? About 200m away from the source… The being said, as long as you let your body get used to the temperature gradually, it's possible to enjoy the super hot onsen too!
HOW CAN I EXPERIENCE A HOT SPRING IN IIZAKA ONSEN?
PUBLIC ONSEN
There are 9 public hot springs in Iizaka Onsen that you can try out for a small fee. Many of them sell small towels that you can use to dry off after bathing, so you don't have to worry about bringing your own towel! Public onsen in Japan are almost always separated by gender – unless very clearly specified! – and are open to anyone (with the exception of people with tattoos in some cases).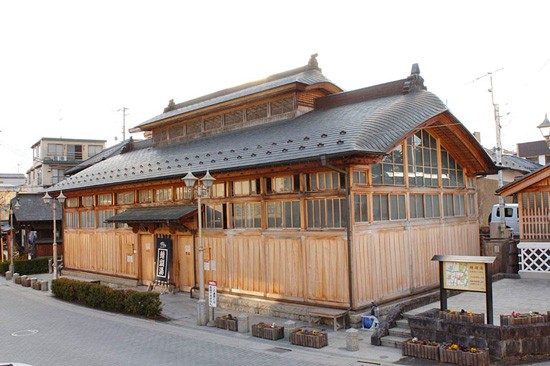 Local people from Iizaka Onsen start visiting the public baths when they are very young, and visit regularly with family and friends until they are old enough to have a family of their own. They will then bring their own children to the public baths, and the cycle of onsen appreciation continues!
Public onsen are great places to meet and chat with local people and immerse yourself not only in Japanese culture but in local history and traditions!
ASHIYU (足湯)- FOOT-BATHS
There are also 3 public foot-baths in Iizaka Onsen, which are free to use, and can be visited by anyone. One of the biggest foot-baths in Iizaka Onsen is in Kyu-horikiri Tei – a traditional residence that dates back over 500 years ago.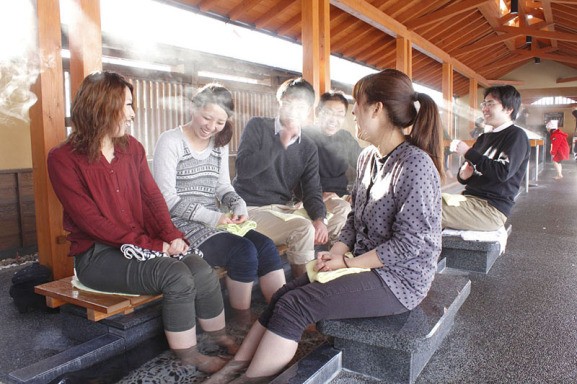 You can find out about the names and locations of some of these public hot springs and public foot-baths on Iizaka Onsen Tourism Association's website here!
HIGAERI NYUYOKU (日帰り入浴) – DAYTIME ONSEN
One more way to enjoy hot springs in Iizaka Onsen is to visit ryokan (traditional Japanese inns).
Many ryokan in Iizaka Onsen offer visitors the chance to take a dip in their onsen, even if you're not staying the night.
Daytime onsen visits are available at a number of Iizaka Onsen's many ryokan, including Hotel Juraku & Yoshikawaya. Check out this website to see which ryokan hotels English-speaking staff.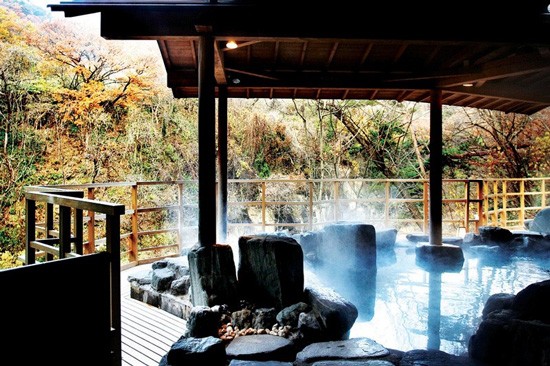 The price of a trip to a daytime onsen ranges depending on the establishment, but tend to cost between 300 yen to 1400 yen. The more expensive the day onsen, the bigger the establishment and the better the range of baths.
Please note that many higaeri nyuyoku onsen only offer this daytime onsen option before 14:00 or 15:00.
Hotel Juraku is the exception to this rule, as it is open most days until 21:00.
Many ryokan in Japan have a "no tattoo" policy. If you have a tattoo, you can still enjoy onsen, but you'll need to reserve a private bath as opposed to bathing with the locals. See this post on reserving private baths.
HIGHLIGHT OF IIZAKA ONSEN – KENKA MATSURI
As well as its amazing, relaxing hot spring water, Iizaka Onsen is also known for Kenka Matsuri (translates as 'fighting festival'!), which is one of three main fighting festivals in Japan. The festival is always held on the first weekend of October.
Fighting festivals make up just one of the types of festival held in autumn in Japan. There are many shinto festivals held in autumn, after the rice harvest has taken place, as a way of thanking the gods for that year's harvest, and to pray for the prosperity of local people who worship at the shrines.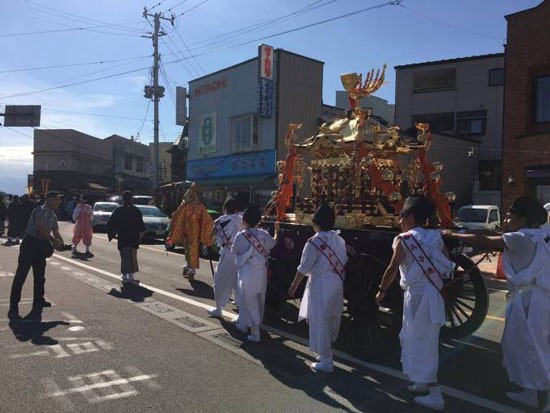 During Iizaka Onsen's Kenka Matsuri, 6 portable shrines (mikoshi) and 6 festival floats (yatai), are paraded around town before being brought to Hachiman Shrine in the center of Iizaka Onsen.
Each yatai represents one area of Iizaka Onsen Town, and each mikoshi belongs to one of these various areas.
The climax of the festival is reached at around 20:00 on the second day of the festival, when the yatai are brought to Hachiman Shrine – and the fighting begins.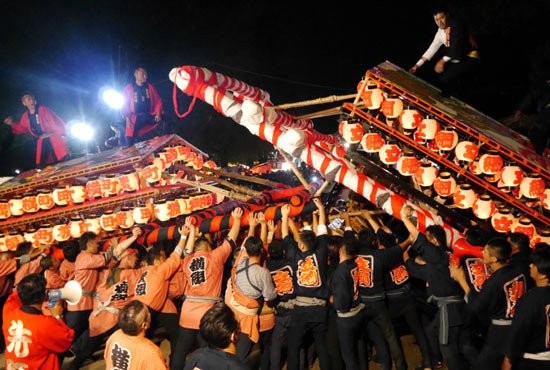 Yatai festival stalls are decorated with lanterns, and are accompanied by the omnipresent beat of the Japanese taiko drum. The sound of the taiko drum actually reverberates from inside the yatai – where the drummer ferociously smashes at the drum for the duration of the festival.
Once these yatai reach the grounds of Hachiman Shrine, they crash into one another at great force. The reason for this is that each area of Iizaka Onsen, represented by their yatai, is trying to stop another area's mikoshi from entering the grounds of Hachiman Shrine. Only one mikoshi can enter the shrine first, and receive good luck for the year to come.
Once the mikoshi reaches the back of the shrine, the festival is over.
WHY SHOULD I GO TO SEE IIZAKA'S KENKA MATSURI?
This festival is super exciting, and I love the atmosphere.
The evening air carries the beat of the taiko drum – which persists for the entire festival – the smell of yummy festival foods, and the surprised gasps of onlookers at the sight of floats toppling over, yatai set on first from their lanterns, and men making a narrow escape from underneath them.
I've never been to a Japanese festival as absorbing, exciting and lively as Kenka Matsuri.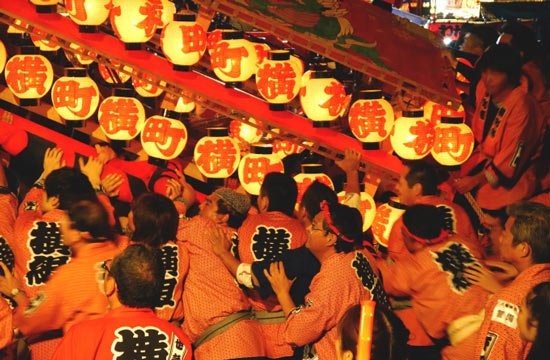 All the participating locals involved in the festival – from young kids in school to teenagers chanting and following their respective yatai float, to grandpas passing on their traditions – truly put their hearts into the evening, which makes it extra special.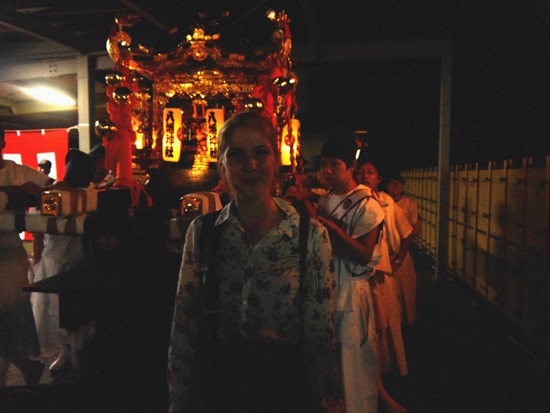 I love wandering around Iizaka Onsen on the night of main Kenka Matsuri event. It's a great opportunity to soak up the amazing atmosphere of a town which is usually so quiet and sleepy.
Hachiman Shrine, which becomes the main stage for Kenka Matsuri, is less than a 10 minute walk from Iizaka Onsen station, meaning that even if you have a wander through the streets, it won't take you long to get back to the action.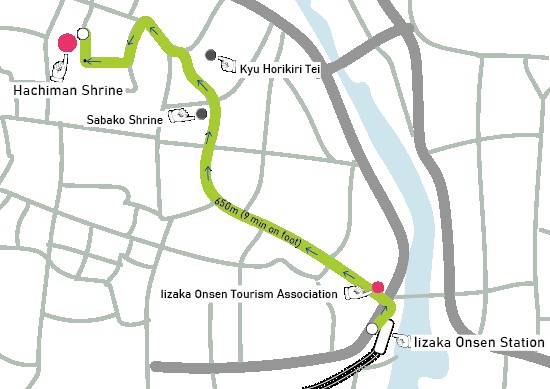 Unlike other festivals in Japan, Iizaka Onsen's Kenka Matsuri is relatively unknown amongst visitors from abroad, meaning that you can have an authentic Japanese festival experience, and get to interact with the locals.
The crashing of the yatai at Hachiman Shrine usually begins at 20:30, but because it gets crowded on festival days, I recommend you get there early and visit with friends who can save your spot when you go to the loo or go to grab a beer at the food and drink stalls.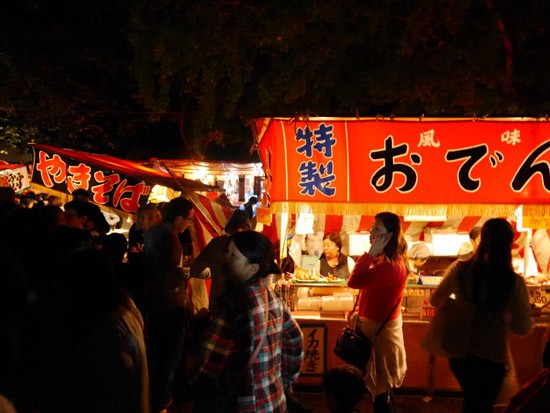 WHAT ELSE IS THERE TO DO IN IIZAKA ONSEN?
Aside from the festival, Iizaka Onsen is absolutely worth visiting for the excellent onsen, its picturesque streets, adorable cafés and kind local people.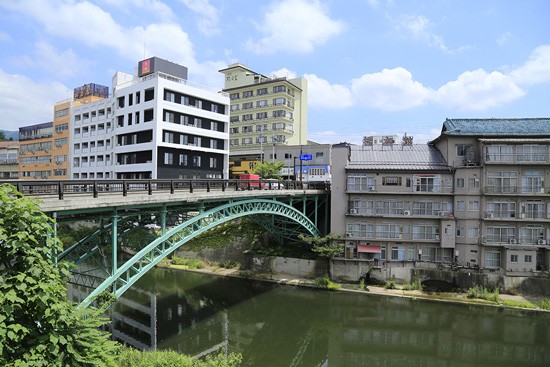 Iizaka Onsen is also home to the Buddhist temple known as Nakano Fudoson Temple, which really leaves an impression on visitors with its mysterious cave and beautiful waterfalls.
Iizaka Onsen's central location also lends itself to including it as part of an itinerary for a weekend away in Fukushima City. Onsen lovers can even try and compare its waters to those of Tsuchiyu Onsen or Takayu Onsen.
WHY NOT MAKE A WEEKEND OF IT?
Here's an idea for a way to spend your weekend in Iizaka Onsen & other areas of Fukushima City during festival time!
SATURDAY OCTOBER 6
Travel to Iizaka Onsen from Fukushima Station via the Fukushima Transportation Iizaka Line.
Take the bus to Nakano Fudoson Temple and spend some time exploring the caves and waterfall!
Travel back to Iizaka Onsen and check in at your ryokan for the night.
Wander the streets in the evening during festival time.
Make sure to walk over to Hachiman Shrine by 20:00 (the main event of the festival begins at 20:30).
Enjoy the festival, try the local delicacy Enban Gyoza for dinner, and stay at a ryokan overnight.

SUNDAY OCTOBER 7
Spend some time exploring Iizaka Onsen by day (check out the Kyu-horiki Tei former residence, foot-baths, day onsen and cute shops).
Take the Iizaka Line back to Fukushima Station.
Have lunch in Fukushima (Ideas for restaurants here!)
Check out the Fukushima City Inari Shrine Autumn Festival in the afternoon and evening. See here for the location of Inari Shrine!
MORE INFORMATION
Check out this website for a list of places to eat in Iizaka Onsen.
Fukushima City's Convention Association has prepared a decent list of restaurants and izakaya in central Fukushima City. Check it out here!
ACCESS
Iizaka Onsen can be reached in about 2 hours from Tokyo. Take the Tohoku Shinkansen from Ueno Station or Tokyo Station to Fukushima Station (90 min), and from there take 25 min train. (See here for info about reaching Fukushima Station)