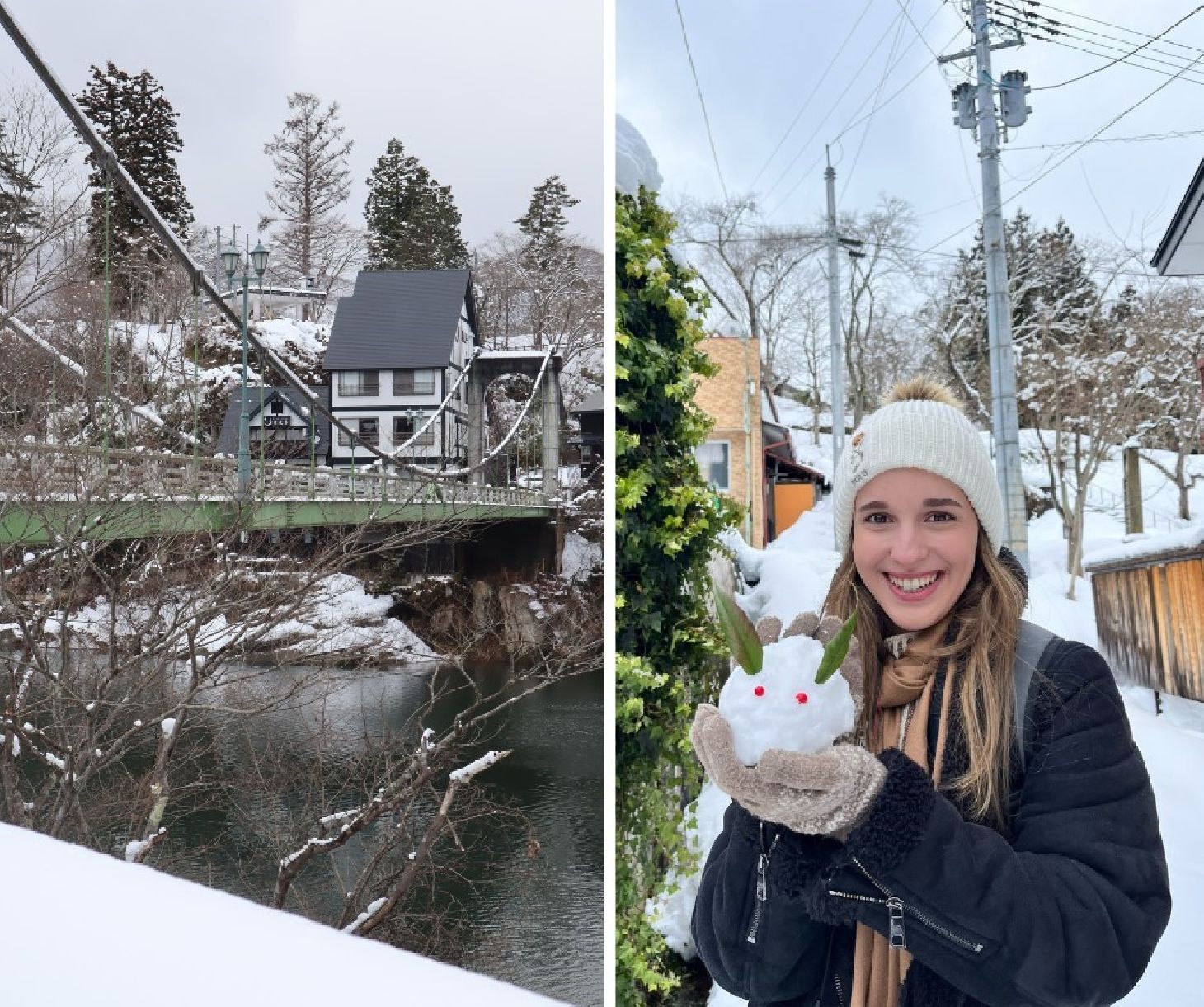 The coldest months of the year bring beautiful scenery to Fukushima prefecture.
Kaneyama Fureai Hiroba Viewpoint
From snow-capped mountains and thatched-roof houses in the Aizu area to the refreshing view of the sunrise over the iconic Bentenjima Shrine in the Hattachi coast, there is a wide variety of attractions and activities to enjoy during winter in Fukushima. We've compiled some useful information to make your winter getaway to Fukushima prefecture smoother and more enjoyable!
Transportation
Checking the Status of the Roads Before Departure
Especially in the Aizu and Central areas of Fukushima, a snow storm could occasionally block some roads or affect visibility (a phenomenon known as a whiteout).
Checking the status of the roads makes your trip safer and can help you foresee potential delays. This webpage shows camera footage of the status of the roads (available only in Japanese).
Click or tap on the camera button in the area you're planning on visiting. Select the road you'd like to see on the new pop-up window.
In most rent-a-car facilities, you'll be asked where you're going and be given a vehicle equipped with what you need (winter tires, chains, etc.).
Preparing for Longer Travel Times
Because road conditions change unexpectedly, it's best to expect longer travel times, particularly if you're traveling by bus or car.
As an example, check the following estimates:
Aizu-Wakamatsu City to Ouchi-juku: normally takes around 45 min. (90 min on snow-covered roads)
Ouchi-juku to Tadami: normally takes around 90 min. (150 min. on snow-covered roads)
Tadami to Kaneyama Town: normally takes around 40 min. (90 min. on snow-covered roads)
Kaneyama Town to Mishima Town: normally takes around 30 min. (90 min. on snow-covered roads)
Mishima Town to Aizu-Wakamatsu City: normally takes around 50 min. (120 min. on snow-covered roads).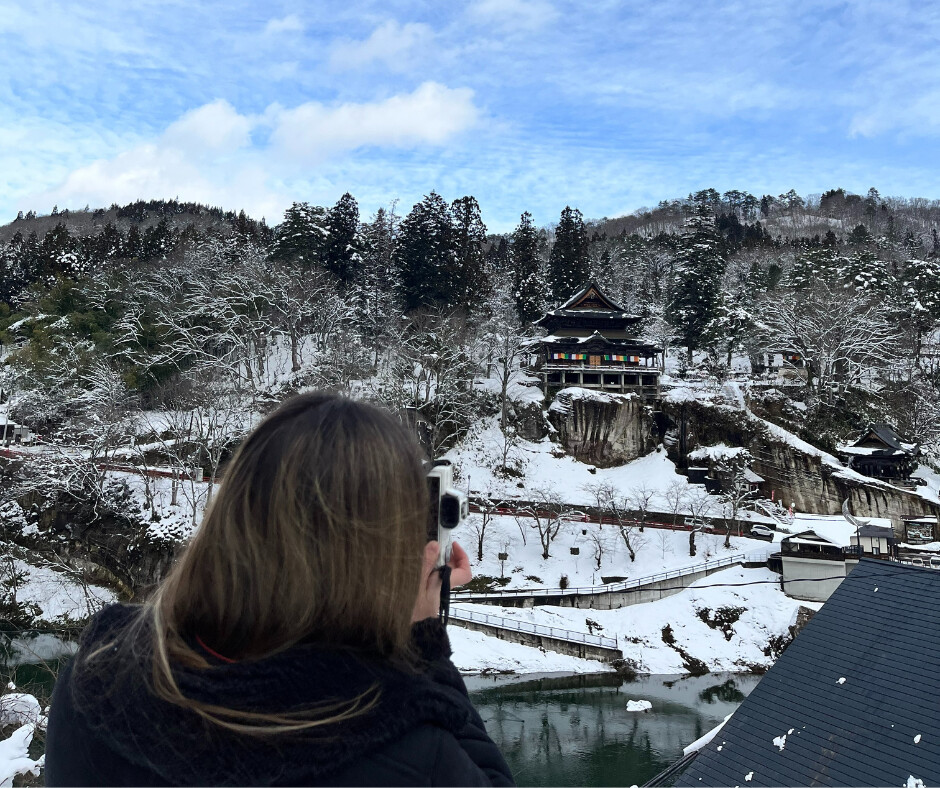 Finding the Public Transportation Winter Schedule
Some buses or trains, like the Saruyuugou loop bus in Ouchi-juku, have different schedules in the winter. The service can either become reduced or extended for special events.
If you'll be relying on public transportation, take a close look at the time schedule for any notations of changes during the winter.
If it's only in Japanese and you can't read it, inquire at the closest station or local tourist information office (or send us a message and we'll do our best to assist you).
Some hotels and ski resorts offer shuttle bus services to and from the closest station, such as the Minowa Ski Resort free shuttle bus service from Fukushima station. Be sure to make a reservation in advance.
Activities
Extreme Onsen Experience
We've been getting many inquiries about the Extreme Onsen Experience recently. For safety reasons, it's not possible to climb Mount Adatara when it's covered by snow, so the tour becomes temporarily unavailable until the snow melts in the spring (write us a message if you'd like to be notified once the tour becomes available again!).
Alternatively...
Soaking in the hot springs while contemplating a snowy landscape is a truly magical experience that you can enjoy in many other onsen towns in Fukushima, like the nostalgic Tsuchiyu Onsen Town.
Goshiki-numa Ponds
If you'd like to visit the Goshiki-numa ponds during winter, we recommend booking a snowshoe tour and going with an experienced guide, as travelers are discouraged from visiting independently.
Goshikinuma Ponds Snowshoe Experience
If you're interested in the experience, recommend contacting Aizu Dream Development, which organizes winter tours to Goshikinuma, and has English support.
Other Places That Are or May Become Closed for the Winter
Here are some sightseeing spots, experiences and tours that are only (or mostly) available from spring to fall (usually April to November) and could thus become unavailable during the winter:
Experiences that are still available during the winter months:
The Ouchi-juku kimono experience, Kitakata Ramen-Making Experience, Minamiaizu Private Taxi Program and the Minamisoma Coast Trekking.
Finding Winter Destinations
While some places and experiences enter an hibernation of sorts, others take center stage. Ski slopes, with powder snow and lots of activities for the entire family, become one of the main attractions in Fukushima (check out our 2-day skiing itinerary here).
Winter festivals, illuminations and other events enliven several spots around Fukushima (check our calendar for winter events in Fukushima in 2023).
If You're Planning The Ultimate Winter Road Trip...
Bring snacks and drinks with you!
Japanese convenience stores and vending machines are spread out in remote rural areas.
It's always safer to bring snacks and drinks with you, particularly if you are traveling with children.
If you would like to know where to go for pit stops, roadside stations, known in Japanese as "michi no eki" (道の駅) usually have local specialty foods and souvenirs.
Prepare for the Unexpected—and the Beautiful
We recently visited the famous No. 1 Tadami River Bridge Viewpoint with my coworker.
In the morning, we were told that the JR Tadami Line, which famously runs over the scenic bridge, had canceled operations for the day due to heavy snowfall, but we decided to go anyway.
When we arrived at the viewpoint, it was snowing heavily and there was zero visibility—the iconic view was nothing but an indistinguishable mass of white and gray.
We decided to drive to another scenic point (Kaneyama Fureai Hiroba Viewpoint) hoping the sky would clear up.
It finally did and we were lucky to get beautiful shots of both places.
You never know when you can enjoy a snow-covered landscape with clear skies.
Winter is a delightful season to travel around Fukushima and take in the views of its many scenic towns, winter festivals, and glistening lakes nested in the mountains.
Miyakoji Area in Tamura City
The coastal area is also worth a visit during this time; its famous sunshine and tropical feel make it a perfect getaway from the harsher cold inland.
If you're thinking of visiting the sunny city of Iwaki, check out our recent post, 5 Things to Do in Iwaki City This Winter.
If you have any questions about traveling in Fukushima, please send it to us using the contact form you can find on our website.
We hope you enjoy your stay in Fukushima!