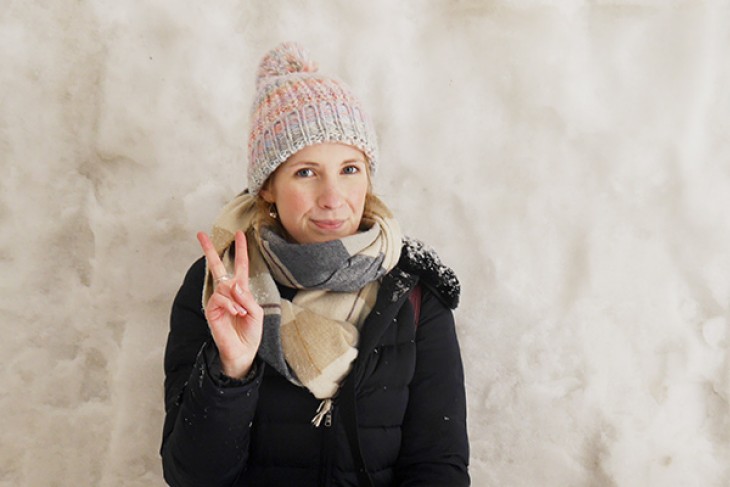 I decided to write a bucket list of things to try out in Fukushima during the winter months!
1) TAKE IN THE VIEWS OF BEAUTIFUL OKU-AIZU
The Tadami Line train connects Aizu-Wakamatsu City with Niigata Prefecture via some of Fukushima's most beautiful rural towns and villages. The route of this train ride is breath-taking throughout the year, and winter is no exception.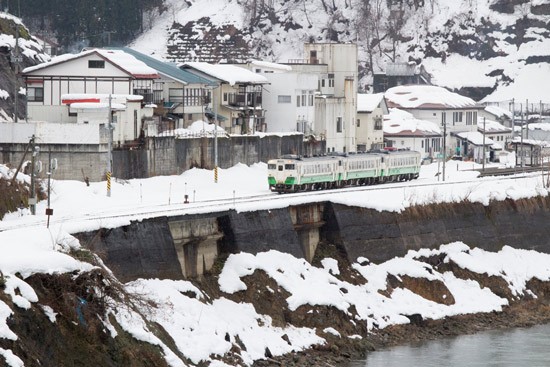 I especially want to check out the view of Oshi Shuraku Hamlet (大志集落) in Kaneyama Town, which you can see in the photo below. This view spot is located at Kaneyama Fureai Hiroba (かねやまふれあい広場 – Map), which is a 10-minute walk from Kaneyama Station on the Tadami Line.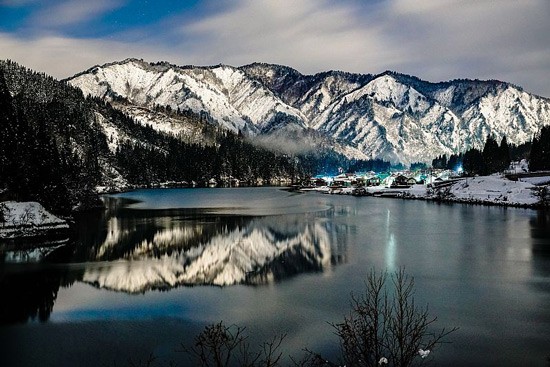 2) ATTEND SNOW FESTIVALS (AIZU, MINAMIAIZU)
Most of the snow festivals held in Fukushima take place on the same weekend of the year, meaning that it's pretty difficult to visit more than one per year! I have attended both Ouchi-juku and Tadami Snow Festivals (mentioned below) in the same day, but I would recommend taking your time at each festival instead of rushing between them.
AIZU PAINTED CANDLE FESTIVAL
Aizu Painted Candle Festival is when Oyakuen Garden really comes into its element, as the garden becomes 1 of 2 main stages during the 2 day festival period. The other stage is at Tsuruagajo Castle.
Oyakuen Garden often hosts live performances of traditional Japanese music during the evening during the festival. Tens of thousands of candles illuminate the castle and the garden over the 2 day festival period, creating absolutely stunning scenes as the sun sets.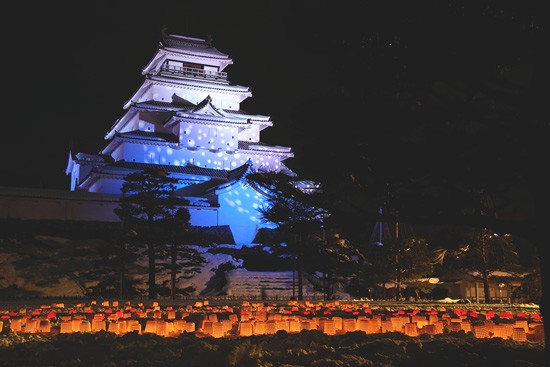 This festival is held to celebrate the traditional craft of Aizu's painted candles, which have been produced in the region for 500 years.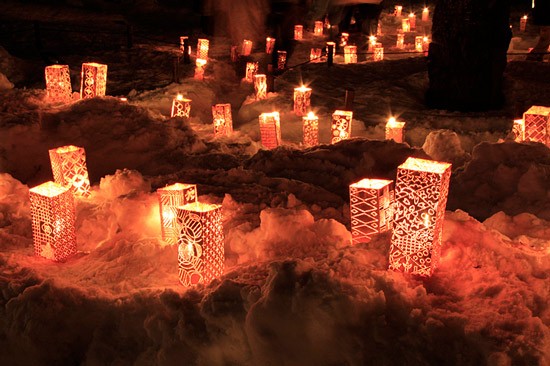 DATE: Second Friday and Saturday of February
HIGASHIYAMA ONSEN CANDLE FESTIVAL
Every evening from Christmas until around the end of February (depending on the amount of snow), Higashiyama Onsen town is filled with the lights of candles.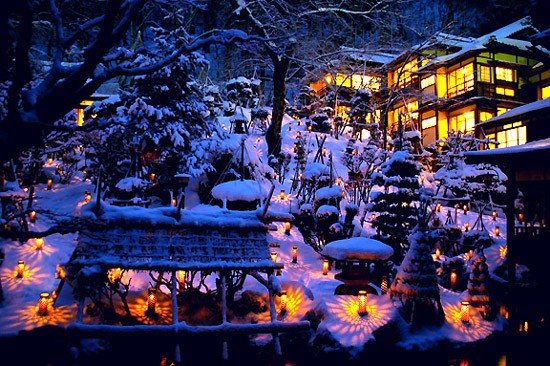 The lighting of these candles usually occurs between 16:00 to 18:00, so if you are staying in this onsen town during the winter, be sure to check it out.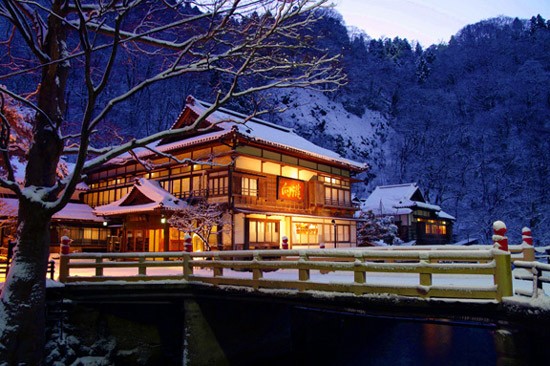 DATE: Late December – Late February
LOCATION: Higashiyama Onsen, Aizu-Wakamatsu City (Map)
OUCHI-JUKU SNOW FESTIVAL
Ouchi-juku's Snow Festival features traditional Japanese performances, an incredible firework show, and a town that feels like it still exists in the Edo Period, illuminated solely by the light of lanterns made of snow. There are plenty of nearby onsen ryokan where you can warm up & stay overnight at the end of the evening. Not much beats that for a snow festival, does it?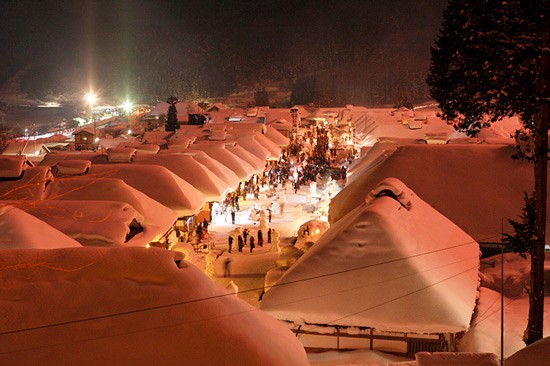 DATE: Second weekend of February
LOCATION: Ouchi-juku, Shimogo Town
TADAMI SNOW FESTIVAL
This snow festival is the largest in Fukushima Prefecture. Often welcoming special guests (such as Kumamon) this snow festival features snow sculptures, igloos, places for kids to play, and lots of traditional crafts and tasty food to check out. Oh, and also a fantastic fireworks show.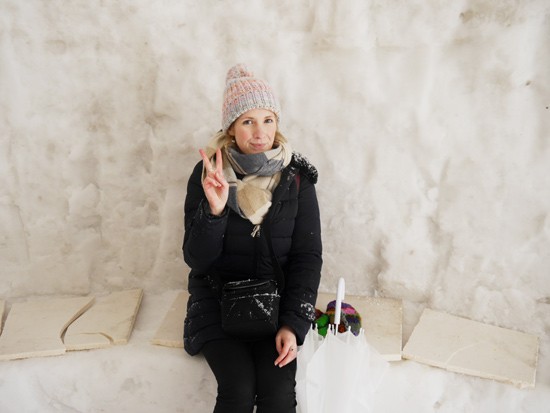 DATE: Second Saturday and Sunday of February
LOCATION:Tadami Eki Mae Hiroba (JR只見駅前広場) (Map)
3) PICK-YOUR-OWN STRAWBERRIES IN SOMA (SOMA CITY)
Soma area is well known for its bright-coloured, juicy strawberries. I've been lucky enough to try some in my office when visitors have brought them as gifts for my colleagues, but I really want to go to Soma and pick some strawberries of my own!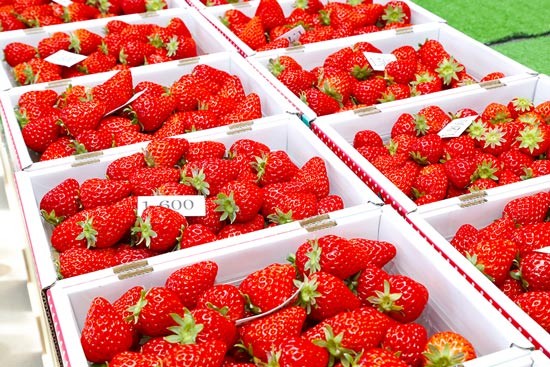 4) ATTEND CRAFT FESTIVALS (SHIRAKAWA CITY, IWAKI CITY)
SHIRAKAWA DARUMA MARKET
Daruma are good luck charms originating from Buddhism. It is a common new year's traditional in Japan to buy a daruma soon after the start of the new year. After purchasing a daruma, you should think carefully and decide on 1 wish or goal that you want to achieve during the year. Then, draw in the daruma's left eye (or right eye if you are facing it), and then draw in the other eye when your wish or goal is completed.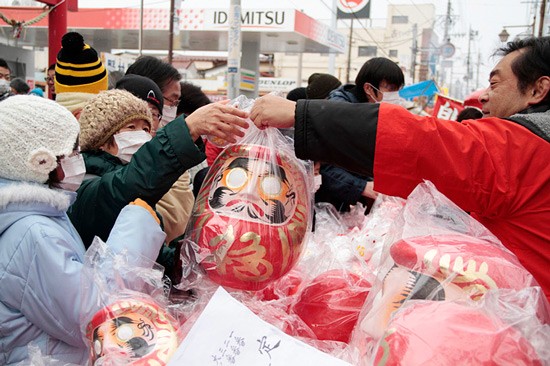 700 stalls selling daruma standing along a 1.5km long street in central Shirakawa City during the Shirakawa Daruma Market. There are 18 different varieties of daruma to choose from, all looking for a loving home and an owner to give them a goal or wish to look after!
DATE: Held annually on February 11
LOCATION: The main street in front of Shirakawa Station that runs parallel to the train line.
IWAKI TSURUSHI BINA FESTIVAL
This festival was started in recent years as a way of celebrating the Nakanosaku district of Iwaki City, and rejuvenating the area. During the festival, hundreds of decorative items hand-made by local people from chirimen fabric – the fabric used to create kimonos – are displayed and sold over a period of 2days.
These Tsurushi Bina decorations are traditionally given to young girls on Girls' Day, in March. They come in all shapes and sizes, but in Fukushima I have seen lots of decorations shaped like animals and vegetables.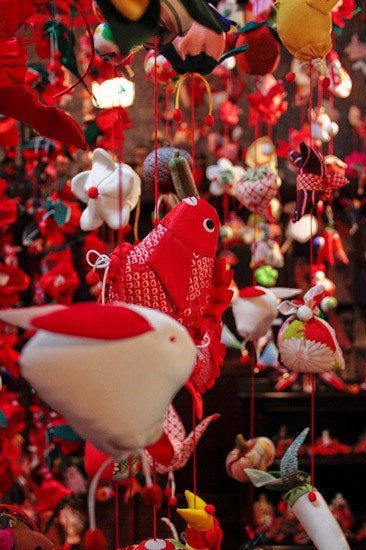 This festival represents a rare opportunity to see so many of these beautiful, painstakingly handmade decorations in one place, so I really want to go check it out next year.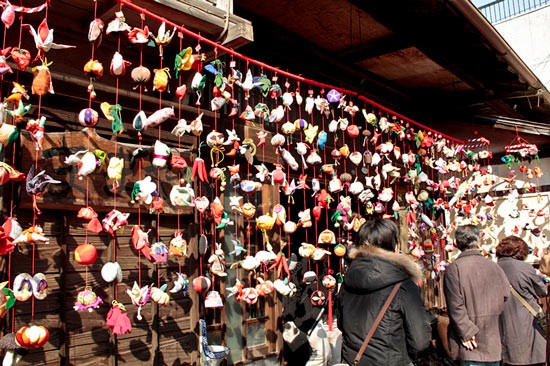 DATE: Early February
LOCATION:清航館, Nakanosaku, Iwaki City (Map)
ENTRANCE FEE:100 yen
5) HIT THE SKI SLOPES
This year I really hope I get to try out skiing in Fukushima Prefecture.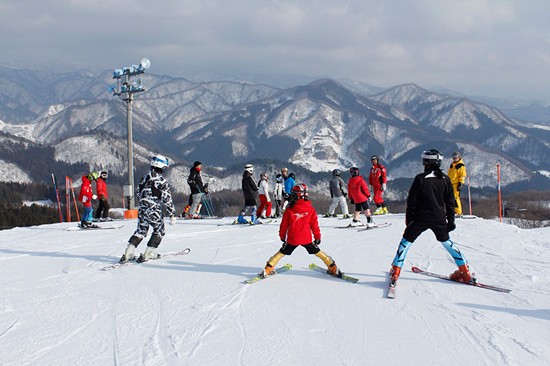 There are so many different ski areas spread all over the huge prefecture, from the relatively temperate slopes in Inawashiro, where skiiers are blessed with a view of Lake Inawashiro as they descend down the slopes, to the deep snow country of Hinoemata.
Aizu Ski Japan is a really good English-language website to use as a resource for getting to grips with the type of ski areas available in the prefecture.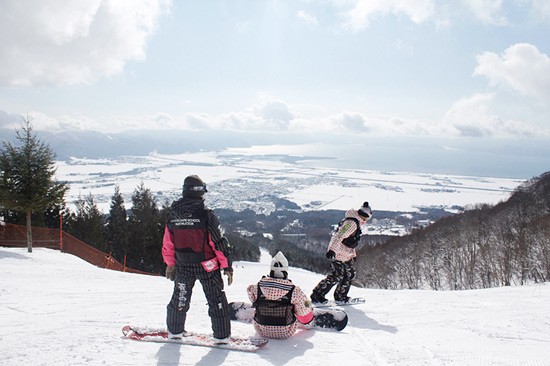 6) GO WAKASAGI (SMELT) FISHING
Rent out a tent at the centre of Lake Hibara in Urabandai, make a hole in the ice in front of you, and try out smelt fishing this winter!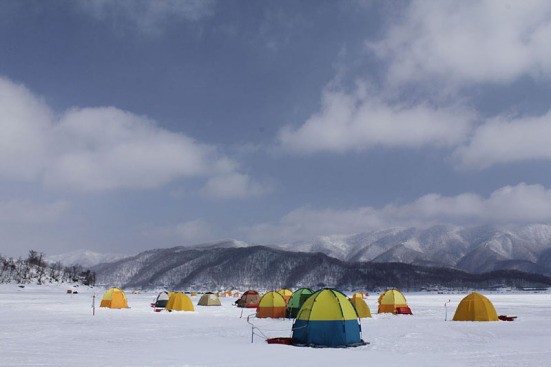 There are a number of different companies that take visitors out onto the lake during the winter months, when smelt fishing is allowed to take place, but it may be a little difficult to try this out if you don't speak Japanese. Rental costs all depend on the individual company or organisation.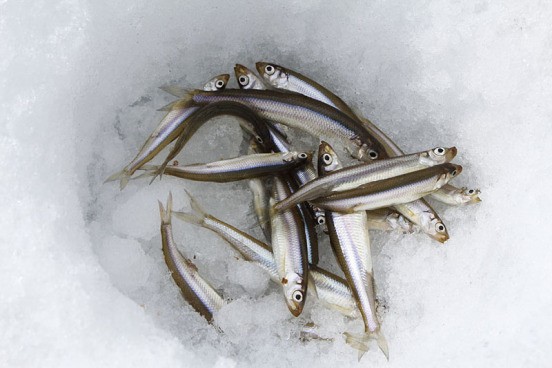 LOCATION: Lake Hibara (Map)
7) WATCH THE SUN RISE ON NEW YEAR'S DAY
This beautiful spot on the coast of Iwaki City is a very special place for local people, especially fisherman, who visit Hattachi Coast on New Year's Day to show their faith to the Buddha of Hattachi Yakushi.
The Hattachi Coast is one of many places on the coast of Fukushima that was devastated by the 2011 tsunami, and is therefore a very bittersweet place for many locals. It has not lost its spiritual hold over visitors though, or its breathtaking scenery.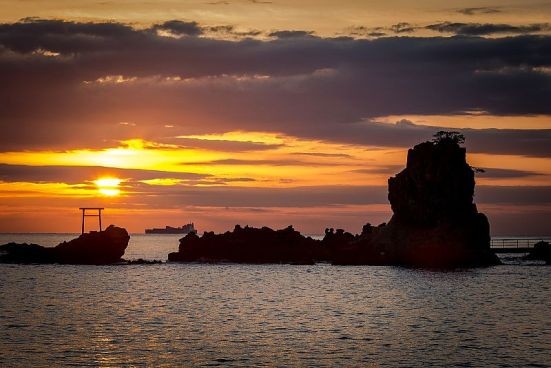 A seriously beautiful spot for those who like photography, and those who would like to make connections with local folk from Iwaki during the early hours of the new year.
LOCATION: Hattachi Coast, Iwaki City (Map)