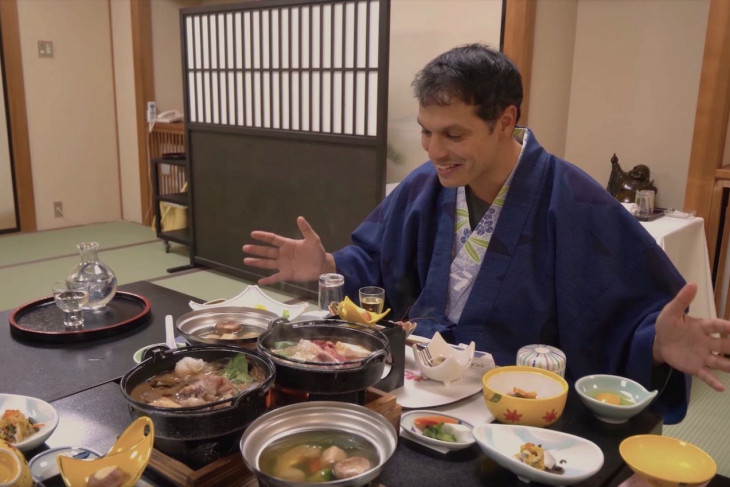 You can often see Japanese traditional inns, known as 'ryokan,' in towns which have hot springs.
Most of these inns have rooms with beautiful tatami mats and futons, accompanied by scenic views of mountains, forests or a calm and relaxing hot spring town across a river. What's more, these inns often house restaurants that serve amazing Japanese cuisine. Their chefs provide fresh, delicious and outstanding dishes, made using seasonal local ingredients.

The rooms in ryokan hotels often have their own names. Each ryokan is quite unique, and may have some aspects that make your stay there unforgettable. In fact, each room can be an attraction by itself! Once you stay in one of these rooms, you may feel like spending your whole stay just in your room! We strongly recommend that you endeavor to experience this small part of Japanese culture.
Seiryunoyado Kawachi (Yanaizu Onsen)
Yanaizu Onsen, surrounded by mountains, is not a flashy onsen town, but is known for its abundant hot spring water. The inside of Seiryunoyado Kawauchi ryokan is bright and clean, and a friendly landlady will welcome you at the entrance.

The inn lies alongside the Tadami River, and offers splendid views of the sun setting over the mountains in the evenings. The river, and the beautiful nature around it, changes appearance according to the season. Seiryunoyado Kawauchi is located close to a historical shop that serves awamanju, a local speciality, and a temple called Enzoji, which has been standing for more than twelve hundred years! This is an idyllic place for a relaxing walk down a mountain valley after you enjoy a hot spring bath.
Harataki (Higashiyama Onsen)
The historical hot spring town Higashiyama Onsen, founded about 1300 years ago, is located about ten minutes away from central Aizu-Wakamatsu City. Harataki, a hotel located next to a pleasant river, amazes people with its riverside balcony and outdoor bath. The shared balcony is called Kawadoko, and has a foot bath that you can enjoy while taking in the wondrous nature all around you. Just outside the lobby, there is a small, beautiful ravine that you can see through a huge window. The beautiful nature of Aizu invigorates you, with its fresh green leaves in spring, rich green forests in summer, red autumn leaves in fall, and snowy landscapes in winter. Regarding food, there is a popular charbroiled dish in this area called sumibiyaki. It is a local delicacy that, when you eat it, you will feel the warmth and hospitality that this place has to offer. Harataki has English-speaking staff members who are on hand to help put you at ease and enjoy your Japanese ryokan experience.
Enjoying Ryokan to the Full
Experiencing hot springs and ryokan hotels in Fukushima is a quintessential experience that you do not want to miss on a trip to Japan. It may change some misconceptions or impressions that you previously had of Japanese culture. Please enjoy our way of life, food, hospitality, style and, of course, hot springs while you stay in Japan.
Since Japan has four beautifully distinct seasons, seasonal food is one of the attractions of Japanese ryokan hotels. During fall, you will be able to enjoy meals decorated with colorful ingredients and leaves, with colors such as red, green, orange and yellow.