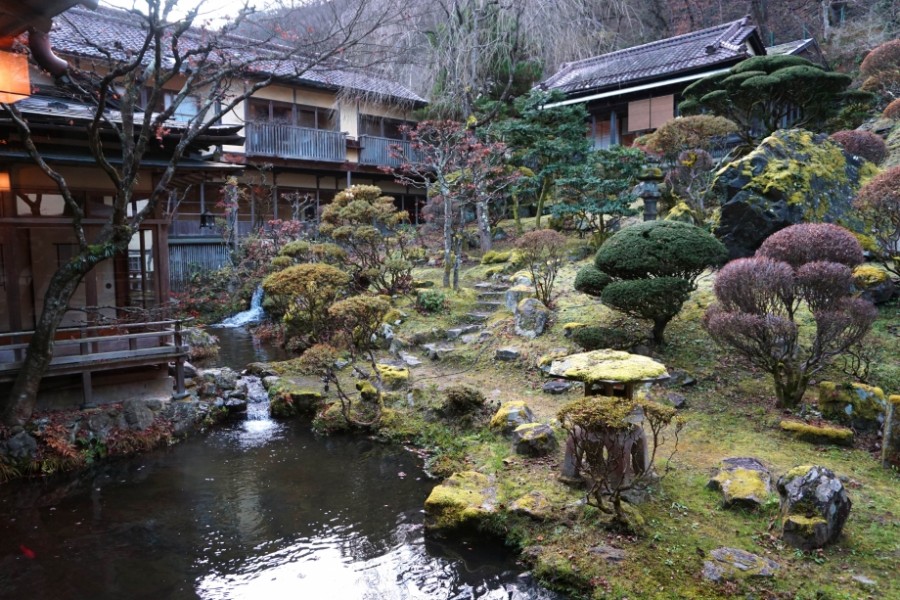 Established over 1,300 years ago, Higashiyama Onsen is a well-known retreat area in Aizu-Wakamatsu City. The recognized historical onsen town is said to have been founded by the Buddhist priest Gyōki. According to legend, he found the area by following a bird with three legs, an auspicious and mystical omen. The area was popular with people from all over Aizu during the Edo Period and was developed as a retreat area. Today it is listed among the top three onsen towns of old Tohoku. Being only 10 minutes by car from the heart of Aizu-Wakamatsu City, visitors are sure to enjoy their time at Higashiyama Onsen.
The traditional Japanese ryokan (inns) of Higashiyama Onsen line both sides of the Yukawa River, giving the area a picturesque air. Let your mind and body relax in the warm sodium-sulphate waters and clean, crisp air. A visit in autumn treats ryokan and hotel guests to the fantastic experience of bathing in a hot springs while viewing autumn leaves.
The ryokan in the area are a mix of modern and traditional, perfect to suit any taste. For sightseeing, there are plenty of shops and restaurants in the area for you to enjoy local goods and cuisine. Moreover, staying in Higashiyama Onsen is a great option for those who would like to sightsee in Aizu-Wakamatsu. Higashiyama Onsen is also home to geigi (geisha), whose traditions have been passed down through the generations. If you make a reservation, you can watch them perform. These classically trained entertainers are skilled in song, dance, and music. Their breathtaking performances reflect historical ballads and stories—the tale of the Byakkotai is especially popular. It is the tragic story of teenage samurai who committed ritual suicide at Mt. Iimoriyama.
Access Details
Access
110 Yumoto, Takinoyu Higashiyama-machi Aizu-Wakamatsu City, Fukushima Pref. 965-0814
View directions
Getting there

By Bus: Close to the Haikara-san Sightseeing Loop Bus 'Higashiyama Onsen-eki' Bus Stop