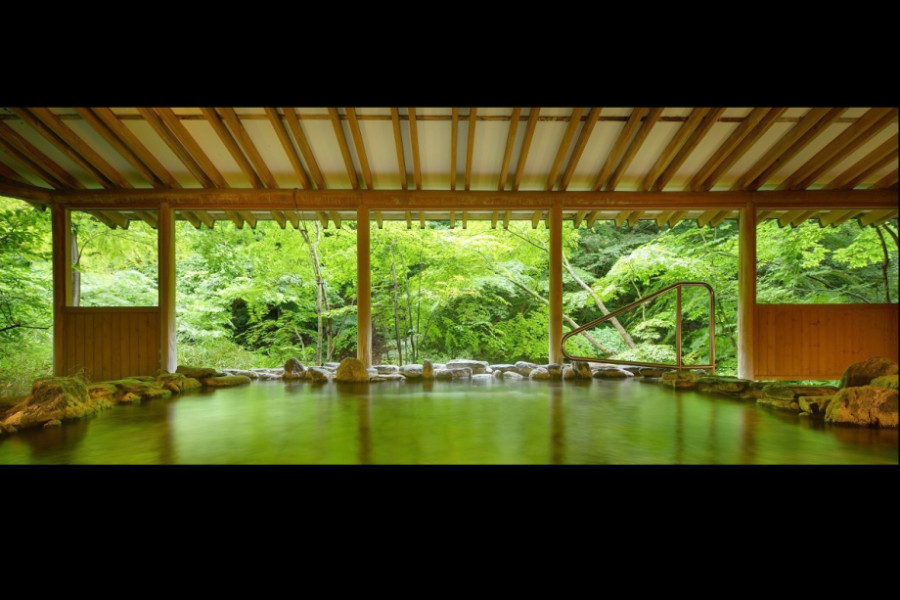 Among hot springs, this inn is rare for possessing their own spring source. You'll enjoy the luxurious open-air baths to the fullest. They're 100% "kakenagashi" (continuously flowing), which is the highest quality of hot spring water in Japan. Whether it's spring, summer, or fall, you'll love the natural beauty of the area with open-air waterside dining. If you're looking for a delightful private hot spring bath, they have four separate reservable baths with a view. Harataki also boasts an open-air bath filled with water from its very own hot spring source.
The dinner is another popular attraction: you can enjoy both Otemae-ryori, a traditional Japanese course meal served at the table, as well as a buffet with rice cooked on a traditional kamado kitchen stove, charcoal-grilled dishes, and the local specialties of Aizu. Meals served at the Waterside Dining Kawadoko (a restaurant with outdoor decks built along the bank of the Yukawa River) are very popular during the summer season.
Make the most of your time unwinding and soak away your worries.
Venue Details
Venue Details
Website
http://www.yumeguri.co.jp/en/
Contact

Harataki/Konjaku-tei Reservation Center

0242-26-4126

kato.k@yumeguri.co.jp

Parking
Available
Related info
Facilities:
Karaoke room/Café/Bar/Esthetics salon
Accommodation details

Capacity: 64/349

Room styles: Japanese style

Room charge: One night with two meals: ¥13,800 - (tax included)

Check in / Check out: 14:00 / 11:00

Meals: Japanese-style course , Japanese-style half buffet

Hot springs: Sulfate hot spring

Pets: Not allowed

Book a room
TripAdvisor.com
Access Details
Access
235 Yumoto, Higashiyama-machi, Aizuwakamatsu City, Fukushima Pref. 965-0814
View directions
Getting there

By car: 20 min from Aizu-Wakamatsu IC (Ban-etsu Expressway)
By train: 20 min bus ride from Aizu-Wakamatsu Station (JR Tadami Line, JR Ban-etsu Saisen Line)
Bus pickup is available from Higashiyama-Onsen Station.