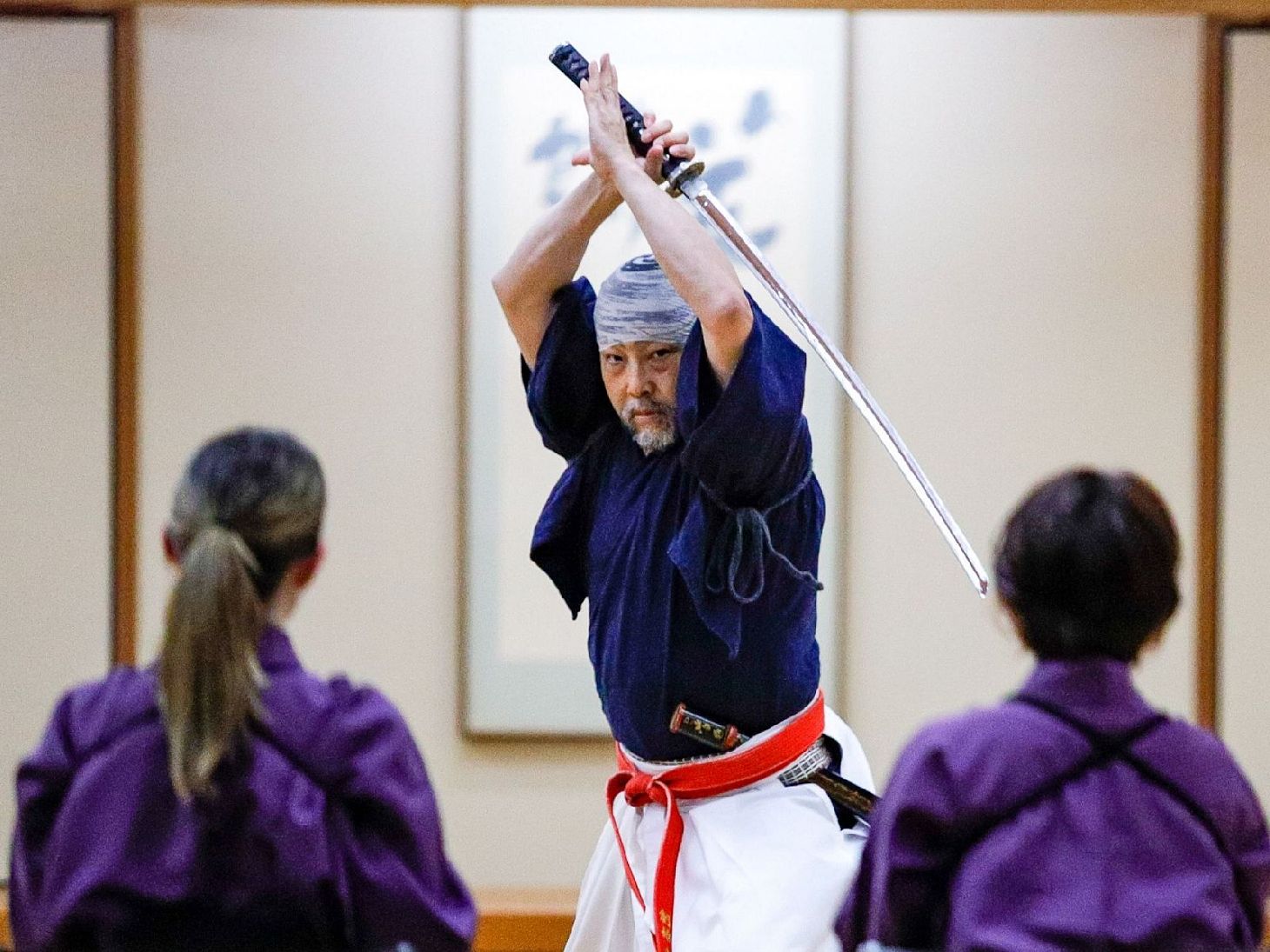 "For many, samurai equals fight scenes in action movies, but that is not all there is to it," says Tetsuro Shimaguchi during our kengido practice. "To me, samurai culture goes beyond fighting. It is also about the way of living that drives those battles".
His words popped back to mind as I gripped the wooden sword tightly: I inhaled, lifted it, exhaled, and wielded it down firmly with a sudden stop before it touched the ground. The samurai warriors' graceful fighting on the battlefield was a force of habit. Through drills and practice, they studied each movement to a T, pacing their breath and training their posture. Shimaguchi's kengido experience for visitors to Japan reveals the efforts, invisible to the untrained eye, that make samurai battles so engrossing.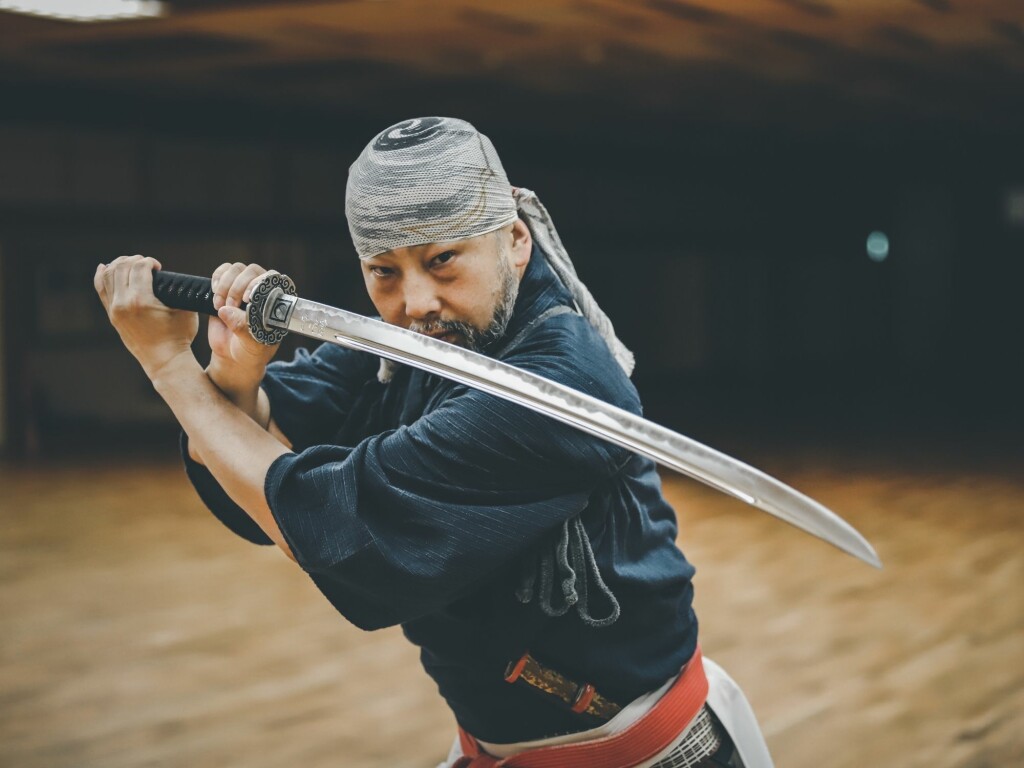 Shimaguchi is no stranger to samurai fight scenes in action movies, however. He choreographed the fight scene in Quentin Tarantino's Kill Bill Vol I, and has traveled the world performing samurai fight acts with Kamui, his samurai artist collective. He is one of Japan's top samurai performers, with over 25 years of experience. Now, he has crafted a workshop in his home country to share the values that inspire him to keep the samurai legacy alive.
'Kengido' (剣伎道) is Shimaguchi's samurai technique, a mix of martial arts and samurai fighting performance. The term combines three Japanese characters:
'Ken' (剣) stands for sword or swordsmanship. For safety, wooden swords (bokken) are used for this practice.

'Gi' (伎) refers to an art or method; in this case, a type of performing arts.

'Do' (道) is a set of practices or teachings, a process that becomes a way of life.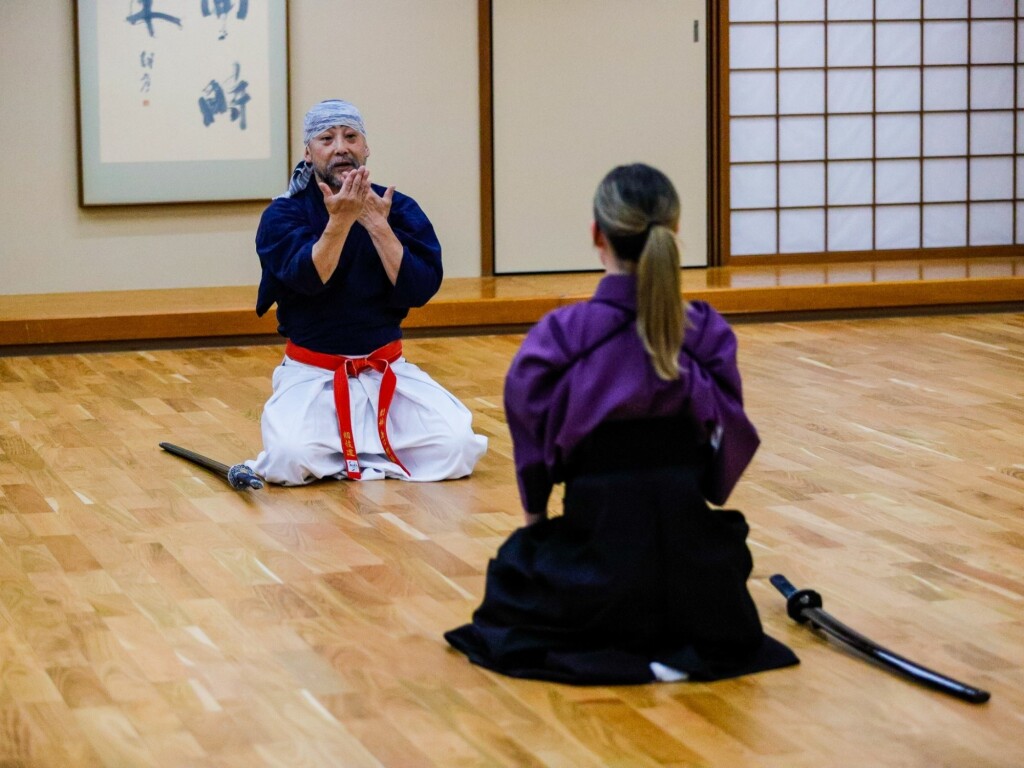 Shimaguchi has been teaching kengido to hundreds of enthusiasts from Florence to Abu Dhabi. He has toured over 150 cities in 35 countries performing with Kamui. "I am lucky to have so many friends around the world", he says. Anyone can participate in his kengido practice, which can be adapted to different levels of expertise. People of all fitness levels and ages are welcome.
The Practice Begins
Before getting my hands on the sword, I watched a samurai battle between Shimaguchi and another Kamui artist. Through a screen, with editing involved, a fight like this one looks impressive enough, but it is a different experience to see it live. Their movements were completely in tandem: If one turned, the other one got closer, as if they were inexplicably joined by an invisible coordinating force.
We opened the practice with an initial greeting. Then, it was my turn to draw the sword. At first, it felt a bit heavy to hold, but I soon got used to its weight.
Shimaguchi taught me how to grip the sword, unsheathe it properly, and place my feet as I wielded and thrust it in several directions. Other Kamui artists went over the exercises with me, allowing me to mimic their posture and movements.
A vigorous performance consists of fast movements of arms and legs and sudden, firm halts. Rather than blading the sword slowly and delicately, a thrust followed by a sudden stop makes samurai fights dramatic and animated, Shimaguchi explained, as he exemplified the movements with Kazu-san.
After some repetition, I gathered pace. Shimaguchi's guidance helped me strengthen each pose, taking breaks as needed.
Time to Face an Opponent (And Work As a Team)
After a few drills with the Kamui team, I was comfortable blading the sword in different ways, so it was time to put my newfound skills into a team effort. We would practice fighting together.
At first, I thought there would be no way I could coordinate so many steps, but after drilling each sequence a few times with them I grew in confidence.
Looking at my partner in the eyes, rather than fixing the gaze on their movements, was a game changer. Soon enough, Kazu-san and I were engrossed in battle, the wooden swords clicking and our movements following a natural sequence with a shared pace.
Shimaguchi is a passionate advocate of samurai history and culture, as well as a skillful teacher who inspires the same passion in his apprentices and team. During his kengido experience, you will:
Watch a professional samurai fight performance.

Learn a series of sword-wielding movements and exercises.

Face both Shimaguchi and other Kamui samurai artists in choreographed battles and training exercises.

Have some time after practice to talk about the experience and ask questions.

Receive a video showing your performance.
Booking & More Information
The experience is held at the traditional Japanese inn Ookawaso in Ashinomaki Onsen and includes a stay at its facilities, some meals, and other options, depending on the plan. For more details about booking this experience, please check here.
About the Location: Ookawaso in Ashinomaki Onsen
When Shimaguchi decided to teach kengido in Japan, the region of Aizu was an obvious choice. Aizu was once a vital enclave for a homonymous samurai clan that fought against modernization until the very end, in a famous battle against government forces that destroyed the city's emblematic Tsurugajo castle and ravaged the city to its core.
The castle was rebuilt and visitors to the area can learn of the history of the Aizu samurai clan that ruled over the land for centuries. Nearby attractions, like the Aizu Hanko Nisshinkan (a former samurai school) and the Bukeyashiki (a historical open-air museum and former samurai residence), offer rare glimpses into the everyday life of the samurai.
Ookawaso is a traditional Japanese inn in Ashinomaki Onsen, less than an hour south of Aizu-Wakamatsu City (where Tsurugajo castle is located). Guests in Ookawaso can enjoy relaxing in the hot springs, savor traditional Japanese cuisine, and watch shamisen performances on the inn's traditional Japanese stage that resembles the one featured in the popular anime series Demon Slayer. The hotel offers both Japanese-style and Western-style rooms.
This kengido practice is held at the Kamui dojo in Ookawaso, a pristine room made of sakura wood that follows the traditional Japanese aesthetics of the inn.
The samurai legacy in Aizu is still very much alive. During your next visit, you can be a part of it as you embody ancient samurai precepts, guided by one of the world's leading samurai artists.
Access Information
Ookawaso is located 40 minutes by local bus from Aizu-Wakamatsu Station (会津若松駅), or approx. 3.5 hours by car from Tokyo Station. More information about access to Ookawaso here.
Links
6 Things to Do at the Aizu Hanko Nisshinkan Samurai School