One-Day Sakura Hunting in Central Fukushima on the Tohoku JR Pass
One-Day Sakura Hunting in Central Fukushima on the Tohoku JR Pass
This one-day cherry blossom hunting route will take you to two beautiful cherry blossom spots in the central area of Fukushima.
We recommend following this route around mid-April to see the blossoms at their fullest.
You will start your trip from Fukushima Station, from where you'll visit Hanamiyama park first thing in the morning.
The great variety of flowers at the park (plum blossoms, cherry blossoms, magnolias, azaleas, etc.) means that the park can be enjoyed throughout the year, although it sees most of its visitors between end of March to early April, when the landscape of the delicate blossoms against the snow capped Mt. Azuma signals the beginning of the spring.
This is a wide park and will possibly entail an hour-long hike, if not longer. Bearing this in mind, be sure to wear comfortable shoes and clothes.
You'll then go south to Shirakawa City, where you'll be able to enjoy seeing delicate flowers against the elegant black-and-white Komine Castle.
This itinerary is designed for holders of the Tohoku JR Pass, who will travel between destinations on 'shinkansen' bullet trains and local buses (the bullet train fare is covered by the Tohoku JR Pass; the fare for the local buses amounts to an additional fee of approx. 500 yen per person).
It takes 15-20 minutes by bus to get from the Fukushima Station East Exit Bus Stop No. 8 to the Hanamiyama Iriguchi bus stop (you'll have to walk for approximately 25 minutes from the bus stop to Hanamiyama Park). During the peak cherry blossom season, buses run approximately every 15 to 20 minutes (the bus fare is 480 yen both ways as of February 2023).
View directions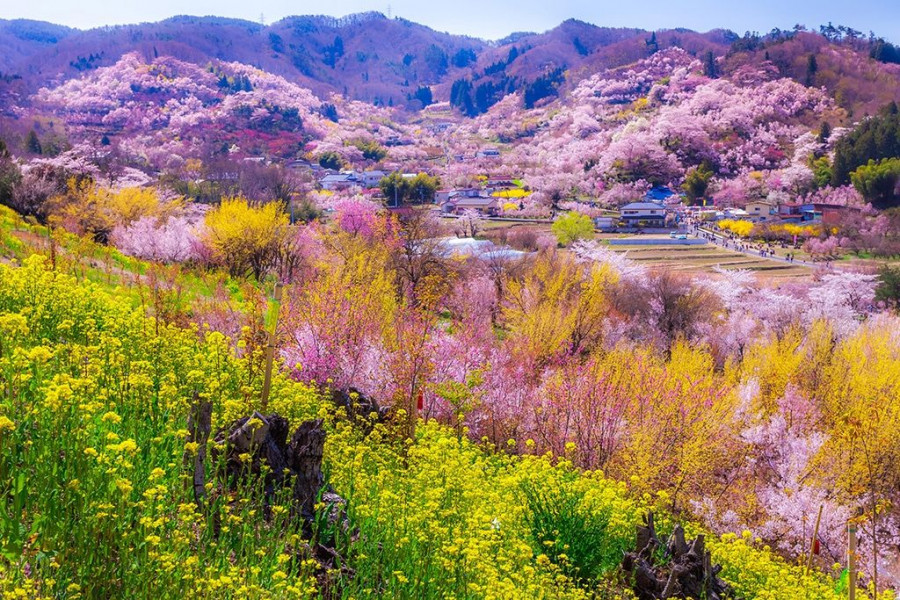 From Hanamiyama, take the bus back to Fukushima Station (15-20 min). Using the JR Pass, take the Tohoku Shinkansen to Shin-Shirakawa Station (approx. 32 minutes), and transfer to the JR Tohoku Main Line from Shin-Shirakawa to Shirakawa Station (3 minutes).
View directions