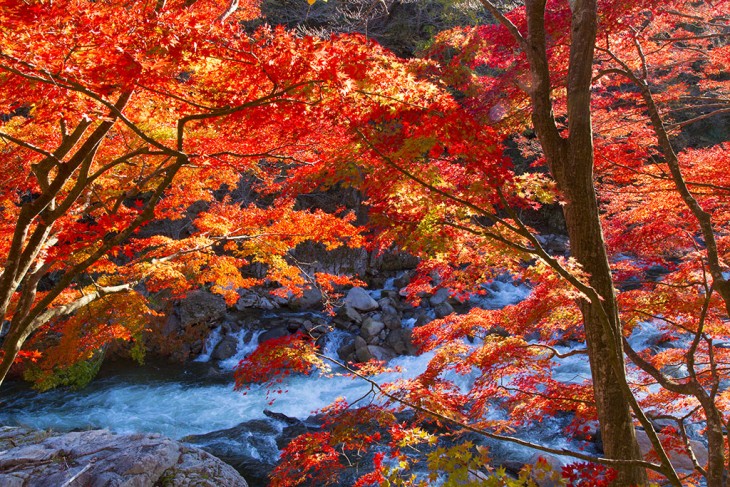 Fukushima Prefecture is packed with a huge variety of amazing scenic spots. It goes without saying that there is lots to see during the momiji (autumn-leaf viewing) season! I have compiled a list of 10 of my recommended spots for autumn-leaf viewing! I hope you find it useful.
AIZU AREA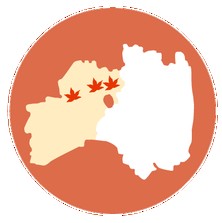 1. GOSHIKI-NUMA PONDS (KITASHIOBARA VILLAGE)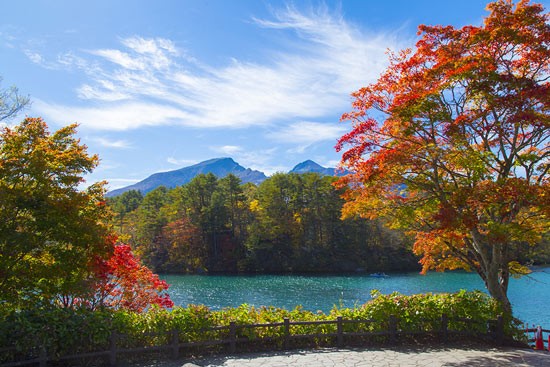 Go on a relaxing hike with friends, or rent a rowboat with that special someone! The five-coloured ponds of Goshiki-numa are some of my favorite places in Fukushima and the bright blue of their waters looks fantastic in the autumn time.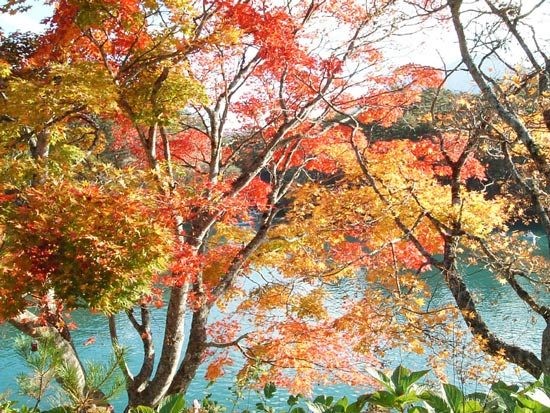 Best time to visit: Mid Oct – Early Nov
2. SHINGU KUMANO SHRINE NAGATOKO (KITAKATA CITY)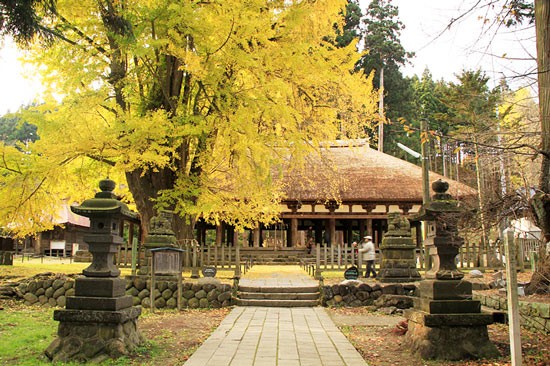 This Kumano Shrine was built over 1000 years ago and is towered over by an absolutely breathtaking ginkgo tree. In mid-November, the leaves of this ancient ginkgo tree cover the shrine grounds, making for some absolutely beautiful scenery. I also recommend going to see the shrine when it is lit up in the evening.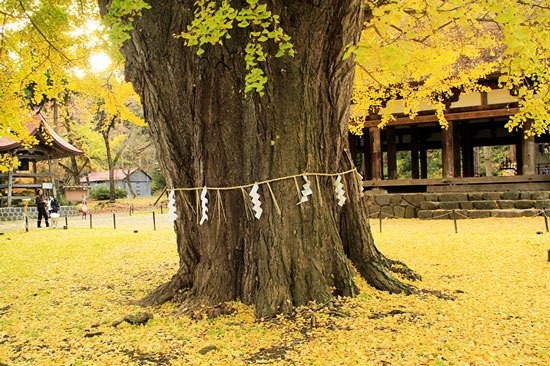 Best time to visit: Mid Nov – Late Nov
3. ENZOJI TEMPLE (YANAIZU TOWN)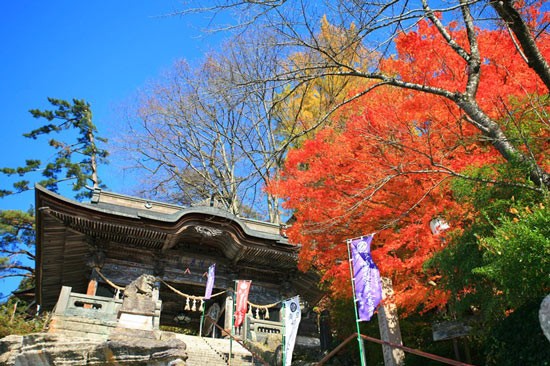 Enzoji Temple was constructed in the year 807 and stands on the edge of a crag overlooking the Tadami River. It is a special place for people in Fukushima, as it is where the legends surrounding the Akabeko – Fukushima's most famous symbol – were born.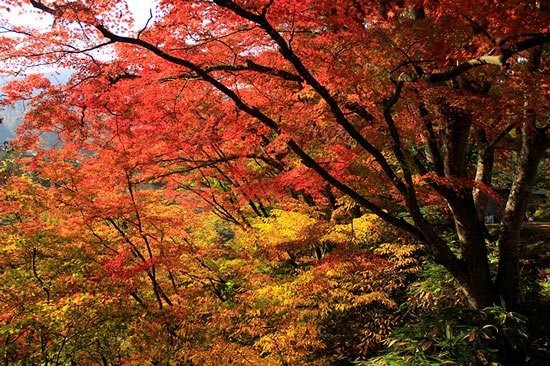 Best time to visit: Late Oct - Early Nov
NAKA-DORI AREA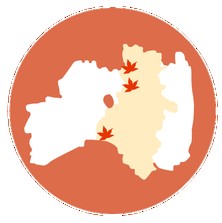 4. MT. ADATARA (NIHONMATSU CITY)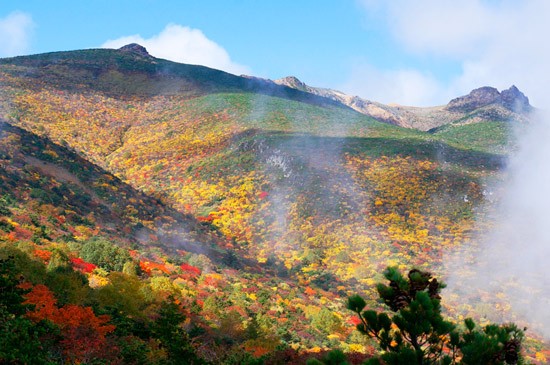 A great place to go hiking in the autumntime. You are certainly rewarded with spectacular views once you get to the peak. For those who aren't so keen on hiking, there is a cable car which cuts out a lot of the climbing.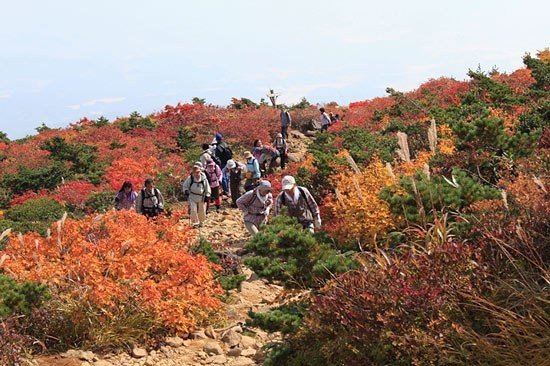 Best time to Visit: Late Sep – Mid Oct
5. YUKIWARI BRIDGE (NISHIGO VILLAGE)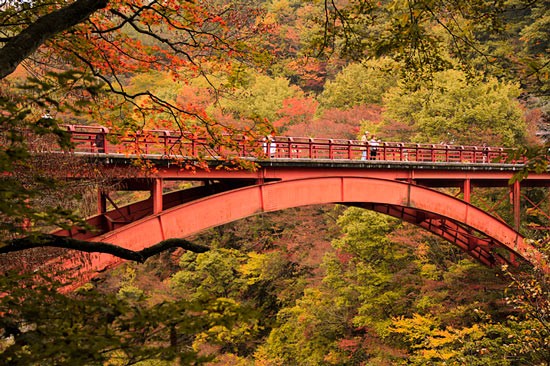 The observation point that looks over Yukiwari Bridge shouldn't be missed this autumn!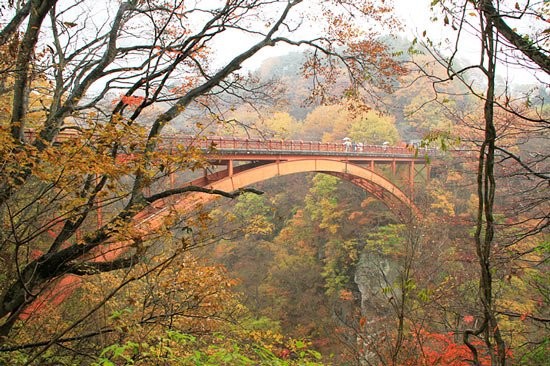 When to Visit: Mid Oct – Early Nov
6. BANDAI-AZUMA SKYLINE (FUKUSHIMA CITY)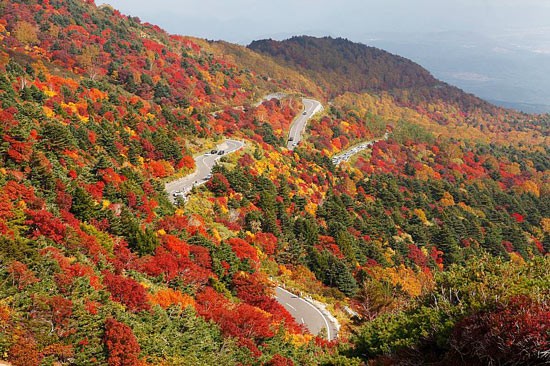 The Bandai-Azuma Skyline winds from central Fukushima up to Jododaira Rest House and Mt. Azuma Ko-Fuji, before reaching all the way to the very retro Tsuchiyu Onsen town, providing drivers and passengers with brilliant views the whole way during autumn. The road gets a little crowded during peak autumn leaf viewing time – so bear this in mind when planning your travels!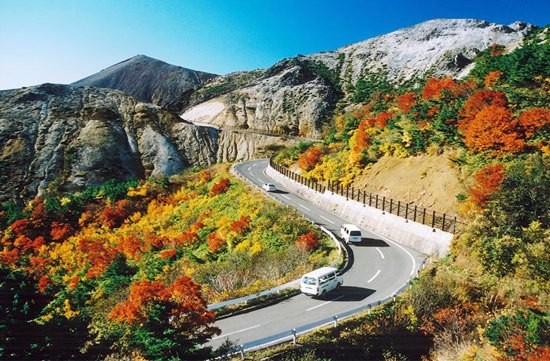 Best time to Visit: Early Oct – Late Oct
7. JA NO HANA JAPANESE GARDEN (MOTOMIYA CITY)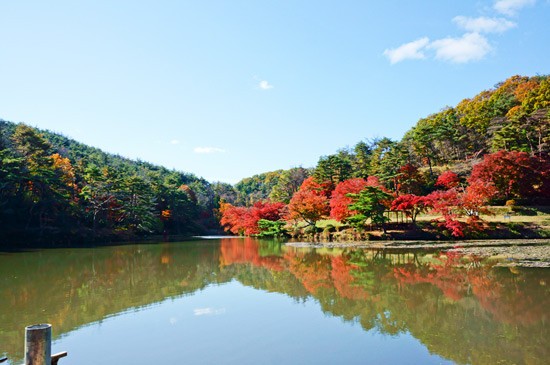 Ja no Hana is a very picturesque Japanese garden that is filled with color and energy in late October. A great place for relaxing whilst appreciating 2 integral aspects of Japanese culture – Japanese gardens, and autumn leaf viewing!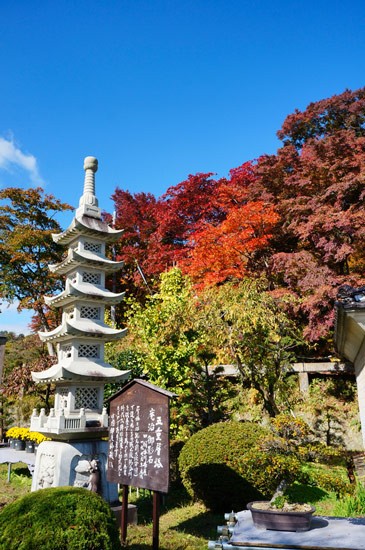 Best Time to Visit: Late Oct – Mid Nov
Getting There

Public transport: a 10 min taxi ride from Motomiya Station
Car: 10 min drive from Motomiya I.C. exit off the Tohoku Expressway
HAMA-DORI AREA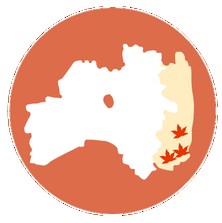 8. NAKAKAMADO WEEPING MAPLE TREE (IWAKI CITY)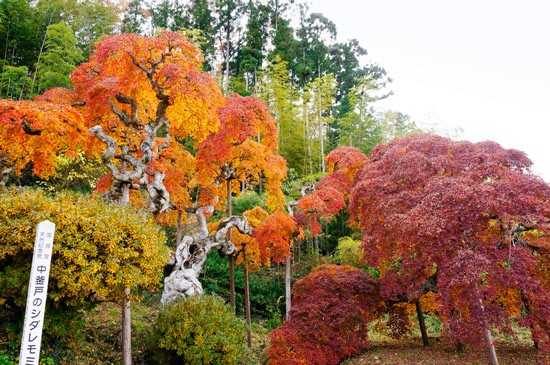 A really uniquely shaped weeping maple tree. The colors of the Nakakamado tree vary year to year, but hopefully this year the leaves will be bright orange! Located near a temple, Nakakamado is in a very scenic spot, perfect for taking photos.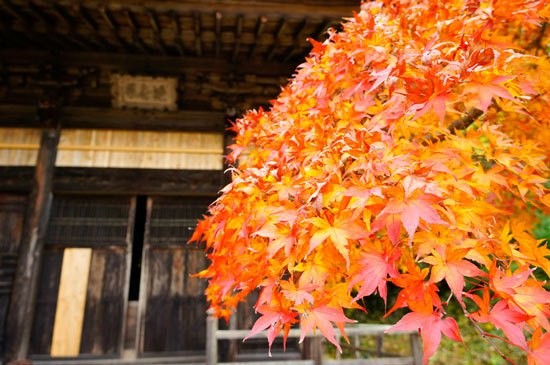 Best time to visit: Late Nov – Early Dec
Getting There

Public transport: A 10-minute taxi ride from Izumi Station
Car: 15 min drive from Iwaki Yumoto I.C. exit off the Ban-etsu Expressway
9. SHIRAMIZU AMIDADO TEMPLE (IWAKI CITY)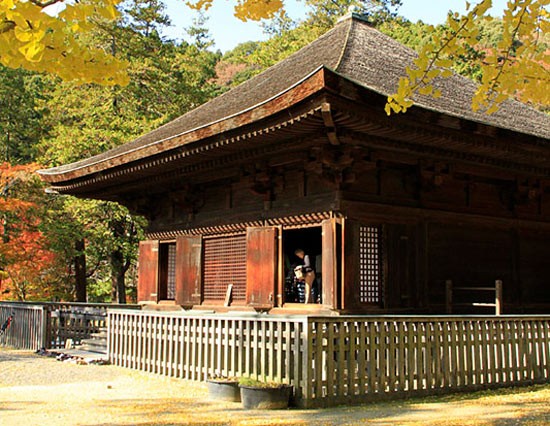 Fukushima's National Treasure, Shiramizu Amidado Temple! Whether lit up at night or appreciated in the middle of the day, Shiramizu Amida-do is especially beautiful during autumn.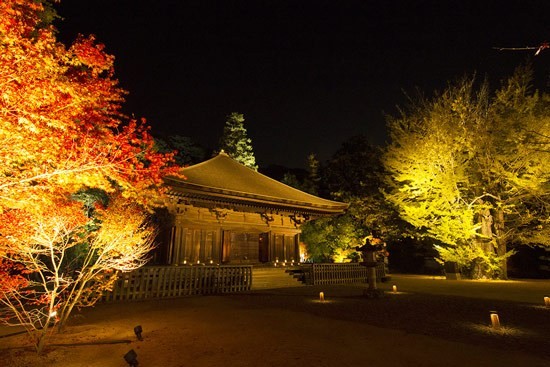 Best time to Visit: Early Nov – Late Nov
10. NATSUIGAWA VALLEY (IWAKI CITY)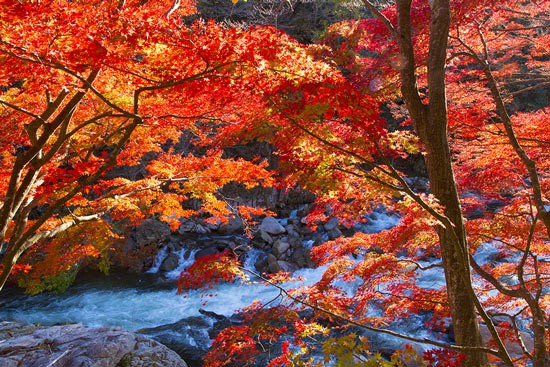 Finally, for those who feel like getting close to nature and going on a bit of an adventure, how about exploring Natsuigawa Valley? This is another autumn leaf spot that is definitely on my to-visit list.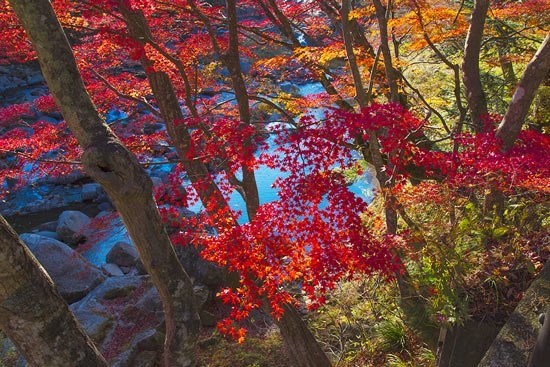 Best time to visit: Late Oct – Mid Nov
The map below shows all of the spots I have showcased in this article. Enjoy planning your trips!