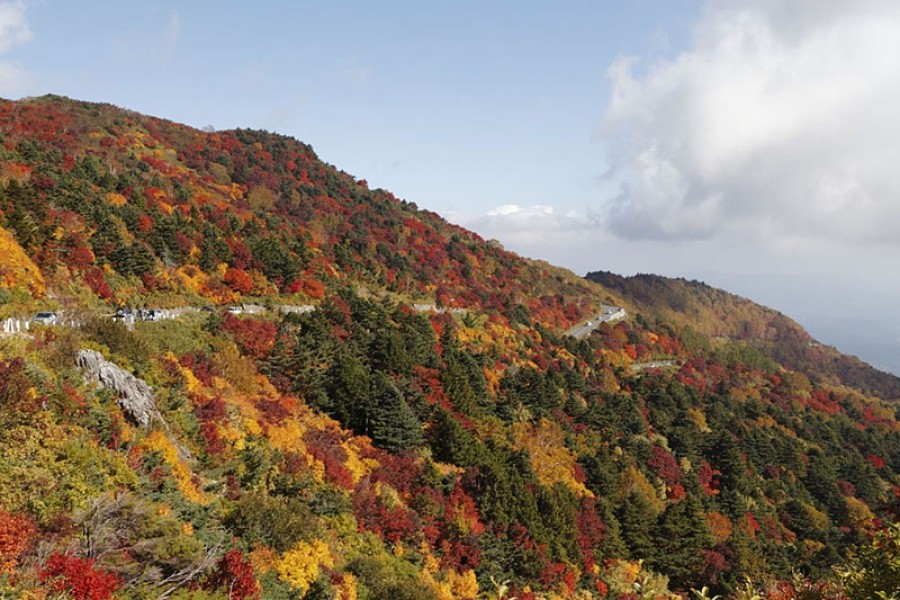 This sightseeing road that runs from Fukushima City's Takayu Onsen to the Tsuchiyu Pass, commanding panoramic views of the surrounding landscape.
The spectacular views that stretch out at an average altitude of 1,350 meters attract visitors time and time again, and Bandai-Azuma Skyline has been selected as one of the 100 Best Roads in Japan.
In spring, tourists can enjoy flower viewing while at the same time taking in the otherworldly winter scenery of the "Snow Corridor".
In summer, the Nemoto Shakunage (Rhododendron brachycarpum), a species of alpine rose, and other alpine plants display their colorful flowers and fresh, brilliant green leaves. During autumn, the drive warms as roads become enclosed by fiery seasonal leaves.
There are also many hot springs in the vicinity of the Skyline where visitors can enjoy a bath and relax stiff muscles while out on a daytrip.
The roadway passes next to the crater of Mt. Azuma-Kofuji. Visitors can easily park their car at the nearby guest center and enjoy a short hike up to the crater's rim.
The Bandai-Azuma Skyline Roadway has been selected as one of the top 100 roads in Japan, and unlike many others, this one is free to use. There are rest stops along the way for the hungry traveler; the most popular is Jododaira, as it's home to a rest house and an observatory.
Be sure to plan ahead though, from mid-November to early April the roadway is closed due to heavy winter snowfall.
Venue Details
Venue Details
Website
https://www.f-kankou.jp/en/discover/nature/347/
Contact

Fukushima City Tourism & Convention Association

(+81) 24-563-5554

Best Season
Parking
Available
Related info
Season: Open from early April through to mid-November. The road is closed from mid-November every year.