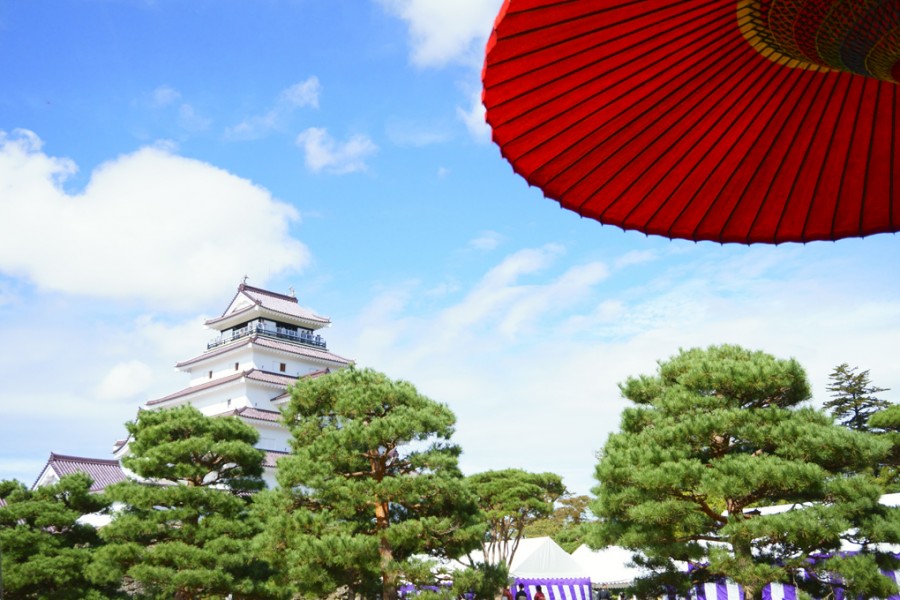 Tsurugajo Castle allows visitors the opportunity to experience history, nature, and tradition with all five senses.
Despite being mostly reconstructed, the surrounding park's stone walls remain in their original state. In 2010, for the first time since it was refurbished in 1965, the castle underwent a cosmetic restoration. Following completion in 2011, the same red-tile roofs seen by the Byakkotai (during the Boshin War and finals days of the Tokugawa shogunate) are now displayed for all to see.
This castle is one of the final strongholds of samurai that remained loyal to the shogunate and today stands as a symbol of courage and faithfulness.
Within the castle tower's museum, the swords and armor of the castle's successive lords are on display. Visitors can watch a CG-enhanced theatrical video reflecting on the great history of Aizu.
In addition to the historical atmosphere surrounding Tsurugajo, visitors can sense the changes that have occurred throughout history, thanks to the engaging and informative museum within the castle walls. It's fun to gaze across Aizu from the fifth floor, like a feudal lord admiring his domain—the viewing platform up here provides panoramic views taking in Mt. Bandai and Mt. Iimoriyama.
The castle is also a must-see in the springtime when approximately 1,000 cherry trees offer a magnificent display within the castle's grounds.
When you're in the mood for a rest, visit the Rinkaku Tea Rooms for some freshly-prepared matcha green tea. This tea house on the grounds of Tsurugajo was vital in the spread of this traditional art—and had it been destroyed during the Meiji Restoration, tea ceremony as it is known in Japan might have vanished.
Tsurugajo Castle is truly a place where the modern visitor can slip into the past and become immersed in history.
Venue Details
Venue Details
Website
http://www.tsurugajo.com/language/eng/
Contact

Aizu-Wakamatsu City Tourism Bureau

(+81) 242-27-4005

Best Season
All Year
Opening Hours

8:30 AM - 5:00 PM (Last entrance at 4:30 PM)

Open every day

Parking
Available (Space for 200 cars at the west side, 45 cars at the south side, 36 cars at the San-no-Maru entrance). Disabled Parking available.
Related info
Wheelchair rental available.

Admission Fees

Park entrance: Free

Castle tower admission: Adults 410 yen; Children under 12-years-old 150 yen

Rinkaku Tea Room Combo Ticket: Adults 520 yen


Kimono rentals available from Tsurugajo Kaikan (3 min walk from the castle)

Foreign language staff available.

There are signs in foreign languages including English, Chinese and Korean.

Wheelchair-accessible toilet and ostomate toilet available next to the Tsurugajo Cafeteria.