Kasumigajo Castle Park (Nihonmatsu Castle)
Kasumigajo Castle Park (Nihonmatsu Castle)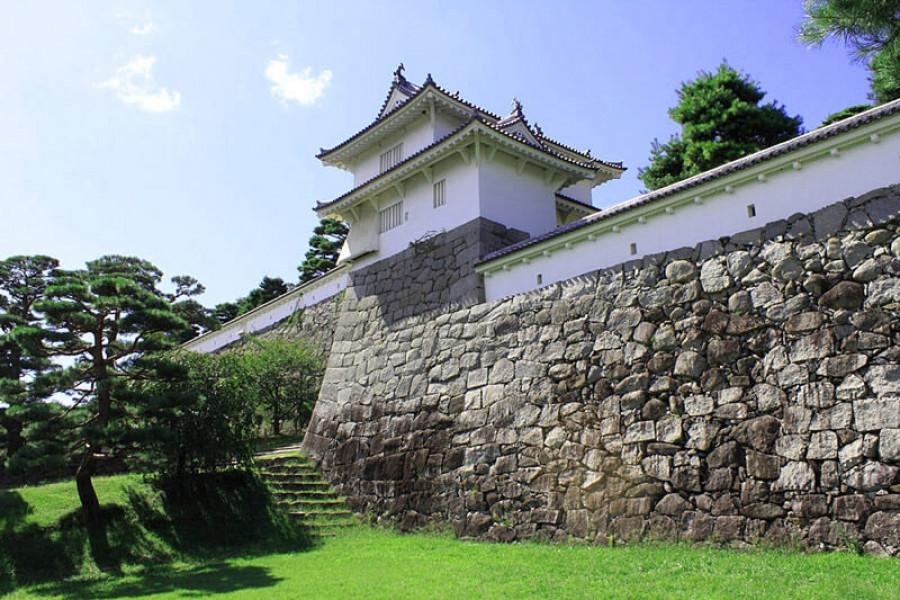 Nihonmatsu Castle was built in 1643 by Mitsushige Niwa, the first feudal lord of the Nihonmatsu Domain. This domain had command over a territory producing 100,000 koku of rice (one koku being the amount of rice needed to feed one man for a year) and Nihonmatsu Castle was one of the strategic points used by the Tokugawa Shogunate forces. The castle fell in Boshin War after a fierce battle, precipitating the tragedy of the Nihonmatsu Youth Corps.
Today, the castle ruins have been turned into a prefectural natural park, with the stone walls being the only structures remaining from the old days. The seasonal beauty of the landscape with the restored castle and the surrounding natural environment is a soothing experience for visitors, particularly in the spring when the 1,700 cherry trees in the park are in full bloom, making it seem as if the castle is surrounded by haze of blossoms. This is why Nihonmatsu Castle is also referred to as "Kasumigajo" (meaning "castle in the mist").
In autumn, the park is crowded with visitors to Japan's largest chrysanthemum doll festival.
Venue Details
Venue Details
Website
https://www.city.nihonmatsu.lg.jp/page/page002702.html
Contact

Nihonmatsu Tourism Federation

(+81) 243-55-5122

info@nihonmatsu-kanko.jp

Best Season
All Year
Opening Hours

Open all year round.

Parking
Available (Space for 500 vehicles)
Accommodation details

Pets: Allowed

Related info
Best time to see cherry blossoms: Mid April It is free to enter the Castle Park for most of the year, but there is an entrance fee during the Chrysanthemum Doll Festival every autumn.
Access Details
Access
232 3-Choume, Kakunai, Nihonmatsu City, Fukushima Pref. 964-0904
View directions
Getting there

By Car: 5 min from Nihonmatsu I.C. exit off the Tohoku Expressway

By Train: 20 min walk from Nihonmatsu Station on the JR Tohoku Main Line