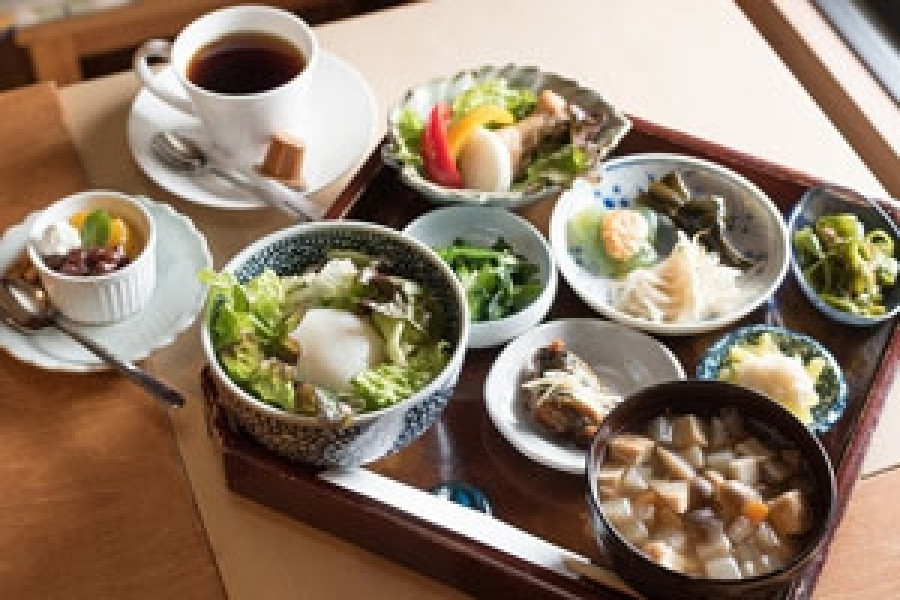 The Kura Café Sen no Hana is located on the grounds on Kunitaya Miso Factory in a remodeled kura (storehouse). Try the local flavors of Fukushima cuisine with their lovely lunch items featuring locally Nihonmatsu-produced miso and soy sauce. There are also many other menu items to appreciate, such as amazake, Mongolian-style tea, and coffee. The inside of the shop is also calming and decorated with local pressed flowers.

Open from 11am to 6pm (with a break from 2 to 3pm), the Kura Café Sen no Hana is sure to give your taste buds a treat. Their fair prices and delicious cuisine make them popular with locals and visitors alike. The amazake, a nonalcoholic drink made from koji, or fermentation starter, is popular with guests. As for food, the zaku zaku soup is a traditional soup of chunky cubed vegetables which is eaten on special occasions like festivals and ceremonies, it is a famous Nihonmatsu specialty. But if you're wanting to go for dinner, make sure you're there before last order at 5:30pm (4:30pm on Sundays).

Next door to the Kura Cafe Sen no Hana, guests can also visit the Kunitaya Miso Factory. The red-wood lattice of the exterior is especially attractive. In addition to the tours, the Factory also sells miso, soy sauce, and koji which is used to make Fukushima's famous sagohachi pickles. All the products for sale are made at the Kunitaya Miso Factory and use pure water from Mt. Adatara and locally grown ingredients. It's a great way to get the fresh flavors of Fukushima Prefecture. There are also seasonal products available, so be sure to have a look!
Venue Details
Venue Details
Website
http://kunitaya.jp/menuJapanese
Contact

Kura Café Sen no Hana

(+81) 243-24-7018

Opening Hours

Closed on Mondays

Parking
Available
Related info
<u>Opening Hours</u>
Tue. to Sat.: 11:00 AM - 2:00 PM, 3:00 PM - 6:00 PM. (L.O. at 5:30 PM)

Sun.: 11:30 AM - 2:00 PM; 3:00 PM - 5:00 PM. (L.O. at 4:30 PM)
Access Details
Access
Takeda 2-30, Nihonmatsu City, Fukushima Pref. 964-0902
View directions
Getting there

By Car: 7 min drive from Nihonmatsu I.C. exit off the Tohoku Expressway

By Train: 25 min walk - or 6 min taxi ride - from Nihonmatsu Station (JR Tohoku Main Line)